"How to upload music to Spotify?" "How can I add my local songs to Spotify for Artists?" Many readers have asked us these questions recently.
Although there're thousands of best Spotify playlists on the app, some users might want to add the songs they download from other music streaming apps to their Spotify music library. Moreover, uploading the music created by yourself to Spotify for Artists will get you exposed to millions of music lovers. Now let's answer the questions with a full tutorial.
CONTENT Part 1. How to Add Songs to Spotify Part 2. How to Upload Music to Spotify for Artists and Release Your MusicPart 3. How to Download Spotify Music that Uploaded by Others Final Thoughts
Part 1. How to Add Songs to Spotify
Adding songs to Spotify is easy once you follow the right step-by-step guide. We have listed guides for each well-known platform, including Mac, Windows, iPhone/iPad, and Android.
Add Songs to Spotify on Mac
Step 1. First, launch the Spotify application on your Mac. On the top left, you will find the Spotify option. Click on that and select Preferences.

Step 2. This action will open up a new page where you can scroll down to see Add a Source. You can press on the Add a source option.

Step 3. A new window will open up from where you can search for the songs you want to upload from your local files. Only the available music will automatically be uploaded to Spotify.
Step 4. The added music can be seen under the main menu's local files section. On the bottom left of the home page, you will find the option New Playlist. Name the playlist and add a description or image to the playlist if you want to. Now go back to the local files folder you have just uploaded. Make a right-click on the song you want to upload. Press on Add to Playlist, select the playlist you have just created and done.
NOTE: For more details, please visit this YouTube video tutorial: How to add songs to Spotify (that are not on Spotify).
How to Add Music to Spotify on Windows
Step 1. Launch the Spotify application first. Press on the little arrow beside your profile picture and select Settings on the drop-down menu.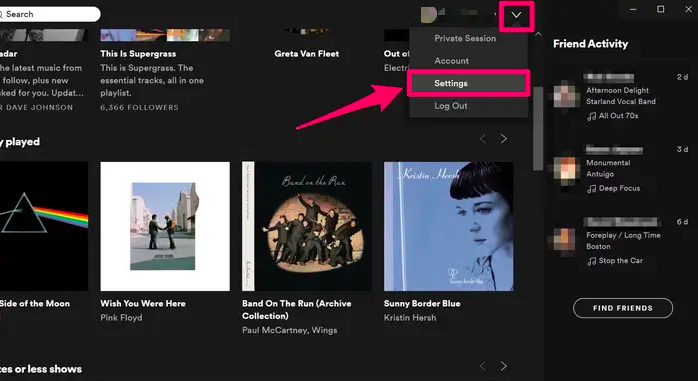 Step 2. A new page will pop up, scroll down and select and press on the toggle Show local files.
Step 3. You will see an option to add a source file. By clicking on this option, a browser tab will open up to select the local file folder to choose the songs you want to upload. Once you finish selecting the soundtracks, Spotify will automatically add them to your library.
Step 4. Now is the time to make a New Playlist. Click on the new playlist option on the left bottom. Name your playlist and add an image or description if you want to. Then head back to the local files folder that you have just uploaded. Now right-click on the song you want to upload and press on to the playlist. Select the name of the playlist you want to add.
How to Add Song to Spotify on iPhone/iPad
Step 1. Open the Spotify application on your iPhone/iPad.
Step 2. Go to the Settings on the top right and enable the Local audio Files toggle. Once allowed, your iPhone/iPad will sync across your other device to create a local folder that can be listened to from any connected device. Ensure that your laptop and iPhone remain on the same Wi-Fi network for this to work.

Step 3. Now the local folder needs to be uploaded from a laptop. Adding songs to Spotify on iPhone/iPad is almost similar except for the part that you have to allow local files to sync on your iPhone. The local files upload method for Mac or Windows are listed above, so just follow those steps, and the files will sync automatically in your Spotify music application.
How to Add Local Files to Spotify on Android
Like on iPhone, you can't directly add local files from Android devices to Spotify. You can upload your local music from your desktop to Spotify. Once uploaded, you can sync and access the uploaded songs from your devices with the same account as uploading the same Wi-Fi network.
Step 1. First, export your songs to Spotify via desktop by following the instructions mentioned in the "Add music to Spotify from Mac/Windows" part.
Step 2. Once you have uploaded the local files, open the application using your mobile phone, and go to Settings and press the Local Files toggle.
Step 3. Your local upload for the desktop will now start to sync to the mobile device you can access, just like a local folder inside Spotify.
Part 2. How to Upload Music to Spotify for Artists and Release Your Music
Spotify allows various artists, producers, and manager platforms to establish yourself as a brand. But things have changed a little bit. You cannot upload directly from your Spotify account. There is a route for this to the channel.
For this to happen, having a Spotify TuneCore account or any third-party digital aggregator is mandatory. And the first tip is to choose the best aggregator for you. The Spotify aggregators charge some fees and services that vary dynamically. Before choosing your digital aggregator, you have to be aware once you decide to publish your song without a label.
The next step is to upload music to Spotify. Your Spotify aggregator will take care of that, but you have to do some extras before letting them do their job. The music needs to be high definition, and that being said. Always upload in 16-bit and WAV format. It's a norm for the Spotify music industry to upload in this format. It's much easier to manage and high definition. Along with the music, you also require to upload an image of resolution 3000 × 3000 and in JPEG format. Almost every Spotify aggregator has a different method to upload music to Spotify, but you don't have to worry about the upload if you choose them wisely. The digital aggregator will take care of your uploads.
Once you have uploaded the music files to Spotify, the next step is to get verified. It's a dream for every artist to get verified because it will give an immense boost to your work's growth and aura. When you work through a digital aggregator for Spotify, Spotify acknowledges that you are an artist, and it is very likely that your Spotify aggregator can get you verified.
Part 3. How to Download Spotify Music that Uploaded by Others
Whether you are an artist or a consumer, we all have a desire to save songs on our device for enhanced feasibility. Spotify only allows the download option for premium users and only allows the in-app download, which means it won't get saved in the device locally. It is encrypted in Ogg Vibs, making it cumbersome to share across other platforms that support this format.
Well, as the ultimate solution of downloading Spotify music, Spotikeep Converter is here to help. Spotikeep Converter downloads your songs from Spotify to your device in just one click. It assures DRM (Digital Right Management) along with the lossless quality for your downloads. With Spotikeep Converter, you don't even need a premium account to save your songs locally in accessible formats. Here's how you download music from Spotify to MP3.
Step 1. Download the Spotikeep Converter, and the application is light on your device and your fingers.
Step 2. Once downloaded, launch the application. The first thing you will see is a bank bar to copy-paste your URL from Spotify. Copy the "Spotify URL" of the song or playlist you want to download and paste it in the blank bar.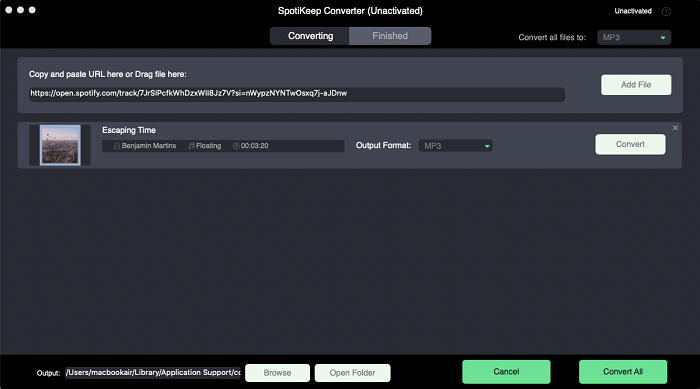 Step 3. Select the output format on the top. The default is set on MP3. But you can change the format to other formats like M4A, WAV, and FLAC.
You can even alter the storage location for your downloads by browsing your desktop on the bottom left.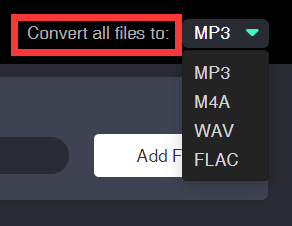 Step 4. Now on the bottom, click on convert, and the download will start real-time. Spotikeep does the job for you by removing DRM protection to avoid copyright infringements.
Along with the superior quality sound and an accessible universal format like MP3. All of this just at one touch. We have covered the whole process in our separate writing. Let us help you with that. Click on this article, "How Can I Put Music on MP3 Player from Spotify," to further enlighten your insight with incredible tips and tricks related to Spotify music.
Final Thoughts
Spotify claims the throne for the best music application, and with such a diversified consumer base, there are diversified queries. Simplified solutions make tough and technical subjects easy, and that's what we did today. You can now upload music to Spotify and download your music from Spotify directly by following the simple steps we have just discovered for you.
If you have any further queries about Spotify, Apple Music, and their tips and tricks, visit the How To section of our diversified solutions.