When you download music on Spotify, you only "rent" the songs for as long as you're a premium member, which makes most music lovers heart-breaking. Alternatively, a Spotify downloader enables its users to permanently download their favorite playlists and music from Spotify to their devices.
Are you wondering where to get a Spotify music downloader? The rest of the post will show you in detail.
CONTENT Part 1. How to Download Music on Spotify?Part 2. Best Spotify Downloader for PC (Windows & Mac)Part 3. 2 Best Spotify Downloader APK for AndroidPart 4. Top 3 Spotify Music Downloader OnlinePart 5. Spotify Playlist Downloader for iOSFinal Verdict
Part 1. How to Download Music on Spotify?
If you're a premium user, Spotify allows downloading songs directly in the app to listen offline. The process of downloading music from Spotify is straightforward.
Step 1. Open the Spotify App.
Step 2. In the bottom right, there will be an option for the library. Press it. It will open up the playlist.
Step 3. From there, you can tap on the download options, and it will turn green.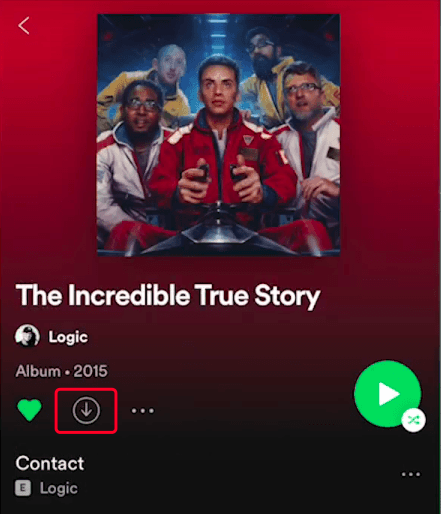 That's how you download music from Spotify within the app itself. Now you will see the downloaded music in the Spotify app. These downloaded songs should work with all platforms, right? But the dilemma is it doesn't. Spotify has encrypted channels incompatible with many smart devices. Also, one cannot find the downloaded Spotify music in the default music app. What a headache!
A Spotify downloader helps decode the encrypted channels with just one tap and stores the music permanently into your device. The free Spotify downloader retains all audio files in MP3 or other prevailing audio formats, universal and compatible with almost every music-playing app.
Part 2. Best Spotify Downloader for PC (Windows & Mac)
SpotiKeep Spotify Music Converter removes the Digital Right Management (DRM) protection of Spotify to download the music files from Spotify securely and privately. With a few simple clicks, you can keep your Spotify Music, Albums, and Playlist permanently without Premium. The downloaded Music on SpotiKeep also maintains the original quality. This Spotify music downloader supports batch download as well.
Wondering how to download Spotify URL to MP3 or other formats? Just download and install SpotiKeep on your device and let's begin the step-by-step tutorial.
How to Use SpotiKeep Spotify Music Downloader on Windows
First of all, please download SpotiKeep Spotify Music Downloader on your Windows computer and install it.
Step 1. Run SpotiKeep after the installation, and click on "Open the Spotify web player." The converter will redirect you to the Spotify web player, sign in with your free account. Spotify requires a paid premium account for the download feature, but here with SpotiKeep, you can break this limitation.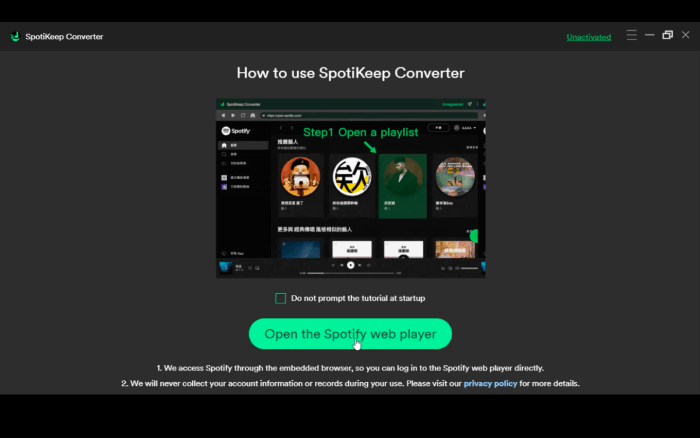 Step 2. You'll see all of your playlists displayed on the web player. Select the playlist you want to download and click on it.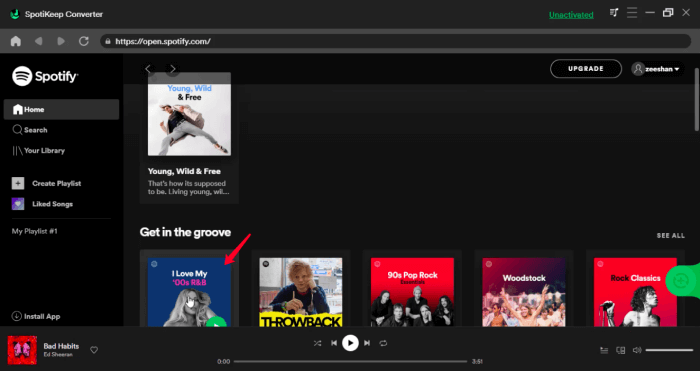 NOTE: You can collect every song you would like to download and create a new playlist in advance. Therefore, you're able to download all music at once.
Now please go to the "Please open a playlist" green button.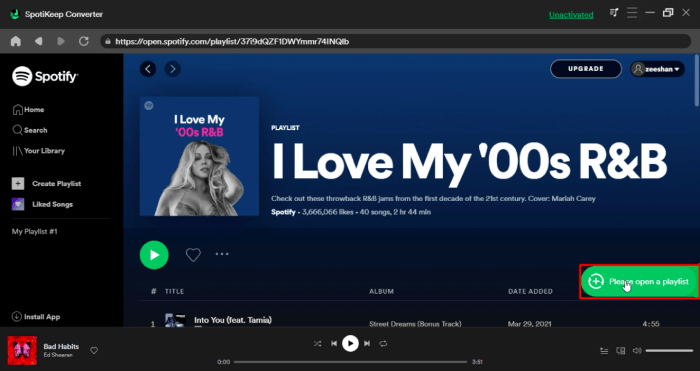 Step 3. You can see all songs of the playlist listed in the converter. Choose the "Output Format" beside each track, and you can customize the format to MP3, WAV, FLAC, or M4A. To select the output format of all songs, please go to "Convert all Items to" on the top right corner.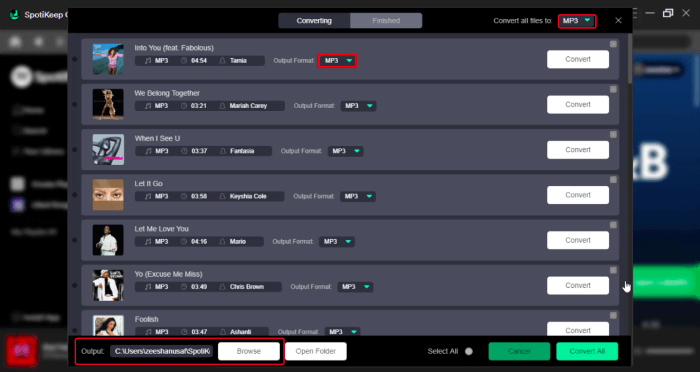 Step 4. SpotiKeep offers two ways to download Spotify playlist to MP3 – single download or batch download. For single downloading, click the "Convert" button on the right side of your selected song.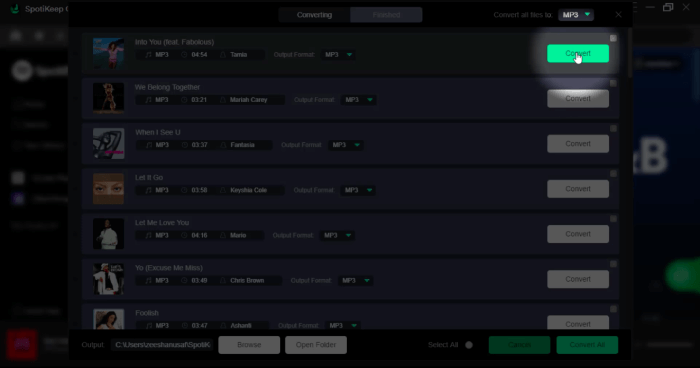 For batch download, choose "Select All" and "Convert All Items."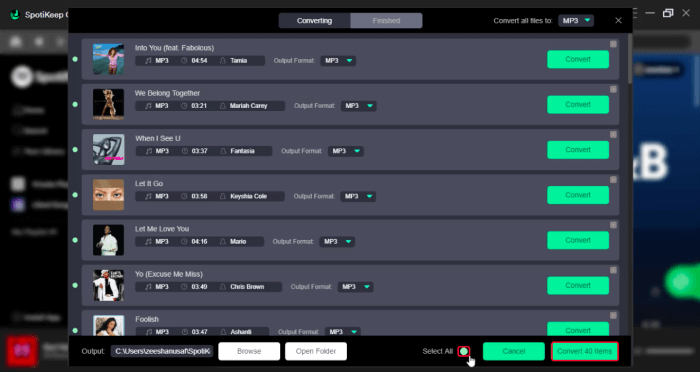 Once you press the convert button, SpotiKeep will start the download progress immediately.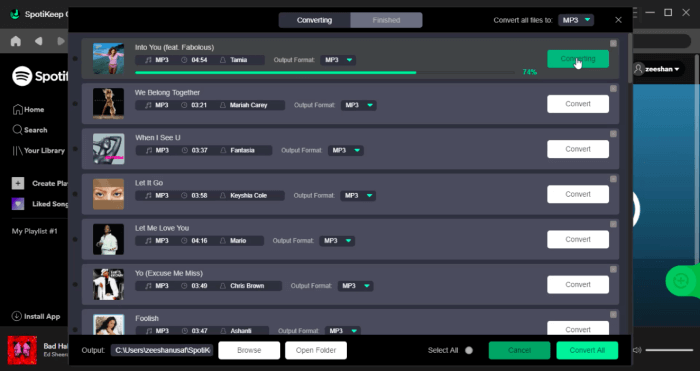 To help you understand the process better, we've prepared a YouTube video tutorial for you.
How to Use SpotiKeep Spotify Playlist Downloader on Mac
Before you can download Spotify music, you need to make sure you've installed the Mac version of SpotiKeep Spotify Playlist Downloader. If you haven't, please go to the following links to download and install the program.
Step 1. Copy the link for the song, album, or playlist you want to download from Spotify.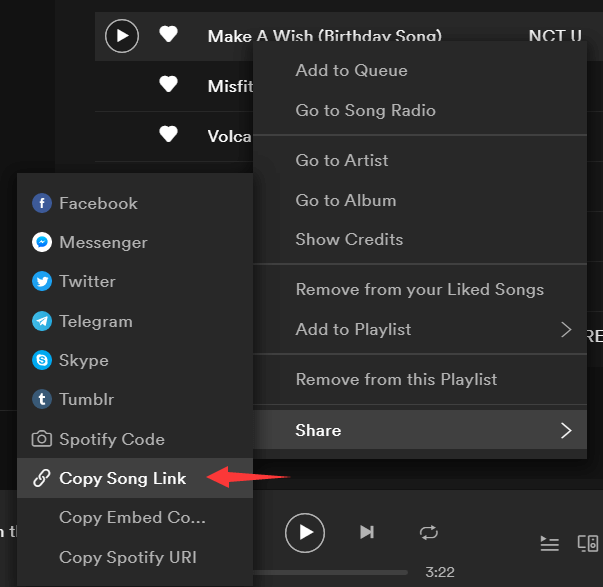 Step 2. Run SpotiKeep Spotify Playlist Downloader, and paste the link in the blank bar.
Step 3. Click on "Add File", then you'll see the song or playlist displayed below.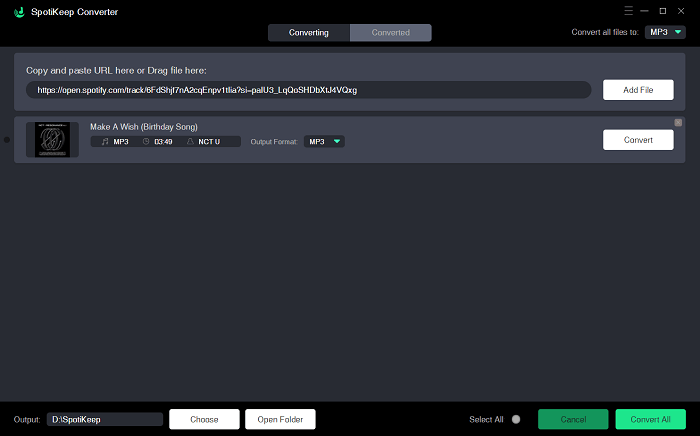 Step 4. You can change the file locations and download format in the "Output" and "Output Format" options.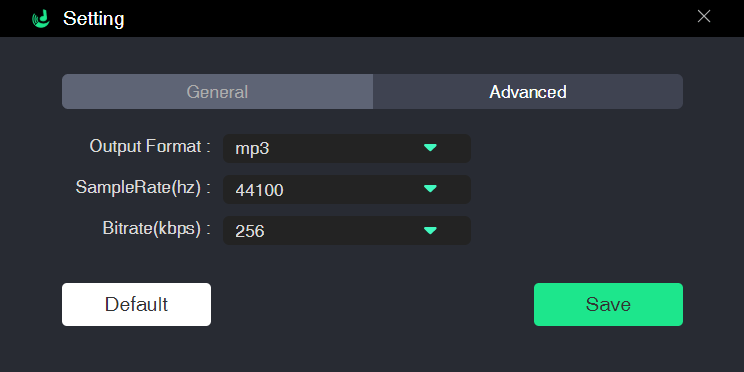 Step 5. Hit the "Convert" button, and your music will start to download. Your song will be stored directly into the path/folder selected.
Pros & Cons of SpotiKeep Spotify Music Downloader
* Pros: SpotiKeep keeps things simple and lowkey with an easy-to-use interface. Accessibility options are all there, like having the opportunity to change the location. Choose between various formats like MP3, M4A, and FLAC. The download process is swift even with the active DRM protections. It is an excellent substitute for a Spotify premium account.
* Cons: Only free for one month.
Part 3. 2 Best Spotify Downloader APK for Android
1. SpotiFlyer Spotify Music Downloader
Not everyone likes to download their songs on Windows or Mac. There should be something for android users. SpotiFlyer is an Android-based application that lets you download your favorite songs from Spotify directly into your android device. The application is effortless to operate and doesn't need any license and API verification keys.
There are particular frills you can expect when using SpotiFlyer. It has an inbuilt extension to mute whenever a Spotify ad plays. Other than that, the application doesn't allow certain ads to show up on your screen.
2. Spotify Downloader APK from APKSum
Spotify Downloader APK is a tool to download your favorite songs from Spotify. Not everyone loves the Spotify app's commitments, people want to take control, and Spotify Downloader APK lets them do so in an elegant way. The sound quality keeps at par with the original, and no Ads are there to interrupt the experience, as you may face in some third-party Spotify downloader APK.
NOTE: If you don't like the two downloader apk we recommend above, here's more Spotify premium mod apk that works on Android.
Part 4. Top 3 Spotify Music Downloader Online
1. DZR Spotify Music Downloader
DRZ Music Downloader is a Spotify downloader chrome extension that provides you with your songs in just one click. With just one press, the songs saved are now on the device permanently. DRZ only downloads the songs that are already present free on the music resources. It cannot download or enable the paid or premium songs in Spotify.
2. Spotiload (Spotify VK Playlist Downloader)
Spotiload, known as Spotify VK Downloader, is a powerful yet flexible Spotify downloader online. It works as a chrome extension and remains in the background until you press on download now. The download process is straightforward, click anywhere on the screen, and it shows you some accessibility features. Click on download now, and Spotiload will take over, and the file will download in only a few seconds.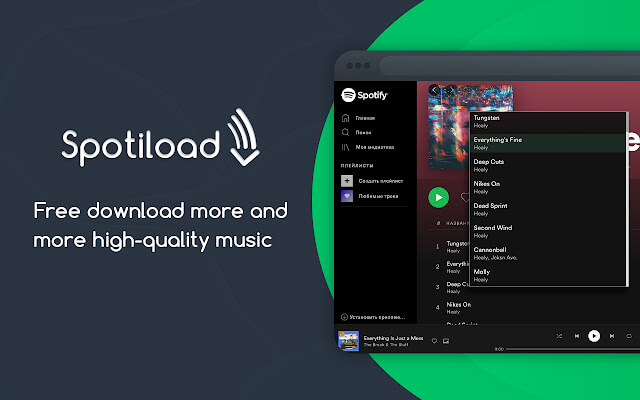 3. Music Saver
Music Saver is a versatile Spotify downloader APK that lets you download your music or audio files directly from the music resources. It works just as a free extension for Google chrome. This extension can pair with any music resource and download the requested files in seconds. This Spotify downloader online remains subtle in the background until some music files show up on the screen. Right-click anywhere and download by pressing download now.
Part 5. Spotify Playlist Downloader for iOS
iOS is always hard to enjoy the freedom to download whatever files you want, but today, the scenario is slightly different. You can download a Spotify++ app on your iOS device. A spotify++ app is a cracked version of the regular Spotify app. It bypasses a non-premium user's restrictions and allows them to download the audio files directly into the app. You can access all of a premium account's abilities with the Spotify++ application without having to pay for it. For anyone interested, please follow this YouTube video guide of How to Download Spotify++ on iOS.
Final Verdict
We have discussed enough ways for every single platform so that you don't have to pay for the premium services, and it's not illegal. Most of the laws are on distributors and not on the users. If you can't have a free Spotify premium, why not avail yourself of the opportunity to get a Spotify downloader to keep all your Spotify music to yourself. In this way, you can share your Spotify music and playlists across other music-playing devices. The No.1 downloader we recommend is SpotiKeep Spotify Music Converter. Download the program and work the magic now.
Any other suggestions on Spotify downloader? Please leave a comment if you have better ideas.
Apple Music Converter
Convert and Save your favorite songs from Apple Music Permanently for Free.
Don't miss a moment of the Music you love.
Spotify Music Converter
Download Spotify songs, albums and playlist Permanently for Free.
Don't miss a moment of the Music you love.