What is a Spotify downloader and why we need it? As everyone knows, Spotify doesn't allow users to possess its music streams. When you download music on Spotify, you only "rent" the songs for as long as you're a premium member, which makes most music lovers heart-breaking.
Alternatively, a Spotify downloader enables its users to permanently download their favorite playlists and music from Spotify to their devices. Are you wondering where to get a Spotify downloader? The rest of the post will show you in detail.
CONTENT Part 1. How to Download Music on Spotify?Part 2. Top 5 Spotify Downloader for PC (Windows & Mac)Part 3. 2 Best Spotify Downloader APK for AndroidPart 4. Top 3 Spotify Downloader OnlinePart 5. Spotify Downloader for iOSFinal Verdict
Part 1. How to Download Music on Spotify?
If you're a premium user, Spotify allows downloading songs directly in the app to listen offline. The process of downloading music from Spotify is straightforward.
Step 1. Open the Spotify App.
Step 2. In the bottom right, there will be an option for the library. Press it. It will open up the playlist.
Step 3. From there, you can tap on the download options, and it will turn green.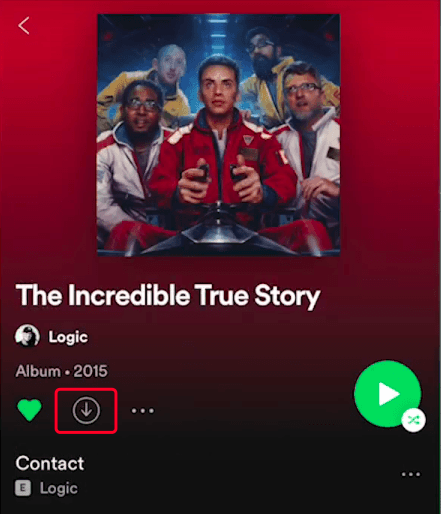 That's how you download music from Spotify within the app itself. Now you will see the downloaded music in the Spotify app. These downloaded songs should work with all platforms, right? But the dilemma is it doesn't. Spotify has encrypted channels incompatible with many smart devices. Also, one cannot find the downloaded Spotify music in the default music app. What a headache!
A Spotify downloader helps decode the encrypted channels with just one tap and stores the music permanently into your device. The free Spotify downloader retains all audio files in MP3 or other prevail audio formats, universal and compatible with almost every music playing app.
Part 2. Top 5 Spotify Downloader for PC (Windows & Mac)
1. SpotiKeep
SpotiKeep Spotify to MP3 Downloader removes the Digital Right Management (DRM) protection of Spotify to download the music files from Spotify securely and privately. With a few simple clicks, you can keep your Spotify Music, Albums, and Playlist permanently without Premium. The downloaded Music on SpotiKeep also maintains the original quality. This downloader supports batch download as well. How to download music from Spotify to MP3 or other formats? Just download and install SpotiKeep then do the following steps.
Step 1. Copy the link for the song, album, or playlist you want to download from Spotify.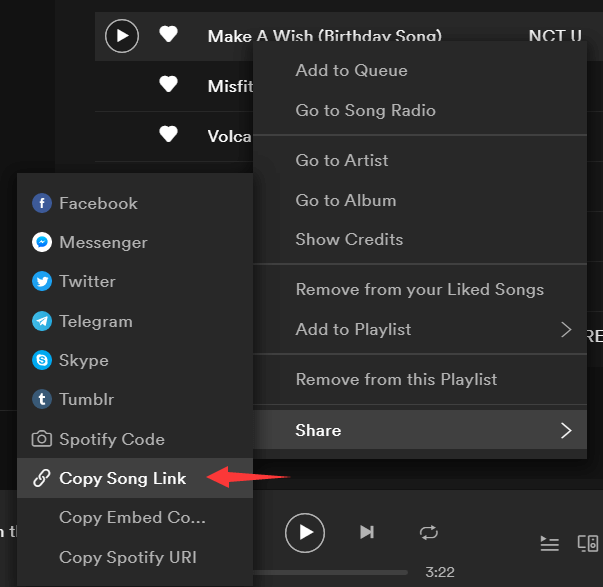 Step 2. Run SpotiKeep Downloader, and paste the link in the blank bar.
Step 3. Click on "Add File", then you'll see the song or playlist displaying below.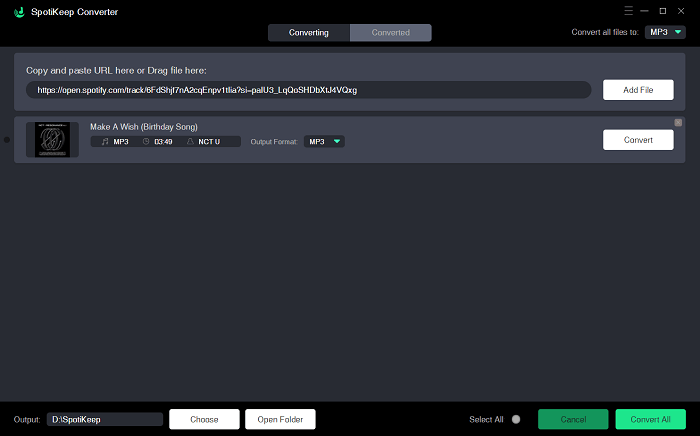 Step 4. You can change the file locations and download format in the "Output" and "Output Format" options.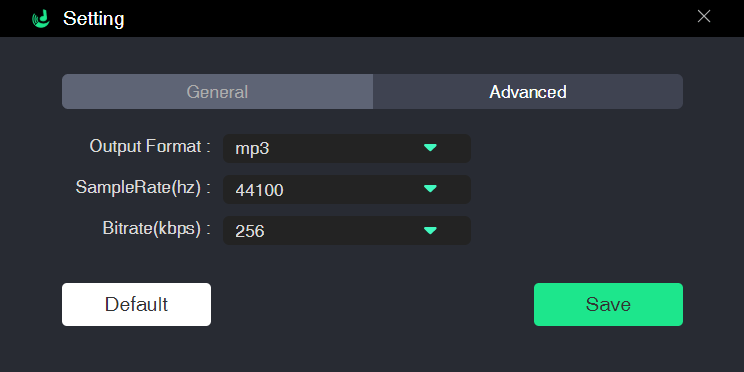 Step 5. Hit the "Convert" button, and your music will start to download. Your song will be stored directly into the path/folder selected.
* Pros: SpotiKeep keeps things simple and lowkey with an easy-to-use interface. Accessibility options are all there, like having the opportunity to change the location. Choose between various formats like MP3, M4A, and FLAC. The download process is swift even with the active DRM protections. It is an excellent substitute for a Spotify premium account.
* Cons: Not free.
2. Audfree
Audfree is a highly intrusive and clean Spotify downloader window and Spotify Downloader Mac application. While downloading Spotify music, it retains your music's original crisp quality and keeps the ID3 tags and all metadata info. Audfree decrypts the OGG Vorbis and provides a seamless and fluent transition across different types of formats.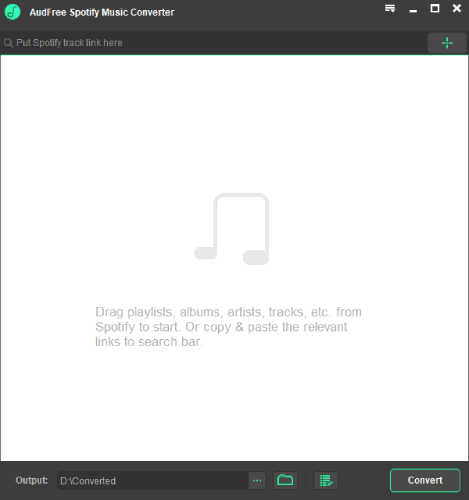 * Pros: Audfree offers a lot of customization in audio formats like MP3, FLAC, AAC, and WAV. It retains the music file's original quality while converting it five times more speed than regular. It also offers a 1x mode that slows down the conversion rate and provides a superior file. The user interface is aesthetically pleasing since you only have to drag and drop the files. And the rest of the work is done by Audfree on a single tap. App itself allows you to run your freshly downloaded songs on your portable devices.
* Cons: The application and its features limits to windows and Mac only. You have to care for the music downloaded for Android and iOS manually. A minimal period is allowed for the free users, and even then, the user experience is very clumsy due to the ads.
3. TunePat
TunePat is a well-optimized Spotify downloader window and Spotify Downloader Mac application. It won't even need an actual Spotify application installed on your PC. It does it all through a web-based portal to save your memory and functions. TunePat is a multi-tier Spotify downloader pc that enables you to download music in MP3, WAV, AAC, FLAC, and AIFF. It's a feast for developers and enthusiasts because of its high performance.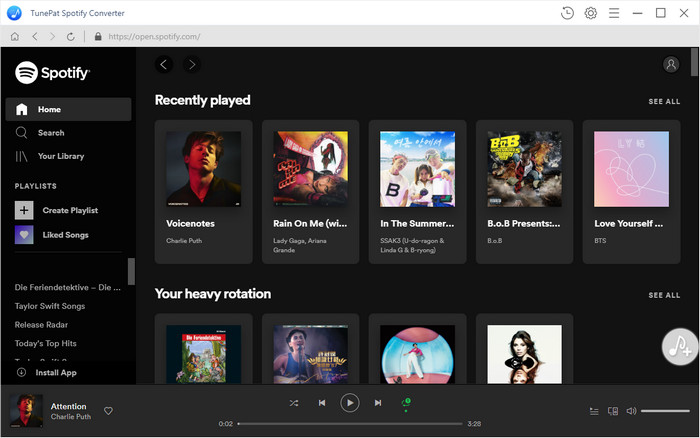 * Pros: At par with some of the top-rated Spotify downloader PC programs, Tunepat stands out for its ability to keep lossless audio with ID3 tags. It offers incredible conversion rates as high as 10x, providing a tremendous boost in performance even for a web-based application. The application utilizes an embedded Spotify link through which it downloaded the files saving your time and memory.
* Cons: The only major drawback of TunePat is it offers a maximum of 256kpbs audio playback. Not everyone can notice the difference between a 256knps and a 320kbps or more. It is a fallback for those who value and see more resonant mids and clear high notes.
4. Tune4Mac
Don't fall for the name. Tune4Mac works excellent as a Spotify downloader window as well as a Spotify Downloader Mac application. More or less, every Spotify downloader PC offers similar principles apart from some fundamental difference. And this remains true for Tune4Mac. Let's look at the set of features below in the Pros.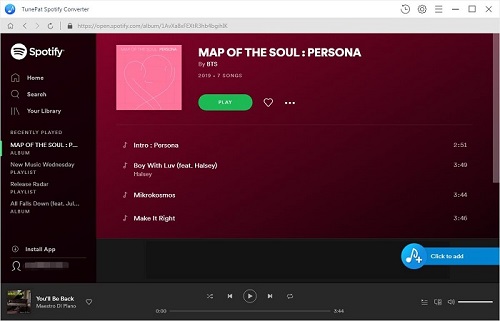 * Pros: It shares a common database with Spotify, so all songs are mirrored across the interface. Tune4Mac automatically removes ads in the free Spotify account, which is a significant relief. It lets you save files on desired locations across the user interface. It works fine as a video converter, too.
* Cons: The interface is straightforward to use and doesn't come with frills like high conversion speeds and many customizations. It looks more like an old-school application.
5. Tunecable
If you are low on budget and don't want any compromises, Tunecable is your way to go. Tunecable is a VK downloader that offers the same aesthetics as big players. It provides for both platforms, i.e., Mac and Windows. Tunecable decrypts the Spotify music into universal formats like MP3, WAV, FLAC, AAC, and AIFF. Compatibility options and all-rounder performance makes it the best bang for the buck.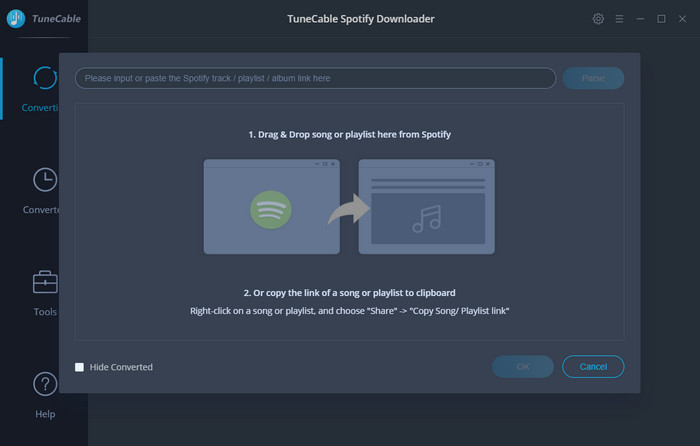 * Pros: It offers 100% quality retention of original tracks while keeping the ID3 tags. Conversion rates boost at 5x with lossless quality, which is excellent. Windows and Mac versions have a lot in common, and the feature set is also similar. You can convert music, playlists, albums, and even podcasts with the Tunecable. Technical support and continuous upgrades make it a more updated and physical option in the market.
* Cons: Tunecable is an excellent Spotify converter, but you may find some discrepancies as an overall download manager. It's not so big of a deal if you look for a broader picture considering all facts.
Part 3. 2 Best Spotify Downloader APK for Android
1. SpotiFlyer
Not everyone likes to download their songs on Windows or Mac. There should be something for android users. SpotiFlyer is an Android-based application that lets you download your favorite songs from Spotify directly into your android device. The application is effortless to operate and doesn't need any license and API verification keys.
There are particular frills you can expect when using SpotiFlyer. It has an inbuilt extension to mute whenever a Spotify ad plays. Other than that, the application doesn't allow certain ads to show up on your screen.


2. Spotify Downloader APK from APKSum
Spotify Downloader APK is a tool to download your favorite songs from Spotify. Not everyone loves the Spotify app's commitments, people want to take control, and Spotify Downloader APK lets them do so in an elegant way. The sound quality keeps at par with the original, and no Ads are there to interrupt the experience, as you may face in some third-party Spotify downloader APK.
NOTE: If you don't like the two downloader apk we recommend above, here's more Spotify premium mod apk that works on Android.
Part 4. Top 3 Spotify Downloader Online
1. DZR Music Downloader
DRZ Music Downloader is a Spotify downloader chrome extension that provides you with your songs in just one click. With just one press, the songs saved are now on the device permanently. DRZ only download the songs that are already present free on the music resources. It cannot download or enable the paid or premium songs in Spotify.
2. Spotiload (Spotify VK Downloader)
Spotiload, known as Spotify VK Downloader, is a powerful yet flexible Spotify downloader online. It works as a chrome extension and remains in the background until you press on download now. The download process is straightforward, click anywhere on the screen, and it shows you some accessibility features. Click on download now, and Spotiload will take over, and the file will download in only a few seconds.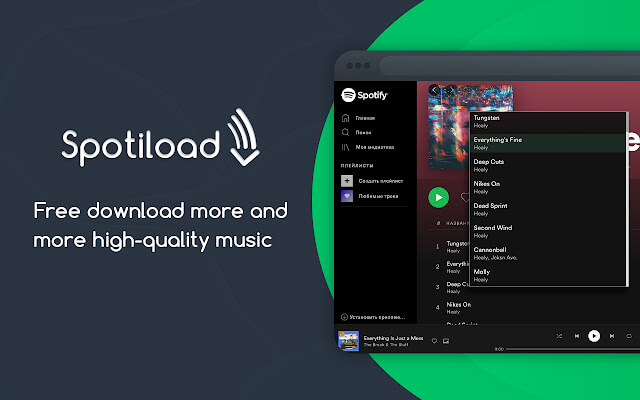 3. Music Saver
Music Saver is a versatile Spotify downloader APK that lets you download your music or audio files directly from the music resources. It works just as a free extension for Google chrome. This extension can pair with any music resource and download the requested files in seconds. This Spotify downloader online remains subtle in the background until some music files show up on the screen. Right-click anywhere and download by pressing download now.
Part 5. Spotify Downloader for iOS
iOS is always hard to enjoy the freedom to download whatever files you want, but today, the scenario is slightly different. You can download a Spotify++ app on your iOS device. A spotify++ app is a cracked version of the regular Spotify app. It bypasses a non-premium user's restrictions and allows them to download the audio files directly into the app. You can access all of a premium account's abilities with the Spotify++ application without having to pay for it. For anyone interested, please follow this YouTube video guide of How to Download Spotify++ on iOS.


Final Verdict
We have discussed enough ways for every single platform so that you don't have to pay for the premium services, and it's not illegal. Most of the laws are on distributors and not on the users. If you can't have a free Spotify premium, why not avail yourself of the opportunity to get a Spotify downloader to keep all your Spotify music to yourself. In this way, you can share your Spotify music and playlists across other music-playing devices. The No.1 downloader we recommend is SpotiKeep Spotify to MP3 Downloader.
Any other suggestions on Spotify downloader? Please leave a comment if you have better ideas.
Apple Music Converter
Convert and Save your favorite songs from Apple Music Permanently for Free.
Don't miss a moment of the Music you love.
Spotify Music Converter
Download Spotify songs, albums and playlist Permanently for Free.
Don't miss a moment of the Music you love.