"Do you have the ability to download music to your computer without paying a subscription fee to Spotify?" This is the most-asked question among Spotify users.
This article will guide you on downloading music from Spotify without a premium on the computer, Android phone, and iPhone.
CONTENT Part 1. Is It Possible to Download Spotify Songs without Premium?Part2. Download Music from Spotify without Premium on PCPart 3. Download Spotify Music without Premium on AndroidPart 4. Download Music on Spotify without Premium on iPhoneFinal Thought
Part 1. Is It Possible to Download Spotify Songs without Premium?
Users of Spotify can listen to music online for free. But if you don't have a paid premium subscription, you will not download songs from Spotify. Even with a premium membership, the songs you downloaded from the Spotify app are all encrypted in DRM-protected audio format, meaning you can't play them on other apps or players.
So, is there any way to break this limitation so that we can download Spotify songs without premium? The answer is yes. Thanks to the internet, there're many third-party tools like SpotiKeep Spotify Music Converter, Telegram Bot, or SpotiFlyer that can help you.
We'll thoroughly introduce step-by-step guides on downloading music from Spotify without a premium account on a computer, iPhone, or Android phone in the rest of this post.
Part2. Download Music from Spotify without Premium on PC
Is it possible to download songs from Spotify on a PC without paying for them? Using Spotify Music Converter will help you to clarify. SpotiKeep Spotify Music Converter is perfectly suitable for beginners. You can easily download Spotify songs to MP3, M4A, WAV, and FLAC with Spotify Music Converter on PC.
Review of the Best Spotify Music Converter - SpotiKeep
SpotiKeep Spotify Music Converter has always been the best and most professional Spotify MP3 downloader. This is a desktop application only available for Windows and Mac. Downloading Spotify music as MP3 is easy, thanks to the user interface.
How does SpotiKeep Spotify Music Converter work? It uses a simple Spotify URL to retrieve Spotify songs. The result is that you won't even have to download the Spotify app or subscribe to the premium version.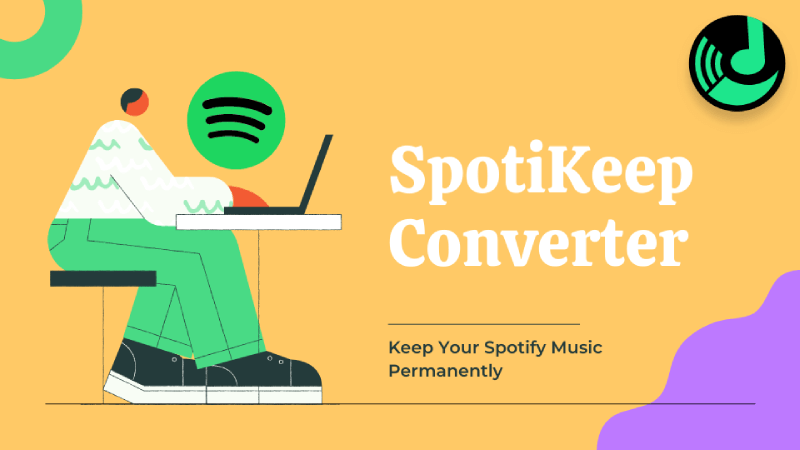 With Spotify Music Converter, you can convert Spotify music to MP3 or another audio format and remove the Digital Rights Management protection. Despite all of this, the original audio quality isn't lost even a single kb.
The following features are included in SpotiKeep Converter:
Multiple output formats such as MP3, WAV, M4A, and FLAC.
Subscriptions to Spotify Premium are not required.
Removing DRM to prevent copyright claims.
Converted audio with no loss.
There is the option of batch conversion.
Downloading MP3s from Spotify is relatively straightforward with this application.
Download Spotify Songs without Premium with SpotiKeep
Below are the steps you need to follow to download Spotify music using Spotikeep Spotify Music Converter.
Step 1. Download SpotiKeep Converter and Install It
SpotiKeep Spotify Music Converter supports both Windows and Mac operating systems. Please click the download button below and install the latest version on your computer.
When you run the program for the first time, you will have the option of continuing the 30-day free trial by clicking the "Continue Trial" button or entering the license code immediately to begin using the SpotiKeep Converter full version.
Step 2. Log In with Your Spotify Account
Click the "Open the Spotify Web Player" button to access the web player of Spotify within the converter. Then log in with your Spotify free account.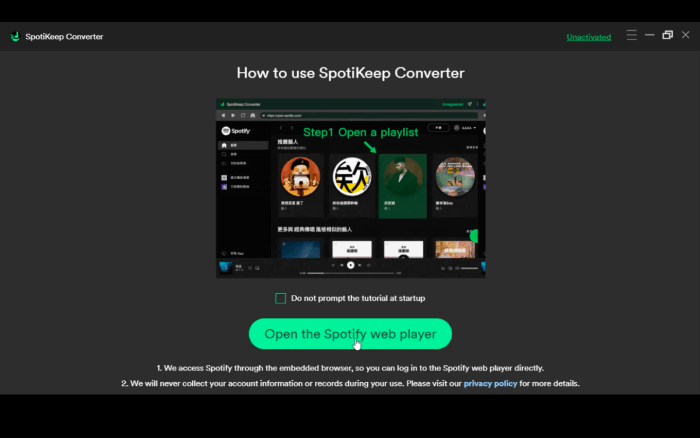 Step 3. Open a Spotify Playlist to Convert
Select the playlist that contains the Spotify songs you would like to download. Then click the green button at the right bottom of the converter.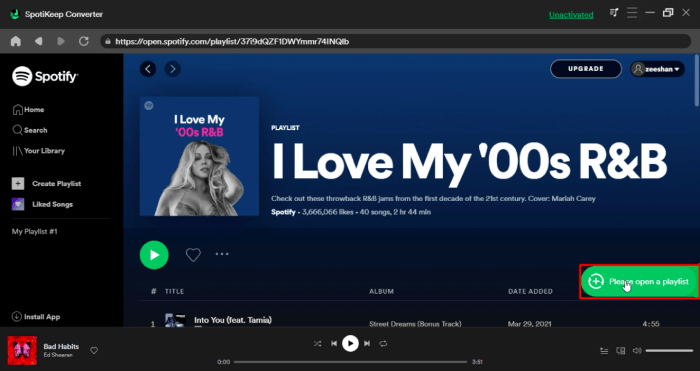 Step 4. Choose Your Output Settings
Tracks from Spotify can be downloaded as MP3, M4A, FLAC, or WAV files. You can choose the format for your Spotify song by selecting "Convert all files to." Alternatively, you can also select "Output Format" from the drop-down menu to change the format of each song.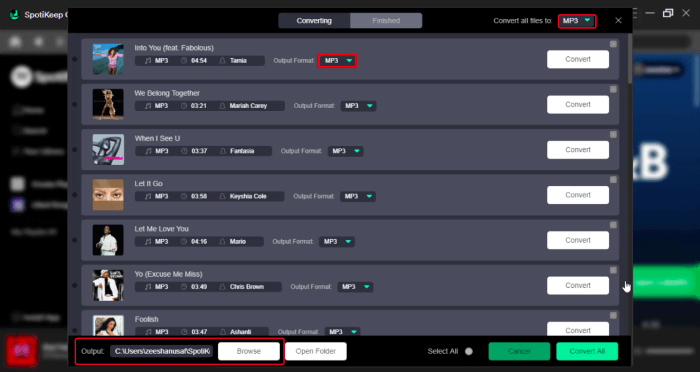 Step 5. Download Spotify Songs without Premium
Now hit the "Convert" button of the song you want to download. To download all Spotify tracks of the displayed playlist, click "Convert All."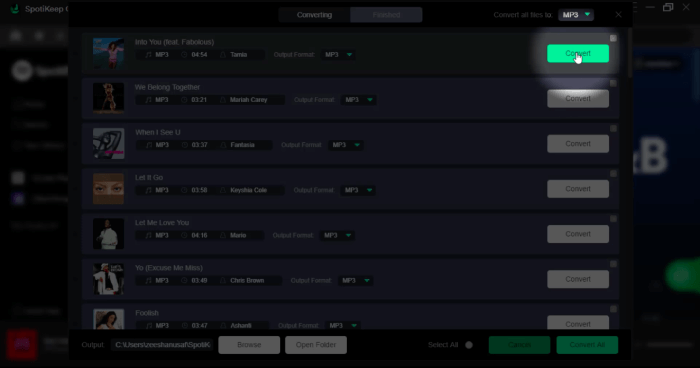 Once you have completed all the output parameters on the "Finished" page, users can see Spotify files downloaded.
Using this guide, you've learned how to download Spotify tracks without a premium account. Now you can import Spotify music onto other audio players or devices to enjoy Spotify offline.
To better understand how to convert Spotify music to MP3, please check this video tutorial.
Part 3. Download Spotify Music without Premium on Android
Some people don't enjoy downloading their music on a PC or Mac. For Android users, something should be available. SpotiFlyer is an Android app that allows you to download your favorite Spotify songs straight to your Android phone. Using the application is simple, and it requires neither licensing nor API authentication credentials.
You may expect some additional features when you use SpotiFlyer. Whenever a Spotify advertisement plays, it automatically mutes the music. Aside from that, the program prevents certain advertisements from appearing on your screen.
Step by Step Tutorial of SpotiFlyer
Step1: Download the SpotiFlyer application to your Android device and install it.
Step 2: Run the application after the installation is complete. On the front page of the application, you will see the Spotify icon. Tap it.
Step3: Next, you will open the Spotify app and play the song you wish to download. Once you have played the music, click the three dots upper side of the right corner. You will find the option to share. Once you select the share option, the option to copy the link will appear. Click on the "Copy Link."
Step4: On the front page of the SpotiFlyer application, you will see a "paste link here" field. Paste the copied link into this field, then click search.
Step5: The song will appear on the screen with a download arrow next to it. Simply click the arrow and finish downloading your favorite music. Your favorite song will be stored in your audio library.
Part 4. Download Music on Spotify without Premium on iPhone
If you have the Telegram app installed on an Android or iOS device, you can use the Telegram bot @spotify_down_bot to download Spotify music without a premium subscription.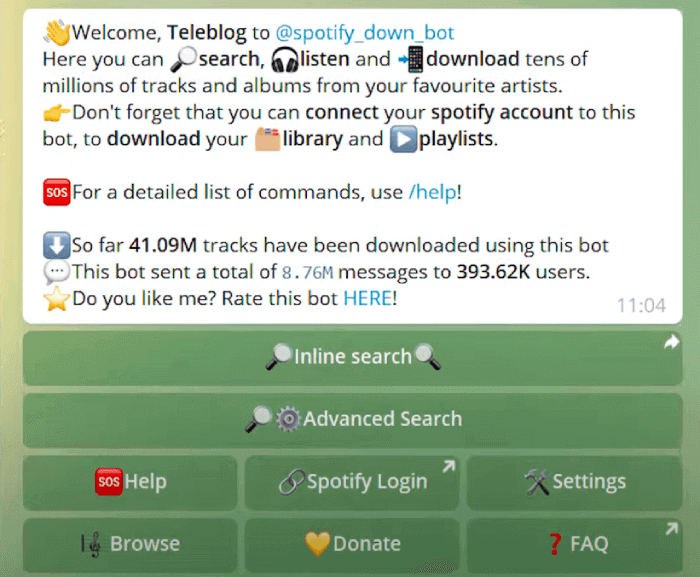 Here's a step-by-step guide on how you download music from Spotify without premium with Telegram.
Step1: To begin, open Telegram and search for "@spotify_down_bot."
Step 2: Open the Bot by selecting it from the search results.
Step 3: Then type /start.
Step 4: Paste the Spotify link into the field and click send.
There you have it, and you will have the song's downloaded file. Now you can enjoy your Spotify music anywhere you would like.
Final Thought
There are enough options for each platform so that you don't have to pay for premium services, and it's not illegal to do so. We sincerely hope that you can find these methods for free Spotify downloads.
Apple Music Converter
Convert and Save your favorite songs from Apple Music Permanently for Free.
Don't miss a moment of the Music you love.
Spotify Music Converter
Download Spotify songs, albums and playlist Permanently for Free.
Don't miss a moment of the Music you love.