It's not news that some people in certain countries can't access Spotify. How to get Spotify unblocked so that everyone can enjoy Spotify music? What can you do when you get a prompt saying "a firewall may be blocking Spotify"?
In this article, we'll show you a few simple ways to get the Spotify web player unblocked and unblock Spotify from the firewall and school's network.
CONTENT Part 1. A Firewall May be Blocking Spotify: How to FixPart 2. Spotify Web Player Unblocked: Use a VPN Part 3. How to Get Spotify Unblocked at SchoolPart 4. How to Unblock Spotify without VPNFAQs of Getting Spotify UnblockedFinal Words
Part 1. A Firewall May be Blocking Spotify: How to Fix
Sometimes, when we play songs on Spotify, it gives a disclaimer "A firewall may be blocking Spotify." Most people have no idea how to deal with this situation. This particular situation means there might be problems with the proxy settings, VPN, and firewall settings. Let's break down each of the possible errors.
Solution#1: Disable Proxy and Firewall settings
A proxy is a protective layer to protect against malicious files and threats to the system. Some specific servers might not allow the proxies to retrieve data. There is some confusion when disabling the firewall and proxy. Disabling proxy settings means it will enable the computer to retrieve data from a server without restrictions. Disabling the firewall means removing the blockage by windows to filter the data transfer from any source.
If disabling proxy doesn't work, try to disable the firewall under the windows menu of your desktop.
Solution#2: Disable VPN
Many mainstream applications, including Netflix and Spotify, won't work under the influence of VPN. Spotify doesn't support VPN officially because it has different servers and pricing structures for every country. It rings the bell when the VPN is connected to the servers of another country. And your Spotify profile says a different country. One solution is to disable VPN entirely.
Solution#3: Change the country of your Spotify Account
If you are too concerned about your privacy, then we advise you to change the country of your Spotify account to the VPN source. But make sure one thing, your source country should support Spotify free and premium versions. If you want to avoid VPN, make sure you have selected the correct country you live in. Here's how you change the country for Spotify account:
Step 1: Log into your Spotify account.
Step 2: Click on the account profile toggle at the top right corner. And then tap on Account.
Step 3: Scroll down the account tab and click on Edit Profile. Change the country. Then click on Save Profile.
The above options should land your Spotify unblocked, whether a Firewall or a VPN blocks your Spotify.
Part 2. Spotify Web Player Unblocked: Use a VPN
Unlike the wrong proxy server or firewall, a right can make your way clear. Spotify isn't available in every country. And some countries don't offer premium plans. Also, the music selection and the hot charts are region-specific. So sometimes it works, and sometimes it won't.
So, what is the better solution? Using a VPN might solve the problem for you. Simply because Spotify allows full-fledged premium services in some counties, you can unblock your Spotify there.
VPN allows you to use servers of other countries, so virtually, you are not connected to your country's servers. Instead, you are in any country globally according to your VPN settings. A VPN will fake your IP address and makes Spotify think you are actually in the selected country. This unblocks the user experience according to the country.
The whole generic music of the country is also a privilege to you, along with the top charts, billboards, and everything that a regular user of the country will have. Be consistent in what you do. It won't help if you keep playing around with the VPN.
Part 3. How to Get Spotify Unblocked at School
The free wi-fi in schools is for study purposes. And to limit the usage across unrelated platforms, there is an active proxy. A proxy mediates the data transfer with allowed servers and blocks the rest. This is why whenever you play Spotify connected to the school network, it displays an error or doesn't show up at all.

The problem isn't with Spotify. The school IT department might have blocked authorization to tons of multimedia streaming applications. The good news is there is an easy fix for this. And the solution isn't just for school. It works just as fine with other public wi-fi options that have an active proxy on them.
Use a safe and secure VPN to unblock Spotify in your school. Simply download the VPN and set up your account. Make sure the next time you play Spotify while connected to the school wi-fi. You have an active VPN. That's it, and your good to go. And the bonus point is a good VPN won't only work for Spotify, but it unblocks all other restricted networks, including similar digital streaming applications.
Part 4. How to Unblock Spotify without VPN
Suppose you want a simple solution for your blocked Spotify issue. And you believe the active VPNs and proxies make things worse. You are partially correct. Because proxies and VPNs are not only for Spotify. It filters all of the ongoing data traffic from your system, which means you cannot run some sensitive applications prone to VPN.
Here is the ultimate solution to your question about how to unblock Spotify. Use an offline music downloader so good that you won't have to use any VPN or proxy ever again. SpotiKeep Converter can rip off playlists and songs from Spotify without losing any audio quality. The music feels just as good as Hi-fi quality on Spotify.
On top of that, SpotiKeep gives you an option to choose any of the most popular formats on the planet. And that's not it. There are tons of features it offers at a reasonable price. The bonus is you do not need to have a premium subscription for Spotify to download songs from Spotify.
Let's take a look at the features SpotiKeep Converter offers.
DRM (Digital Right Management) removal to protect against Copyright claims
Customizable output formats including MP3, M4A, WAV, AAC, and FLAC, among others.
Lossless audio quality and batch downloads
High conversion rates for quick downloads
Retains the original ID3 tags of songs, artists, and albums
Downloading Spotify music with SpotiKeep Converter is just as easy as operating the software. Let's break it down into simple and easy steps.
Step 1: Download and install the SpotiKeep application. Then launch the application.
Step 2: Copy the URL of the song you want to download. It can be from a web browser, and you don't even need an actual application for this. Once you have copied the song, paste it into the empty bar in the SpotiKeep application. Now click on Add file. The music will add up in your queue. If you want to download the songs in batch, head back to the search browser and copy-paste the song again. And then click on Add File.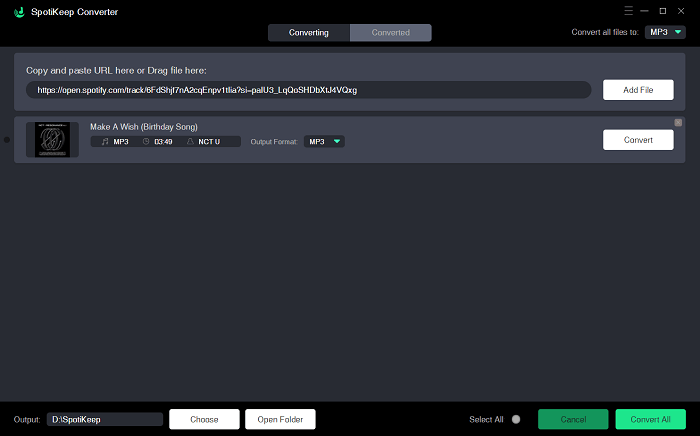 Step 3: Customize the audio formats of the song by clicking on the toggle on the top right corner. By default, the output format is set to MP3, but you can play around with many other formats. You can also alter the download locations by clicking on the Browse option in the lower right.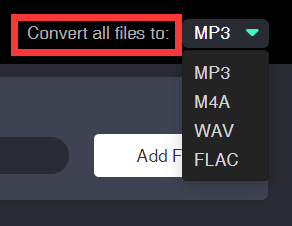 Step 4: Once you are done with the pre-requisites. Click on the Convert button on the bottom right of your SpotiKeep converter. The songs will add up in your local files folder. You can share it with any supported device and forget about having any internet connection or VPN for this. It won't take much time to download songs due to high conversion rates for Mac and Windows users.
FAQs of Getting Spotify Unblocked
Is Spotify blocked in China?
Spotify is not blocked in China. In fact, the story is quite the opposite, despite the rumors is that the Chinese govt is brutal to ban such applications. Spotify hasn't even launched its services in mainland China. And the servers, too, are not in mainland China. Outsiders and use Spotify if their account is based in some other country, but they may suffer from the slow response from the servers, as they are not for local mainland china.
Chinese cannot use free as well as the premium version of Spotify. It's a shame that a country with the highest population cannot use the most famous music streaming application. But it's okay if you can still manage to get holds on the Spotify music using the methods mentioned above. But it's more reliable to download because VPN and proxies will only add one more barrier to the already slow servers. Follow part 4 for detailed information on How to download Spotify music.
Final Words
Spotify is undoubtedly an excellent music application, but issues like not playing the music won't destroy the experience. So here we come up with all the possible queries related to unblocked Spotify and its possible solutions. From connecting it to VPN and downloading offline, this post is your ultimate guide.
Apple Music Converter
Convert and Save your favorite songs from Apple Music Permanently for Free.
Don't miss a moment of the Music you love.
Spotify Music Converter
Download Spotify songs, albums and playlist Permanently for Free.
Don't miss a moment of the Music you love.