Spotify Premium Mod APK is a modified version of the original Spotify app, enabling you to get free Spotify premium features on Android devices. Where can I download a Spotify premium mod apk? Does it work on iPhone? Is it safe to use? We have jotted down all of your questions and queries in this article. Go on reading to find your answer!
CONTENT Part 1. What is Spotify Premium APK ModPart 2. Top 7 Free Spotify Premium APK ModPart 3. FAQs of Spotify Premium APKPart 4. Anything to replace Spotify Premium APK?Final Words
Part 1. What is Spotify Premium APK Mod
To understand a Spotify premium mod apk, we first have to understand what is a mod apk. A mod apk is an altered version of the original app, with some added features. A Spotify premium apk mod works on the same phenomenon. The original app by manufacturers has some in-app purchases to unlock the premium features.
The Spotify Premium APK opens those premium features by aborting the in-app purchases. When using the apk mod for Spotify, you access the original applications' servers, and everything holds up the same. There is almost no difference when using the actual application versus the moded apk.
The question remains why to ditch the original application to use Spotify premium mod apk instead. The answer is very straightforward. Why not benefit from premium features without having to spend on them? You can have access to the features like unlimited skip, unlimited shuffle, Adblock, high-quality audio with seek bar activated, and the ability to play any song from any playlist without having to listen to the whole playlist. With the excellent mod apk, you might want to cancel Spotify premium, because you don't need a premium account anymore.
Let me tell you something for those of you who have legal concerns. There are almost no obligations for users to use the mod apk, as long as you don't make a profit.
Part 2. Top 7 Free Spotify Premium APK Mod
Many developers make some serious efforts to make mod apk. Here are some of the best Spotify premium free apk that you might consider downloading.
1. APKMODY (for Android)
Developers at APKMODY have worked effortlessly to make a very reliable modified apk for the Spotify app. The app unlocks all paid features of Spotify premium. It even offers some extra features on top like a dark theme, download songs to listen to offline, and 320kpbs audio. APKMODY is only available for Android and PC. The app itself is as safe and secure as the original application since it is only a derivation and maintains the same security standards.
Search for Spotify Premium APK on the website, and download the matched file to your Android device.
A pop-up will open, asking for permission to allow from unknown sources. Please enable it by going into the settings. Under the security option, you will see allow installation from unknown sources. Check that box.
After you do the above step, please open the website again and install it.
The installation should start and complete within a minute.
After the downloading is complete, open it, and complete the installation.
Your Spotify Premium APK Mod should be right there in the app library, along with the other apps.
To get more detailed instructions, please follow this YouTube video guide: How to Download Spotify Premium Mod APK (Full Unlocked).
2. BestForAndroid (for Android)
BestForAndoird provides its users with a non-root version of Spotify premium APK for android devices. The installation procedure follows the same as above. For any mod apk you download, the process is more or less the same. You can also take a look at the discussions of Spotify premium apk on Reddit.
The mod apk from BestForAndoird allows you to enjoy the in-app purchases for free. It enables features like 320kpbs playback, offline music download option, unlimited skips, no ads experience, and accessibility features like playback from any playlist and shuffles for total times. It's not the end, and many minor details and refinements are only apparent when you use the application for a while.
Sometimes there comes the unzip option rather than installing the package. Don't worry. Click on the unzip button, and it will more or less redirect to the installation page.
3. Descarga APK
Descarga offers its version of Spotify premium free APK. What makes Descarga stand out is its continuous update policy to tackle the issues and ongoing problems due to copyright claims by Spotify. Spotify knows if you are using an unofficial app. Previously the chances of being reported were minute because of millions of Spotify Mod APK being used. But in March last year, Spotify actively started to hunt down unofficial sources. To counter this problem, Descarga has issued an Anti-ban Spotify Premium APK. And Voila, it works.
Descarga offers excellent support even for its unofficial application, which is fantastic. The download and installation procedures are similar, as mentioned in the first point.
4. ModDroid
According to ModDroid, "Music is an indispensable thing in modern life." So, they took the initiative to make a versatile mod apk that works for every Android user. Spotify Premium free APK is available across all devices running OS and windows, which means you can enjoy two perks simultaneously.
You can listen to and backup music on your laptop or PC, and also you can do the same with your Android smartphone. The app itself is based on the original app's exact configuration but allowed in-app purchase features.
5. Tricks Nation
Tricks Nation knows how annoying it can be to listen to music with restrictions on necessary actions. So, they have introduced a mod apk version of Spotify premium to unlock all of the premium features for free means.
The freedom to roam toa around anywhere in the app is exceptional. The podcast section's access is fully opened, and all the other music features are free to use. These enhancements mean a deep and joyful experience with no holding back.
6. TechMestre
Spotify Premium APK by TechMistre offers the same features as the paid premium Spotify app. Its Spotify premium APK is very well optimized and kept light on the phone simultaneously. Currently, the Spotify premium free apk by TechMistre has over 150Million plus users, which alone speaks for the well-optimized user experience. This mod apk is available across all android and windows platforms. You can also sync between your PC/laptop or Android smartphone.
7. Bonus Tip: Spotify premium for Windows PC (Cracked Version)
Here is a bonus tip for PC users, you can now download a cracked version of Spotify premium on your windows PC. This cracked program allows you to enjoy similar features as Spotify premium free apk.
If you're interested, you can follow the instruction of this YouTube video of How To Get Spotify Premium For PC, which explains the installation process in detail.
Part 3. FAQs of Spotify Premium APK
Is Spotify Premium Mod APK safe?
A Spotify premium Mod APK is a modified version of the official Spotify application. It breaks the registrations of free users and observes the security standards at the same time. If you download a mod apk from a reliable website, you don't have to worry about safety. On the other hand, some cheap resources may get your device redirected to malicious websites and, as a result, can be unsafe.
Is Spotify Premium APK available on iPhone?
Unfortunately, Apple doesn't allow installation from unknown sources. You can only download or import to the device through iTunes or verified data transfer applications like Shareit and Zapya. If you plan to import through these data transfer sites, it won't work because the iPhone won't allow the installation. But there is always something for everyone. IOS users can download Spotify ++, which is practically similar to android mod apk but is exclusively for iOS users.
Can I download my playlist on Spotify premium apk?
Not all Spotify premium free apk is genuinely unlocked, which means not all Spotify premium apk has access to downloading the playlist for offline use. However, the seven websites mentioned above can download the playlists offline for you. And that's why we have only recommended these seven out of a thousand applications because these are the best for you.
Part 4. Anything to replace Spotify Premium APK?
Although we can benefit from a Spotify premium mod apk, it's still not the permanent solution because Spotify will ban these piracy apps sooner or later. So, is there anything to replace the Spotify mod apk? Well, SpotiKeep Spotify Music Converter is a reliable solution to download music from Spotify. SpotiKeep converter outmatches any other Spotify music downloader in the segment because of its precision and quality audio files.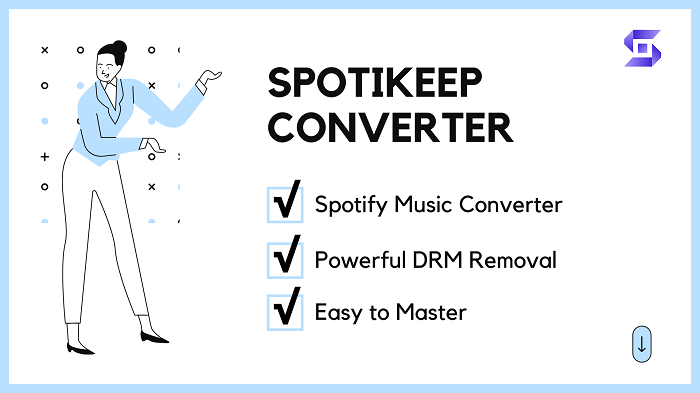 Spotify doesn't use standard MP3 files for its music. Instead, it used Ogg Vorbis – an encrypted audio file format. If you're a premium user of Spotify, the downloaded music is cut into multiple pieces. Surprisingly, SpotiKeep Converter offers a viable solution by changing Vorbis stream's format to standard MP3.
Premium users of Spotify can download and listen to their favorite tracks for a limited period and only in the app. But SpotiKeep allows its users to download and save it in standard Mp3 format, much like any song. The process is very much automated and straightforward.
Step 1. Free download SpotiKeep Converter and install it on your computer.
Step 2. Just drag the files you need to download by copy-pasting them from Spotify to SpotiKeep Converter. After that, click on "Add File."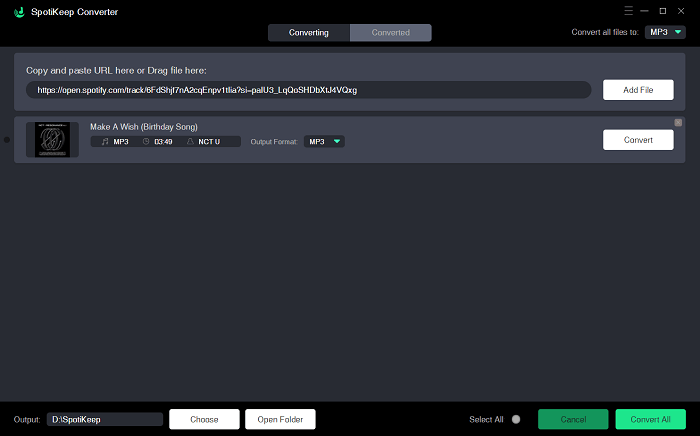 Step 3. Next, the converter will ask you about the format you want to download the track. There are a handful of options like MP3, FLAC, M4A, and WAV available. Once you have chosen the format, you can press on "Convert."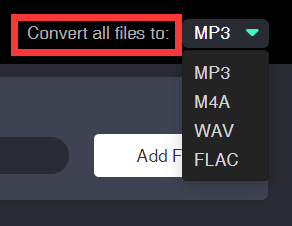 After pressing "Convert, "you will see that the download has already begun, and it won't take more than a few seconds to download your song and keep it to yourself permanently. It's this easy.
NOTE: To learn more about downloading Spotify music, you can refer to this guide: How to Convert Spotify Music to MP3.
Final Words
We have laid down a complete guide and everything you need to know about Spotify premium apk. Now you know the alternative ways to enjoy premium features of Spotify for no premium charges. If you have come across this point, you might have already valued how much of a loss it is to pay for something you can enjoy for free.
You have the top Spotify premium APK Mod listed above to download. If you want to go extra productive, you can even have the songs permanently downloaded into your device from encrypted Spotify formats through SpotiKeep Converter. So, ask yourself why not?
Apple Music Converter
Convert and Save your favorite songs from Apple Music Permanently for Free.
Don't miss a moment of the Music you love.
Spotify Music Converter
Download Spotify songs, albums and playlist Permanently for Free.
Don't miss a moment of the Music you love.