Is Spotify free forever? The answer is yes. However, only premium users can enjoy this fantastic music app without limitation - at a relatively high price. So, is there any way to get free Spotify Premium? The answer is yes! We've listed a few ways to help you get Spotify Premium free without paying a dine and an ultimate solution to download music from Spotify to MP3 without a premium account.
CONTENT Part 1. Why do We Need Spotify Premium?Part 2. How to Get Spotify Premium for Free ForeverPart 3. Better than Spotify Premium Free – SpotiKeepConclusion
Also Read:
Part 1. Why do We Need Spotify Premium?
Without a doubt, Spotify is the most general digital music service at the moment. This music streaming app provides over 50 million songs and a massive number of unique playlists. If you're a music lover, Spotify is your best choice.
However, using free Spotify accounts doesn't feel so good. Ad interruptions, lower sound quality, no downloads, no skip. All the restrictions drive you crazy. If you want to break the limitation, you'll have to join the premium membership for $9.99 a month at least. Students at an accredited higher education institution can enjoy Spotify premium at a lower price.




Here you might be wondering, is free Spotify premium available? Spotify offers a 1-month free trial to premium accounts, and we can help you get a free trial for three months, six months, and forever. How to do that? Let's go straight to the point.
Part 2. How to Get Spotify Premium for Free Forever
In this part, we'll offer 100% working methods to get Spotify premium free on Windows, Mac, iOS, and Android. These solutions include being a part of someone's family plan, registering multiple free trial accounts, downloading Spotify mod, and installing Spotify++ with an installer app.
Remember, we're trying to use all the premium features without paying, not just removing the ads. So, if someone tells you to install some apps to block the ads on Spotify, don't listen to them. You can get more than that.
Method 1. Get Multiple Spotify Premium Free Trial Accounts
There're three free trial types on Spotify – 1-month, 3-month, and 6-month. Many people only aware of the first one. When we learn about the three trial types, we can combine and take advantage of them.
Before we purchase a premium plan, Spotify will give us a 1-month free trial. The official premium page has listed this information, so it's available for everyone. But if you choose to check out with PayPal during the paying process, you'll get three months of Spotify Premium for free. This promotion is only available for PayPal users with an active US account, and it is valid until July 15, 2021.
As for the 6-month free trial, it only available for particular smartphone models. If you're an American user, and you register a new Spotify account on these Samsung devices, you're qualified to get a premium free trial for six months:
* Galaxy Note20 5G/Note20 5G Ultra
* Galaxy S20 5G/S20+ 5G/S20 Ultra 5G
* Galaxy Z Flip
* Galaxy A51
* Galaxy A71 5G
This special offer expires on March 6, 2021, so get on it right now if you're using the mentioned models. Don't have any Samsung phones? Just go for the PayPal promotion, and use multiple 1-month free trial accounts when the promotion expires.
Here's how you manage multiple 1-month free trial accounts.
Step 1. Go to the Spotify premium page in your web browser, scroll down to the "Pick your Premium" area, choose "Individual", and click "GET STARTED".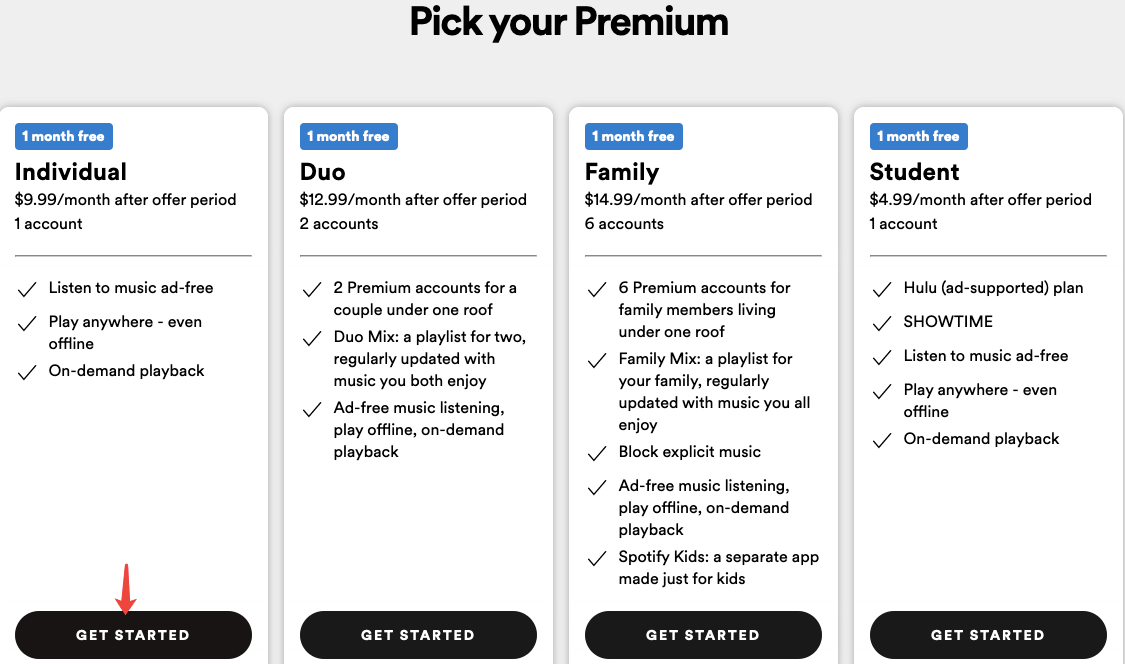 Step 2. The browser will redirect you to a new "Login" page. Select "SIGN UP FOR SPOTIFY" at the bottom.
Step 3. Fill in all the required information and click "SIGN UP".
Step 4. Go back to the Spotify premium page in step 1. And you'll find the "Try Spotify Premium" button on the "Individual" part. Just click on it.
Step 5. Choose a payment method and fill in the billing information. Don't panic. Spotify won't charge you a dine until your free trial expired. When you finish, click "START MY SPOTIFY PREMIUM". And your Spotify Premium starts immediately.
NOTE: Take a reminder of the date you subscribe to this premium account! And you'd better set the alarm after 30 days.
Step 6. Cancel the subscription the day before your free trial expired. Go to Spotify homepage and click "Profile" on the upper-right corner, select "Account" on the drop-down menu. Then click "Your Plan" and go to "Change Plan". Now scroll down to "Spotify Free" and click "CANCEL PREMIUM".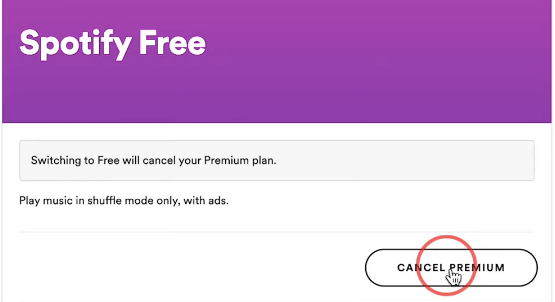 Step 7. Repeat step 1 to step 6 with a new email account and a new credit card endlessly, and you get Spotify Premium for free forever.
Pros & Cons of Multiple Accounts
* Advantage: Safe
* Disadvantage: Complicated and continual steps
* Available on: Windows, Mac, iOS, and Android
Method 2. Use Spotify Mod APK (Premium Unlocked)
Spotify premium apk mod is a modified and cracked version of the Spotify app, unlocking Spotify premium features for anyone who installs it. You don't need to pay for a premium subscription to enjoy all paid features forever! This kind of app is for Android devices only, but with Bluestacks Android Emulator's help, Windows devices can also install it.
Here's a quick guide on How to install Spotify Premium apk on Android.
Step 1. Google "Spotify Premium apk 2021", and download the best-commented and latest version on your Android smartphone.
Step 2. If you downloaded a Zip file, just extract it first. Then tap on the apk file you just downloaded to start the installation. Some Android OS versions will interrupt your installation with a prompt "not allowed to install unknown apps". If this happens, click the "Settings" button, and tap on the "Allow from this source" option.


Step 3. Open this new Spotify Premium app and sign in, and you'll find you have access to all premium features.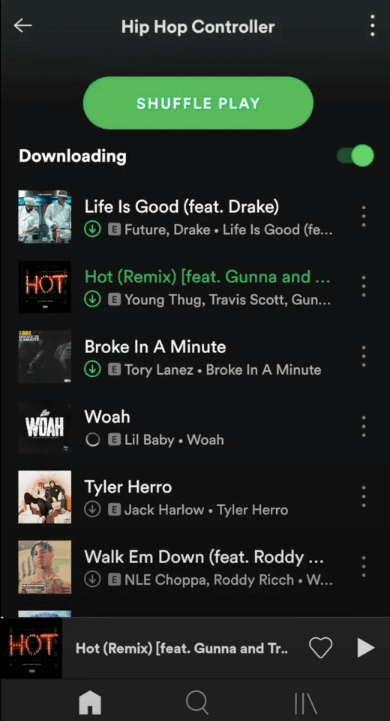 NOTE: Be careful when you are choosing a Spotify Mod APK. Some of them might contain a virus and would cause damages to your devices.
Pros & Cons of Spotify Mod APK
* Advantage: Easy to install
* Disadvantage: Not safe and always be banned
* Available on: Android and Windows
Method 3. Install Spotify++ (No Jailbreak, No Revoke)
You might be wondering, what is Spotify++? How can it help me get Spotify premium free? Like Spotify premium apk, it is a specially developed Spotify version that gives users access to premium features for free. The difference is, this app works on iOS devices. If you search on Google, you'll find tons of different ways to install a Spotify++. Now we're going to introduce you to the easiest way to install Spotify++ on iOS.
Step 1. Before the installation, please delete all apps and data related to Spotify on your iOS device. Then go to "Settings"> "Safari"> "Clear History and Website Data". Next, go to "Settings"> "General"> "Profile" to check if there's anything related to Spotify listed.
Step 2. Open Safari and go to modzilla.io. Search for "Spotify++" on this website. Once you find your target, click on "Get", and this will open the installation page.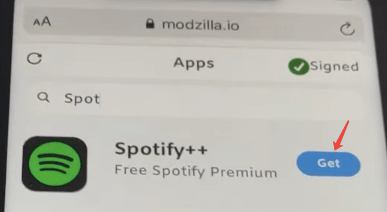 Step 3. Touch the "Share" icon on Safari, scroll down the pop-up options, and select "Add to Home Screen". Now the Spotify++ is on your home screen, just check and open it.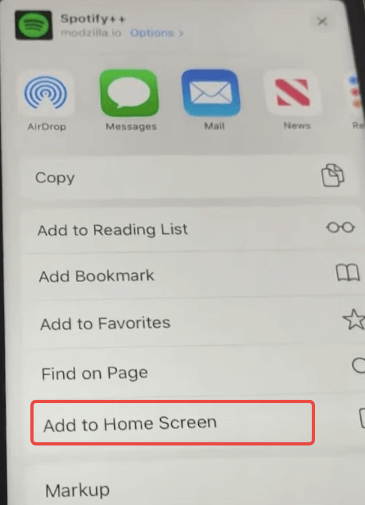 Pros & Cons of Spotify++
* Advantage: Many download-able resources
* Disadvantage: Get revoked or banned frequently
* Available on: iOS
Method 4. Join Someone's Spotify Family Plan
Spotify gives users four options when choosing premium plans. If you're not a student, there're only three options. One of them is the family plan, which includes six premium accounts. If you happen to know a friend or a family member who purchased the family plan, just ask him/her to invite you as one of the six family accounts.
This method is much simpler than the above three, but the premise is you have a family member or a friend who will help you. And there's one disadvantage, you'll get a family-mixed playlist that includes all the music played by the members of this family plan, including yours. That means a little lack of privacy. But you saved the money. Just weigh and balance by yourself.
Pros & Cons of Joining a Family Plan
* Advantage: No need to take operation in person
* Disadvantage: Passive choice, rely on others
* Available on: Windows, Mac, iOS, and Android
Part 3. Better than Spotify Premium Free – SpotiKeep
Whether you join a friend's family plan or use Spotify premium mod or install Spotify++, you can get all the Spotify premium features for free. No ads, unlimited skips, and music downloads. However, the songs you download from Spotify will still be encrypted as Ogg Vorbis – an audio format you can't possess. That means you can't play the music on other apps.
What if you can enjoy something better than Spotify's premium features? For example, to convert Spotify to audio formats that can be played on other music players? SpotiKeep Spotify to MP3 Converter can help you with that.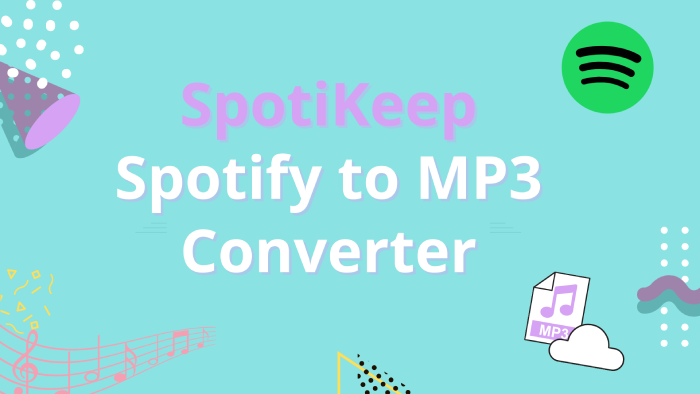 SpotiKeep Spotify to MP3 Converter is a professional and powerful tool to download and convert Spotify music, playlists, and albums to MP3, M4A, WAV, FLAC, etc., without Spotify premium accounts. Follow this step-by-step instruction to set you free from Spotify premium!
Step 1. Free download and install SpotiKeep Spotify to MP3 Converter. Windows and Mac versions are both available.
Step 2. Run Spotify and find the song, album, or playlist you want to download. Right-click on it, then go to "Share"> "Copy Song Link" or "Copy Spotify URL".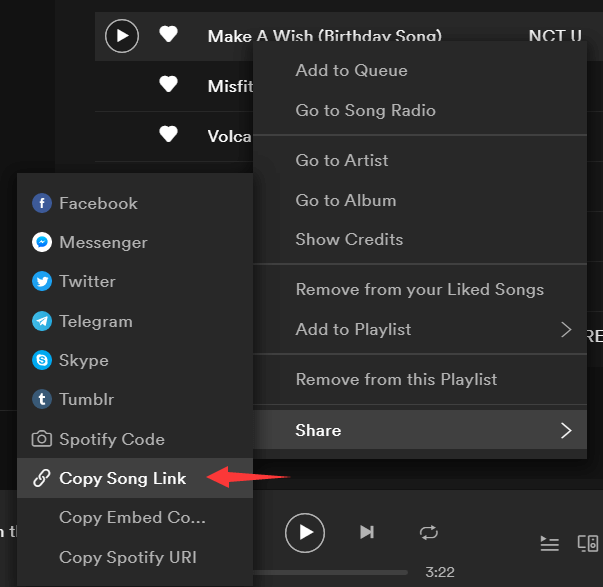 Step 3. Launch the converter, paste the URL on the blank bar, and click "Add File". Now you'll see the music track appearing on the interface.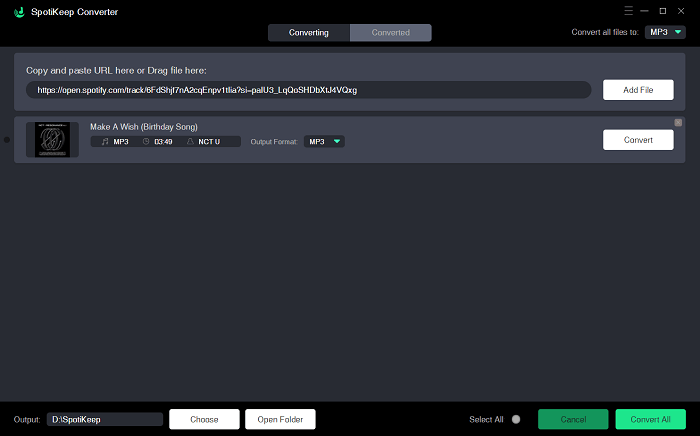 NOTE: You can also add music to SpotiKeep Converter by simply drag and drop.
Step 4. Next, choose an output format you like. MP3, M4A, WAV, and FLAC are all supported. After that, you can select a custom location to store the output music files. Then hit the "Convert" button. If you're converting multiple songs, click "Convert All".
That's it. Now you've got your favorite songs from Spotify saved as local music files. What a big surprise! With SpotiKeep, you're able to download music from Spotify effortlessly and losslessly.
Pros & Cons of SpotiKeep
* Advantage: You can freely download music from Spotify without a Spotify premium subscription
* Disadvantage: Not free, but you can get a 30-day free trial
* Available on: Windows & Mac
Conclusion
We've shown you 4 solutions of how to get Spotify premium for free and one way to beat Spotify premium. Among all the solutions to get Spotify Premium for free, creating multiple trial accounts seems to be the safest way, under the condition that you can get various email addresses and credit cards. Both Spotify++ and Spotify premium mod apk are more comfortable taking on for long-term usage, but they'll potentially get revoked easily and expose your device to a virus.
As the editor's choice, joining a Spotify family plan for free and using SpotiKeep Spotify to MP3 Converter to download music from Spotify as many as I want are both my favorites. How about you? Which solution do you prefer?
Apple Music Converter
Convert and Save your favorite songs from Apple Music Permanently for Free.
Don't miss a moment of the Music you love.
Spotify Music Converter
Download Spotify songs, albums and playlist Permanently for Free.
Don't miss a moment of the Music you love.