We have already known how to download your Spotify music to play offline on your computer or smartphone. But a lot of people also struggle the other way around. Suppose you're a runner and want to enjoy your favorite Spotify playlist without a phone while running, or you're using multiple music apps and need to save all music to one single portable player. You may come across the question of how to put music on Mp3 Player from Spotify. Here are some of the proven solutions to get you through this problem at ease, so keep reading till the end.
CONTENT Method 1. Download Spotify Music and transfer to an MP3 PlayerMethod 2. Put Music on MP3 Player from Spotify to MightyMethod 3. Sync Spotify Music to iPod MP3 PlayerFinal Verdict
Method 1. Download Spotify Music and transfer to an MP3 Player
Spotify uses encrypted DRM (Digital Rights Management) protection to run its music streams. The encryption codes disable you from playing Spotify music on any other format directly. It needs to be decrypted from Ogg Vorbis to play music on other formats like MP3.
You cannot do it online, so a third-party application needs to be there to download the songs. The process seems more technical than it is, but you won't even know when it happens. A reliable application download, decrypt and remove DRM restrictions right off in a single click. Cheer up! We will also guide you about that later in this review.
1. Download Music from Spotify to MP3
SpotiKeep Converter remains one of the most capable and popular platforms to download music from Spotify to MP3. It holds all the greatness of a reliable platform and can safely count on it. It removes the DRM on Spotify songs to avoid copyright claims. It removes the Ogg Vorbis encryption on Spotify and converts it into multiple formats, like MP3 being universal and versatile. Here's how you convert Spotify to MP3 on your local device.
Step 1. You need to download SpotiKeep Converter as your professional tool to download Spotify music to your device. Launch the application after the installation finish.
Step 2. Copy the Spotify URL of the song you want to download in the blank bar. After you have posted the link, it's time to click "Add File. "The music will automatically add up in your waiting queue. The download process should have already begun if there are no other songs on the waiting list. One thing you should take care of before starting the download process is to set the output preferences. SpotiKeep offers many output formats, including MP3, M4A, and FLAC.
Step 3. Apart from the format types, you can also select the pathway to store your songs in custom folders. On the lower-left corner, there is a "Browse" option. Click on that button, and you can change the saving location in file explorer. You can also press on "Open Folder" to make your downloads automatically re-route to the best possible area. Moreover, you can change the sample rate (Hz) and Bitrate(kbps) in the hamburger menu.
Step 4. After going through all of your desired settings, head back to the main menu and click on "Convert all." The converted songs will shortly appear in the "Finished Tab."
2. Transfer the downloaded music to an MP3 Player
You have finished the download process, and the songs are now on your computer, but they are still not at the desired place. There is a need to transfer the downloaded music to an MP3 Player to use it properly. Here are the simple steps you can follow to move and play Spotify music on MP3 Player.
Step 1. Connect your MP3 player to your PC via a USB cable. The PC should have the drivers installed, and if not, it will not support the MP3 player. You need to install it before any further proceedings if you haven't.
Step 2. Under the start button, make a left click on file explorer. You will find your local disks along with a Removable Disk under the computer.
Step 3. Next, go to the stored location of your downloaded music. Right-click on it, select "Copy."
Step 4. Now go to the removable disk again and open the folder. Make a right-click and this time click on "Paste."
Step 5. Vola! All of your songs should be there in a few minutes. After the transfer is complete, safely remove the device by making a right-click on a green arrow on the bottom right.
See? With SpotiKeep Converter, you can put music on MP3 player from Spotify and possess all your beloved Spotify music forever. You don't even need a Spotify premium account.
NOTE: Also read this tutorial on how to save Spotify songs to the SD card?
Method 2. Put Music on MP3 Player from Spotify to Mighty
Not everyone likes to download a third-party application on their device for privacy or personal concerns. The truth is you don't necessarily have to install a third-party application. You can rely on a small gadget convenient to use and carry around with you – Mighty Vibe Spotify MP3 Player. Few ergonomic clicks and an earphone jack are all you need to listen to your Spotify music.
What's better is to shares the same library as your Spotify playlist. It is as easy to operate as an iPod Shuffle. The app is easy to set up, and a handy mobile app even makes it more accessible. The app is available on your Google play store and Apple Appstore. When you've successfully installed the Mighty app, we'll start to set up the app.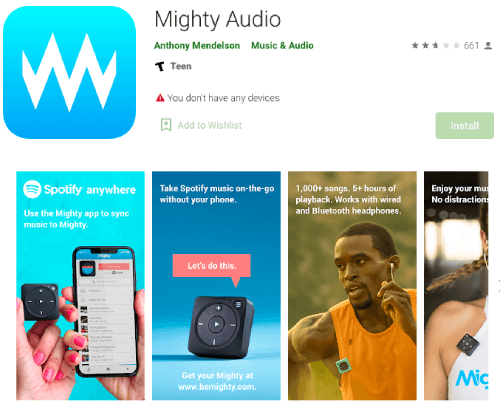 Step 1. Connect Mighty with Bluetooth
After you download the application and launch it, it will open to a setup manual. Create a Mighty account upfront; it also gives you the option to login through Facebook. Setting up the account will open up a new page showing you possible Bluetooth attachments. Push the "Plus" button on your smartphone screen and press the might's play button to establish a wireless connection.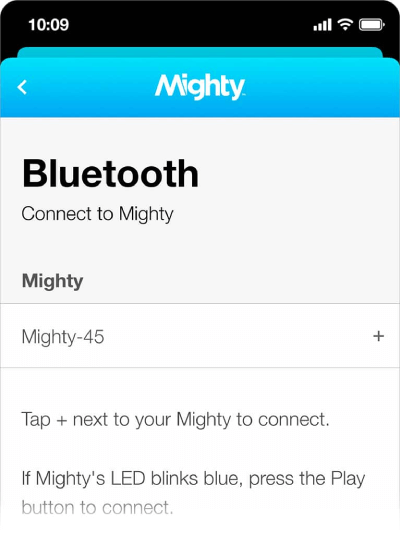 Step 2. Connect with WiFi
The next step is to add a WiFi connection so your playlists can sync. When you get the Mighty device, several updates might be rolled down. A prompt will show up to remind you to download these updates. The updates can complete in just one click right in front of you.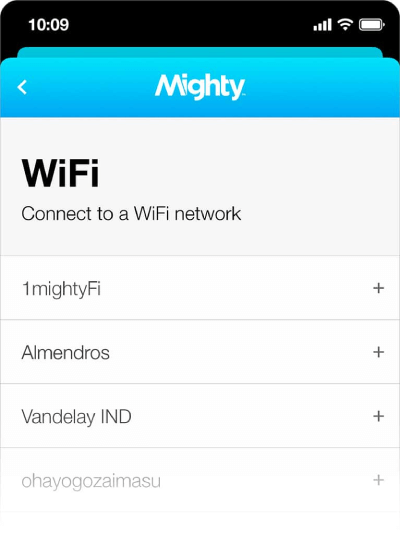 Step 3. Connect with Spotify
Upon completing installing new software, the app will relaunch itself, passing you with the previous Bluetooth and WiFi pages. A Spotify page will open having a centered connect option. Press it, and you will be redirected to the Spotify application. Spotify will ask you to authorize the Mighty application, press on "Authorize." Spotify will open Mighty again, and it will show you a success note.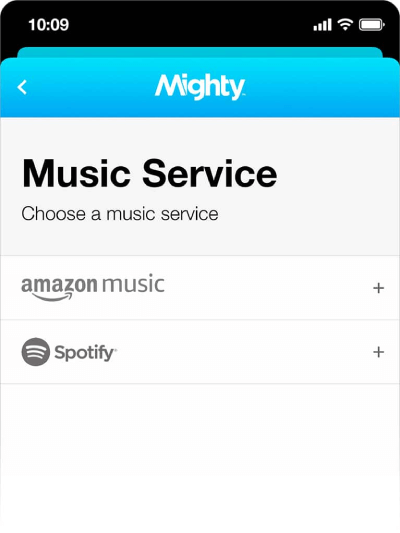 Now the setup process is all complete. You can click on the browse tab, which is on the bottom right. Your Spotify library will be visible there. You can see the sync button to render your Spotify playlist direct into your Mighty Device. You are good to go now. You can play Spotify music directly through the Mighty device once the rendering is complete. That's how you put music on Mighty MP3 player from Spotify.
Method 3. Sync Spotify Music to iPod MP3 Player
Spotify is well-suited with all iPod models, i.e., classic models, iPod shuffle, and iPod nano. It connects via a USB cable connection, rather than First generation iPod touch (old models) that requires a FireWire Connection. You need to download Spotify's mobile application to listen to your chosen tracks. Spotify mobile app is incompatible with the iPod touch (First Generation iPods).
Here we will show you how to sync music from Spotify to your iPod MP3 player. You will have to follow these relatively simple and easy steps.
Step 1. Before opening Spotify mobile app, make sure that iTunes is not running as you can't sync because it causes conflict. Both of the applications will not work at the same time.
Step 2. Open the Spotify application.
Step 3. Now plug your iPod into your PC by using the USB cable connection as standard. The very first time you when you connect your iPod to Spotify, a dialogue box opens it to ask you if you want to erase your iPod's existing data and sync it with Spotify. After that, you don't have to do this repeatedly as long as you continue using the application for your syncs.
Step 4. Choose to erase iPod & Sync with Spotify after Spotify erases your iPod. Two options you see at the top of the page are to sync all music to your iPod and manually choose a playlist to sync. Select sync all your music, iPod starts automatically syncing your music to your iPod. Spotify sync your playlists shared tracks, and so on.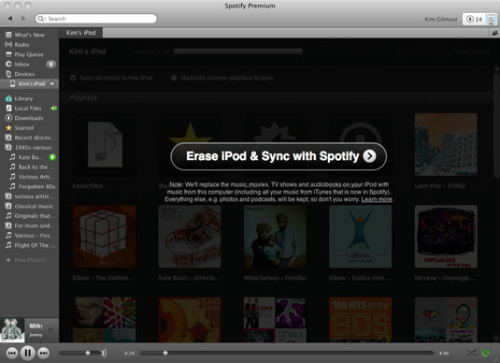 You will see all of this process on your screen in the progress bar. It counts down how many soundtracks are left to sync, and when it completes syncing, it turns into an eject button. Safely remove your iPod. It may show you a warning alert that not to disconnect. Once you safely eject your iPod, the message will disappear (it may take some seconds).
After the cautionary note is gone, unplug your iPod from your PC by unplugging the USB connection cable. Now your iPod is ready to use. And all of your music is synced into your iPod and with no invention from iTunes. The next time you plug your iPod, it does not take as long for it to spot any changes to your file setup as the original sync did.
Final Verdict
We all at times miss our favorite tracks, well, not anymore. Now you can keep all of your beloved Spotify music to your MP3 player, with or without a Spotify premium subscription. So, Follow the method that works best for you and enjoy your Spotify music anytime and anywhere.
Apple Music Converter
Convert and Save your favorite songs from Apple Music Permanently for Free.
Don't miss a moment of the Music you love.
Spotify Music Converter
Download Spotify songs, albums and playlist Permanently for Free.
Don't miss a moment of the Music you love.