Saving Spotify songs to an SD card can offer you various advantages in terms of portability. For example, many MP3 players, smartphones, or computers you might use take SD cards as a means of storage. If you have saved Spotify discover weekly playlist in an SD card, you can insert the SD card into your device and instantly have access to the downloaded Spotify songs. However, Spotify tracks are protected by DRM, which means you are not allowed to download and play Spotify songs on other unauthorized devices. Don't worry, this tutorial will provide a quick solution to help you save Spotify downloads to SD card.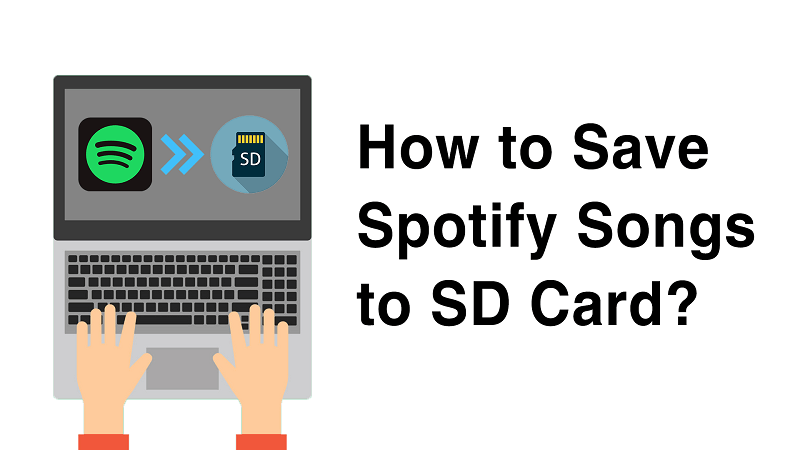 CONTENT

Part 1. Download and Save Spotify Songs as MP3

Part 2. Transfer Spotify Songs to SD Card on Computer

Tips: How to Save Spotify Downloads to the External SD Card on Android
Part 1. Download and Save Spotify Songs as MP3
To save Spotify songs to the SD card, you need to convert them to local files in a common format such as MP3 at first. In this case, you should turn for aid from a powerful third-party Spotify music converter - SpotiKeep Converter.
Due to the advanced parsing technique, SpotiKeep Converter is able to remove DRM from Spotify and convert any Spotify songs, album, and playlist to MP3, M4A, WAV, and FLAC. It means all Spotify subscribers can keep Spotify tracks forever and transfer them to SD cards for playing on any devices like Android, iPod, generic MP3 player, etc. Besides, SpotiKeep Converter ensures a 100% lossless quality while downloading and converting Spotify songs to MP3 so you can enjoy a fantastic listening experience with the downloaded Spotify music saved in the SD card.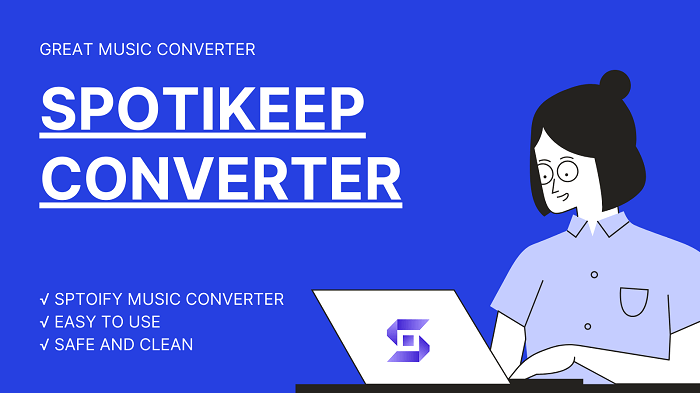 Following these simple steps to download Spotify songs or playlist to MP3 on your desktop with SpotiKepp Converter before saving them to the SD card.
Step 1. Launch SpotiKeep Converter
Here are the download buttons for both Windows and Mac users. Choose the required version to download and install SpotiKeep Converter on your Windows/Mac.
Step 2. Import Spotify Songs/Album/Playlist
After the installation is finished, operate Spotify Music Converter on your device. Spotify will be opened at the same time. Copy the URL of songs/playlist from Spotify to SpotiKeep Converter to convert the link. Then the tracklist will be presented on the interface after the analysis.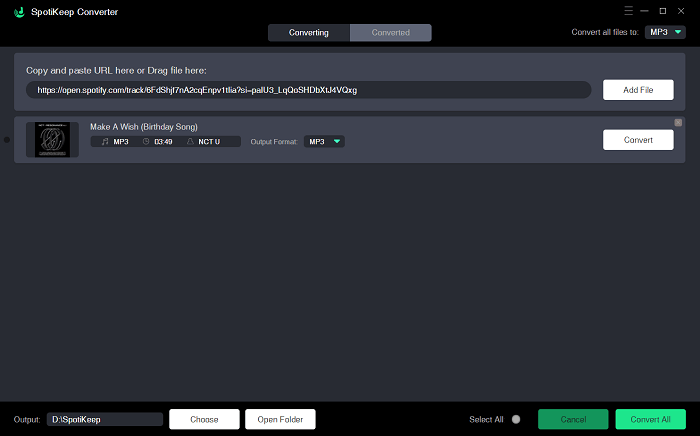 Step 3. Customize Output Setting
By default, SpotiKeep Converter will save Spotify songs as MP3. If you want to convert them in another format, you can click "Convert all files to" to change the option. Click the "Browse" button to select the destination folder where you would like to store the downloaded Spotify songs in.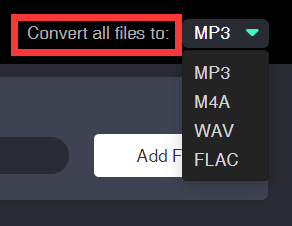 Step 4. Save Spotify as MP3 to PC
Simply click the "Convert All" to save the Spotify songs to MP3 to the local folder on your laptop.
Part 2. Transfer Spotify Songs to SD Card on Computer
Once you have finished the steps in Part 1, all the Spotify songs will be converted efficiently and saved as MP3 on your computer. Now let's move on to the next part to see how to save the Spotify downloads to SD card.
Step 1. Insert your SD card into the SD card reader of your PC and click "Open folder to view files" when the Windows AutoPlay box pops up on your screen.
Step 2. Navigate to the local folder where the downloaded Spotify music is stored. Click on a Spotify music file you'd like to transfer to the SD card and drag it from your local folder to the SD card folder you opened previously.
Repeat this process to save each downloaded Spotify song to the SD card.
Step 3. Remove your SD card from the SD card reader when finished.
NOTE: If your computer does not have an SD card reader, you have to purchase an external SD card reader to help you finish the transfer procedure.

Tips: How to Save Spotify Downloads to the External SD Card on Android
If there is an external SD card equipped with your Android device, you can directly save Spotify downloads to the SD card on your Android with the following clicks.
1. Move Spotify to your SD card manually from Settings > Application Manager > Spotify.
2. Open Settings > Apps > Spotify then tap "Clear Data".
3. Restart Spotify and log in again.
4. Set Download quality to "Extreme".
5. Try saving the Spotify playlist to the SD card.
As mentioned before, saving downloaded Spotify songs to an SD card provides a lot of conveniences for you to enjoy offline Spotify music at any time and anywhere. Just do it by working with SpotiKeep Converter!
Apple Music Converter
Convert and Save your favorite songs from Apple Music Permanently for Free.
Don't miss a moment of the Music you love.
Spotify Music Converter
Download Spotify songs, albums and playlist Permanently for Free.
Don't miss a moment of the Music you love.