Q: Is there a Spotify DRM Removal program? I downloaded some songs on Spotify, but I found that they are not playable on other music players. Some people said that's because of the DRM protection. How can I remove DRM from Spotify music?
To have a better experience on Spotify, many people would like to subscribe to the premium. But there still have limits on the use of Spotify music. You may find that Spotify songs can be only played on its own player. When you transfer the downloaded Spotify files to MP3 players or other unauthorized players, they will become inaccessible. That's because Spotify files are protected by DRM. In this case, you can use Spotify DRM removal to help you if you want to play Spotify songs anywhere.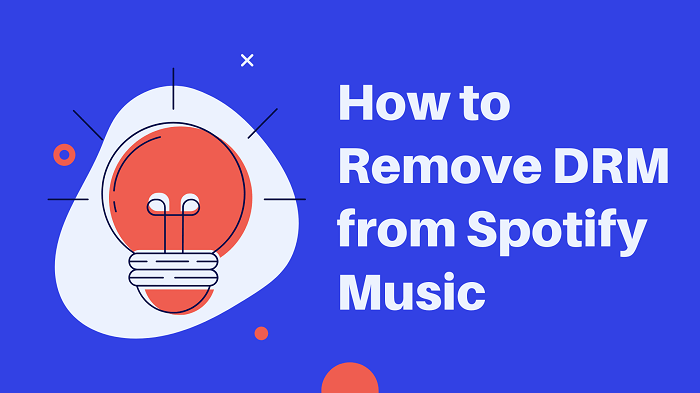 CONTENT Part 1. What is DRM? Why We Need A Spotify DRM Removal? Part 2. [Recommended] Spotify DRM Removal for Desktop Part 3. How to Remove DRM Protection from Spotify Music
Part 1. What is DRM? Why We Need A Spotify DRM Removal?
DRM, short for Digital Rights Management, is created to protect copyrights and restrict the use of digital media files. Take Spotify files as an example. Users cannot have full control of using Spotify.
With DRM protection, Spotify only allows premium users to download and listen to songs offline. But it doesn't mean that you own the song you've downloaded because downloaded Spotify songs can only be playable on Spotify player. You can't access them on other unauthorized players. For users with the free account, you can only stream music from Spotify online. To have a full control on the Spotify songs you've downloaded, you can use a Spotify DRM Removal to make it.
Part 2. [Recommended] Spotify DRM Removal for Desktop
DRM protection restricts your right to play downloaded Spotify songs on other music players. You can only enjoy Spotify files on its own player even if you've subscribed to a plan. Is it any program designed to remove DRM from Spotify files? Yes. SpotiKeep Converter is what you need.
SpotiKeep offers a Spotify Music Converter for Windows and Mac computers. Featured with Spotify Music Downloader and DRM Removal, it can remove the DRM protection while downloading Spotify files. Moreover, it allows to download Spotify files even if users have no premium account. With it, you can freely download DRM-free Spotify songs, albums, playlists, podcasts. Then, transfer them to other devices and play them anywhere you like.
Downloaded Spotify files can be saved in MP3, M4A, FLAC, or WAV. SpotiKeep Spotify DRM Removal enables users to choose a suitable format for the output files based on the needs. SpotiKeep Converter can be your best choice to remove DRM protection from Spotify files.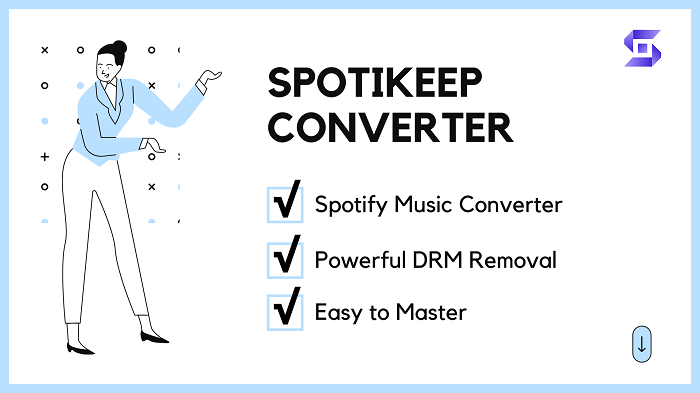 Part 3. How to Remove DRM Protection from Spotify Music
Equipped with DRM Removal, SpotiKeep Downloader can unlock the DRM protection of Spotify songs. A detailed tutorial on how to remove Spotify music DRM protection will be given below. Let's move on to get DRM-free Spotify songs.
Step 1. Install SpotiKeep Downloaer
To begin with, download SpotiKeep Downloader to your Windows or macOS computer. Then, install the program by following the instruction. For new users, SpotiKeep will offer a 30-day free trial. When launching the program, click "Continue Trial" to enjoy the free trial.
Step 2. Copy the Spotify File Link
In this step, you need to copy the song link from Spotify player. If you want to download a Spotify playlist, you can copy the playlist link directly.
Step 3. Paste the Link to Spotify Music Downloader
Go back to Spotify Music Downloader. Paste the file link to the blank bar so as to add the Spotify song or playlist into the program, waiting for DRM removing.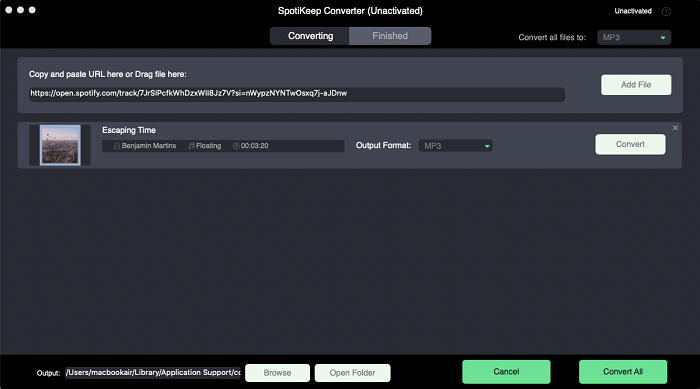 Step 4. Convert Spotify Files to MP3, M4A, FLAC or WAV
Spotify Music Downloader can convert Spotify files to MP3, M4A, FLAC or WAV while removing DRM. Click the "Convert all files to" menu to choose an output format for the downloaded Spotify files. (MP3 is selected by default.) After that, click the "Convert All" button at the lower right corner to start removing DRM restriction from Spotify files.
NOTE: If you are not where the file is saved, open the "Finished" tab and click "Open Folder" to determine the saving path.

That's the end of the tutorial on removing DRM from Spotify. Some people may be wondering: Is it legal to remove DRM from Spotify? The purpose of DRM is to protect the copyright of the digital file and prohibit illegal usage of the digital file. One thing you should know is that DRM-free Spotify files should be always self-used only. Now, use SpotiKeep Converter to do Spotify DRM removal and enjoy Spotify music freely on any music player.
Apple Music Converter
Convert and Save your favorite songs from Apple Music Permanently for Free.
Don't miss a moment of the Music you love.
Spotify Music Converter
Download Spotify songs, albums and playlist Permanently for Free.
Don't miss a moment of the Music you love.