Change Output Quality
SpotiKeep Converter aims to offer high-quality music to users. Generally, quality lossless files will be generated after the conversion. But if you want to get better output quality, you can adjust the Bitrate(256kbps by default) and SampleRate(44100hz by default) for the output Spotify music.
Go Setting. > Open Advanced section.
Adjust the SampleRate: 22050hz, 44100hz, 48000hz.
Adjust the Bitrate: 128kbps, 256kbps, 320kbps.
After making the preferred output setting, click Save.
Besides, you can click the Default button to reset the advanced settings.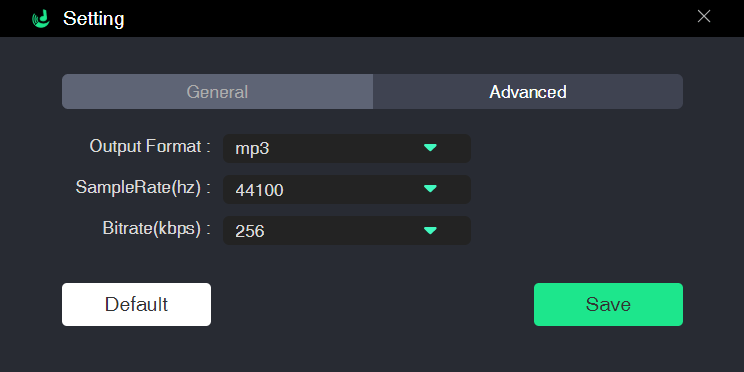 How to Choose Bitrate?
Bitrate refers to the number of bit that transmitted per second. SpotiKeep Converter offers 128kbps, 256kbps, 320kbps. How to choose a suitable bitrate? What is the difference between them?
128kbps: It's mid-range bitrate quality, commonly used for audio on the internet, offering the acceptable audio quality in a relatively small space.
256kbps(Default): It's a commonly used high-quality bitrate, offering the CD-like quality for audio files on smartphone.
320kbps: It's the highest level bitrate, offering the best listening experience.
How to Choose SampleRate?
SampleRate refers to the number of samples of audio carried in one second. Generally, the higher sampling frequency, the closer to the original sound. However, you may notice that it is difficult for most people to perceive an improvement in audio quality when the sample rate is higher than 44100hz. Age, environmental issues may cause a lower sensitivity to high frequencies.
22050: It's suitable for low bitrate MP3 audio files in the past.
44100(Default): It's the most common-used sample rate, considered as CD audio standard.
48000: It's the standard for audio for DVD video.