There're many queries about the daily usage of Apple Music, like the one we are discussing today, how to stop apple music from automatically playing? Today we'll talk about this problem and show you how to fix it. If you are looking for solutions to prevent Apple Music from automatically playing on Mac, iPhone, and in a car, keep reading.
CONTENT Part 1. How to Stop Apple Music from Automatically Playing on iPhonePart 2. Stop Apple Music from Automatically Playing on MacPart 3. Stop Apple Music from Automatically Playing in the CarPart 4. Listen to Apple Music with More ControlFinal Verdict
Part 1. How to Stop Apple Music from Automatically Playing on iPhone
The recent iOS 14 updates brought some significant changes to apple music. A new feature was introduced in the app where apple music would pick a track and automatically start playing it after you've listened to your desired album or tune. The purpose of this update was to help the users to new music based on their taste. A significant drawback of this update was that the music would never stop playing. So, how do you stop Apple Music from playing automatically?
Fortunately, you can easily enable or disable this feature by following the steps below.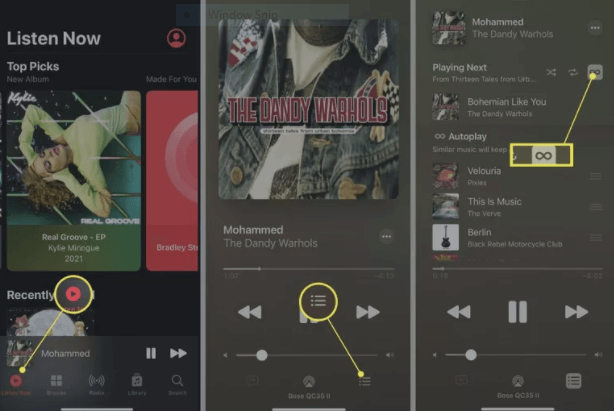 Step 1: Open the Music App. The now playing screen will appear.
Step 2: Start playing any song. Then click on the Up Next icon - the one that looks like three lines and dots stacked on top of each other.
Step 3: A highlighted Auto-Play icon (that looks like the infinity symbol) will appear to the right of the song you are currently playing. This means that your Auto-Play is presently on. Tap on the icon once, and you can disable it.
Step 4: The Auto-Play icon should now disappear, and the music will now stop playing automatically.
Part 2. Stop Apple Music from Automatically Playing on Mac
After the latest macOS update, the most frequently asked question was, "How to stop apple music from automatically playing on Mac?" Multiple users reported a problem that the Apple Music app has automatically started launching and playing music. If you have encountered the same problem, don't worry because we've got you covered with the following solution to help you fix this bug.
One way is to check Login items. Login items or startup items are the applications that are set to launch at the startup of your Mac. If Apple Music is in that list of apps, it is supposed to open once automatically when your Mac is booted. You can stop Apple Music from automatically playing on Mac by removing it from that list. Here is how.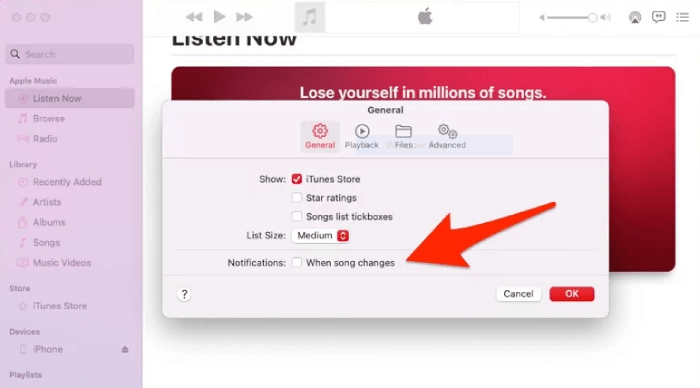 Step 1: Click on the Apple icon.
Step 2: Select system preferences.
Step 3: Tap on users and groups.
Step 4: Choose a username from the sidebar.
Step 5: Select Apple Music and click on (-).
Part 3. Stop Apple Music from Automatically Playing in the Car
Apple Carplay is designed such that whenever you connect your iPhone to it, the last played song starts playing. This can be infuriating if you don't want your playlist to be audible to the people sitting inside the car. Apple does not have any specific solution, but the following hack will help you crack this problem.
Step 1: Open Settings and choose screen time.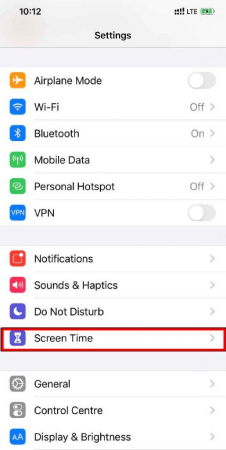 Step 2: Tap on content and privacy restrictions.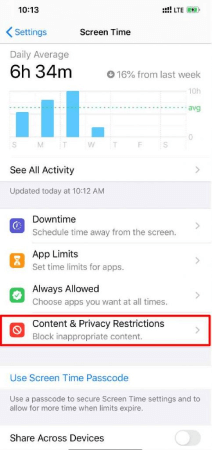 Step 3: Now tap on Allowed apps.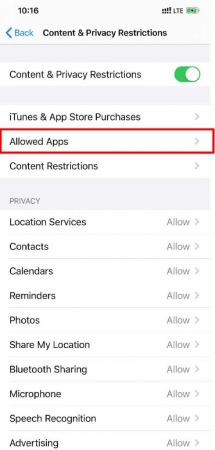 Step 4: Tap the Carplay button and turn it off.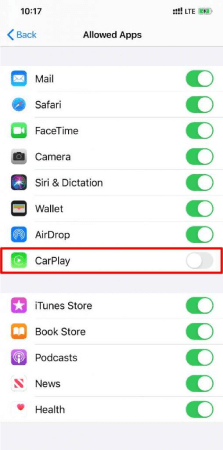 Part 4. Listen to Apple Music with More Control
All music streaming applications have some protection to consume their subscribers inside the application. Once in a while, you try to share music from Apple Music to any social platform, and snap! You realize you can't share the song. It's a URL link that won't play unless your friend has an Apple Music subscription. You don't share the music, cannot use it publically because it's DRM protected, and you have to pay for it.
Music streaming is a solution to provide all music in one go, but with some sacrifices. So, is there any way to remove DRM from Apple Music? The answer is yes. You can save your online music from Apple Music into offline audio files. And to achieve that, you'll need a professional Apple Music converter like SpotiKeep.
SpotiKeep Apple Music Converter is designed to download and convert Apple Music to local MP3 files so that you can play your favorite Apple Music playlist everywhere. Now let's have a look at what SpotiKeep Apple Music Converter provides.
DRM (Digital Right Management) removal to avoid patents and copyrights
Customizable output formats including MP3, M4A, AAC, WAV, and more
No need to pay for the Apple Music subscription anymore
Unlimited access to the Apple Music content
Lossless audio quality with the batch download feature
You can easily save up to $120 annually since you don't need Apple Music anymore. You can download tracks directly to your local devices. So stop spending a hilarious amount of money on your Apple Music subscriptions and download SpotiKeep Apple Music Converter from the link below.
Now let's move on to the download process. We have kept things relatively simple, and you can download Apple Music in three simple steps. Here is how to convert Apple Music to MP3.
Step 1: Turn on iTunes first and then launch SpotiKeep. This step is essential because SpotiKeep syncs with the Apple Music library to map the footprint of your iTunes library and show it up in the converter itself.
Step 2: You can see your Apple Music library in front of you now. Choose which track you want to download. Tick mark the songs you want to download. You can download multiple files at once, thanks to the batch download features.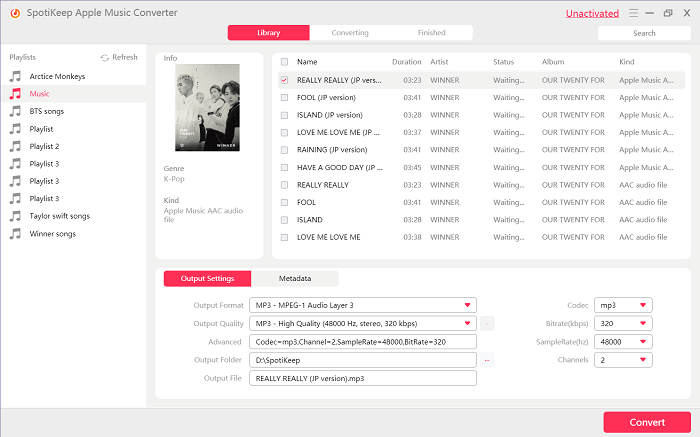 Customize output formats, audio quality, storage locations, and metadata of songs, artists, and playlists from the bottom of the screen.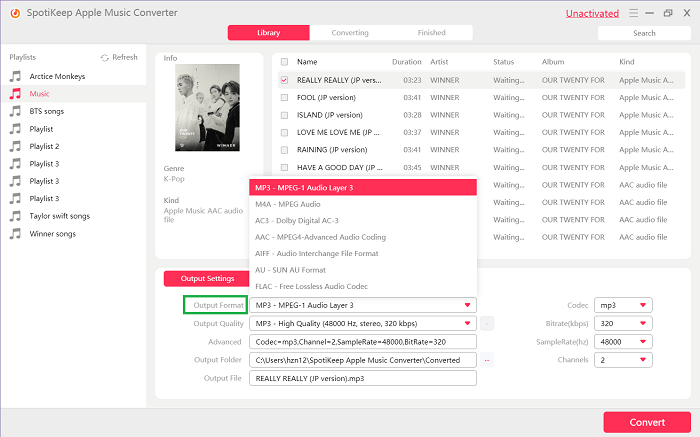 Step 3: You'll find a Concert button at the bottom of your screen. Click on it. Your downloads will start abruptly. Soon after the download is complete, you can find the downloads in your local storage.
Final Verdict
Music is all about harmony and reconciliation of heart and soul. Problems like Apple Music automatically playing creates unnecessary frustration. But every problem comes with its solution, so we filter out some of the best solutions to the most frequently asked question - how to stop Apple Music from automatically playing. Hopefully, you have found your answer in this article.
If you have any other queries, we are more than happy to share solutions for them. Would you please let us know your suggestions in the comment section below?
Apple Music Converter
Convert and Save your favorite songs from Apple Music Permanently for Free.
Don't miss a moment of the Music you love.
Spotify Music Converter
Download Spotify songs, albums and playlist Permanently for Free.
Don't miss a moment of the Music you love.