What's the best Apple Music playlist in 2021? Almost every competitive music application pushes too hard to formulate curated playlists for its users. Whether it's Spotify, Apple Music, Tidal, or Deezer, all top music streaming applications do so. At times the curated playlists get so intense that the choice-making gets difficult. Nobody wants to skip all those things, again and again, so we have curated the top 21 Apple Music Playlists for you. So, let's get started.
Part 1. 21 Best Apple Music Playlists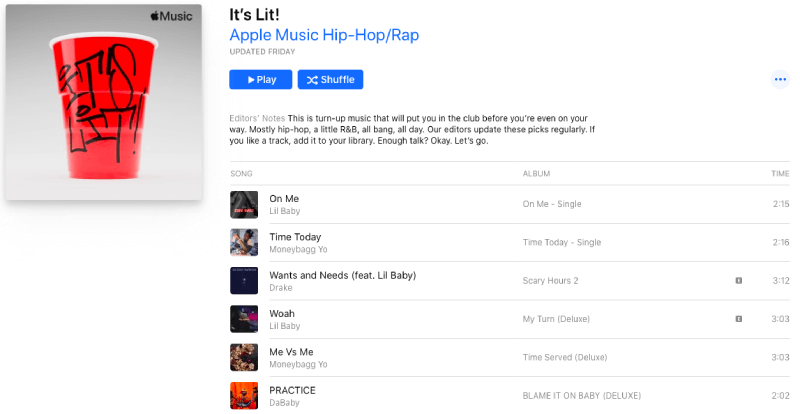 The playlists come on the top if you want some real pop around you. The specific playlist curates with the best tracks from Drake, Lil Baby, Lil Tjay, and more. The playlist is curated by Apple with the most premium editions of energetic vocals worldwide. A collection of 100 songs and playback of 4hours and 48 min is waiting for you to play with rare consideration to skip or shuffle.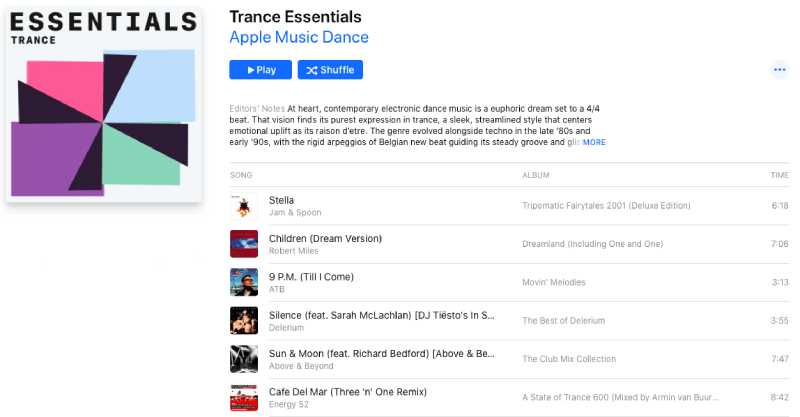 Want some extra bit of magical tunes to mingle with your mind and soul? This playlist is for you. We all need a bit of trance occasionally to fill in the lost part of us. Pair the melodies with headphones and bask in lush as the Apple says it. The playlist is best if you want a deep dance playlist to pour color into your life.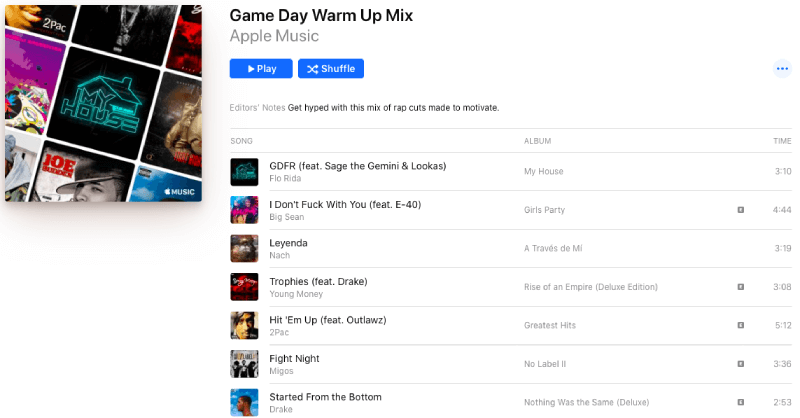 Another one in the hip-hop category, and it's a special one. The playlist is full of energetic jams to push adrenaline into your veins. The playlist is self-motivational and spiking if you have gym sessions or game day ahead. You won't feel any less motivated and pushy after listening to the playlist.
Whether you are chilling or studying, these bests are the best to add to your background. It's refreshing and light to be a distraction and powerful enough to keep you supporting. Curated by the best of the best, including beats from C y g n and Ruck P, the playlist is four and a half-hour long. So, play, and you won't even notice if it's there or not.
It's a feast for country lovers. The playlist has 60 greatest country hits of all time. Record-breaking performance by aspiring individuals keeps travel full of chirp and hurrah. It's a 2hr and 39min playlist that you can listen to on the go.
Sometimes we all want to sit back with a bottle of beer and listen to our hearts. No one sets the mood better than these playlists. Feeling along is a vibe, don't pass it out without Apple Music R&B soul.
Only hardcore music lovers understand the beauty and uniqueness of the blend of sampling and digital technology. The good news is this playlist is all about that. It has now diversified to the extent that big names like Lloyd and Mac Miler from R&B and Hip Hop are there.
This "Best of Ghana" playlist collects the best tracks from far away from West African tunes, known for its best-in-class rock bands and instrumentals. The powerhouse is ready to deliver you the incredible blend of 80s music and hip-hop.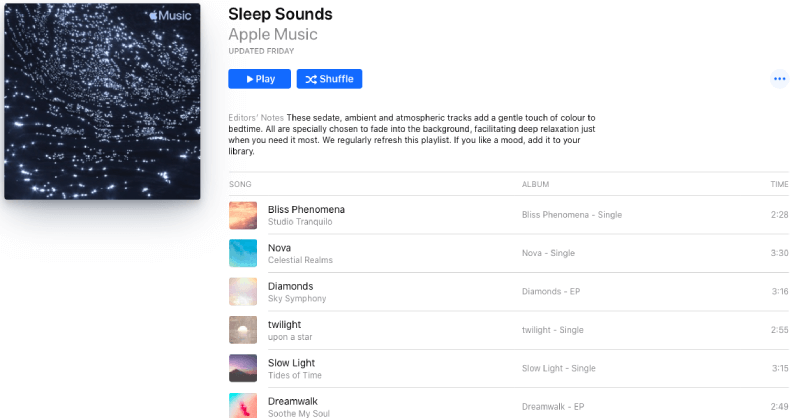 Do you have a hard time sleeping? No worries. The latest tracks full of calming sounds to allure your mind are there. Gentle vines with a glimpse of nature help you sleep like a child. Sleep is a natural therapy, and everyone should be relaxed when sleeping.
It's a cross-genre playlist of top hits across the board from Hip Hop, dance, indie, and R&B, among others. The playlist has tracks for everyone, best of parties, and get-together.
Once in a while, we all face the harsh side of life, and it's essential to stay in one piece. Do not disturb. It is full of tracks to help you pass the tough time. Tracks make you feel welcomed, loved, and comfortable.
Lyrics can be distractive when you want deep focus on the subjects—a lyric-free playlist helps avoid losing frequent distractions while still fulfilling the original purpose of music playback during brain-intensive works.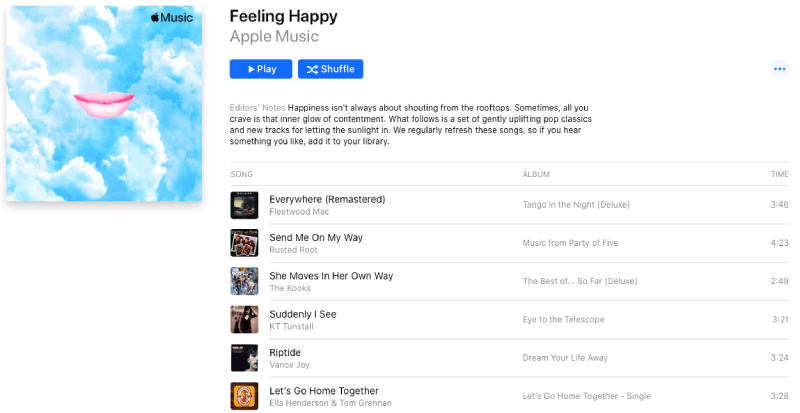 Music is a well-known source to lift your moods. "Feeling happy" is full of fun tracks to make your day. Play it during your shower, and you will notice a sudden change in your hormone and mood, lasting all day.
People who value aesthetics know how important acoustic music is for them. "Unplugged" holds acoustic covers of the original tracks. Beats from all-time favorites, including guitar and piano jammed with vocals, make it a treat.
Apple Music playlist is holding the most prominent name of all time to give you that last motivation you need. The tracks will burn your spirit and force you to push beyond your limits. Artists including Dua Lipa, Lady Gaga, and Ariana Grande bring in an extra rush through pop music.
Feeling Friday is an apple music playlist curated and regularly updated by Apple. The songs are selected to deliver you the best feeling you have been missing out from a while. The playlist is a cross of the top genre, including Hip Hop, Party ready pop, and R&B.
The apple music playlist holds the songs most played in America, plus the playlist is regularly updated contingent upon the changing dynamics of songs and genre in the country. So, follow the playlist and stay updated with the trending songs in your area.
Late-night drives hit differently. Electronic music in this apple music playlist will revamp late nights' joy.
Nothing is more relaxing than relaxing ambient music. It's a universal playlist whether you are driving, studying, or relacing. The apple music playlist will help you escape mind-boggling thoughts.
"Driving Songs" is the ultimate driving collection with 40 enjoyable tracks from renowned music makers worldwide. An apple music playlist having 40 songs of 2 hours and 32 min duration lasts you a pleasant long drive.
Live up your spiritual beliefs with gospel music. The playlist contains authentic vibes to live your gospel way. Listen to the musical enchants within deep from your heart.
Part 2. FAQs of Apple Music Playlist
Q1. How to Find Playlists on Apple Music?
Ans: Open the Apple Music Application and press on the search option (it's a magnifying glass). A page will open up for you to search your playlist according to the genre, artist, or keyword. Scroll down the search result page, and you will find the Apple Music playlist heading.
Q2. How to Make a Playlist on Apple Music?
Ans: Making a collaborative playlist for apple music is easy, don't fall for the technical name. Open the apple music application and tap on the Library option present on the bottom. Press on the Playlist option, and then tap on the New Playlist. For apple music submission, you will find an Add Music option. Press on it, and you can add music to your library.
Q3. How to Delete a Playlist on Apple Music?
Ans: Open the Apple Music app, go to the libraries. And press on the playlist you want to delete. The playlist will open right in front of you, and you can see the three dots on the top right. Click on it, and press on the delete icon to delete the playlist. The playlist removes from your Apple music application. The application syncs across all platforms, so the playlist should remove every other connected device across the ecosystem.
Q4. How to Share a Playlist on Apple Music?
Ans: One thing you might have guessed by now that most of the Apple Playlist options are available in the three dots that appear in the playlist section. The process is more or less the same. Open the Apple music application and go right away to the library. Tap on the playlist, and you can see the three dots on the top right corner. Press it and tap on the Share button to share it.
Q5. How to Import Spotify Playlists to Apple Music?
Ans: Apple ecosystem does call some hindrance when sharing across other platforms. But don't worry about that. We have got you covered. You need to download songs offline first to transfer them to iTunes. iTunes is the only option to share music with Apple music. And for iTunes, the soundtracks need to be in a local folder. SpotiKeep Spotify to MP3 Converter can download your Spotify music directly into the device with lossless quality and DRM (digital right management) removal. We have covered the topic deeply in our other article, "How to Transfer Spotify Playlist to Apple Music," so please check it out for a step-by-step guide. You can first download the converter and install it on your computer.
Q6. How to Transfer Apple Music Playlist to Spotify?
Ans: Transferring Apple Music Playlist to Spotify can be tricky, especially if you are new to this. But don't panic. We have got you covered. Download Apple music directly to your PC, then upload those files to Spotify directly. Use SpotiKeep Apple Music Converter to download music now from Apple music. The downloaded music can be uploaded to Spotify by following simple steps. We have covered it separately in our article, "How to transfer Apple Music to Spotify (2021 Ultimate guide)," so please check out for a detailed process. The following download links are available for Windows and Mac.
Final Words
Apple Music application is a diversified platform, and choosing the right music can be tricky. That's why we have listed the best Apple Music playlists for you. You can choose from each genre and play the tracks right from this writing. Or even you want to download the tracks, you can use the SpotiKeep convertor. It helps you download tracks with lossless quality and DRM removal - all of this in just one click.
Apple Music Converter
Convert and Save your favorite songs from Apple Music Permanently for Free.
Don't miss a moment of the Music you love.
Spotify Music Converter
Download Spotify songs, albums and playlist Permanently for Free.
Don't miss a moment of the Music you love.