We all know how Apple works, basically limiting users in its ecosystem. Don't get me wrong, the ecosystem is great, but it lacks versatility. Apple Music holds an excellent collection of songs and shares the same classic Apple vibe. But at times, we all face situations where it doesn't offer compatibility like you can't play Apple Music on the Spotify app. There should be a solution to this, so we are here to offer. We will share our expert guide on how you can transfer Apple Music to Spotify.
Also Read: How to Transfer Spotify to Apple Music
CONTENTPart 1. How to Transfer Apple Music to Spotify on PCPart 2. Move your Apple Music to Spotify OnlinePart 3. Transfer Apple Music to Spotify on iOSPart 4. Switch Apple Music to Spotify on AndroidFinal Verdict
Part 1. How to Transfer Apple Music to Spotify on PC
Since Apple Music uses DRM (Digital Rights Management) protection of all music streams, it's impossible to download them within the app and move the music to Spotify. Instead, you need to remove the DRM protection and download your Apple music library as standard audio formats like MP3, M4A, FLAC, etc.
Therefore, a professional tool like SpotiKeep Apple Music Converter is required. Here we'll provide you with the specific user guide and steps regarding your question about transferring Apple Music to Spotify on PC.
Step 1. Download the program
First of all, you need to download SpotiKeep Apple Music Converter. The software is available across Mac and Windows, and the installation process is quite simple.
Step 2. Choose the music to convert
When you open SpotiKeep Apple Music convertor, it will automatically allow iTunes to sync your playlist. Since you need to have your latest collection transferred and shares, don't turn off iTunes during the whole process. Now select the tracks or playlists you want to move to Spotify.
Note: At the very first time you use the Apple Music Converter, you may find that no playlist is displayed on the left sidebar. In this case, please click the "Refresh" button on the left panel, and the converter will start syncing your playlist from iTunes.
Step 3. Set output options
On the "Output Settings" section, you can choose an audio format such as MP3, FLAC, and M4A for your downloaded music. Also, you can change the title, name, and artist of the song by going into the metadata section.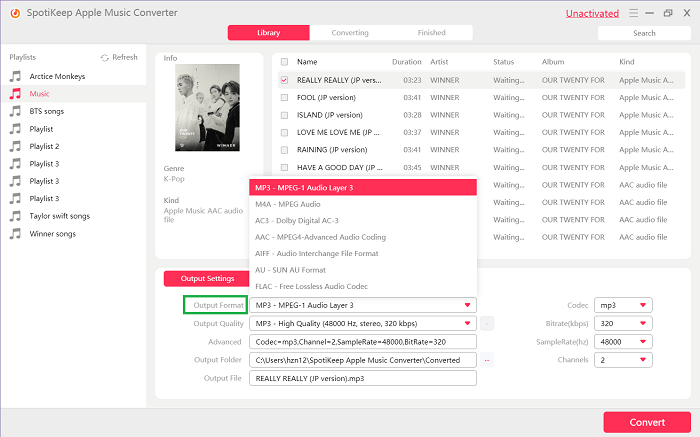 NOTE: Wondering how to convert Apple Music to AIFF format? Just click on this tutorial to get the simple steps.
Step 4. Convert your Apple Music
When you set up everything, just click the "Convert" button in the lower right corner. You will see the conversion happen in real-time. DRM removals and other terms may feel very technical at first glance, but once you dive into the SpotiKeep, you will get to know how easy it is to transfer apple music to Spotify.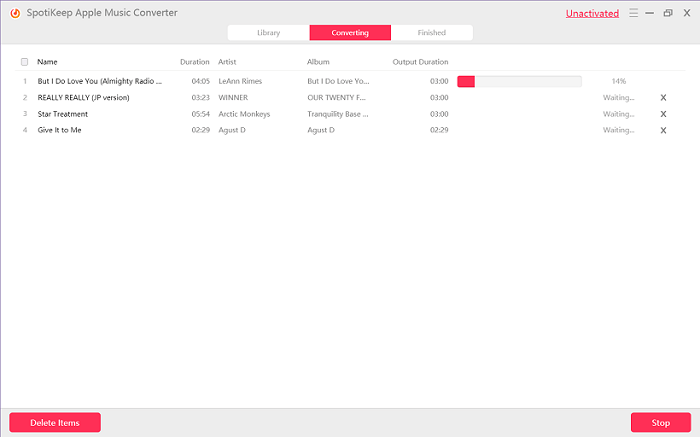 Note: If you're interested, please visit this tutorial on how to convert Apple Music to MP3 for more detailed instructions.
Step 5. Add the downloaded Apple Music to Spotify
Now let's move to our next and final step. That is to upload the downloaded Apple music soundtracks. For this to happen, open your Spotify app on the computer. Press on the arrow right next to your name. Under "Settings," you should be able to find the Local files menu.
Allow the "Show Local Files," make sure it's turned green. Choose the music folders you have previously downloaded right away. It will not upload the files but find the exact track and save it to your playlist, saving you both data and time.

Part 2. Move your Apple Music to Spotify Online
You can also transfer apple music to Spotify online, which is quite the opposite of the traditional Apple way. The good thing is we have made it easy for you. Below are the two profound solutions to move your Apple Music to Spotify Online.
Solution 1. Tune My Music
At times we all feel an urge to gather all of our belongings at one commonplace, so we don't have to make extra efforts and feel clumsy. The same remains valid for music. Tune My Music provides a very diversified service for transferring your songs from one place to another.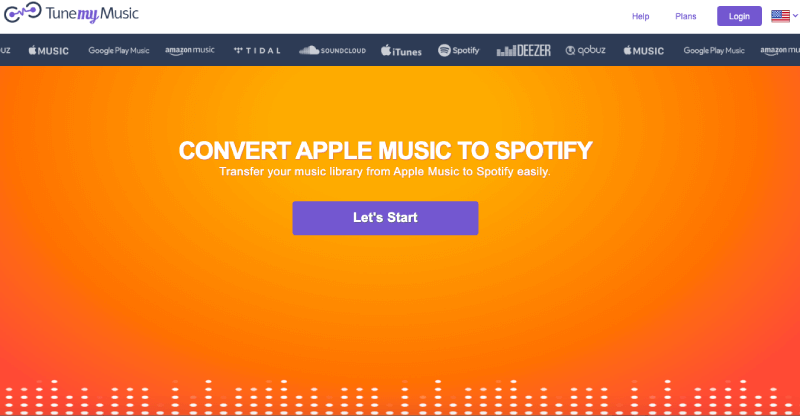 The intrusive controls and haptic engines make this online tool feel great. Not only does it the job well, but it also compliments bonus features like synchronizing playlists from both platforms, easy sharing across friends and family, upload directly from any file, and backup the entire fanboy collection of yours.
The pricing option is where things get interesting. You can avail premium edition for a $24 yearly package or $4.5 per month. It allows you to have unlimited conversions to transfer your apple music to Spotify and the ability to export files in TXT and CSV formats. Up to 20 auto-sync options are made available. In both cases, the services provided work exceptionally well. The optimizations and customer feedback are very reliable. Not only do they respond quickly but elegantly fix the issue.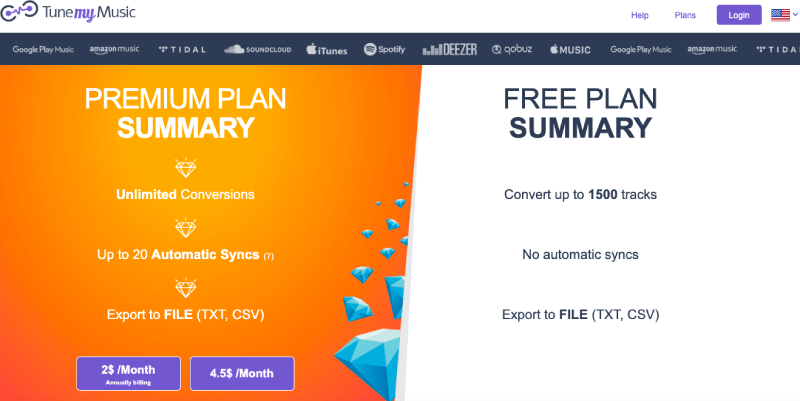 The music transfer process is straightforward. Go to the website, and you will see various transfer services on the services mentioned down the page. From there on chose the "Transfer Apple Music to Spotify." Then select "Apple music" as the source you want to transfer. An extension will open where you can log in to your Apple Music account. You can select the playlists and tracks you want to choose from thereon, and it will merely transfer the tracks to Spotify online.
Solution 2. Soundiiz
Soundiiz provides all the necessary information you need on the face of the application in an intelligent dashboard. More or less, every Apple Music to Spotify transfer user, i.e., will offer you the same services. But what makes all of these differences is the attention to detail and aesthetics of the service. Soundiiz nails the fundamentals and provides a great set of aesthetically pleasing features.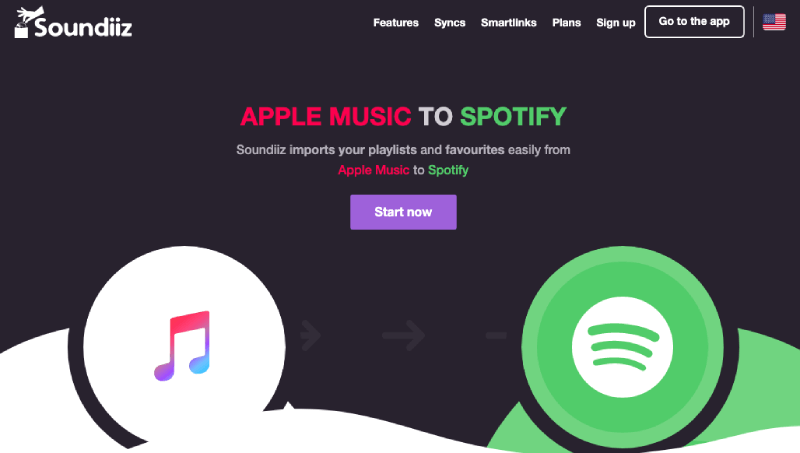 All of the information portrayed in the interface is very handy and subtle. It allows you to track your playlists across two devices by synchronizing the files. Head towards the website, and from there on, you can log in to Apple music via a google chrome extension. It establishes a secure connection to provide you with your Apple Music libraries.
With a premium subscription, you can select more than one file to transfer, enhancing the process's efficiency. You can choose the files you want to move from Apple Music to Spotify. Once selected, press on "Convert," and the files immediately begin to share accordingly. It will ask you to "Confirm" the tracklists you might want to merge. Choose the tracks you want to combine in case of any duplicates. Select Spotify as the "Destination Folder," and the procedure will begin from Apple Music to Spotify.
Part 3. Transfer Apple Music to Spotify on iOS
Not all of us want to do the transfer on the laptop, and we understand that. You can quickly transfer Apple Music to Spotify on iOS through SongShift. With significant advancements in the music choices on various platforms, the developers also push the limits to formulate a stable, responsive, and sturdy application to act as a connecting point across different music platforms. SongShift is one of those. You can find the app directly in the App Store. Download and open the application.

Upon launching the application, you will see a circular icon having plus sign. Click on that, and a new page will show up demanding you to set up your source, transfer, and destination files in their respective manner.
Click on "Setup Source," which means you have to select various services acting as a source for your music files. As we want to transfer from Apple Music to Spotify, we will choose Apple Music as our source files.
Once you choose Apple Music as your source file, the system will ask you for "Authorization." Authorization is for the sake of confirmation about the current Apple music subscription. SongShift won't work if you don't have an active Apple Music subscription. Now the SongShift is connected to your Apple Music. Repeat the same process for Spotify. Once done with connecting the two platforms, you need to get back to the home page.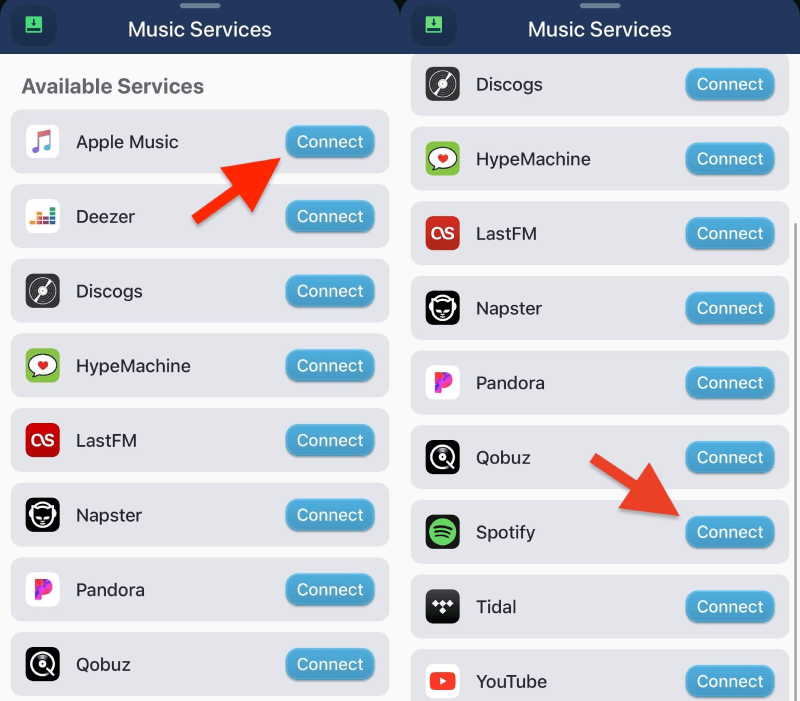 From now on, you will see these two linked platforms under the source file option. Select Apple Music which will follow up by an option for "Select Media Type." You need to tap on the "Playlist Option." You will redirect to the homepage for the sake of setting up the destination folder. Select the destination folder you want to set in Spotify. It can be any random new folder or new playlist. Tap on save to favorites, followed up by "I am finished."
Part 4. Switch Apple Music to Spotify on Android
You may come up with a situation where you want to shift from iOS to android, or you have another android device, and you want it to share your favorite Apple Music playlists. Yes, it is possible, and that is why we are here for you. What is the point in downloading the application if it is not helping your way out?
The process is just as easy as the apps mentioned above. We found Free Your Music to work just fine out of all other popular applications for converting Apple Music to Spotify. First, download the Free Your Music application.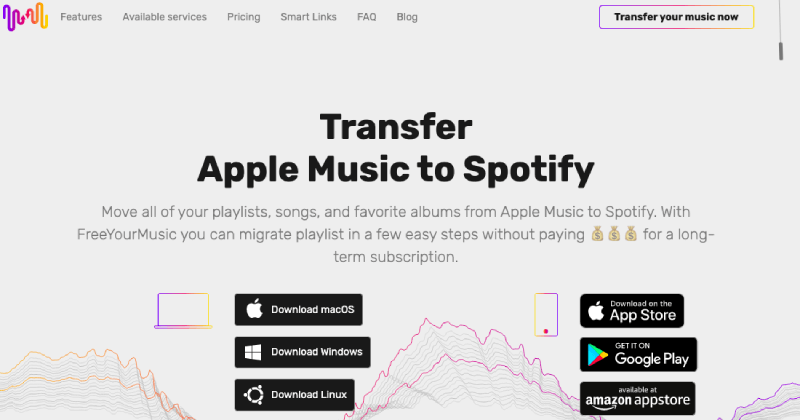 Are we done with the downloading yet? The next step is to register your source file. Upon launching the application, you will see several "Source File" options. Press on Apple Music to select it as your source file to export it to Spotify. Once you choose Spotify as the source file, a new page will show up regarding the "Destination File." Press on Spotify and lock it.
Now we have secured both transition sites, i.e., the source and the destination files. Your Apple Music id login will enable mobile access to your playlists. Select the tracks you want to transfer from Apple Music to Spotify. Select the music you want to share, and the process will finish in a short time. You can now listen to the significant milestone you loved on Apple Music.
Final Verdict
Sharing albums and playlists between Apple Music and Spotify can be troublesome. I have recently changed to iOS, and I can already feel the discomfort of losing my Apple Music backup. But you don't have to go through the same road. We have jotted down plenty of ways to transfer your favorite playlists from Apple Music to Spotify. Just find the best method that works for you and enjoy your music.
Apple Music Converter
Convert and Save your favorite songs from Apple Music Permanently for Free.
Don't miss a moment of the Music you love.
Spotify Music Converter
Download Spotify songs, albums and playlist Permanently for Free.
Don't miss a moment of the Music you love.