Music streaming platforms have now become the new norm for listening to songs anywhere globally. And the offers are multiplying as the day goes by. Deezer and Spotify are two of the most well-known music streaming services. Although there are similarities, especially in terms of pricing, and they offer a free version, there are some key differences.
The "Deezer vs. Spotify" Reddit discussion has many opinions to offer -wise but - which would you choose for your daily music streaming app? How to choose the best streaming service according to your needs and taste? What are the advantages and disadvantages of both? Let's take a look!
CONTENT Part 1. What's Deezer?Part 2. What's Spotify?Part 3. Deezer or Spotify - A Full ComparisonConclusion
Part 1. What's Deezer?
Deezer, founded in August 2007 by Daniel Marhely & Jonathan Benassaya, is a French-based online music streaming service available for Android, IOS, Windows, BlackBerry OS & Web. Deezer is a child-company of Access Industries, which also owns prominent Music Labels like Sony Music, Universal Music Group & Warner Music Group. Deezer allows its users to listen to high-quality Music online/ offline and on multiple devices and recommend related tracks related to your music taste & playlist using modern AI features.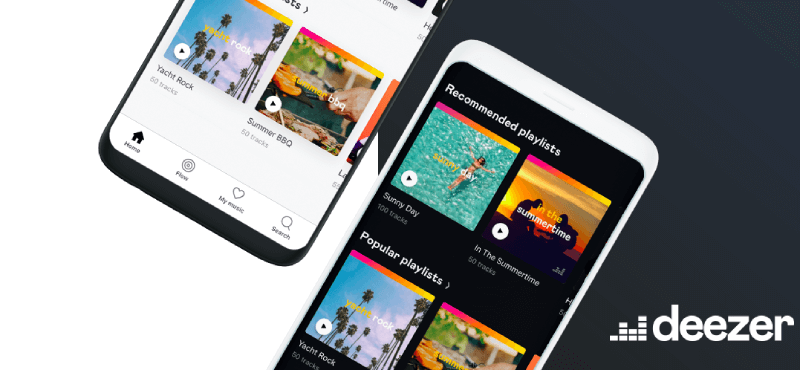 Starting from France, with over 30k radio channels & 56 Million licensed tracks in its library, Deezer has revolutionized Music Industry worldwide (180+ Countries, to be exact). And as of January 2019, Deezer had 14 million monthly active users & 7 million paid subscribers, and the count is increasing dramatically day by day. As of March 2019, Deezer offers its services in 6 different account types, although there's no compromise on quality on either of the accounts. And every music-lover can experience the same music quality, but there are a few drawbacks for primary users like limited features & ad-based streaming.
Part 2. What's Spotify?
Spotify, founded in 2006 by Daniel Ek, is a Swedish audio streaming and media services provider available for all sorts of platforms like IOS, Android, Web & even gaming consoles. Spotify offers its users much more than play their favorite Music online & offline and has some prominent features like Artist Fundraising, Group Sessions, Profile sharing, friends' activities, & much more.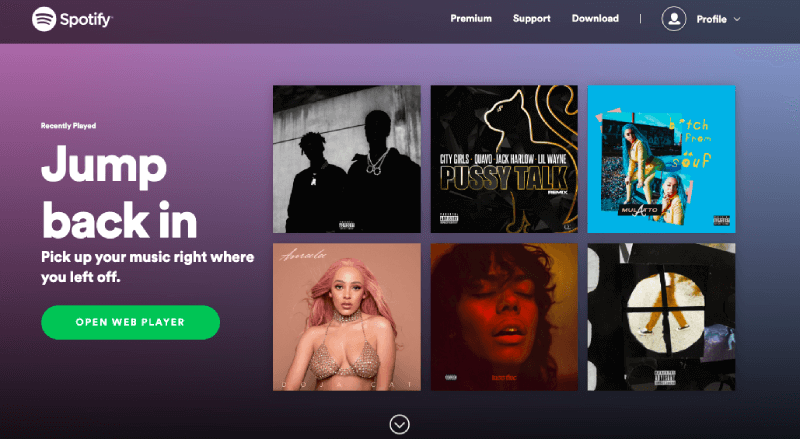 Music lovers can enjoy quality music in five premium plans provided by Spotify. Each has its relative strengths and limits; however, there is no considerable sacrifice on quality in any of the five. Spotify is one of the world's top-leading music streaming service providers. And as of Dec 2020, Spotify had over 345 million monthly active users, including 155 million paying subscribers, and for sure, there must have been a colossal increase of Spotify-Users by now.
Part 3. Deezer or Spotify- A Full Comparison
Although Spotify is a much bigger & well-renowned platform than Deezer, Spotify and Deezer haven't had many differences. They're both ace-quality streaming services with almost similar functionality and available content, and the only considerable difference is their respective popularity.
Just like the topic "Spotify vs. Apple Music," let's compare all of their features to find out which one is better & suitable for users of different likings.
Deezer vs. Spotify: Which is Better Content Provider?
There aren't too many differences between Deezer & Spotify regarding music catalogs. Both have 50 million-plus songs/tracks and all the underground music one could wish for. Both platforms accept submissions from both unknown and famed artists alike. However, Deezer has its services available in many more countries worldwide than Spotify.
Both platforms allow you to upload your files for local media playback and download songs, and to enjoy while offline.
As mentioned above, there aren't many differences between Spotify vs. Deezer regarding content, but Spotify has more podcasts than Deezer and a few more artist exclusives, so it wins this round just by a tad.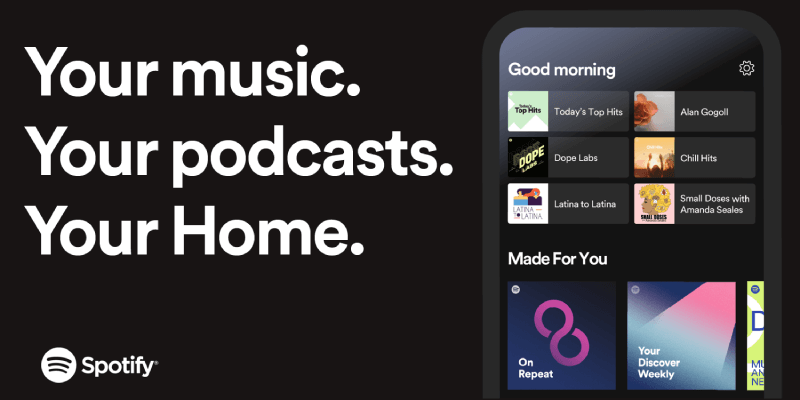 Winner: Spotify
Deezer vs. Spotify: Sound Quality
Between the whole "Deezer vs. Spotify" comparison, the sound quality may be one of the most prominent features that counts between the competition.
Deezer Free's audio quality tops out at 128kbps via MP3 files, and Deezer Premium is 320kbps. But you need a good set of speakers or studio headphones to enjoy the actual quality.
While Spotify Free's audio quality tops out at 160kbps, and Spotify Premium's maximum quality is 320kbps—the same as Deezer Premium. Moreover, Spotify HiFi is somewhat limited to specific regions.
Winner: Spotify
Is Spotify or Deezer Offers Bigger Music Library?
Spotify offers over 70 million copyrighted soundtracks with music licensing, while Deezer offers 73 million licensed tracks. Both accept newcomer artists and allow you to upload your specimens, and most of the underground content is available in both service providers.
On either platform, you can browse podcasts by topic, popularity, network, and more. But, comparably, Spotify has more exclusive deals with popular shows, meaning Spotify has more podcasts to offer than Deezer.
Winner: draw
Deezer vs. Spotify: Music Downloads
Regarding music downloads, both Deezer & Spotify require premium accounts. Premium accounts allow users can download unlimited tracks, albums, playlist anytime. But with a free-plan, you can only listen to tracks online, along with limited options to shuffle or skip.
With a premium account, Deezer users can download music in MP3 format, making it easier to play Deezer music on other music players or MP3 players. On the opposite, Spotify encrypts the downloaded music so strictly that it's impossible to play the downloaded music outside the Spotify app unless you have a Spotify MP3 player.
However, there're many 3-rd party tools like SpotiKeep, Soundiiz, PlaylistBuddy, TuneMyMusic, etc., to download, transfer, or convert playlists across different platforms without sacrificing audio quality.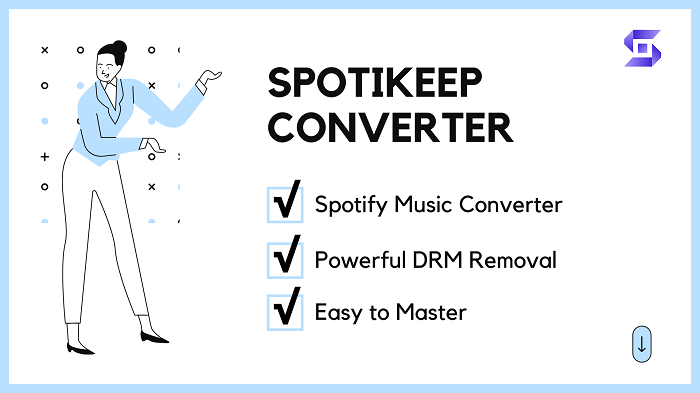 To Spotify users, SpotiKeep Spotify to MP3 converter is the best partner to keep your favorite Spotify music as MP3, FLAC, M4A, or WAV formats. All you need to do is download and install the converter on your Mac or Windows computer, then add the "Spotify URL" of the song or playlist you require to download to SpotiKeep Converter and click the "Convert All" button. For more details, please follow this tutorial on how to download music from Spotify to mp3.
Winner: Deezer
Deezer vs. Spotify: Discovering New Songs & Playlists
Both of these streaming services are best for music discovery and playlists. Spotify has the famous "Discover Weekly" playlist, which updates every Monday with new songs that Spotify's algorithm thinks you will like. Deezer has a "Made for You" section, which includes several different daily mixes created by the Deezer personalized algorithm.
Both Spotify and Deezer create Radios or Mixes of related songs based on songs and artists. Spotify also creates them for playlists that you make. All in all, the discovery features of Spotify vs. Deezer are very similar.
Winner: draw
Deezer vs. Spotify: User Interface & User Experience
Spotify has a solid user-focused interface that is friendly and easy to use. And it offers multiple options for users to explore the app. Usually, it's effortless to find what you're looking for on Spotify. Plus, Spotify provides a bit different interface for premium users to luxuries the overall experience.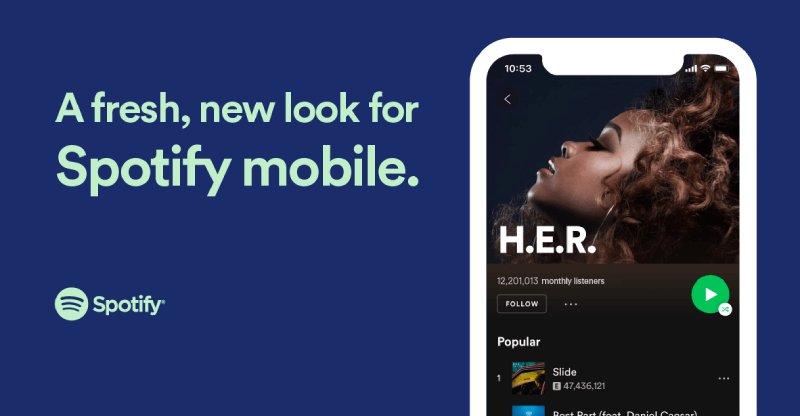 Deezer has two themes, Light & Dark. Users can select based on their likings; both are flexible and easy to navigate, offering everything straightforward but efficiently. While Deezer has a feature called "Flow." It's like a shuffle radio consisting of your musical taste. "Flow" is your opportunity to improve the acquaintance with Deezer. The more you like or dislike songs on "Flow," the more accurate your music feed will get. Spotify's interface is dark-themed and similarly very easy to navigate. Its "Home" page features recommended Music for the current time of day, recently played music, new releases, and a "Made for You" section.
But according to a search on Deezer's forum, sometimes when making a playlist, the app crashes, but it happens pretty rarely.
Winner: Spotify
Spotify vs. Deezer: Features for Free Users?
Spotify's free user feature allows music that is playable in shuffle mode, and you also skip up to six times in an hour. Spotify Radio is not available in the free account, but you can easily access Daily Mix playlists.
Features of Spotify Free:
Listen to 70 million soundtracks
No limitation of monthly listening time
Music suggestions according to your listening history
Have commercial ads
It doesn't support offline listening
Limited Sound Quality: up to 96Kbits (smartphone) or 160Kbits (desktop)
Deezer offers a rich catalog of 73+ million songs. Ads power the free feature to support the artists and content you love. You will find everything from global hits to local Music, podcasts, and radio.
Features of Deezer Free:
73 million songs available
Free users can't skip ads
Supports Shuffle mode only
Free users can't listen to music offline
None of the services provides the ad-free or offline mode in the Free-Plan. But you can get Spotify Premium for free forever if you have done the research and study on the internet.
Winner: draw
Is Deezer or Spotify Premium Worth it?
Spotify or Deezer, while having a free-featured service, offer their Premium services at competitive prices starting from $4.99/month to $14.99/month.
Deezer's most premium services include:
Ad-free content
On-demand playback
Personalized recommendations
Unlimited access to tracks
320kbps MP3 audio
Offline listening
Up to 6 accounts
Content catered to kids
While Spotify's most premium services include:
Up to 6 Premium accounts for family members living under one roof
Family Mix: a playlist algorithmically created and updated for all members
Can block explicit Music
Spotify Kids: app for kids under 12
Listen to music ad-free
Download music for offline listening
On-demand playback
In the opinion of a true music lover, both Deezer vs. Spotify premium services is worth paying. But since Deezer has an annual plan that saves you about $20 per year, and a relatively affordable HiFi plan, Deezer wins the race.
Winner: Deezer
NOTE: Also read: Is Spotify Premium Worth it for the Money?
Conclusion
Spotify and Deezer are pretty similar that it is hard to tell them apart. Thus, the choice largely depends upon your taste and preference when looking to crown the best. If you like platforms with a simple and straightforward design? And if you are into HiFi music listening? If so, you should go for Deezer. While the music lovers who're constantly looking for new song recommendations & like to share their music taste playlists with friends, Spotify would be perfect for them. Shopify also allows third-party apps to extend their somewhat limited features according to the user's specific need.
Free versions may be good, but Premium memberships are better. You can try out the free versions of both for 30 days, then decide which is better for you.