We usually get bore from our daily routine, frustrated and exhausted, tired from work, and depressed from the surroundings. To relax in daily life, many people go for Spotify music. This first class music streaming app is helping to bring change, relaxing minds and glum thoughts of many.
However, if you want to experience the best audio quality of Spotify music, you'll have to pay for a premium account. How music is Spotify premium? Is Spotify premium it? Let's go exploring the answers.
CONTENT Part 1. What is Spotify premium?Part 2. How much is Spotify premium?Part 3. How to get Spotify premium?Part 4. Is Spotify Premium worth it?
Part 1. What is Spotify premium?
Spotify is a music streaming service providing music soundtracks, which covers an extensive range of artists across the globe. It involves professionals, artists, and consumers of the music industry. There are significant differences between Free Spotify and Spotify Premium. With the free Spotify account, you can only skip six songs per hour, while in Spotify Premium, you can skip as many tracks as you'd like.

Skip restrictions can put an obstacle on things when you continually aren't in the mood for specific songs, but sure it's a justifiable problem. But here, we discuss what Spotify premium is. Whether it is pop, classical, hip-hop, folk, rock or orchestra, and many more under one roof, enjoying all genres is the best part of Spotify. Spotify accounts consist of two models, the "Freemium model," which is free of cost, and a "Spotify premium" with monthly charges.
Spotify premium account is the enhanced and upgraded version without limitations and restrictions. Also, it provides some excellent recommendations according to your music taste, without wasting your precious time searching.
Part 2. How much is Spotify premium?
As Spotify premium is a cost-consuming service. They provide some fantastic packages for premium users. Here we introduce to you how much does Spotify premium cost. There're four significant premium plans - individuals, duo, family and student premiums.
Individuals Premium
The Spotify individuals premium plan offers one account that costs $9.99 per month. It only support one person to use this type of account.
Duo Premium
This Spotify premium costs $12.99 per month but offers two accounts that the couple can easily use at any place anytime.
Family Premium
Family premium is best of all. It costs $14.99 per month and offers six premium accounts for all the family members to enjoy a mixed playlist under a single source. They also provide Spotify kids, a separate platform for kids to enjoy their kind of handpicks such as music, audiobooks and many more. Kids! Get ready for a fantastic ride.
Student Premium
Besides family premium, the student premium is also the most suitable for the students as they are always searching for something that suits their pocket, spending less and utilizing more. The total cost required for this Premium it is $4.99 per month for a single account.
This special premium plan for stuendt is based on three streaming services. Along with Spotify premium, Hulu- ad-supported service, which generally costs $5.99 per month, show time which usually costs $10.99 per month, but this student premium plan reduces the cost burden and offers all three services in $4.99. It also leads you to save up to $21.98 per month.
Free trial
Spotify premium also offers a 30 days free trial for the new subscribers, who are willing to entertain themselves through it. You can take the chance to experience the advantages of a Spotify premium account, then decide whether to pay for one.
Note: In case you don't want to purchase a Spotify premim account after the free trial, here's some proven ways to help you get free Spotify premium forever!
Redeemed Spotify Gifts Cards
Attention Spotify Premium individual plan holders! There's a trick to get your Spotify premium with a discount – using Spotify gift cards.
You can buy Spotify gift cards from local retailer or online stores like Amazon, Walmart, Best Buy, Target, etc. These are the balance or value cards that are redeemable for total prize premium subscribers. They can't be redeemed for the group subscribers. The payment usually continues after the whole gift card is utilized.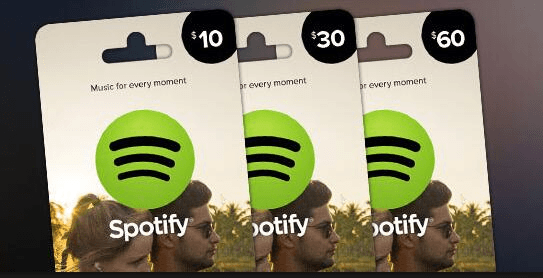 Part 3. How to get Spotify premium?
Now you have idea of what Spotify premium is and how much it costs, it's time to find out know to get started with Spotify premium. First of all, please download the Spotify app according to the device you're using. Sptofiy is available on Windows, Mac, Android, and iOS. You can download the app for free through its official website, Google Play Sotre, or Apple's App Store. If you don't want to download and install the application, just use the Spotify web player to directly start listening to your beloved music. Next, let's sign up for Spotify premium and get a free trial.
Step 1. Creating Account
Go to the Spotify signup page to register an account. If you already have one, please go to step 2 and sign in with your account. While creating your account, you can sign up with your email or your Facebook account. That's totally up to you! Now fill in all the requested information and click the green "Sign Up" button.
Step 2. Pick a Premium Plan
Now head to the Spotify premium page and scroll down to the "Pick your Premium" area. Select any premium plan you like and choose "GET STARTED".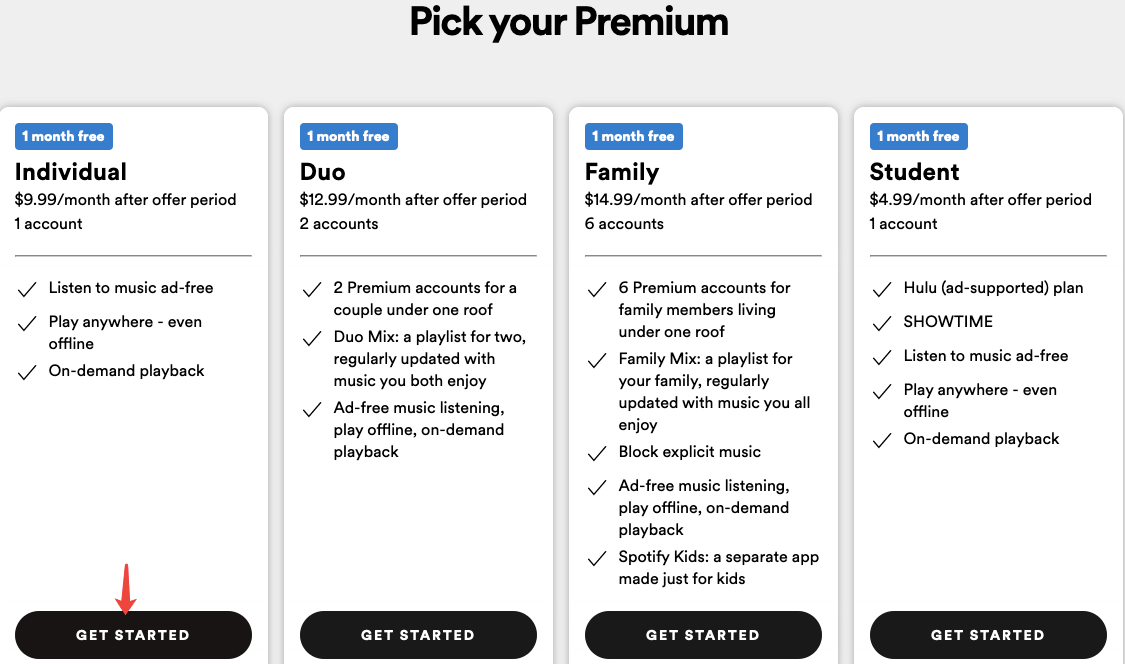 Step 3. Select a Payment Method
From the drop-down menu, choose how you would like to pay. Your payment method can be different according to your region, but you can always pay with PayPal, credit card, or debit card.
Step 4. Fill in the Payment info
Whatever payment method you've selected, you need to enter all required information to continue the purchase process. If you choosed to pay with your Paypal, you'll have to enter the email account and Spotify will redirect you to new page asking for your payment approval. For credit card payment, you need to enter your card number, expiry date, security code, and billing address information.
When you finish payment, there will be a button says "Start 30-Day Trial Now". Click on that button and you can start the premium free trial.
Note: Since the day your free trial expires, Spotify will start charging according to the premium plan you selected. Don't want a premium account anymore? Check this tutorial on how to cancel Spotify premium.
Part 4. Is Spotify Premium worth it?
Services like Spotify premium are extraordinary for music streaming. However, there's been plenty discussions on Reddit and Quora about "is Spotify premium worth it for the money". It directs us that whether this app deserves to be paid the cost they are asking or not.
For people who think Spotify premium is worth it, they care more about the better services Spotify provides. Spotify Premium keeps users away from ad interruptions, and offers fantastic music listening experience without limitations. Besides, you can enjoy high-quality music streams and hear to tracks up to 320kbps, which is impressive. Along with that, it provides the best recommendation provision according to your taste and choice. The most important thing is, you can easily download any song for offline listening if you're a premium user.

On the other hand, many people don't like the fact that they can't own the downloaded music even with a premium account. Yes, you play any track so that you can easily enjoy music offline, but only on Spotify itself. Therefore, they consider Spotify premium is not worth it for the cost. So,is there any alternative method to own your favorite Spotify music?
Yes! Why not. Using the Spotikeep Convertor to download the music as an MP3 is even more worth than Spotify premium. Before you met SpotiKeep, you can only put your Spotify music on a Spotify MP3 player. But with the help of SpotiKeep, you can possess every single song from your Spotify playlist and play it on any MP3 Player.
Convert Spotify Music with Spotikeep Converter
SpotiKeep Converter is the best tool for Spotify music lovers as it can easily download and convert songs from Spotify to MP3, M4A, WAV, and FLAC, without any compromise in the quality of the audio.
Step 1. Download the app and software
To start with, you need to download SpotiKeep Converter and then install the software. For installations problem, you may visit the converter guide. Before subscription, you can also have a 30 days trial to decide whether it's worth purchasing.
Step 2. Copy and paste the Spotify link
Just choose your favorite song and copy its link from Spotify. Then you only need to paste it in the bar of the SpotiKeep Converter and click "Add File" to add it to the waiting list.
Step 3. Setup output preference
In default, the format set up for the songs is the MP3. But you can change it in the "Convert all files to" section according to your choice.
To change the saving path of the song you converted, you must click the "browse" button, which is at the lower-left corner, and select the placement of your choice. If you cannot find your output placement, directly click "open folder", leading you immediately to the output.
You can choose your choice preferences by clicking on the "Preferences" button, which will appear after clicking the hamburger menu in the upper right corner. Along with this, you are free to change the sample rates (Hz) and bit rates by clicking on the "Advanced" button, but that depends upon our favor.
Step 4. Convert your music
When everything is set up, select the "Convert All" button and the program will start to convert Spotify to MP3 or other formats. The conversion process will start immediately. The conversion time depends on how many soundtracks your task. Normally, you can enjoy your MP3 Spotify music within minutes. Enjoy the music!
Conclusion
Is Spotify Premium worth it? Well, with all the pros and cons of Spotify free vs. premium we talked about, you may have your answer. If you prefer paying to gain terminable music possession on Spotify, then Spotify premium is worth is. If you would ask more than the features Spotify premium provides now, it is not worth for you. And for those who would like to keep Spotify music to themselves permanently, SpotiKeep is the alternative solution.
Apple Music Converter
Convert and Save your favorite songs from Apple Music Permanently for Free.
Don't miss a moment of the Music you love.
Spotify Music Converter
Download Spotify songs, albums and playlist Permanently for Free.
Don't miss a moment of the Music you love.