Many people are questioning how to choose between Spotify and Apple Music. If you're a Reddit user, you might notice the "Apple Music vs. Spotify" Reddit war is never-ending. There're intense debates and queries like what made you choose one over another or the general performance of both over time. Here we'll let you see what potential benefits you can get from Apple Music and Spotify and try to provide advice on which music app is best for you.
CONTENT Part 1. Overview: What is Spotify and Apple MusicPart 2. Comparison of Spotify and Apple MusicApple Music or Spotify, What's Your Best Choice?
Part 1. Overview: What is Spotify and Apple Music
Spotify is a digital music streaming service. It expands as a music streaming service and a universal platform for all of your music, podcasts, and video streaming service. Spotify gives you access to millions of free songs you can listen to online. Premium users get hold of premium features like downloading in-app offline music, premium podcasts, and video streaming. Spotify provides an audiophile-level of quality and answers music lovers who want extra effort from the service providers.
Initially, Apple Music is a paid-music platform exclusively for Apple users. However, Apple Music is available on Android devices now. Android users can download the Apple Music app in Google Play Store. As you might have already guessed, it packs in premium features since it comes with Apple branding. It's an all-in-one music place ranging from the latest pop music to old classic music. Apple Music holds more than 60 million songs in its premium collection, and it is the world's largest. Optimized software from Apple makes the overall experience of Apple Music way more refined.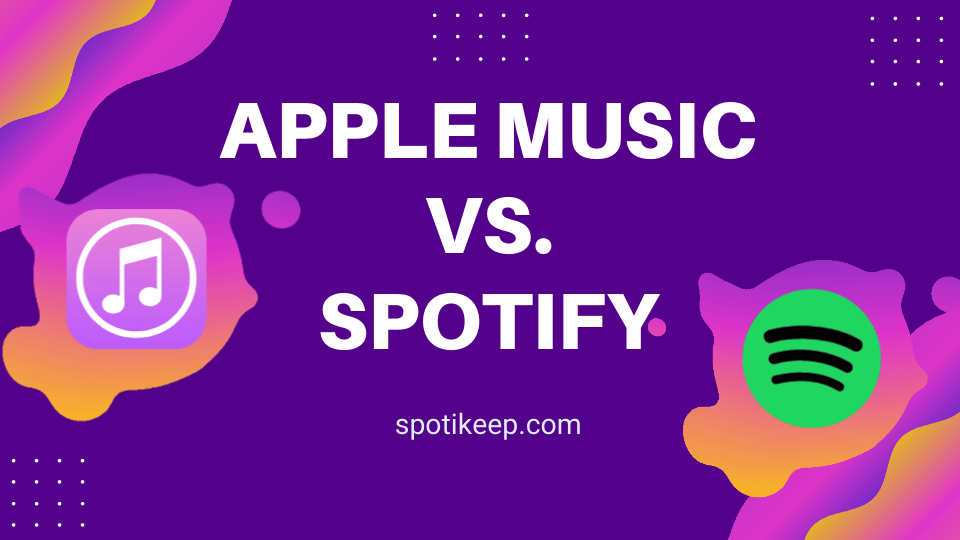 Part 2. Comparison of Spotify and Apple Music
1. Spotify vs. Apple Music: Available Operation Devices
Spotify offers its services on almost every recognized platform. You can download the Spotify application across your mobile device irrespective of the UI. It provides support for Android, iOS, windows, and recent Mac. For older versions of Windows and Mac, the compatibility and latest software may be hard to handle. There are more harmonization and calibration of the software you will see here.
Apple breaks its formidable ecosystem barriers here for Apple Music. Surprisingly, it offers its music application in Android, iOS, Windows, and Macs of the world. However, there are significant differences in the apps made for Apple devices than that of Android or windows. Some Android users even reported significant errors and bugs when using the Apple Music app on their devices.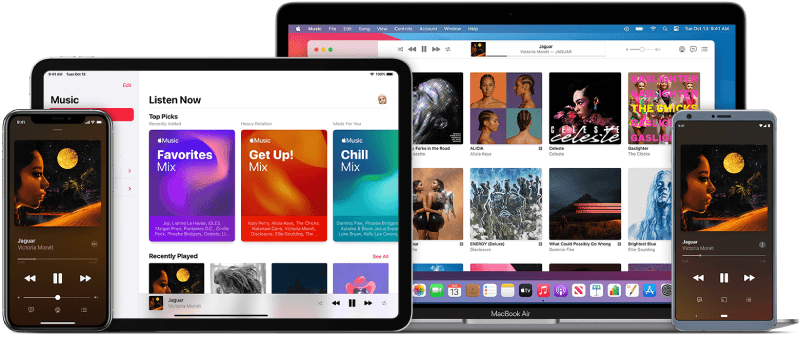 Winner: Spotify
2. Spotify vs. Apple Music: Interface and User Experience
Spotify offers a handy interface across all operating devices. The desktop version of Spotify provides all of the necessary information on the right side and the search window upfront. The accessibility options are listed, having Home, Browse, Radio, and your personalized library and playlist collection. For Android, the interface is very subtle. It has only three tabs to choose including Home, Search, and Your Library. Spotify is pushing its user experience to the extreme with the latest updates. The updates include several usabilities and intrusive features like unified play and shuffle buttons and much more to explore down the lane. Spotify offers compatibility with smart speakers like Google Home and Amazon Alexa.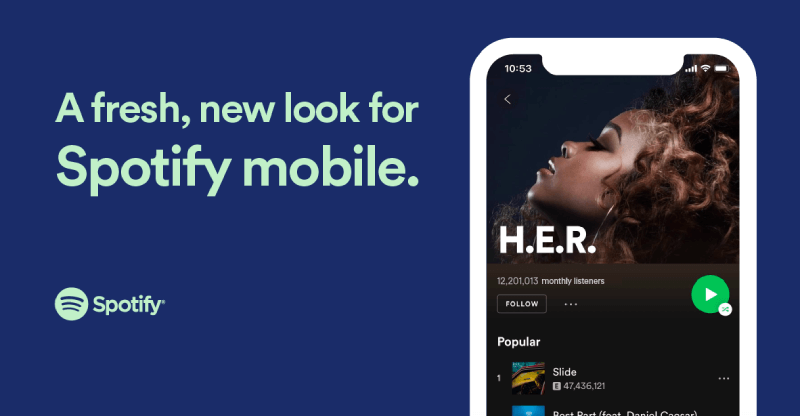 On the other hand, Apple Music offers comparative layouts and user experiences across the board. The android and Windows offerings are miles apart from iOS and Mac. Apple offerings are a bit flashier this time around. It offers intelligent controls for android devices, including a hidden menu bar on the right. Apple Music doesn't shortfall any good for Windows and offers its due diligence. The interface works best on iOS because Apple controls the hardware and software of iOS and Mac. This means it can seamlessly blend Apple Music into the ecosystem. Siri offers deep intrusive functionality for Apple Music. You can do complex strains of tasks by directly asking Siri. For older Mac units, the functionality may suffer, but it's a breeze for the latest neural engines.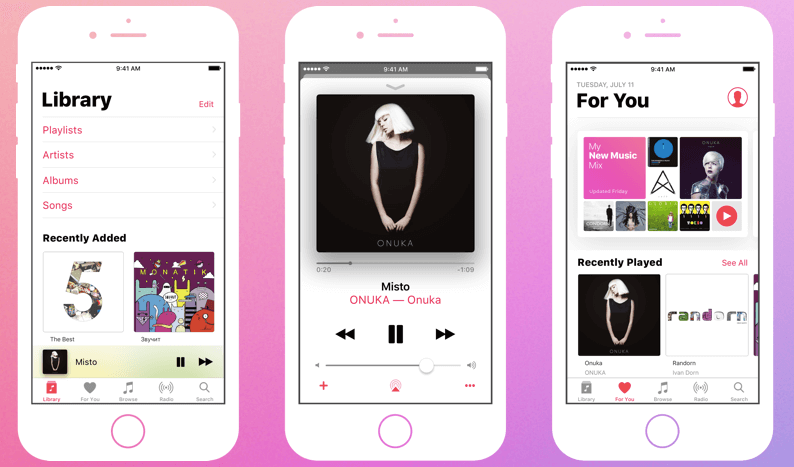 Winner: Apple Music
3. Apple Music vs. Spotify: Music Library
We all are here for the music. Apple Music holds the most extensive collection of songs on any music platform yet. It contains a whopping 60 Million tracks in its library. You can find songs long lost in CDs or the latest tracks from your favorite artist before they appear on other commercial channels. Apple has a history of premium and rich feel, and it remains valid for the music library here. Apple Music even manages to provide you with the songs from your iTunes right in the music library. You don't even have to look for it. Log-in, and it's already there.
Spotify holds over 50 Million songs in its music library. And it's still pushing the stats by adding up 40,000 pieces per day. More than an average person will even remember or hear in his/her life. The music library gets updated quite repeatedly to provide the latest collections. Though when we speak of Spotify vs. Apple Music in real terms, it is worth mentioning that Spotify is a free platform while Apple charges for its services. You might find some premium and exclusives on Apple Music. Some singers have exclusive contracts with Apple Music to release their tracks on Apple first.
Winner: Apple Music
4. Apple Music vs. Spotify: Music Streams Quality
Apple Music and Spotify hold their places when it comes to streaming quality. Apple Music offers 256kbps playback in AAC format on all devices. It does feel premium and crisp. Apple Music is calibrated to provide the highest possible quality for its users. At the highest bit rates, the audio is data-hungry. When you shift mobile data for Apple Music, it will automatically lower the sound's quality to reduce data usage.
Spotify offers up to 320kbps of streaming quality. We use the word "up to" mainly because it will mostly stream at 256kbps and 128 kbps all the time. For free users, it has a limiter to the only stream at 128kbps, while only the premium users can enjoy up to 320kpbs of playback. For users with Spotify web player or chrome cast, the audio quality can just get 256kbps for premium users. Spotify has variable streaming quality contingent upon the internet connection. To provide continuous streaming, it often lowers down its quality.
Winner: Spotify
5. Spotify or Apple Music: Free Accounts
Spotify offers free accounts for its users. Just signup for your account, and you can enjoy streaming. The free version doesn't have the same privileges as a premium account, but it is fair enough what you are getting.
Apple Music is a paid platform. We all know Apple there is nothing for free. You have to pay to enjoy premium services.
Winner: Spotify
6. Spotify Premium vs. Apple Music: Features, Options & Price
Spotify premium offers excellent value by topping on additional features. It provides unlimited shuffles, no Ads, downloads offline music, and high-quality audio up to 320kbps. The monthly subscription starts at $9.99 or £9.99 or AUS$9.99.
Apple Music offers its services at the same price as Spotify Premium. It provides its own set of features, including offline download, combining music from iTunes, a vast collection of songs from CDs and cassettes, subscription to Apple curated playlists, and the ability to edit them auto-download songs and lyrics of songs.
Winner: draw
7. Apple Music vs. Spotify: Music Downloads
Spotify premium account offers in-app downloads. The downloads are encrypted in Ogg Vorbis format and will not show up in your gallery. On the other hand, Apple Music stores the music you played automatically in AAC format. When you download the songs on the Apple Music app, they're also encrypted.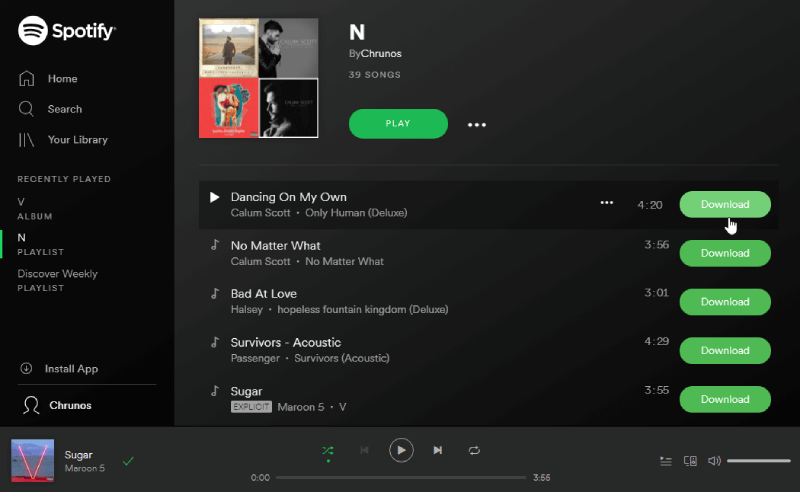 Both Spotify and Apple Music use encrypted DRM protection to their music streams to prevent users from playing the downloaded music outside the apps. You can't share the music you download from Spotify or Apple Music across the board since it is not in your media and is encrypted. To break this kind of restriction, you can use Spotikeep Converter and Apple Music Converter to download songs from Spotify and Apple Music and convert them to standard audio formats like MP3, FLAC, and M4A.
NOTE: For further instruction, please visit these tutorials: How to Download & Convert Music from Spotify to MP3 and How to Convert Apple Music to MP3.
Winner: draw
8. Spotify vs. Apple Music: Local Music Uploads
Spotify and Apple Music offer local music uploads. For Spotify, you can upload songs by directly going into settings, clicking on local files, and adding files locally from your computer. For Apple Music, enable iCloud music on your iTunes and add a folder or library directly from your system to iTunes. The music library will auto-sync if you allow it to. Overall, Spotify is easier to handle when it comes to local music playing.
Winner: Spotify
9. Apple Music or Spotify: Music discovery
Apple Music allows its users to customize the initial preferences. A generous list of genres is there to select what suits your personality, and it will auto-save it as your musical palette. The next time you open the app, you will find a range of music according to your taste. You can "Love" or "Dislike" any song in the discovery as well as the curated playlists.
Spotify takes the lead ahead by deeply learning from your music response, and it will show up with a weekly playlist. It's a 30-song playlist that will come along according to your user experience. The discovery itself is excellent and updated. All the latest, hot, and favorites worldwide show up for you to choose from.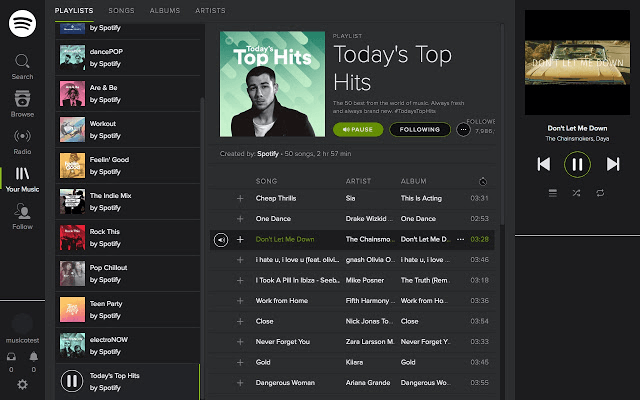 Winner: Spotify
10. Apple Music vs. Spotify: Radio, Video & Podcast
Both Apple Music and Spotify offer exceptional value-added services, including radio, video, and podcasts. Apple Music offerings are far better on the radio. Spotify has been the fastest-growing podcast platform in the podcasts section since 2015. Video is excellent on both devices, yet there are better offerings like YouTube for free out there. There is a wait to see where it ends as video streaming services.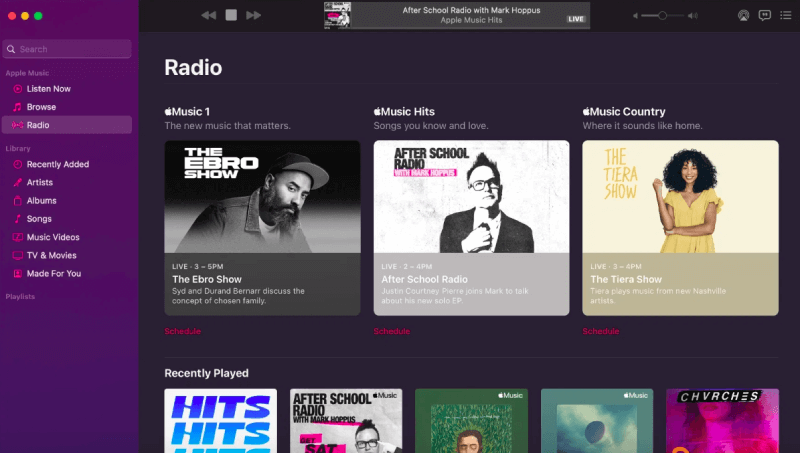 Winner: each has its own merits
11. Apple Music vs. Spotify: Social sharing
Apple Music offerings in Social sharing are fair enough but not versatile. It has a Twitter-style feed for artists and fans to interact. It allows you to watch your friends' playlists and their music history. Artists can also post their stuff, including photos, videos, and messages in the Apple Music application.
Spotify offers far better social integration than Apple Music. It allows music or playlist recommendations to your friends if both of you are connected on Facebook. It even lets you see the music history and who they follow. You can send short stories or see one much like "Instagram." Spotify allows the music history to upload to your social media account.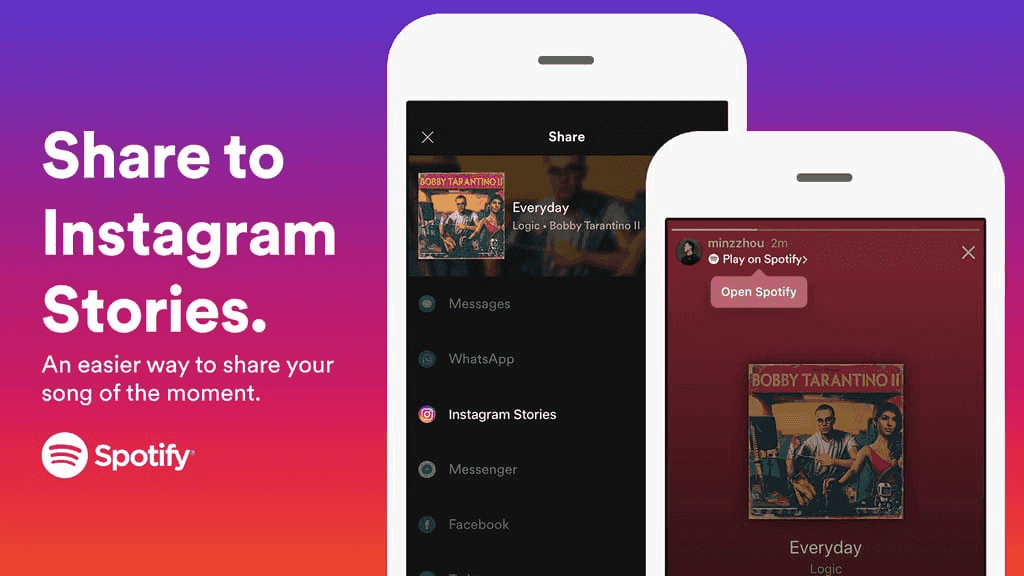 Winner: draw
Apple Music or Spotify, What's Your Best Choice?
The information discussed is a lot to consume. These services we mentioned above hold significant, but Spotify leads in most of the sections. The ease of using it, auto-sync playlists, and overall user experience are way more refined.
Yes, Apple does offer a more extensive catalog, but Spotify's offers are not short. If you have the whole ecosystem of Apple, you should go for Apple Music because the integrated controls work much better in iOS. Otherwise, Spotify is the real winner here, and it works for most people. Not everyone affords the Apple ecosystem, but everyone does appreciate the freedom, ease of use, and features it provides.
What's your opinion on this "Apple Music vs. Spotify" topic? Do you have different ideas? Please feel free to leave a comment.
Apple Music Converter
Convert and Save your favorite songs from Apple Music Permanently for Free.
Don't miss a moment of the Music you love.
Spotify Music Converter
Download Spotify songs, albums and playlist Permanently for Free.
Don't miss a moment of the Music you love.