Apple Music and Amazon music compete head-to-head with their offerings. Yet, their mutual offerings deliver a masterpiece. This article is for you if you ever wonder how to listen to your Apple Music on Alexa devices. Here is your ultimate guide from connecting Apple music to playing your tracks, so let's stick to the simple guide below.
CONTENT Part 1. What is Alexa, and How does it Work? Part 2. How to Connect Apple Music to Alexa?Part 3. How to Play Apple Music on Alexa Part 4. How to Play Apple Music on Alexa After Canceling Apple Music? Final Words
Part 1. What is Alexa, and How does it Work?
Alexa is a virtual assistant developed by Amazon. Much like any other assistant like Siri, Bixby, and Google Assistant, it gets the job done for you. From complex strings of turning on the lights to playing music, it eases you. Every time you command Alexa, it instantly browses its inbuilt library or searches the internet. After browsing billions of web pages, it smartly tells you the best solution through its smart speakers.
It may feel like a lot, but all of this gets done in a second or fraction of it. Developers keep pushing such incredible technology to its limits. Lately, there have been many advancements in virtual assistants. This enables this astonishing tech piece to land on a place where you can control your surroundings' whole ecosystem. Amazon Alexa allows you to play your Apple Music directly from just a voice command. So, let's get to the central theme of this writing.
NOTE: Want to learn more about Amazon Alexa? Check this official introduction on Amazon.
Part 2. How to Connect Apple Music to Alexa?
Amazon Alexa makes things easy for you, and it doesn't fail in connecting several platforms. Here's a quick guide on how to connect Apple Music to Alexa in a few simple steps on a smartphone.
Step 1: Launch the Alexa application on your smartphone device. Open the main menu located at the top left of the Home page.
Step 2: Open the Settings under Alexa Preferences tap on the music.
Step 3: Scroll down on the Settings menu until you see the Music and Podcasts option, and press on it.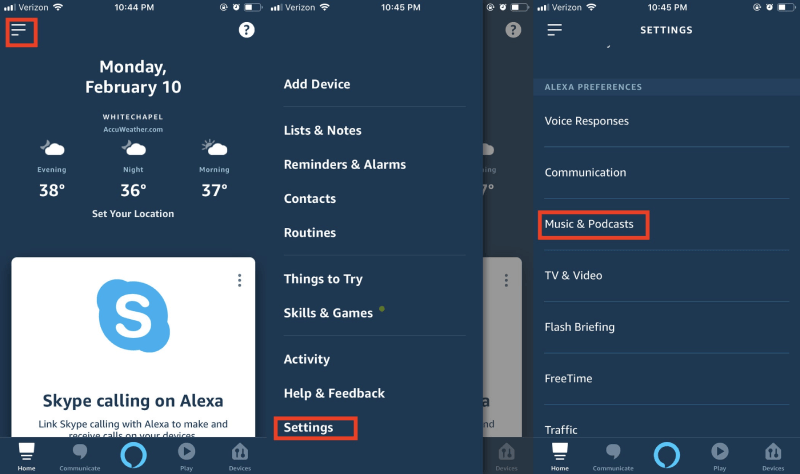 Step 4: Among the already connected services, you will find a thread Link New Service. Click on that.
Step 5: Find the Apple Music logo and press to download the related services. Once the services are ready to use, you will find an option Enable to use. Tap on the option. It will briefly guide you about the string of voice commands you should make to activate the feature on Alexa.
Step 6: The final step is to allow amazon Alexa for the service by logging in to the webpage. You will redirect to the webpage once you do the pre-requisites in the application.
You are ready to use Amazon Alexa to listen to your Apple Music from the echo device directly.
Part 3. How to Play Apple Music on Alexa
After you have finished the connecting process for Apple music on Alexa, the next thing to do on the list is to play Apple Music on Alexa. It's great to see that Amazon Alexa can play Apple Music conveniently as a voice command for it to initiate. Follow the steps below to connect and play Apple Music on Alexa.
Step 1: The first is to connect your phone to the smart speaker. Simply put your phone in a reasonable range to the amazon device to detect the device. You can make Alexa do this just by a simple string of commands. Say, "Alexa, connect to my [name the type of your smartphone]." For example, "Alexa, connect to my android device or iPhone. Whatever you use.
Step 2: Amazon device will notify you in seconds that your device is connected. It usually links the device but if you face any issues, double-check if your Bluetooth isn't connected to any wireless accessories.
Step 3: Like any other speaker, you can play your audio via Bluetooth. After your smartphone device connects appropriately, go to Apple Music or iTunes. And play any track you like. Alexa smart speaker can equalize the original song and adjust the settings accordingly. So, the audio you hear on the speaker might be a bit high profile and tuned up. Amazon Alexa offers volume control right away, but it is always convenient to adjust your device volume.
Step 4: you can disconnect from Alexa the same way you used to connect. Just say, "Alexa, disconnect from [name the type of your smartphone], and your device will instantly disconnect. Every time you make a command to the smart speaker. It chimes to let you know the command is processing.
NOTE: Here's a YouTube video tutorial on how to play Apple Music on Alexa. Watch it to get better visions.
Part 4. How to Play Apple Music on Alexa After Canceling Apple Music?
Can Alexa play Apple Music after you cancel Apple Music subscription? The answer is no. Alexa needs to link with your Apple Music account to play the music. Can you play Apple Music on Alexa if you can download Apple Music to MP3? The answer is yes.
Much like any other smart speaker, Amazon Alexa is just a medium. It plays your audio tracks via Bluetooth. And it doesn't need any active data to consume for that. You can play online and offline soundtracks on Amazon Alexa. Sometimes you have to force yourself to go out online in the application and sit there while the song is playing. Let me tell you this. You are just a few clicks away from making your life easy and better. You can listen to any of the tracks you want offline in MP3 format.
Step 1. Rip Apple Music Songs/Playlists to MP3
Spotikeep Apple Music converter is an offline music downloader for Apple Music. It downloads the Apple Music files directly to your device storage without losing quality. It holds certain features that make it so unique from the rest of the audio downloaders.
* DRM (Digital Right Management) protection to avoid copyright claim
* Lossless quality of downloads
* Easy to listen to formats including MP3, M4A, WAV, and FLAC
* 10X faster conversion rates for Windows and 5X for Mac users
* Batch conversion of songs in real-time
The qualities mentioned above are undoubtedly justifiable for SpotiKeep Apple Music Converter to be a tremendous offline downloader. You can effortlessly download and convert Apple Music to MP3 with a few clicks. All you have to do is:
1. Download and install the SpotiKeep Apple Music converter for Windows or Mac. Launch the application.
2. SpotiKeep will sync with your Apple Music playlists via iTunes. Now select any song you want to convert.
3. Customize the output settings below the music list.
4. Click on Convert at the bottom of the application, and the download will start immediately.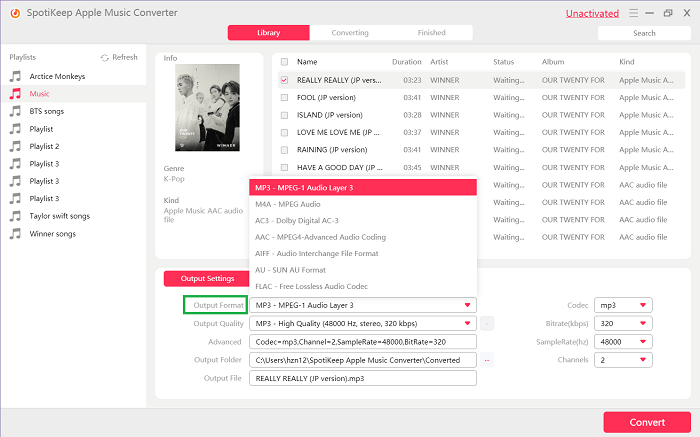 Step 2. Play Local Music with Alexa
Option 1. Via Bluetooth
You can play local music on your smartphone with Alexa, much like any Bluetooth speaker. Follow the guide below to connect and listen to local music via Bluetooth with Alexa.
Step 1. simply turn on the Bluetooth for your smartphone. And ask, "Alexa, connect to my iPhone via Bluetooth." You will hear a chime and the confirmation of Bluetooth pairing right away.
Step 2. After the pairing is done, simply play any song from your local music on your smartphone, and it will play on Alexa.
Option 2. Use Alexa skills
Amazon allows its paid My Media users to enjoy local music. It may be a surprise to you that the membership fee for a year only costs 5$ per year for a basic plan or $10 for advanced membership costs. You can link My Media by enabling the Apple music skill feature on Alexa. Go to the menu on the top left and open music under preferences. Tap on Link New services, and from there on adding My media. Here are the simple steps to listen to the local music library with Alexa.
Step 1: Download and install My Media for Amazon Alexa. Launch the application.
Step 2: Log in to your Amazon account in your My Media application. And then opt for the music folders you want to select as the local library. You can also choose your iTunes local library for this purpose.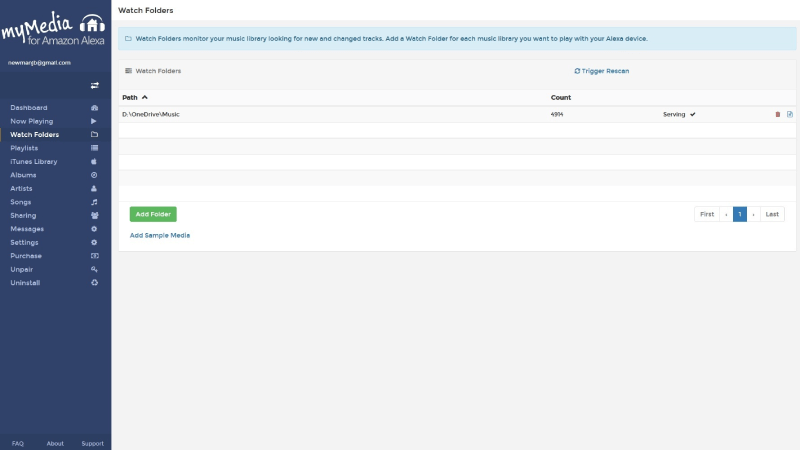 Step 3: Enjoy your local music with amazon Alexa by just saying, "Alexa, ask My Media to play any Album or song name."
Final Words
Amazon Alexa is an exciting device to use, but an ordinary person may face some issues when working on it. We have laid down an easy guide about playing Apple Music on Alexa. Follow the step-by-step guide to connect to Apple music and play it on Alexa. Also, you can download and share the music with your friends via SpotiKeep Apple Music Converter.
Apple Music Converter
Convert and Save your favorite songs from Apple Music Permanently for Free.
Don't miss a moment of the Music you love.
Spotify Music Converter
Download Spotify songs, albums and playlist Permanently for Free.
Don't miss a moment of the Music you love.