Spotify is a top-rated music application, but that doesn't mean it's perfect. Spotify sometimes encounters issues like Spotify waiting to download. That's not normal for such a refined music application. You know the problem is there, so here are the best fixes for Spotify waiting to download the issue.
CONTENT Part 1: How to fix "Spotify Waiting to Download?"Part 2: "Spotify Waiting to Download" Ultimate Solution: SpotiKeep ConverterFinal Verdict
Part 1: How to fix "Spotify Waiting to Download?"
You might have already tried closing and re-opening Spotify several times and basic stuff like restarting your smartphone. But none of that worked. Well, you are not alone. Many users face the same situation as yours. That's why we have done our homework and here below are some of the best solutions to fix "Spotify Waiting to Download."
Solution 1: Stay Under the Download Limit
We are used to listening to Spotify, offering unlimited offline downloads. But it's only a half-truth. Spotify only allows 50,000 songs to download offline in the application, but most people don't know that. Here is one more thing a lot of users don't know. That 50,000 figures are divisible by five devices you can use tour Spotify. This leaves us with 10,000 songs per device. It may seem a lot on paper, but we unintentionally like or download any song. And that's the reason why our liked playlists and downloads are full-on wanted and unwanted music.
Make sure you haven't scored the download limit yet. If you have, you need to filter some downloads to free up space for the new downloads. It's more like an eye of ran eye situation. If you want to download ten songs, you need to delete ten from your downloads without any concern about how much memory each one consumes.
Solution 2: Check Your Device Storage and Memory
Spotify doesn't concern its downloads as far as memory's concern, but your device does. If your device is full-on storage, there is no space for new songs to download. Which lands it on the fix list for "Spotify Waiting to Download." That's just one aspect of device storage.
The other is our devices save up lots of cache data as time flies. And some of you might not know that sometimes cache data consumes more storage than the application itself. There is no problem with the cache data itself. It is there to promote your user experience. But when there is too much cache, it starts to tickle the application performance. Glitches become a habit when there is too much cache. Try to remove the cache from your device. Go to the Settings, under Applications click on Spotify. Clear Cache data.
Sometimes your phone has too many tabs open in the background that only compliments the issue "Spotify Waiting to Download." For optimal performance, keep your memory clean by deleting any background tabs.
Solution 3: Reinstall the Application
It may be heartbreaking to delete Spotify and your long-lasting selection of download with it. The downloaded songs save up in the cloud, but the downloading process is local, and you might have to download all of that again. The older version of Spotify is less compatible with newer broadcasts, making them show up errors like "Spotify Waiting to Download." Try to reinstall Spotify on your Smartphone or Desktop.
If this doesn't solve your problem, you should consider updating your firewall settings on the desktop.
Solution 4: Update Firewall Settings
A firewall is a barrier between your local desktop and the servers of Spotify. Only a selected amount of data transfer is permissible. And sometimes, the information doesn't pass along at all when it comes to downloading the songs. You may encounter a situation when Spotify shows local files waiting to download. To solve the issue, disable any Antivirus installed and deactivate the windows firewall. Here is how to do it:
Step 1: Go to the Control Panel and select System and Security.
Step 2: Click on Windows Defender Firewall, and then select Allow an App or Feature from the sidebar.
Step 3: Scroll down and tick mark Spotify.exe. Click on Ok to save your progress.
Solution 5: Update Firmware of Your Device
You might have noticed yourself that when the device gets old, it loses a considerable amount of efficiency. And it remains true in this case. Continually update your smartphone firmware. Not only it helps in providing better services, but it also makes the phone feel snappier.
Part 2: "Spotify Waiting to Download" Ultimate Solution: SpotiKeep Converter
Spotify sometimes causes real troubles, and it's not only when Spotify says waiting to download. Some similar problems, too, that we have recently covered issues like Spotify keeps pausing, Spotify keeps crashing, or Spotify Can't Play This Right Now. And the list continues, so what's the better solution. One that gets rid of these issues and saves you the costs of these premium subscriptions.
SpotiKeep Converter is a digital music converter to convert your Spotify music into offline MP3 music. It can download the track directly from Spotify while removing DRM (Digital Right Management) and upgrading to a more straightforward output format like MP3. The best thing is no one can differentiate between the downloaded music and the one that's on Spotify. This is because of Hi-fi 320 kbps downloads that will match the same quality as on Spotify. The application is itself quite handy. And the fact that you don't need a Spotify application to download songs makes it even more straightforward.
Here are the features of the SpotiKeep Converter.
Customizable output formats including MP3, M4A, WAV, AAC, and FLAC, among others
DRM (Digital Right Management) removal to protect against copyright and patents.
Lossless audio quality and batch downloads
High conversion rates for Mac and windows, up to 5x and 10x, respectively
Retains the original ID3 tags of songs, artists, and playlist
Now let's skip to the immediate solution to download music from Spotify to MP3 with SpotiKeep Converter.
Step 1: Click the following download buttons to download and install SpotiKeep Converter on your Desktop. Then launch the application.
Step 2: Copy the link to the song you want to download. It can be from Spotify webpage or google search bar. Now that you have copied the link Paste it to the empty bar in the SpotiKeep converter. Then click on Add File. Clicking Add File secures your songs in the queue. You can now copy-paste the link of the next song for batch downloads. Just make sure to press Add File after every successful Copy-Paste.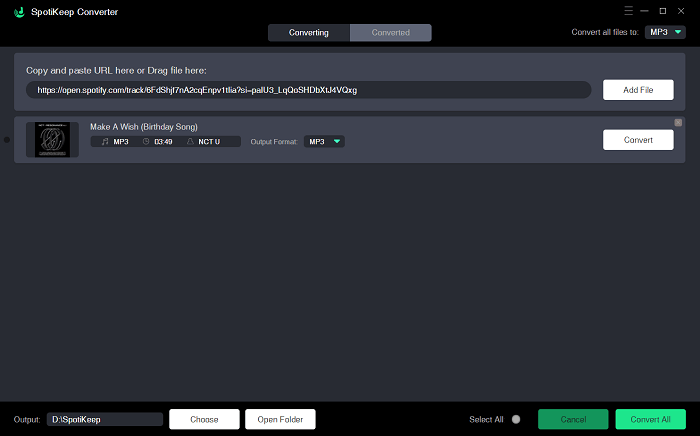 Step 3: Customize your audio formats by the toggle on the top right corner of your screen. By default, the output format will be MP3, but you can customize it to various audio formats as mentioned in the features set. You can also customize the storage location by clicking on the Browse at the bottom left.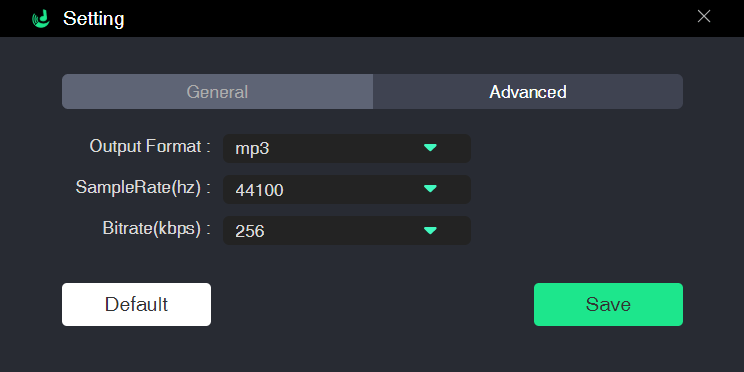 Step 4: All set with the above steps? It's time to let the magic begin at just one push. Click on Convert, and all of the above-listed features will happen themselves. Your downloads will start immediately and will proceed by order of the batch. It only takes a couple of seconds for a song to download due to high conversion rates.
Final Verdict
Spotify is no doubt a piece of excellent music streaming application. And there are so many goods about the application that these issues like "Spotify Waiting to Download" fade away. But that doesn't mean it's not there. It can be a major deal-breaker for someone who wants reliable services. That's why we have listed some of the best practices to get yourself out of this problem. There were five best fixes available for situations when Spotify stuck on waiting to download. Try out any of the solutions mentioned above, and hopefully, it will be a fix, good enough for you.
You might still want to try out the 30-day free trial of the SpotiKeep Converter. Save your subscription fee for Spotify premium and enjoy your Spotify music as local music. Let us know in the comment section below which method works best for you. You can also read our similar post in the How-to section.
Apple Music Converter
Convert and Save your favorite songs from Apple Music Permanently for Free.
Don't miss a moment of the Music you love.
Spotify Music Converter
Download Spotify songs, albums and playlist Permanently for Free.
Don't miss a moment of the Music you love.