In the Spotify community, users ask all kinds of questions. But one of the most frequent questions is, "Why does my Spotify keep pausing?" This problem could be caused by inappropriate use, battery saving feature, cache data, etc. So, how do we find out the reason and how to fix this problem? Let's explore together!
CONTENT Part 1. Why Does Spotify Keep Pausing? Part 2. 5 Ways to Fix the "Spotify Keeps Pausing" Problem Part 3. FAQs of "Spotify Keep Pausing"Final Words
Part 1. Why Does Spotify Keep Pausing?
Spotify is a well-developed application with very few bugs that hinder the application. Nonetheless, the application is smooth. But when it starts behaving abnormally, like pausing for no reason, it gives you a head start. There must be good reasons for Spotify to pass out like this. We have studied the subject, and here we come up with the best possible reasons for Spotify randomly pausing.
Reason 1. Multiple Users for the Same Account
The multiple usages of the same Spotify account are by far the hottest reason for Spotify to keep pausing for no reason at all. Sometimes we give our Spotify account to a friend or colleague, and he/she starts using it. The thing with Spotify is that it only allows a single device to stream at a time. Suppose you have ever logged into your Spotify music application for the mobile device. And open up the web page for Spotify. It will show you the exact status of your smartphone. You can see the music playing in real-time, and changes made to the web page will automatically stimulate the mobile device.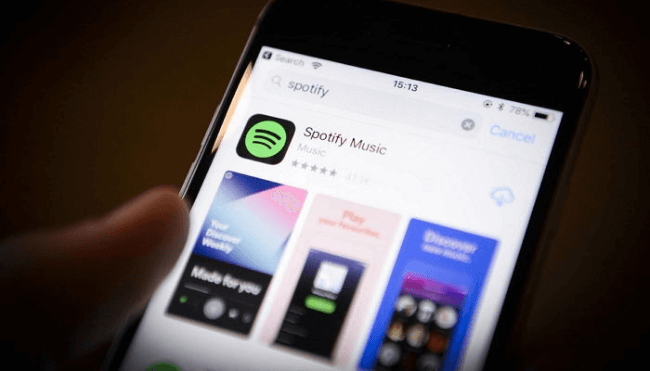 So, if someone else is playing a track, you don't know it on your smartphone, but Spotify keeps it pausing for you. In fact, you don't need to share a Spotify account with others to save a subscription fee. There're tricks to get free Spotify premium forever.
Reason 2. Excessive Cache Data
Cache data helps perform applications better, only to some extent. Once the limit passes, it will only make things difficult for you. Cache data helps the application pre-set according to your history of using the application, including your preferences and dislikes. It enhances the user experience and supports the application to collect sensitive data to help the client. But it also creates complex strains of commands which make the application challenging to work.
Reason 3. Battery Saving Feature
Power-saving or low power saving mode doesn't matter what you call it. But one thing is for sure: it makes the phone a little sloppy to leverage battery consumption. A performance degrades means that the application will have to work on substandard performance, making the application work not well. It's a bit of a trade-off when you are a fan of Spotify Music.
Part 2. 5 Ways to Fix the "Spotify Keeps Pausing" Problem
For every problem, there is a fix. When the problem is as popular as Spotify, there are hundreds of recommendations and fixes. But you already know most of these don't work. You might have already try attempting resign-in before reading this writing. We have come up with the best, and 100% working fixes for your Spotify keeps pausing on your android, or Spotify keeps pausing on your PC. The following solutions are universal.
Solution 1. Sign Out from All Devices
The first solution you should consider is removing all devices from your Spotify account. Go to www.Spotify.com, open the Account overview page. Below the page, you will see an option to Signout everywhere. Click on it, and you will sign out from every mobile device. Now log in and try playing any song. This method should solve the problem in the first place.

NOTE: Change the password to keep the account limited to you. The more are the sharings. The more are the chances of discrepancies in the future.
Solution 2. Remove Cache Data
The cache is an easy fix for most bugs and glitches in the application and prevents Spotify from pausing. If you don't share your Spotify among any other devices, there are very high chances due to the excessive cache. Here is a simple and easy fix for that. Open your Settings, go to Storage, and open Spotify. Delete any cache data in the application, and it is as good as the new one.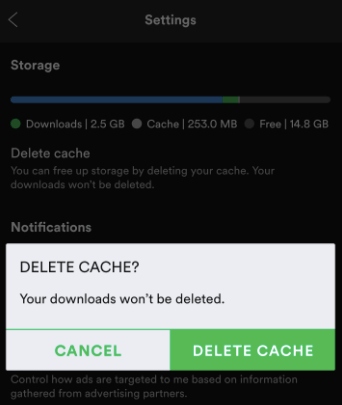 NOTE: More reading: Is it Safe to Delete the Spotify Cache?
Solution 3. Disable Low Power Mode
To maximize the potential of your application, disable power-saving modes. It will enhance the application performance, and you will notice fewer hiccups - the application shutting down in the background to save battery life. It's a bit of a trade-off. You have to lose some battery if you want to listen to smooth music streaming.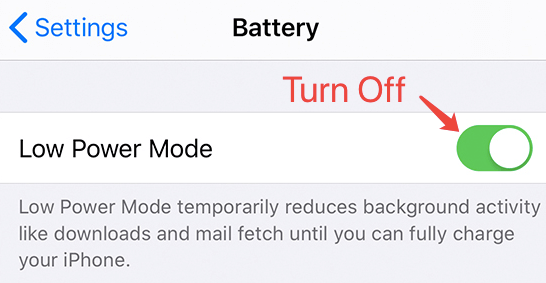 Solution 4. Restart Your Device
Rebooting your device solves half of the problem. Give your smartphone a fresh start, and hopefully, it will just remove the problem. Memory and Storage for the device refresh themselves upon restarting their devices. This makes the last false commands and glitches go away and completes the application run in a clean background.
Solution 5. Use SpotiKeep Convertor
What if I tell you there is a better solution than any of these solutions mentioned above? Get rid of tiring settings, premium account, and limited features. You don't need the Spotify application to run the Spotify music. How does that sound? Well, that is just a single tap away. SpotiKeep converter is an offline music downloader that downloads music directly from Spotify.
Features of SpotiKeep Converter
* Removes any DRM (Digital Right Management) protection of Spotify music
* Downloads Spotify songs in the device storage without limitation
* Converts Spotify music to accessible formats like MP3, MP4, and FLAC
* Supports 5x conversion speeds
* Keeps original audio quality
The process of downloading the songs is also straightforward. You can do it in easy and simple steps.
Step 1. Download SpotiKeep Converter on your Windows or Mac computer and install it.
Then launch the program. Meanwhile, please keep Spotify running in the background. If you don't, the SpotiKeep Converter will automatically redirect to Spotify and make it run in the background.
Step 2. Copy-paste the link of the song you want to download from Spotify. Drop it in the empty bar on the converter. Then click on "Add Files."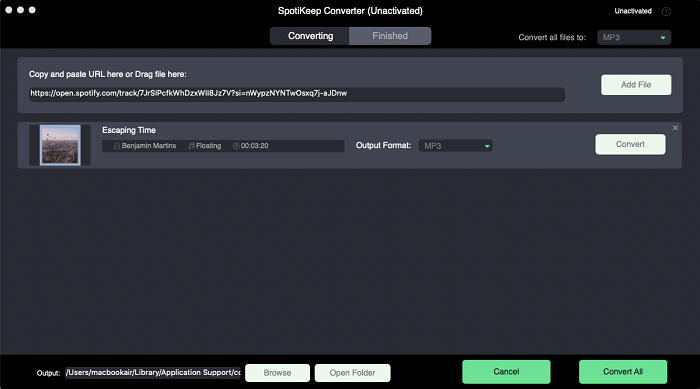 Step 3. You can select your downloads' formats on the top right corner. The default output format is MP3, but you can change it to M4A, WAV, or FLAC.

Step 4. You can also customize the storage location of your songs on the bottom left.
Step 5. Once you finish all of the prerequisites, press on Convert and the file will start converting right in front of you. It only takes the Spotikeep convertor a couple of seconds to transfer and download the file.
Part 3. FAQs of "Spotify Keep Pausing"
Q1. How to Stop Discord from Pausing Spotify?
Ans: Spotify works excellent with Discord. The only caveat is the music stops playing after an active session on the mic for more than 30 seconds and getting back to the question, how to stop Discord from pausing Spotify?
Discord pausing Spotify is avoidable just by using a small method. Use plugins for Discord that prevent it from pausing Spotify music. Here are the Spotify-Discord fix plugins. Or if you don't want to fall into all of this chemistry. Just go to the "User settings", open the "Voice and Video" settings, tap on "Audio Subsystem" and disable the "Use legacy Audio Subsystem" option.
Q2. Spotify Pauses When Phone Locks, How to Fix?
Ans: Spotify pauses in the background primarily due to two reasons.
The first of which is the low power-saving mode. Under low-power saving mode, the app slows down to work on a substandard level. And that's why it often crashes in the background due to lack of Ram and Space. To fix this problem, go to the settings and disable battery-saving mode.
The second reason is the data saver mode. Your phone can automatically stop Spotify from playing songs when it senses the immense amount of data consumed by the application to provide Hi-fi audio quality. Disable this option for the smooth working of the application.
Several other factors contribute to it, such as low battery health on an iPhone and killing peak performance capabilities. No access to Spotify to play in the background.
Final Words
We all know how good Spotify is for our daily usage, and it hurts to ditch an excellent application for its abnormal pauses. Well, no need to worry now. We have just mentioned the best possible reasons, and their solutions to the "Spotify keep pausing" problem. Also, please pay a visit to the honorable mention - SpotiKeep Convertor. There is no going back after using it.
If you like our complete guides for you, feel free to check out the How to blog section. We come up with several intimidating queries of yours in the best possible manner.
Apple Music Converter
Convert and Save your favorite songs from Apple Music Permanently for Free.
Don't miss a moment of the Music you love.
Spotify Music Converter
Download Spotify songs, albums and playlist Permanently for Free.
Don't miss a moment of the Music you love.