Apple launched the service Apple Music Replay in November 2019, and there are lots of questions going around this for a while. If you are considering what an Apple Music Replay is, how to access it, what value it provides. This article is for you.
CONTENT Part 1. What is Apple Music Replay?Part 2. How to Access My Apple Music Replay 2021?Part 3. How to Download My Apple Music Replay Songs to MP3?FAQs of Apple Music ReplayFinal Words
Part 1. What is Apple Music Replay?
Apple Music Replay is a smart feature by Apple for its web and application users. It allows the AI to detect what songs you have been playing most for the week. What are your top playlists, artists, or songs? And it comes with insight after that period and shows you your best pick of the week.
To make it simpler for you, the application like Spotify and Apple Music comes up with your top plays for the week or year. And that songs always show up on your random shuffle because AI thinks you love them the most.
Well, the phenomenon is the same, but the tenure of the feature reduces to the week or year. The feature keeps track of your songs that you have been playing around with for a while. And it's not just one playlist or song or whole album. It's all the songs you have been listening to most for the week or past year.
So fundamentally, when you look back at your Apple Music Replay for the week or year, you end up having a vibe about the whole past week or year. We associate feelings to our song, and having all your feelings of the week in one place is no less than a treat.
NOTE: If you're using Spotify, you can also check your most-streamed song on Spotify.
Part 2. How to Access My Apple Music Replay 2021?
Apple Music Replay is available on both the web and application. This means you will never miss a chance to relive your most played playlists. And developers work hard to make the web more seamless and cohesive to the main application. But we still think it's better to explain how to access my Apple music Replay 2021 for web and application.
Apple Music Replay updates every week on Sunday. You are going to find the exact same songs of your play history in the Music Replay. Now you can even get a remix of your Apple Music Replay. Apple Music Replay is going to work if you don't have an Apple Music subscription, so make sure you have that in the first place.
Access My Apple Replay on Webpage
Step 1: Got to replay.music.apple.com. Log in to your Apple Music using your subscribed ID for Apple Music.
Step 2: Click on the Get Your Replay Remix, and you can see your Apple Music Replay right in front of you.
If doing the above steps right isn't making you your Apple Music Replay, this means you don't have enough songs played in the week to get your Music Replay. Try playing some more songs next week to have your Apple Music Replay.
Check Your Apple Replay on the App
Apple Music applications may be the same across every version of the application. The only difference being is in the interface. We will guide you about the minor tweaks you have to make to make things right. So, let's get started:
Step 1: Launch the music application on your mobile or desktop.
Step 2: Click on the listen now feature. For iOS devices, it is located at the bottom of the application. For the users of Mac OS, you can find the option on the top left shelf.
Step 3: Scroll down and click on Replay Year under Replay. You can select the Apple Music Replay on a yearly basis.
Step 4: Click on Play, and that's all you need to do to find yourself apple Music Replay.
Part 3. How to Download My Apple Music Replay Songs to MP3?
Apple Music may be one of the greatest music applications of all time. But there are always some downsides like the DRM (Digital Right Management), encoded songs, in-app offline downloads, etc. There is one problem to all of your Apple Music problems. Use SpotiKeep Apple Music Converter instead.
The application helps you download your songs from Apple Music into your local MP3 music. With just a few clicks and you can have all songs you ever want in your lifetime downloaded and ready to share across any other channel or broadcast station. Let's talk about quick features of SpotiKeep Apple Music converter:
DRM (Digital Right Management) removal for protection against Copyright claims
Customizable output formats including MP3, M4A, WAV, FLAC, etc.
Lossless quality and batch downloads
High conversion rates for Mac and Windows users up to 5x and 10x respectively
Retains the original metadata and an option to customize it
Now let's get to the procedure to download your Apple Music Replay playlist with SpotiKeep.
Step 1: Download and install the SpotiKeep Apple Music Converter. Then launch the application.
Step 2: Once you run the converter, SpotiKeep will sync with your iTunes library to fetch the Apple Music in the application itself. Once the sync is complete, you can see your whole Apple music collection in front of you.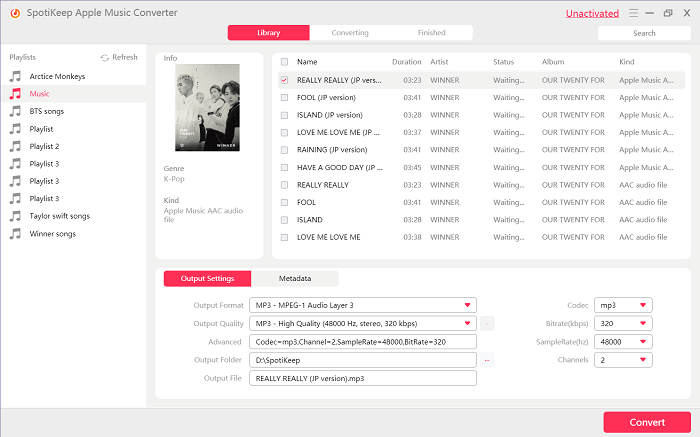 Step 3: Choose the songs you want to download from Apple Music. On the bottom of the home screen, adjust the output format, and also there is an option to customize the metadata. In simple words, you can change the name of the song, album, or artist prior to the download.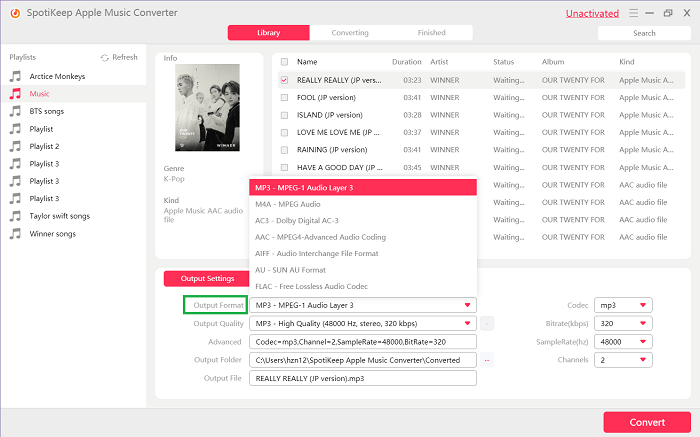 Step 4: Now click on Convert, and your selected tracks will immediately start to download. The songs will save in the local folder that you can share and play with almost any compatible device.
NOTE: With SpotiKeep Apple Music Converter, you can now cancel your Apple Music subscription!
FAQs of Apple Music Replay
1. How do I get Apple Music Replay 2020?
Apple Music now lets you check your Apple Music Replay data periodically. This means you can select the year and discover Apple Music Replay exclusively for that period.
Launch the Apple Music application, go to the Listen Now. Scroll down and open Replay year under Replay. Choose the year of your Apple Music Replay, may it be 2020, 2019, or any preceding year. Now click Play, and it will play you the Music Replay for that year.
2. How do I see my Apple Music Stats 2021?
Go to replay.music.apple.com. Sign in your Apple Music ID, and click on Get Your Replay Remix. You can see the facts and figures along with the stats for a specific period of time. It involves your personal choice for the songs as well as detailed reports for your music habits.
3. Who has the most streams on Apple Music 2021?
Single breakout by Ricch's "The Box" holds the record for most streams on Apple Music. The song stays on the top #1 billboard for no less than eleven weeks. If we talk about the albums, "please excuse me for being Antisocial" holds the most streams in the Apple Music albums category.
Final Words
Apple Music is an incredible music application that comes up with some of the best features in the market. Apple Music Replay is one of those features. We all have some sort of emotional connection with our songs, and it itches when we try to find out the most beloved piece of music but couldn't. So here we have our expert opinion related to what Apple music converted is, how it works, how to access it, and finally, how to download Apple Music offline and more.
If you would like to read more about related queries and their solutions, feel free to check our How-to section. It's full of genuine queries and working solutions.
Apple Music Converter
Convert and Save your favorite songs from Apple Music Permanently for Free.
Don't miss a moment of the Music you love.
Spotify Music Converter
Download Spotify songs, albums and playlist Permanently for Free.
Don't miss a moment of the Music you love.