Amazon Music is one of the major competitors to the music giant Spotify. If you are confused about which mainstream music service you should choose, we have made an unbiased and transparent comparison between Amazon Music and Spotify. Let's explore Amazon Music vs. Spotify and which one proves to be a better value for money service.
CONTENT Part 1. Overview: Amazon Music vs. SpotifyPart 2. Amazon Music vs. Spotify: Interface & User ExperiencePart 3. Spotify vs. Amazon Music: Sound QualityPart 4. Amazon Prime Music vs. Spotify: FeaturesPart 5. Amazon Music Unlimited vs. Spotify Premium: Pricing & PlansPart 6. Amazon Music vs. Apple Music: Music DownloadsPart 7. Amazon Music vs. Spotify: Music SharingSummarize: Spotify or Amazon Music?
Part 1. Overview: Amazon Music vs. Spotify
Amazon Music first started as a digital store that would provide DRM (Digital Right Management) in MP3 format. It was named Amazon MP3 back in 2007 when it was first launched. Amazon has now diversified as a mainstream music application and has 55 Million users worldwide. Amazon hasn't confirmed the latest figures, but we consider it as a steady growth. Amazon has shown 49.05% growth over the past five years.
Spotify is a Swedish-based music streaming company that provides its services to178 countries. Spotify has a very substantial user base with 158 Million premium users. The service was first launched in 2006 and now accounts for the most listened-to music application worldwide and scored 35% of the total market shares. Spotify comes in a free and a paid premium version and holds some of the extensive music libraries in the world, second only to Apple Music.
Part 2. Amazon Music vs. Spotify: Interface & User Experience
Amazon Music provides a tighter and less customizable interface. There is nothing wrong with the content itself. You can see all the different music and playlists in front of you. Or you can switch to the podcast section using the toggle on the top. Discover significant collections by scrolling through the home screen. Top Stations, summer playlists, Top songs, top playlists, it has everything you desire for a music application—user experience is above average but nothing spectacular here.
Spotify offers some of the most blissful music experiences. Spotify has pushed the game to make it's desktop and mobile applications more cohesive with the web page in recent years. The sync and cohesiveness make it a lot easier to switch through any device. Plus, it has some sweet extra gestures to enhance music application. You can control whatever music you want to on any of your devices from one device—a change made in the user experience of one sync through all devices to provide the ultimate experience.
Part 3. Spotify vs. Amazon Music: Sound Quality
Amazon Music offers decent quality music. Amazon has not notoriously disclosed its bitrates yet, but it's at par with 320 kbps of Spotify. Amazon flourishes in the audio department with HD and Ultra HD settings that allow up to 850 kbps and 3730 kbps, respectively.
Spotify competes for head to head with Amazon and provides utmost audio quality up to 320kbps. Free users can only enjoy up to 256kbps. Much like Amazon, Spotify also comes with five different audio settings to manually adjust in the settings. All five modes are displayed below in the chart.
Part 4. Amazon Prime Music vs. Spotify: Features
Amazon is jam-packed with personalized radio, Curated playlists, Discovery, offline modes, Alexa assistant, and superior integrated controls with Amazon Echo devices.
Spotify also provides essential features like specifically curated playlists, music discovery, Offline mode, radio, Facebook connect, and more. It lacks an assistant and integrated controls like that of Amazon Music.
Part 5. Amazon Music Unlimited vs. Spotify Premium: Pricing & Plans
Amazon Music offers its users the Amazon unlimited plan for $9.99/ £9.99 per month. But if you have an Amazon Prime account, you only have to pay $7.99/£7.99 per month. Amazon identifies its Amazon Echo users with a 30% off. Amazon Echo or Echo Dot users can only pay 3.99 USD or Euro to stream music through these devices.
Amazon also offers a student and a family plan for $4.99/£4.99 and $14.99/£14.99 per month.
Spotify is on the east side of offering its prices. An individual account for $9.99/£9.99, a family plan for $14.99/£14.99, and a student package for $4.99/£4.99. The pricing structure is relatively the same, but Spotify simplifies the process with only three tiers.
Part 6. Amazon Music vs. Apple Music: Music Downloads
Both Amazon Music and Spotify offer offline downloads for their music. Both Spotify and Amazon Music offer offline downloads on a maximum of 5 devices only. Spotify does provide customizable download quality up to 256kbps. More or less, the downloaded music experience is similar in Amazon unlimited music vs. Spotify debate. Downloading music on any of the above applications is easy. Let's begin with Amazon Music first and see how to download Spotify music in the application.
For Amazon Music:
Step 1: Open any music you want to download from Amazon Music.
Step 2: Tap on the More options menu, and click on download.
For Spotify:
Step 1: Open the music you want to download. Click on the three dots in the top right corner. Add it to a playlist of your choice.
Step 2: Now go back to the Homescreen. Click on Library, and open the playlist you have added your music to. Click on the download icon below the playlist name. Once the toggle turns green, it means the track has been downloaded successfully.
NOTE: Playlists/albums can be downloaded directly by tapping on the green download icon below the playlist names.
One thing that's worth mentioning is both of these applications download their offline music in encoded DRM-protected format, which makes it impossible to export or transfer. Furthermore, you can only access offline music in the application. It's because Spotify and Amazon Music save their music in encrypted files that cannot be accessed unless from the application itself.
Amazon Music vs. Spotify debate agrees on one common fact that both are paid and come at the same amount. So basically, it's a gateway for customers to try out the application and lure them into the premium features they get in the premium version of the application. Though Spotify offers a free version, in my opinion, it's very absurd to sue, and at times, it gets irritating.
Whether if you agree or not, there is a part of us who crave offline music. The versatility and being able to transfer it to almost anywhere makes it so good. One may think it's hard since dozens of your favorite playlists are on Spotify and Amazon Music. Because you have to download each song individually, making the whole process not worth it. But not anymore. You can download your entire Spotify library in minutes with three simple taps. Use the SpotiKeep Converter for this. Before we dive into its glory, let's have a look at the set of incredible features it offers.
Flexible audio formats including MP3, M4A, AAC, FLAC, and WAV
DRM removal for protection against Copyrights and patents
Lossless audio quality up to 320 kbps
Batch downloads with an added feature for alterable storage locations
Retains original metadata information of songs
Quick downloads for Mac and Windows at 5x and 10x, respectively
Now let's move on to How to download Spotify Music to MP3 in three simple steps. Make sure to download SpotiKeep Converter so we can head start to the MP3 download process.
Step 1: Copy-paste the link of the song/playlist you want to download in the empty URL bar at the top. Then click on Add File. Repeat the process to add multiple files in the queue.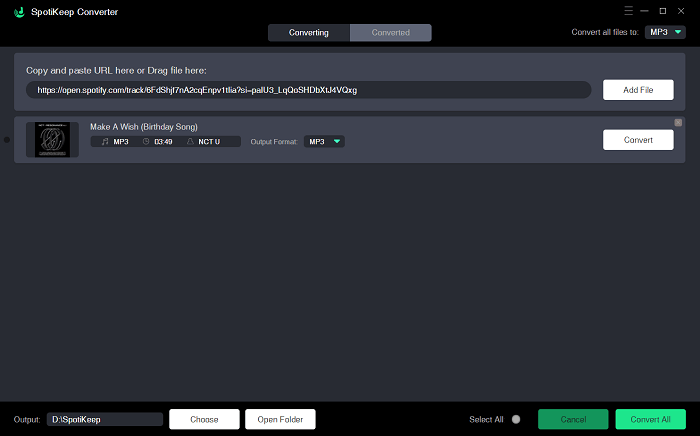 Step 2: Customize your output format using the toggle at the top right corner. Choose from any of the output formats with one click.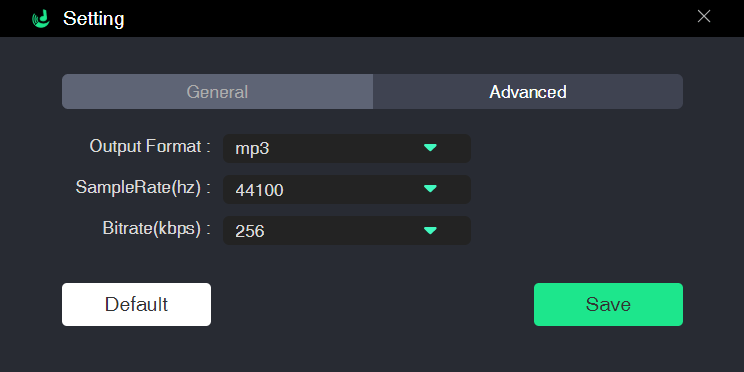 You can customize the storage locations of your song by tapping on the Browse option at the bottom left of the screen. Then select and save any remote location from your local drive.
Step 3: Finally, click on convert at the bottom right to start the downloading process.
Part 7. Amazon Music vs. Spotify: Music Sharing
Amazon has a music-sharing feature for its Echo users. Whenever listening to Amazon Music on Echo Device, the user can say, "Alexa, Share the song with Mike," and it just sends the music to your friend Echo device directly. But this feature is limited to the availability of the Echo device.
Spotify does offer something familiar to Amazon's music sharing feature. Spotify users can connect their Facebook account with Spotify. Users can see the live status of their friends on Spotify. You can see the music they listen to right now or the artists or playlists they follow on Spotify.
Summarize: Spotify or Amazon Music?
We have laid down almost every aspect of Amazon vs. Spotify. We understand for a regular user, digesting all of that information and then concluding can be cumbersome. So here is your conclusion for Amazon Music vs. Spotify.
If you are into the Amazon Prime network, then getting Amazon music is a good buy. Considering it offers almost all features of Spotify and without being skeptical, its audio quality is superior in some limited cases.
But if you are an average person who wants the best of Spotify premium vs. Amazon music unlimited, then Spotify is the way to go. It's a complete package, and you won't find any compromises here in the user experience, music quality, and any other feature. It's the number one music streaming application globally for a reason. And second only to Apple Music in the US. We have already covered the difference between Apple Music and Spotify in this article "Spotify vs. Apple Music."
Apple Music Converter
Convert and Save your favorite songs from Apple Music Permanently for Free.
Don't miss a moment of the Music you love.
Spotify Music Converter
Download Spotify songs, albums and playlist Permanently for Free.
Don't miss a moment of the Music you love.