Back in 2015, when Apple Music and Tidal launched, it was a giant leap forward for music streaming applications. Today music applications face immense competition in the consumer market due to the introduction of several new players. It's important to know what's best from the consumer's point of view. So here we will talk about Tidal vs. Apple Music and everything that comes with it.
CONTENT Part 1. Comparison of Apple Music and TidalPart 2. How to Convert Apple Music to MP3 Music?Final Words
Part 1. Comparison of Apple Music and Tidal
Apple Music vs. Tidal: Application and Availability
Apple Music is probably one of the most popular applications that Apple allows outside its sacred ecosystem. Apple Music is available across Android, Ios, macOS, and Windows. And it checks almost all of the boxes. Apple makes its application perform best for iOS devices. Since Apple controls whole software and hardware for Apple Devices, therefore providing max optimization. Android sometimes faces minor bugs and glitches.
Speaking of the app itself, it has all the information and music libraries you will ever need. The app allows you to access Apple Music libraries and browse sections to find songs in the music catalog and radio stations. And the "For You" section is by far most favorite aspect of the application. It suggests you specifically curated a playlist based on your listening habits.
Tidal is a low-key application that secretly shares all of the features of any big dogs in the music streaming domain. It offers an excellent learning curve when you use the application for the first time. Tidal has dark skin to it, and the flow doesn't only limit to the colors. The interface itself is very minimalist with separate tabs like Browsing Tidal Music, Catalog search, Accessing your music collection, and finally, a tab for new releases and recommendations for you.
Offline music happens to be in a separate offline mode. Your downloaded songs will only appear in offline mode. The application is available across Ios and Android, but you can use Webpage for Tidal on Desktop anytime. It has nothing less if not more than what Apple Music or Spotify offers. This even makes us think of a big picture, apple music vs. Spotify vs. tidal.
Apple Music vs. Tidal: Music Discovery
Let's talk about music discovery for a bit. Apple Music is very close to perfection when it comes to Music Discovery. It offers a Beats1 section to provide fantastic artists and musicians to DJs and Pop music. It promotes the culture by sharing some exclusive content that you might not have heard before. There is also a For You section that suggests your theme according to your taste and listening habits. And it rarely disappoints you with its suggestions.
New Music Mix is a weekly playlist of 25 songs. IT's updated every Friday, and there is always something new and refreshing. It's great to enjoy your weekends, especially when there is music you barely even know. Recent updates of Spotify have been pushing the ecosystem with some social nuance. And there is even a feature for artists and fans to collaborate—much like how Twitter works. Artists upload their work and life moments, and their fans can comment or react to the post via Connect.
Tidal, on the other hand, is a simple music application. One can argue it's boring to some extent since it doesn't have any dedicated windows like Apple Music. All you get is a top tier showing all of the available genres of music.
You can click on any to explore more. Or you can see lots of recommendations in the form of curated playlists. And these are not AI curated instead it is from the top shelf, artists like Beyonce and Jay Z curate some of those exclusive playlists. To sum up, Tidal is simple, clean, and significantly less intrusive by AI.
Apple Music vs. Tidal: Audio Quality
Apple Music streams and downloads its audio files at 256kbps and in AAC format. Apple may claim it to be Hi-fi, but it is nowhere near other mainstream digital services like Spotify, Tidal, etc. The audio quality of 256kbps is still competitive when compared with 320kbps playback. You can only pick some drop-in tunes if you look for them.
Tidal whoops audio quality not just with Apple Music but claims the throne throughout music streaming services. This $19.99 Hi-fi plan provides CD quality at a bitrate 1411 kbps. It's more than five times what Apple Music is offering. The music files for this plan are incompressible and hold lossless quality. Each file is coded 16bit, 44.1 kHz FLAC files. The standard plan of $9.99 provides 320kbps audio quality, and it's more than fine to enjoy your tracks.
Apple Music vs. Tidal: Interface and Pricing
Apple is well-known for keeping things the Apple way. There is no in-between, and it's mainly subjective. You can either love it or hate it but keep emotions aside. It does have some unique aspects like separate tabs for each function, super intrusive AI. Navigating through Apple Music may feel awkward at first. But once you get used to it, you might follow the same gestures with any other music application; it's so addictive. Apple Music charges pretty well, according to the rest of the market. You will get an idea in the price chart below.
Tidal offers a very minimalistic interface. Nothing cool stuff going on here. It's a tap and plays application. Open it, play the recommended songs in front of you, or select the offline mode for offline tracks. Play and enjoy—no separate sections for libraries, recommendations, etc. Everything is right in front of you in an organized manner.
Now let's have a look at the pricing structures of both of these applications.
| | | |
| --- | --- | --- |
| Subscription Plan | Tidal | Apple Music |
| Monthly Plan | Tidal premium $9.99/ Hi-Fi $19.99 | $9.99/Month |
| Family Plan | Premium $14.99/ Hi-Fi $29.99( 5 members) | $14.99 ( 6 Memebrs)/Month |
| Student Plan | Premium 4.99$/ Hi-Fi $9.99 | $4.99/Month |
For more details about pricing structures for Tidal Subscription, please visit the Tidal home page. For Apple Music, please visit the Apple Music page.
Part 2. How to Convert Apple Music to MP3 Music?
No matter how advanced we have got in online media streaming applications, offline music is still no match. The ease of transfer, broadcast, or sharing with friends of local music is unbeatable. You must have struck it in your head once in a while; what if your whole Apple Music library becomes local MP3 music? That's not a dream with SpotiKeep Apple Music Converter.
SpotiKeep Apple Music Converter is an offline music downloader for Apple Music. It's capable of extracting online music libraries and converting them to your local music. When we say convert to local music, it's not just one thing. It's a series of steps. Your music is the first subject to DRM (Digital Right Management), so you can enjoy your music without any copyright claims.
The second most important is to decode the music into a more straightforward output format like MP3. It's essential because what's the point of having offline music if you can't share or broadcast it to any of your devices. There is much more about our Apple Music Converter. Let's find out.
Customizable output formats including MP3, M4A, WAV, AAC, and FLAC, among others
Lossless audio quality and batch downloads
Retains the original ID3 tags of songs, artists, and playlist
DRM (Digital Right Management) removal to protect against copyright claims
High conversion rates for Mac and windows, up to 5x and 10x, respectively
Above listed features can convince anyone to enjoy a 30-day free trial for SpotiKeep Apple Music Converter. If you're wondering how to convert Apple Music to MP3 with SpotiKeep Apple Music Converter, here is your step-by-step guide.
Step 1: Download the SpotiKeep Apple Music Converter by clicking on the threads below. Download the setup once the installation is complete.
Step 2: iTunes acts as a bridge for Apple Music. And the converter fetches all your tracks from iTunes. Since Apple music syncs with the iTunes library, it all ends up the same. Keep your iTunes active running in the background. The converter will sync all your tracks in iTunes and then show them in the application in a similar array.
Step 3: Now, select the tracks you want to download from Apple Music. You can select multiple songs at one time for batch downloads. Tick mark the box for each piece to choose them.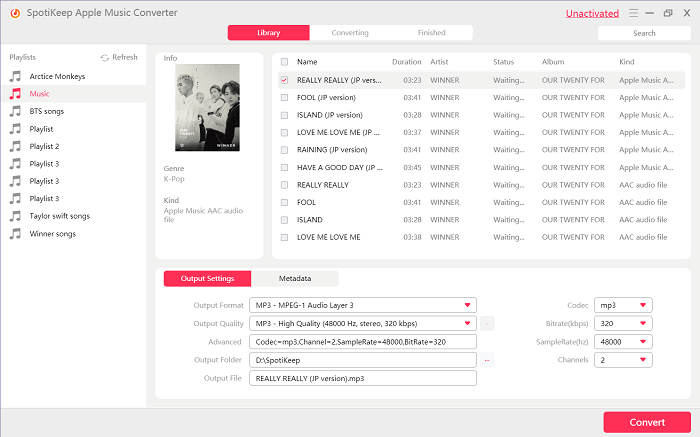 Step 4: Customize the output formats, audio quality, storage locations, and metadata of songs, artists, and playlists—all of these options below the songs section.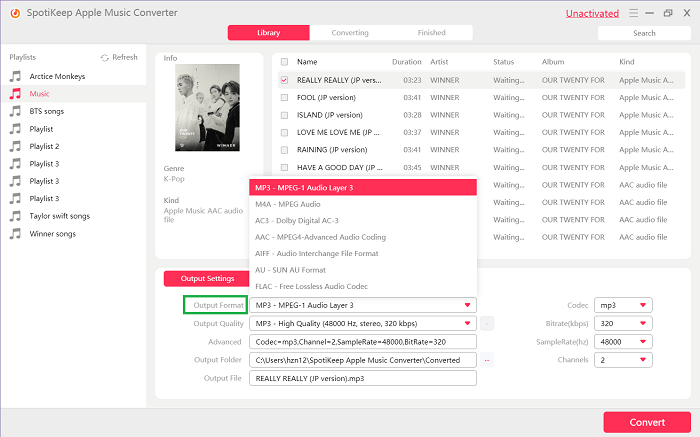 Step 5: On the bottom right corner, you can tap on Convert. And SpotiKeep will starts downloading your tracks immediately while taking care of your preferences at the same time. You can download your whole iTunes library with just one click. And then take it anywhere you want or share it across the board.
Final Words
Tidal vs. Apple Music is historic. The best we can do is put facts to the table and decide which one is better. Compromises are always there. If you want Apple Music, you are sacrificing a little bit of audio quality. The same is the case with Tidal. You lose an excellent interface and AI-curated playlist. Well, the good thing is you can now evaluate all the factors mentioned above and decide what's best for yourself.
Let us know what you think about the Tidal vs. Apple Music war. We have recently covered a similar topic, Spotify vs. Apple Music. It's worth your 5 min.