Some of the Roku or Spotify users often ask: "Does Roku has Spotify? Can I play my Spotify on Roku?" If you also have these queries, this article will give you answers.
CONTENT Part 1. About SpotifyPart 2. About RokuPart 3. Is There a Spotify Roku App?Part 4. Can You Get Spotify on Roku?Part 5. How to make Spotify Roku Connection?Part 6. How to Play Spotify on Roku without Spotify PremiumPart 7. How to Generate Roku Spotify PlaylistsFinal words
Part 1. About Spotify
For every music lover, the name Spotify of course, should ring a bell at the first mention of it. Spotify is one of the largest music streaming platforms around the world. It is in the league of Amazon Music, Apple Music, YouTube Music, Tidal, etc.
Spotify is a music streaming and media platform with over 70 million songs on its database. It offers digital copyright content, podcasts, and so on. Interestingly, one can access the Spotify platform from different channels, including web browsers, Android or iOS Apps, PC software, and some other options.
For you to use the Spotify platform, you must be a registered user. To sign up on Spotify, go to the Spotify homepage, click on "sign up" at the top corner of the screen if you are on a PC web browser. If you are on iOS, Android, or PC software, the procedure is pretty much the same.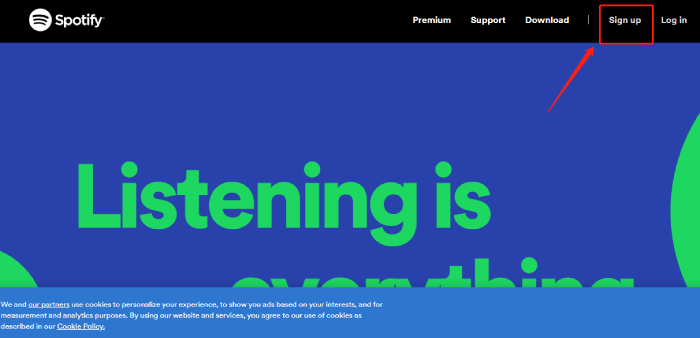 You just created a free Spotify account, and there are some limits to the things you can do. For example, you cannot skip to the next songs more than six times within one hour. Also, for free accounts, there are intermittent advertisements that may disrupt your listening convenience.
So, if you intend to get full options without any limit to what you can enjoy, you may choose to upgrade to the premium account. For those who want to experience all premium features yet don't want to pay for it, you can get a free Spotify premium account with some tricks.
Part 2. About Roku
Roku is simply a "digital media player" owned and manufactured by the American company Roku Inc. They offer online users access to stream media content from various online services such as Netflix, Apple TV, Disney Plus, ESPN, and so much more. The Roku OS is built explicitly for the streaming of contents, and it is embedded in millions of Roku players, Roku televisions, and set-top boxes all over the world. There are thousands of channels offered by different streaming media companies for users on the Roku channel store.

Roku has evolved through the years with up to nine generations of streaming player models, Smart TVs, and custom software that runs all their hardware devices. To access streaming channels from your Roku device, you must create an account on the Roku website to enable you to activate your device.
Part 3. Is There a Spotify Roku App?
Yes, there is a dedicated app for Spotify Roku. You can install the Spotify app on a Roku device and configure it. Once you install the Spotify app on your Roku device, you can control the music playback with the Roku remote control. Optionally, you can go through Spotify connect on your Smartphone, Tablet, or PC and control the music playback on any of the devices.
Part 4. Can You Get Spotify on Roku?
Yes, Roku devices have Spotify. You can get Spotify on a supported Roku streaming player or Roku TV. Spotify is supported in all Roku TV models and some select streaming players such as models 3600 or later models. For you to use the Spotify app on Roku, your Roku Device's OS must have OS version 8.2 or above, which means that Roku devices that have OS versions lower than version 8.2 will not be able to support Spotify on Roku.
Part 5. How to make Spotify Roku Connection?
Now that we have established that you can play Spotify on Roku, we will state the step-by-step process of how you can make a Spotify Roku connection to enable you to play Spotify music on Roku. There are three ways to achieve this, but we'll only cover two methods in this article. You can connect Spotify with Roku through a web browser, directly on a Roku-supported device, or through the Roku mobile app.
Method 1. Get Spotify on Roku through a Web Browser
If you wish to install Spotify on Roku through a web browser, do the following:
Step 1: On your web browser, type in the web address of Roku: https://www.roku.com/. Sign in to your account from the top right corner of the screen.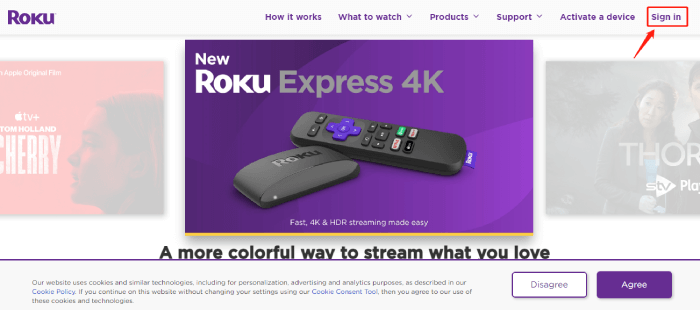 Step 2: Click on the "What to Watch" menu. It will reveal a drop-down menu. Select "Channel Store."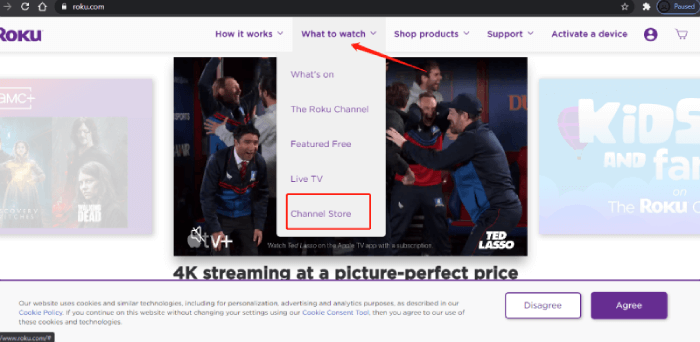 Step 3: Use the left or right arrow navigation bars to move to the Music tab. Once you get there, you will see Spotify listed under the Music tab as one of the music channels.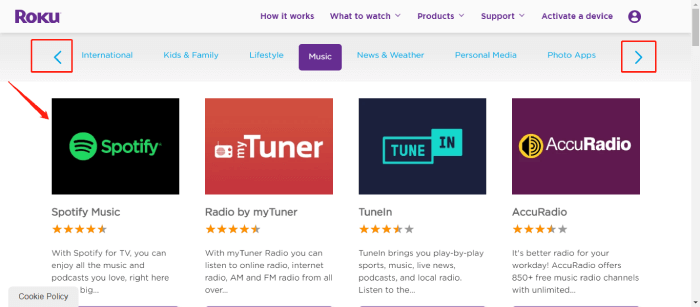 Step 4: Select the Spotify channel by clicking on the "+ Add channel" tab to add Spotify to your Roku device. Once you have done this, Spotify will connect to all your Roku devices linked to your account within 24 hours.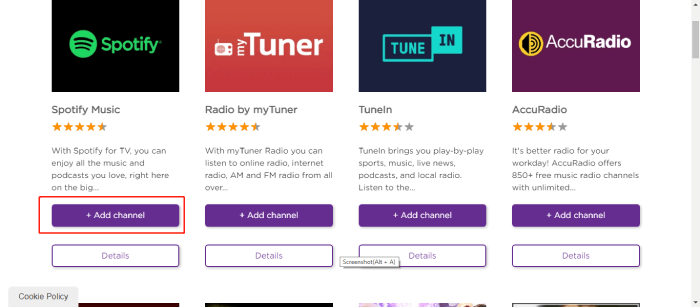 Tips: The added channel will not appear immediately on your device's home screen until after 24 hours. Roku devices usually check for new channels, themes, or screensavers every 24 hours and install them. But if you want to download and install the Spotify channel immediately, do the following:
Step 5: Go to your Roku device and click the Settings > System > System Update > Check Now. Proceed with the installation.
Method 2. Cast Spotify to Roku Directly on Roku Supported Devices
If you wish to add Spotify on your Roku supported device directly, you can achieve that through the following steps:
Step 1: Proceed to the Roku channel store on any of your supported Roku devices.
Step 2: Select streaming channels from the home screen.
Step 3: Browse through the music genre or select "search channels" and search for Spotify. The Spotify channel will show up.
Step 4: Go ahead and click on the "+ Add channel" tab to add Spotify to your device. When you have done this, the Spotify channel appears on the main screen of your Roku device.
Part 6. How to Play Spotify on Roku without Spotify Premium
SpotiKeep Converter is a music converter that helps users download and convert songs, albums, and playlists to MP3, M4A, WAV, and FLAC formats. A user does not need to have a premium Spotify subscription to download the MP3 songs. Follow these steps to download and convert MP3 songs from your Spotify to enable you to play them on your Roku device.
Step 1: Download the SpotiKeep Converter on your PC.
You may follow the instructions on this How to install page to install it. Launch the application once the installation completes. You will be prompted to activate the registered version. Ignore the prompt and click on "Continue Trial," which will last for 30 days.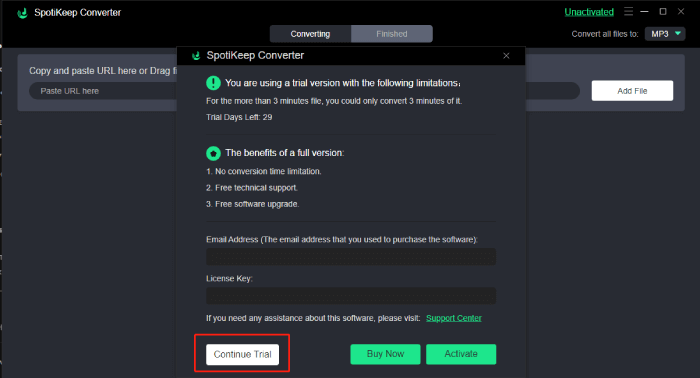 Step 2: Search for your favorite song on Spotify and copy the link.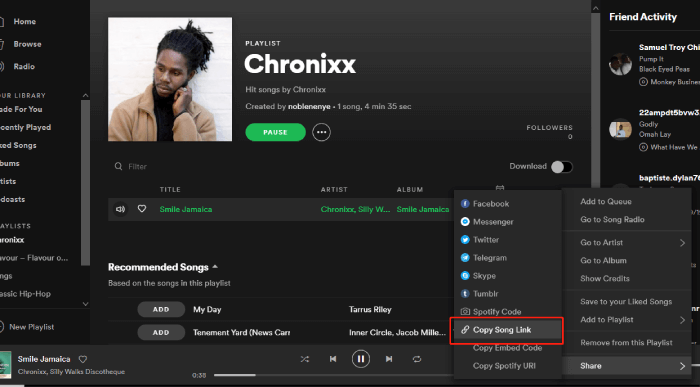 Step 3: Go back to SpotiKeep Converter and paste the link you copied into the bar as indicated.
Step 4: Select some desired settings and the saving folder to save the converted files. When you are done with the settings, go back to the main interface. Click on the "Convert" button against any song to convert a single file, or click on the "Convert all" button to convert the entire list of added links.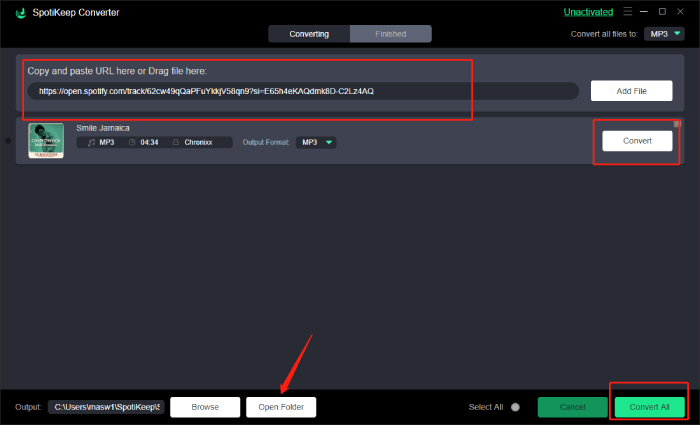 Now, your Spotify songs have been successfully converted to MP3 files. You can copy the MP3 files to a USB device and plug them into your Roku streaming player or TV and play them. You can equally transfer the songs to your mobile device and play them using the Roku mobile App.
Part 7. How to Generate Roku Spotify Playlists
Proceed and sign in to your Spotify account on your Roku device. Now, you should be able to access your Spotify playlists on Roku if you had any existing ones. But if you do not have any playlists at all, you can simply create a new one.
Step 1: Go to "Your Library" and click on the "Create List" tab.
Step 2: Give your playlist a name and add some description
Step 3: Upload a cover image if you want to and click on "Create List."
Step 4: Add songs to the new playlist and enjoy the music.
NOTE: You can find more ideas from this 30 Best Spotify Playlist to generate your Roku Spotify playlist.
Final words
This article covers all the essential knowledge you should know about Spotify and Roku and how you can play Spotify on Roku in different ways. Playing Spotify music on Roku is a fantastic experience, but only if you master the key to enjoying Spotify music without premium, you'll get a lot more freedom.
The information put out in this "Spotify Roku" article is well detailed and easy to follow. Feel free to ask questions about any of the steps that may not be so clear to you. Also, comment and share this article with your friends and followers on various social media platforms.