How to share playlists on Spotify? It may seem a simple task. But there is a lot more to it than a mere copy-paste. You may also have questions regarding "how to share Spotify songs on Instagram stories." We have answers to all of your queries. Let's explore exciting ways to do so.
CONTENT Part 1: How to Share Spotify Playlist on MobilePart 2: How to Share Spotify Playlist on ComputerPart 3: How to Share Spotify Playlist Anywhere?Frequently Asked Questions (FAQs)Final Thoughts
Also Read:
Part 1: How to Share Spotify Playlist on Mobile
Spotify allows you to curate your playlist, and it also allows you to share the playlist via a link. Any Spotify user can access that. Follow the steps below to share your Spotify Playlist on Mobile:
Step 1: Launch Spotify application. Go to the library. And tap on the playlist you want to share.
Step 2: Press on the three dots on your screen. A menu will show in front of you.
Step 3: Scroll down the menu and click on Share.
Step 4: There will be many apps displaying, including Snapchat, Messages, Instagram Story, Facebook, Twitter, etc. Chose an application to share your Spotify playlist. If you wondered how to share Spotify songs on Instagram Story, select "Instagram Story " in this step, and you'll be good.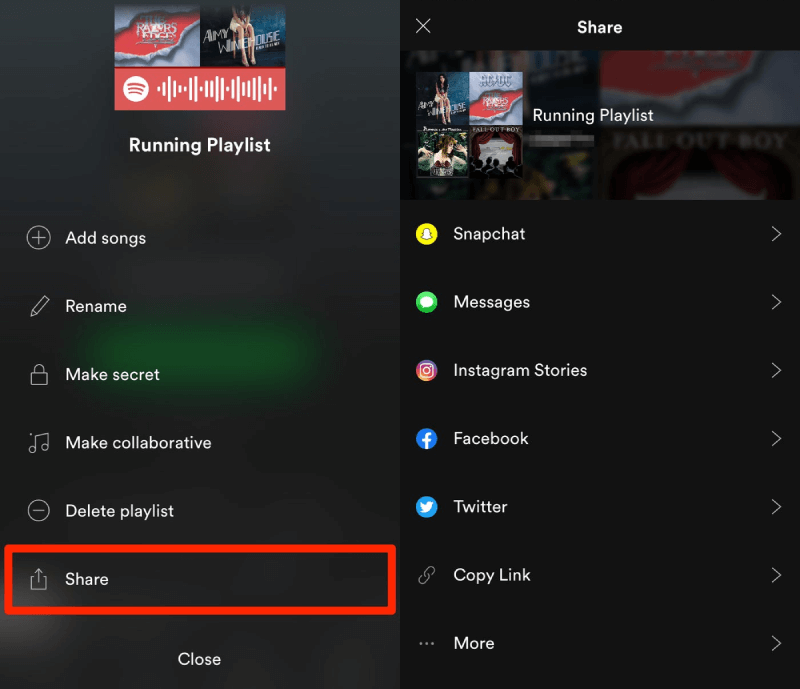 Part 2: How to Share Spotify Playlist on Computer
The latest updates made the Spotify application cohesive across the mobile, web page, and desktop. But some nuanced differences deserve a separate subheading. Let's break it down. First of all, let's see how you share a Spotify playlist on PC.
Step 1: Launch the Spotify application on your desktop.
Step 2: Select the playlist you want to share by finding it on the left sidebar or the home page.
Step 3: Make a right-click on the application or press the three dots when you place the cursor on the playlist. Either way, you will land on the same pop-up interface.
Step 4: Click on Share. You might not have all the applications to send links directly in-app on desktop. So, you will probably go for the link. One thing that is important to know here is when you click on Copy Embedded code. It is the whole chunk of the web address with "http://" at the start. This should be your way if the recipient doesn't have Spotify. But if someone has a Spotify application, there is no need to send the chunk of the message. Click on the Copy playlist link to share.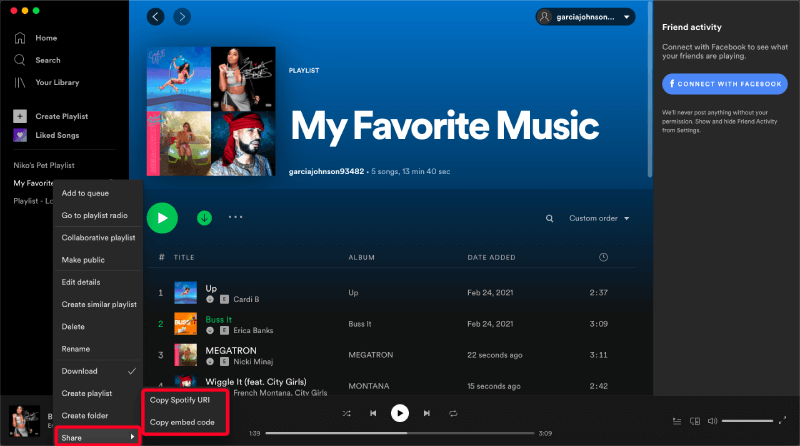 Part 3: How to Share Spotify Playlist Anywhere?
There are some limitations when sharing across platforms. Users can only share the song's link in the Spotify app, even for premium users who have downloaded the tracks. There is no way to send them or transfer them to any of your devices or friends. If you want to share the playlist with your family or any non-user, things will get tough on you. SpotiKeep Converter is an easy fix for your problem. It lets you download your Spotify music in standard audio formats so you can share your tracks or playlist with your friends, family, or any non-Spotify user on any app.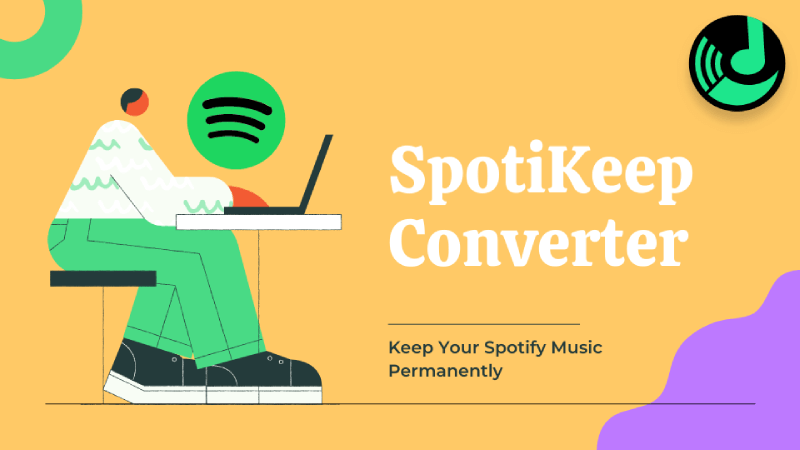 SpotiKeep Converter is an offline music downloader that enables you to download tracks directly from Spotify. It's not an ordinary downloader. There is a lot of background magic happening just at one touch of your finger. SpotiKeep holds the following set of features that differentiate the rest of the competition.
DRM (Digital right Management) is a big issue for streamers and developers. SpotiKeep ensured DRM removal to guarantee against Copyright claims.
SpotiKeep offers high-quality downloads with lossless quality.
It retains the original ID3 tracks and the metadata information of the tracks, albums, or artists.
It allows users for real-time batch downloading to simply the process.
Customizable storage locations and output formats help. It can provide music in MP3, M4A, WAV, and FLAC.
It offers fast downloads by 10x conversion rates for Windows. And 5x conversion rates for Mac users.
SpoitKeep converter is available for both Windows and Mac. The application interface is convenient and almost similar. Here we'll guide you through some simple steps on how to download Spotify playlist to MP3.
Step 1: Download and Install the SpotiKeep Converter. Launch the application.
Step 2: Copy the link of the song you want to download from Spotify. And paste it to the empty bar in the SpotiKeep application—click on Add File. If you want to download songs in a batch, keep pasting the URLs and click on Add file every time. You will see the songs queue up to convert.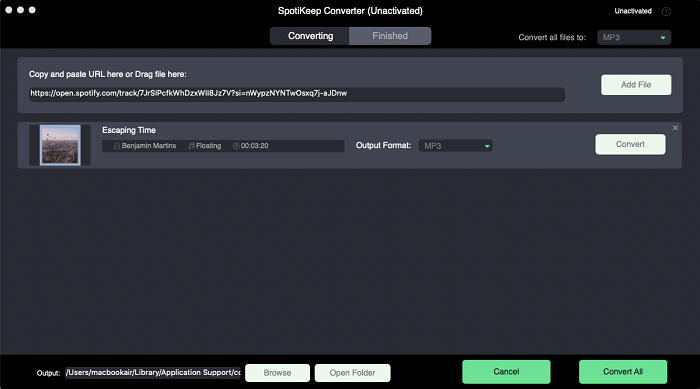 Step 4: On the top right corner, adjust the format of the song you want to download. By default, the output format will be MP3, but you can customize it to M4A, WAV, and FLAC. You can also customize the storage location on the bottom left of your Home page.

Step 5: Click on the Convert option located on the bottom right. You will see the songs will start to convert immediately. The playlist will download in a couple of seconds due to higher conversion rates.
Frequently Asked Questions (FAQs)
Q: Can You Share the Playlist on Spotify Free?
Ans: Spotify does put many restrictions for its free users, including limited skips, playing songs from the playlist, and essential features like downloading. Luckily, any Spotify user can share a playlist on Spotify free and without restriction.
Q: How Do I Send a Playlist to Someone?
Ans: No one can send the playlist to someone on Spotify. Not even the premium users enjoy the liberty to share the playlist. A reliable music downloader can solve this problem for you. If you want to share a Spotify song or the whole playlist with anyone, try SpotiKeep Converter. We have mentioned a complete guide above in Part 3.
Q: How do You Make Collaborative Playlists?
Ans: Spotify first introduces the feature of collaborative playlists in 2008. It allows the users to edit or listen to the playlist by opening the link. Select the playlist you want to share, press on, make a collaborative playlist, and share it out. Anybody who follows the link will have access to the playlist. This is how to transfer a collaborative playlist.
Final Thoughts
Music holds its remarkable effect on all of us. And when it hits us hard, we urge it to share the same feeling with our friends and family. We have listed a complete guide for you not to miss that particular moment of yours. Let us know how well this guide served you in the comment section below.