How much does Apple Music cost? Well, Apple Music provides different subscription plans for its users. But not all of us know about that. So here we'll answer all of your general queries, including the Apple Music price per month, Apple Music family plan cost, Apple Music monthly cost for students, etc.
Let's see which plan is best for you to enjoy the world's most extensive music library of more than 75 Million songs.
CONTENT Part 1: How much is Apple Music Subscription Cost?Part 2: Is There Any Free Trial for Apple Music?Part 3: Forget "How Much is Apple Music," Use SpotiKeepFinal Words
Part 1: How much is Apple Music Subscription Cost?
Apple Music charges you a certain amount according to your subscription plans. So the answer to how much Apple Music will cost you monthly is contingent upon which package you subscribe to. Also, the prices vary slightly to moderately depending upon the region. For example, In India, you can have an individual plan of Apple Music for somewhat equivalent to $1.37. For the US and other first-world countries, prices are almost comparable. Here is the price chart by Apple, along with perks that come with each level.
For instance, Apple Music comes in three separate tiers. So, in short, there are three levels to Apple Music prices you may get charged per month. So now let's have a look.
Student Plan
Student Plan is for students only that are studying under a degree providing University or a college. However, there are incentives for students when it comes to how much is Apple Music for students? For example, Apple Music cuts a deal for their premium plan on 50% off. And it doesn't lack any of the features you can get on a premium account for $9.99. The only difference is now you have to pay $4.99 monthly.
Individual Plan
Most of the general public opt for this package for their personal use. The individual plan unlocks Apple Music's most extensive music library, offline downloads, exclusive artists and their work, radio, and similar premium features. The individual plan will cost you around $9.99.
Family Plan
Family Plan is the ultimate plan by Apple Music to provide you with six different accounts for Apple Music. So now, how much is the Apple Music family plan? All you have to pay is a lump sum of $14.99 per month. And it's the family sharing cost of Apple Music, all accounts. For example, the family plan opens up six different accounts for all family members having their id passwords. It's much like the sharing screen of Netflix.
Part 2: Is There Any Free Trial for Apple Music?
Apple Music offers a three months free trial period for every plan on its website. It will save you around $30 for the first three months if you are a sole user. We have recently covered how to get Apple Music Free Trial for 3 Months, 4 Months & 6 Months. Here is how to claim Apple's official three-month free trial.
Step 1: Go to Apple Music Homepage. Scroll down till you see the price chart for all three available plans. Then, click on Try it For Free in the red box above all programs.
Step 2: Click again on the Try it For Free on the red banner at the bottom of your screen. Log in or sign up to your Apple Music ID.
Step 3: Add your payment methods, so you will get charged as regular after the Apple Music Free trial is over. Verify your account details and phone number. Now you can use Apple Music on any of your supported devices.
Part 3: Forget "How Much is Apple Music," Use SpotiKeep
You already know how much Apple Music costs, but do you know you don't have to pay any fee to enjoy the same content with added feasibility. In simple terms, you can convert your Apple Music to MP3, carry it around or transfer it to any MP3-supported device. Furthermore, it only takes a few taps to download Apple Music into MP3 with the right source.
SpotiKeep Apple Music Converter is a premium software to download your Apple Music to MP3. The software enables you to download tracks without Apple Music, so there is no need to keep an Apple Music subscription anymore. There are dozens of other things; this Converter does, including conversion into the diversely supported output format. Let's have a look at the features of the Apple Music SpotiKeep Converter.
DRM (Digital Right Management) removal to protect against copyright and patents
Customizable output formats including MP3, M4A, WAV, AAC, and FLAC, among others
Lossless audio quality and batch downloads
Retains the original ID3 tags of songs, artists, and playlist
High conversion rates for Mac and windows, up to 5x and 10x, respectively
Wondering how to convert Apple Music into MP3? Here is how to do so in 5 simple steps.
Step 1: Download the SpotiKeep Apple Music Converter by clicking on the download toggles below. Install the setup once the download is complete.
Step 2: Turn on your iTunes in the background before starting the Apple Music Converter. Otherwise, SpotiKeep Converter will automatically redirect to your iTunes login to fetch the information. SpotiKeep Converter syncs with your Apple Music library and shows all of the content from iTunes right in the Converter.
Step 3: Now, select the tracks you want to download. Tick the box on the left of each song you want to download. Select multiple files if you're going to batch download songs.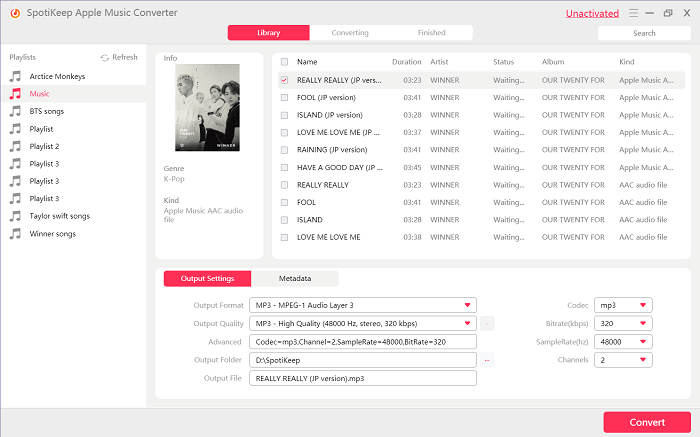 Step 4: Customize the prerequisites of your songs, including output formats, audio quality, storage locations, and metadata of songs, artists, and playlists from below the screen.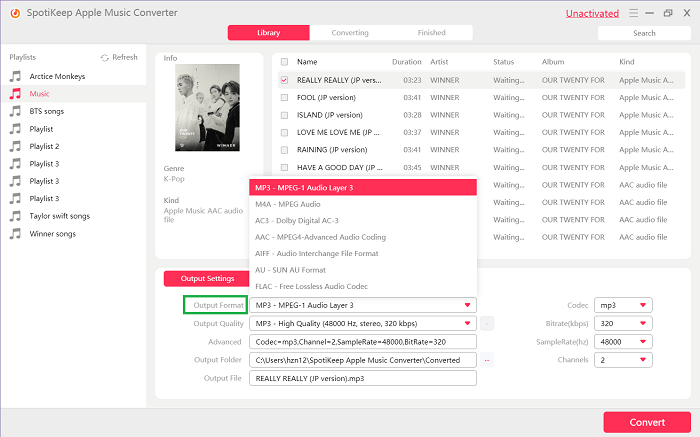 Step 5: Now tap on the Convert option at the bottom right of your screen. Your download will start immediately as you can see the ETA do each song you are downloading. You can check the downloaded music in your local files soon after their completion.
Final Words
Apple Music is no doubt an excellent music streaming service. But it comes in different packages with different perks. We have briefly discussed the topic "how much does Apple Music cost" in this article. But we highly recommend reading out a guide on how to get Free Music on Apple Music to save yourself some fine bucks.
If you still have anything unclear about Apple Music subscription costs, please let us know in the comment section below. We will get back to you as soon as possible.
Apple Music Converter
Convert and Save your favorite songs from Apple Music Permanently for Free.
Don't miss a moment of the Music you love.
Spotify Music Converter
Download Spotify songs, albums and playlist Permanently for Free.
Don't miss a moment of the Music you love.