Apple provides some of the most incredible offers for the free trial of its exclusive music service. The Apple Music free trial comes in different packages, and each option's availability is a different story. So here is your complete guide related to having an Apple Music Free trial for 3,4 and 6 months.
CONTENT Part 1. How Long is Apple Music Free TrialPart 2. How to Get Apple Music Free TrialPart 3. How to Cancel Apple Music Free TrialPart 4. Frequently Asked QuestionsFinal Words
Part 1. How Long is Apple Music Free Trial
Apple Music offers a three months trial basis. When you sign up for apple music, you can avail any three subscription plans, including individual, family, and student plans, free of cost for the first three months.
Three months is not quite the benchmark like we have discussed in our other article. You can avail Apple Music Free trials for 4 or 6 months too. Follow us to the next part for more details.
Part 2. How to Get Apple Music Free Trial
Apple Music Free Trial for 3 Months
The simplest and easiest way is to avail of the three-month Apple Music free trial subscription is through the Apple Music website.
Step 1: Log into the Apple Music homepage. Please scroll down and click on the try it for free on top of the three subscription plans mentioned.
Step 2: Click on try it for free on the lower banner of your screen. Sign up or log in to your Apple ID.
Step 3: Add payment methods. You will get charged once the free trial is over. Verify your phone number and account details. And you are good to go.
Apple Music Free Trial for 4 Months
BestBuy offers four months of Apple Music free trial that you can avail yourself of right now. You need to be a first-time Apple Music user and buy Free Apple Music for four months. It's a digital product; here is how to get a four months Apple Music free trial.
Step 1: Buy Free Apple Music for four months by adding it to our cart and checking it out.
Step 2: Redeem the digital code you have just received by mail or phone number through this Apple Music redeem page. You can now enjoy a four-month free Apple music trial.
Apple Music Free Trial for 6 Months
Verizon offers six months free Apple Music trial by entering into a partnership with Apple. Here is how to avail of the opportunity.
Step 1: Go to your version App. Click on Add-ons under Account. Swipe left to find Apple music under the Entertainment category
Step 2: Select the line you want to link with your Free Apple music trial. Verizon will send you a confirmation message shortly. That's all you need to do to avail the six-month free Apple Music trial.
Part 3. How to Cancel Apple Music Free Trial
1. Backup Apple Music in MP3 Format
The day you sign up for a free trial, you already realize it will end someday, and when it ends, Apple Music will charge you as a regular customer. To avoid any unnecessary costs, you might want to cancel the subscription. But that's one way of the picture.
The other side of the picture is losing the free trial and the songs and playlists you have spent months curating. You will be in dire need of saving those songs while canceling the subscription. You have to choose whether to pay or lose the songs. Well, not anymore because you can still save the Apple Music songs permanently before the free trial period ends. Here is how to keep Apple Music songs because the free trial ends?
SpotiKeep Apple Music Converter rips off your favorite tracks from Apple Music and saves them permanently on your device. Apple Music encodes its songs in AAC format, which is not commonly supportable across many music playback devices. Also, if you could support Apple Music Playback, the DRM( Digital Right Management) on music will prevent you from using the music publically. SpotiKeep converter uses the MP3 format and removes any DRM protection to make your music more enjoyable.
It doesn't just stop there; you can enjoy many features using the SpotiKeep Apple Music Converter.
DRM (Digital Right Management) removal for protection against Copyright claims
Customizable output formats including MP3, M4A, WAV, FLAC, etc
Lossless quality and batch downloads
High conversion rates for Mac and Windows users up to 5x and 10x, respectively
Keeps the original metadata and an option to customize it
If you wonder how to convert Apple Music to MP3 using SpotiKeep Apple Music Converter, Below is your step-by-step guide.
Step 1: Download the SpotiKeep Apple Music Converter by clicking on the download toggles below. Install the setup once the download is complete.
Step 2: The converter will sync with your Apple Musicosngs inside iTunes. You can see your Apple Music library inside the SpotiKeep Converter.
Step 3: Select the Apple Music songs you want to download. Tick the box in front of the songs you want to download. You can select multiple tracks at once using the batch download feature.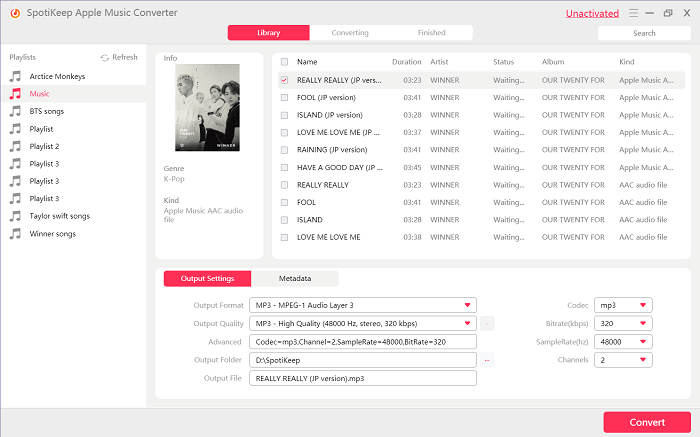 Step 4: Customize the output formats, audio quality, storage locations, and metadata of songs, artists, and playlists, below the screen.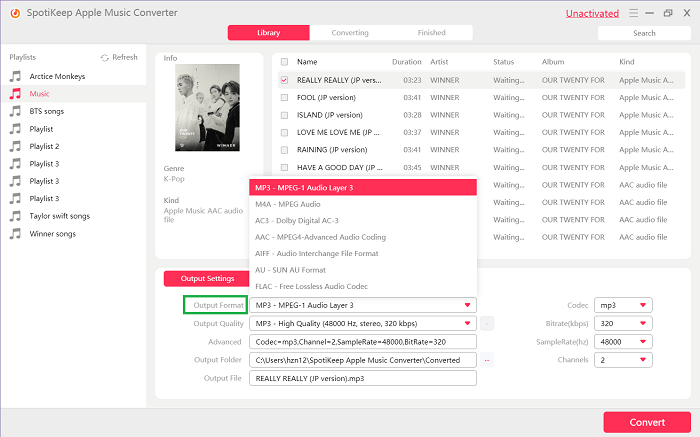 Step 5: Click on Convert at the bottom right corner of your screen. Downloading of your Apple Music songs will start immediately. You can see the ETA of each piece dropping in front of you. Once the download of a song is complete, you can find it in the local storage, and it's ready to export to any other device or platform.
2. How to End Apple Music Trial
Now that you have all of your favorite tracks from Spotify saved in your local files, the next question you might want to consider is how to cancel your Apple Music subscription. Below is your guide related to end Apple Music free trial in just two simple steps.
How to Cancel Apple Music Free Trial on iPhone
Step 1: Go to the Setting menu of your iPhone. Click on your Apple ID name on top of the settings menu.
Step 2: Tap on the subscriptions menu and then click on Apple Music. Click on cancel subscription or Free trial at the bottom of the page. Confirm your cancellation.
Cancel Apple Music Trial on Android
Apple Music is one of Apple's exclusive apps to use as a music streaming application on Android. The cancellation process of your Apple Music free trial on Android is also reasonably straightforward. Let's have a look.
Step 1: Launch the Apple Music for Android. Tap on Listen now.
Step 2: click on the three-dot Settings menu and select Account. Under manage subscription toggle, you can cancel your Apple Music Trial on Android.
End Apple Music Trial on PC
Music experiences by Apple diversify on all platforms, including Android, iPhone, and desktop. To cancel an Apple Music subscription on PC, you have to go through iTunes. If you have been wondering how to Apple Music free trial on Apple Music, here is your take.
Step 1: Open iTunes and go to Account and then tap on view my store.
Step 2: log in using your Apple ID for Apple music. Scroll down and click on the Manage link right above the reset option.
Step 3: Find Apple Music at the end of the subscription page. Tap on it. Now click on Cancel Free Trial. Confirm it, and your free Apple music trial cancels.
Part 4. Frequently Asked Questions
1. Can I get Apple Music free trial without a credit card?
If you want to enjoy Apple Music free trial without a credit card, you might want to redeem an iTunes gift card. iTunes gift cards are redeemable on both Android and iOS. You can save your gift card directly in the iTunes application on your desktop. Follow the steps below to redeem your Apple Music gift cards.
Step 1: Open iTunes and go to the Account on the top shelf of iTunes. Click on sign in if you already haven't.
Step 2: Now open the Account from the top shelf, and click on redeem. Verify your Apple ID password and enter your gift card serial code. Now click on Redeem.
2. Can I listen to Apple Music without paying?
Yes, you can listen to the Apple Music service without having to pay for it. Apple offers three months of the free trial basis for its music services. All you need to do is to sign up for the service and claim your free trial. Make sure to cancel the subscription before the trial ends to save yourself from an unnecessary subscription fee.
Final Words
Apple Music service is a great way to enjoy premium music. And it's a plus if you are into the Apple ecosystem. Nobody wants to miss out on free premium services, so here we have mentioned everything you need to know about Apple Music free trial.
If you have any queries related to the subject, please let us know in the comment section below. Also, if you want to read out more on similar topics, feel free to visit our How-to section.