Don't you want to be a Spotify user anymore? Are you tired of paying heavy subscription fees every month? Why not delete the Spotify account and switch to any other satisfactory music service? Wondering know how to delete a Spotify account? Don't worry; we have got your back. Here in this article, we will guide you through the complete details regarding how to cancel and delete your Spotify account and things you need to do before deleting your Spotify account.
CONTENT Part 1: Download Your Music Before Deleting Spotify AccountPart 2: Delete Spotify AccountFrequently Asked QuestionsSummary
Part 1: Download Your Music Before Deleting Spotify Account
After users delete their accounts, their playlist and saved music will be gone forever. Even if you have downloaded all of your music, they'll also disappear with your premium account. And because Spotify has encrypted their music soundtracks, you can't back up your downloaded files and put Spotify music on an MP3 player or other music apps. So, it's crucial for users to download and convert music from Spotify to MP3, before deleting their accounts.
1. Download Music from Spotify using Spotikeep
The best way to download music before deleting your Spotify account is by using SpotiKeep Converter. Here we will mention some steps that you need to follow for downloading your Spotify music using Spotikeep.
Step 1. Download and install Spotikeep Converter on your device.
Step 2. Copy and paste the Spotify URL of the song, album, or playlist you want to download to the blank bar.
Step 3. Tap the "Add file" button to add the selected music to the waiting list.
Step 4. From the "Browse" option, choose the location where you want to save the downloaded songs. Also, on the "Convert all files to" area, you can select an output format of your downloaded music.
Step 5. Now download Spotify music to MP3 by clicking on the "Convert" button. Click "Finished" when done.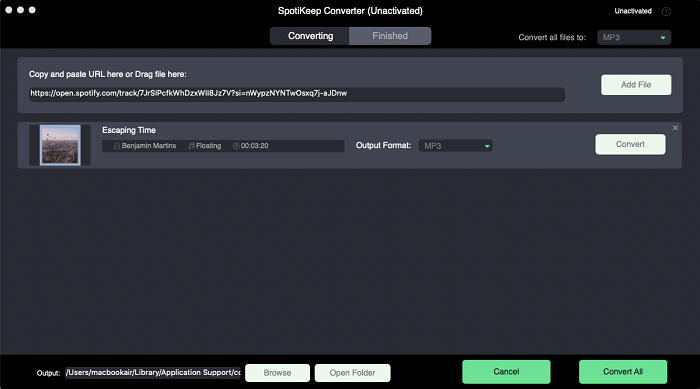 2. Download Spotify Music using Siri Shortcuts
There is another method to download music from Spotify to MP3 for iPhone and iPad users - using Shortcuts. This method involves Siri and helps you in downloading Spotify music. Let us just start and see how to download Spotify music using Siri shortcuts.
Step 1. Download and install Siri Shortcuts from the application store on your iOS gadget.
Step 2. Add the Spotify playlist downloader to the Shortcuts application.
Step 3. Copy the Spotify URL of the playlist you need to download. At that point, run the shortcut, and you'll begin downloading your playlist as MP3 documents.
This application can just download a Spotify playlist; however, not a single song. Thus, make sure to make a playlist and add the music first. The downloaded music stores at "Records" > "iCloud" > "Easy routes" > "Music". It is Free but is for only playlist downloads on iOS.
3. Save Spotify Songs with Telegram Bot
Telegram is a free cross-stage texting application that is accessible for iOS and Android gadgets. Using this application, in some cases, brings a little astonishment. "Spotify Download Bot" is one of them. Indeed, you can just download Spotify songs using a Telegram Bot free of charge. Besides, you don't have to sign in or register a Spotify account. Here is how you do it.
Step 1. Open Spotify and copy the song that you might want to download.
Step 2. Sign in to your Telegram account. If you haven't owned one, join on your cell phone.
Step 3. Get this record @SpotifyMusicDownloaderBot. On the dialogue box, type "/start", at that point, paste the Spotify music URL you copied before and hit the "Sent" button. You'll see the Bot has started to download your music.
Step 4. When the download finishes, a checkmark will show up. Tap the "share", and tap "Save as Files". This activity will save your downloaded Spotify music as MP3.
Part 2: Delete Spotify Account
Stage 1: Cancel Your Spotify Premium Subscription
Before deleting your Spotify account permanently, you must cancel your Spotify premium subscription first. Otherwise, Spotify will keep charging according to your subscription plan. The following is how you cancel the Spotify premium on the web, Android devices, and iOS devices.
Option 1. Cancel Spotify premium through the web:
If you have a Spotify premium account subscription and you want to cancel the subscription, you can do it through the Spotify website. To cancel the Spotify premium subscription, you have to:
Log in to your Spotify account.
Select "change" under your plan.
Cancel the Spotify premium subscription by clicking on "Spotify free".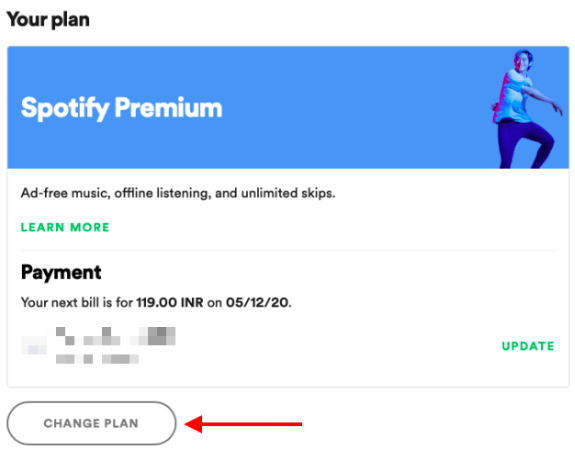 Option 2. Cancel Spotify premium on your Android device
Go to the browser of your Android device and open the official Spotify website.
Sign in to your account and click on the "my account" button. You'll see this on the upper right portion of the user interface.
Click on the "Change Plan" by scrolling down the page below the "your plan" section.
On the very next page, you can cancel the premium subscription by clicking on Spotify free.
Click on "Yes cancel" to cancel to confirm the cancellation of your premium subscription.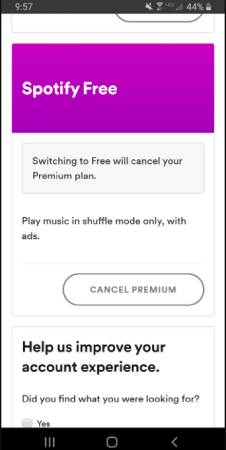 Option 3. Cancel premium account on Apple devices
To cancel your premium subscription through iTunes, follow these steps:
Go to the "app store" on your iPhone or iPad.
Click on your profile photo that is at the top right corner of the screen.
Click on "Subscription".
You should see Spotify dropdown options.
Click on cancel to cancel your subscription.
Click on 'Yes Cancel' to Confirm.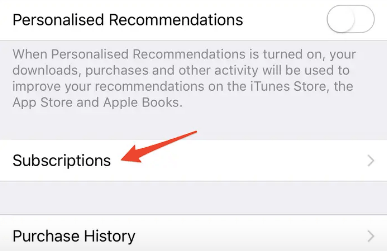 Stage 2: Delete Spotify account
To delete a Spotify account forever, you have first to contact Spotify customer support service. Log in on the Spotify web page that you want to delete and follow this process:
Step 1. Go to the "Contact Spotify Support" page and tap on "Account."
Step 2. Select "I want to close my account."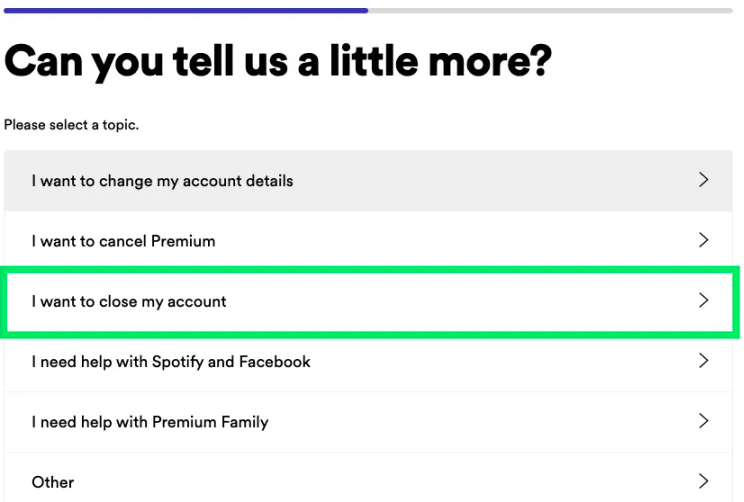 Step 3. You have to verify that you want to close your account, or you can just cancel your paid subscription.
Step 4. Click on the "CLOSE ACCOUNT" option on the left section.
Step 5. You'll be directed to the page saying, "We are sad because you're leaving us", and will eventually start the five-step process of your account closing. Tap on the blue "Continue" button after every step.
Step 6. Spotify will warn you that by this, you can lose your followers and playlist.
Step 7. Tap "Continue", and you will receive an email on your logged-in account. Go to your email inbox and click the verification link to confirm that you want to close the account.

Step 8. Tap on the link provided and click on the "Close My Account" option. This will appear in green color and must be clicked within one day of receiving the email.
Step 9. Now your Spotify account is successfully deleted.

NOTE: If you're tired of using Spotify premium, canceling and deleting your Spotify account is not the only option. You can also get free Spotify premium to enjoy first-class music for free.
Frequently Asked Questions
1. Why can't I delete my Spotify account?
You won't have the option to close your account if you are still on a premium membership. You need to drop your membership first and wait until it returns to free. Remember, when you close your account, you are no more able to access your username. That means you cannot use it again for the same Spotify account.
2. How can I retrieve my deleted Spotify account?
In the first place, note that you can reactivate your paid membership (alongside all playlists and advantages) if your account is still open. Whenever you've selected to close your account, there isn't any choice for reactivation. The record and every last bit of its information are gone when you close the account. The only solution to sign up for another membership and create new playlists.
3. Can I disconnect Spotify with my Facebook?
It depends on whether you signed up your Spotify with the Facebook account or an email address.
If your Spotify account was registered with an email address and connect with the Facebook account later, you could disconnect them before deleting your Spotify account. Just open the Spotify homepage and got to "Settings", then choose "Disconnect from Facebook".
However, if you signed up for Spotify with your Facebook, you can't disconnect them. You can only delete your Spotify account along with the Facebook connection.
4. Why Spotify keep charging after I delete my account?
Even after deleting your Premium membership, the only thing you would've been charged again is that the cancellation wasn't set before the recharging date. The main thing you have to do in this situation is when you've been charged for a Spotify membership after cancellation is to search your email for a confirmation. It should have a crossing-out date set on it. If everything looks good and you have found out that the billing is a mistake, simply reach out to Spotify customer support and let them know your problem.
Summary
This article was all about deleting your Spotify account. Either you are a web, an Android, or an iPhone user, you must cancel the premium subscription before you can delete Spotify account if you have one. And please keep this in mind: always remember to download your music before canceling or deleting the account. Even if you're no longer a Spotify user, SpotiKeep Converter will help you rip all your favorite music from Spotify to your local devices.
If you have any further queries regarding how to delete your Spotify account, feel free to leave your questions. We would love to answer.
Apple Music Converter
Convert and Save your favorite songs from Apple Music Permanently for Free.
Don't miss a moment of the Music you love.
Spotify Music Converter
Download Spotify songs, albums and playlist Permanently for Free.
Don't miss a moment of the Music you love.