Do you want to convert Apple Music to FLAC? It is said that Apple Music files featuring Advanced Audio Coding (AAC) offer a good listening experience. But how can I get lossless audio files from Apple Music? How can I play Apple Music files on any music player?
One of the most mentioned complaints from users is Apple Music files only can be played on the Apple Music app or iTunes. If you want to play Apple Music files you've downloaded on a FLAC player, you can not access it. How to solve these problems? Converting Apple Music files to FLAC can be the most effective solution to solve all problems.
CONTENT Part 1. What is FLAC Format? Part 2. How to Convert Apple Music Files to FLAC
Part 1. What is FLAC Format?
FLAC (Free Lossless Audio Codec) is an audio format for lossless compression of digital audio files, just like APE format. That means when you compress audio files in FLAC format, no audio information loss. It's well compatible with Windows, macOS, Linux, Android, and iOS. Although FLAC files stand for compressed audio files, you still can play FLAC files on most devices just like playing MP3 files. As for the file size, about 50% of the original size will be reduced when FLAC audio file is compressing. Therefore, FLAC files will not take up a large storage of your device.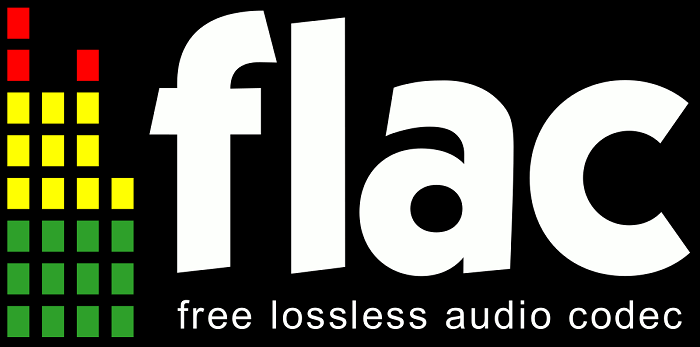 Features of FLAC Format:
* No quality loss. FLAC's algorithm can keep the original audio data and info while compressing digital audio files with size reduction.
* Well compatible with most devices. Unlike many lossless audio codec, FLAC files can be streamed and decoded quickly so that you can access lossless audio with FLAC on most devices.
* Duplicate original audio data. Audio information like artist, album name, audio name, album cover art will be copied of the original audio data.
* Audio archive format. As an audio lossless codec, FLAC can also offer lossless audio quality. For CD owners or music lovers, it can be the perfect archive format for an audio collection.
Part 2. How to Convert Apple Music Files to FLAC
To convert Apple Music files to FLAC, SpotiKeep Apple Music Converter can be your best choice.
SpotiKeep Apple Music Converter aims to offer DRM-free Apple Music files to all users. This powerful audio converter offers professional Apple Music Converting services. Users can directly convert DRM-protected songs from Apple Music to different formats like FLAC so that you can lossless quality Apple Music songs on other music players with no limits.
In this guide, a detailed tutorial will be offered below. Let's follow the simple steps to convert Apple Music files to FLAC.
What you need when you convert Apple Music files to FLAC?
- The latest version of Apple Music Converter.
- iTunes which has logged in with your Apple ID.
- Nice internet condition.
Step 1. Install Apple Music Converter
To begin with, download Apple Music Converter based on your computer. Apple Music to FLAC Converter is well compatible with Windows and Mac computers. Then, follow the instructions to install the program on your computer.
Step 2. Sync Apple Music Files to Apple Music Converter
After installation, launch Apple Music Converter program. Then, iTunes will automatically open and directly sync your playlists from Apple Music to Apple Music Converter.
NOTE: If you can not find the playlist you made on the Apple Music app, please go to "Settings" on iPhone/iPad, then find "Music" and turn on the "Sync Library" button.
Step 3. Select Apple Music Songs
Select your favorite songs from Apple Music by clicking the checkbox. Besides, Apple Music Converter supports batch conversion. If you want to download the whole playlist, you can check all the songs as well.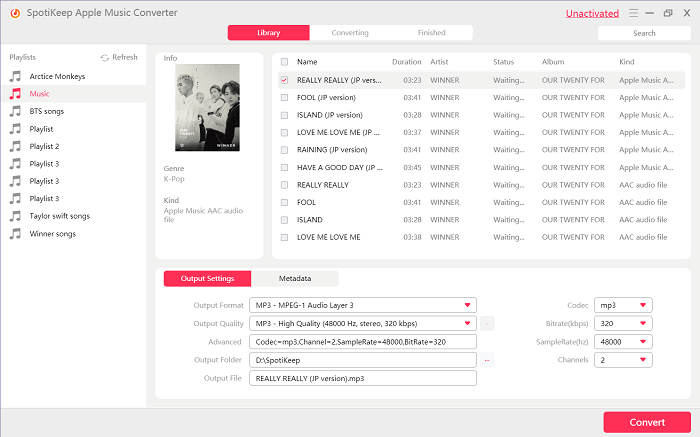 Step 4. Choose FLAC Output Format
Before the conversion, you can move to the Output Settings to preset the output Apple Music file. Click the "Output Format" option to select FLAC format. MP3 is the default chosen output format by Apple Music Converter.
In addition to the output format, you can adjust the song's parameters like Codec, Bitrate SampleRate, etc. You can easily customize a perfect FLAC Apple Music file based on your preferences.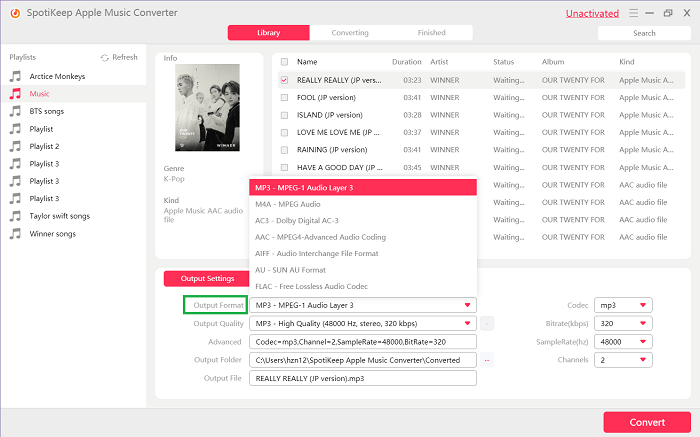 Step 5. Start Apple Music to FLAC Conversion
One last thing to do is click the "Convert" button to start removing the DRM from Apple Music files and convert them to FLAC format. In a short time, you can find the converted files in the "Finished" tab of the main interface.
NOTE: Also check this tutorial on how to convert Apple Music to AU.
The whole converting process above is easy to follow for everyone. With SpotiKeep Apple Music Converter, you can easily download and convert Apple Music to FLAC even if you do not subscribe to iTunes or Apple Music. If you need a solution to help you finish converting Apple Music files to FLAC, SpotiKeep Apple Music Converter can be one of your best choices.