All of us are too consumed up in our lives, leaving us no room for ourselves. It's been the fact that relaxing music helps relieve stress. A well-curated playlist is the one that gets going with your meditation, yoga, and solicitation sessions. We have listed some of the best relaxing music sessions to calm down your physical and mental well-being. Here are the top 13 relaxing music sessions for you.
CONTENT Part 1. Jason Stephenson Deep Relaxing Sleep Music (3 Hours)Part 2. Relaxing Piano Music Part 3. Relaxing Music for Kids Part 4. YouTube Relaxing MusicPart 5. Relaxing Classical MusicPart 6. Relaxing Study MusicPart 7. Relaxing Music for DogsPart 8. Relaxing Music for CatsPart 9. Cafe Music BGM Channel Relax Café MusicPart 10. Relaxing SPA MusicPart 11. Relaxing Guitar MusicPart 12. Christian Relaxing MusicPart 13. Relaxing Christmas MusicFinal words
Part 1. Jason Stephenson Deep Relaxing Sleep Music (3 Hours)
Sleep is a blessing, and we don't realize it until it's gone. Jason Stephenson Deep Relaxing sleep is going to pull you out from your stress, anxiety, and insecurities. The music by Jason Stephenson lives up to the expectations better than anyone. The notes are not that high to pull you out of your deep sleep, and they are not shallow to not reflect it—the music symphonies you and forces positivity in you with spiritual musical waves. Sleep music creates a soothing relaxation effect that seduces the nerves to settle down in peace.
The Sleep music by Jason Stephenson is on almost every well-known platform, including Amazon Music, Apple Music, and Spotify. If you're looking for the MP3 download resources for Jason Stephenson Deep Relaxing Sleep Music (3 Hours), SpotiKeep Converter is here to help. This professional Spotify downloader enables you to download Spotify playlist to MP3, FLAC, WAV, and M4A directly without any premium membership.
Step 1: Download and install the Spotikeep Convertor. Then launch SpotiKeep and Spotify on your computer.
Step 2: Copy-paste the link to the song you want to download from Spotify into the SpotiKeep search bar, and press Add Files.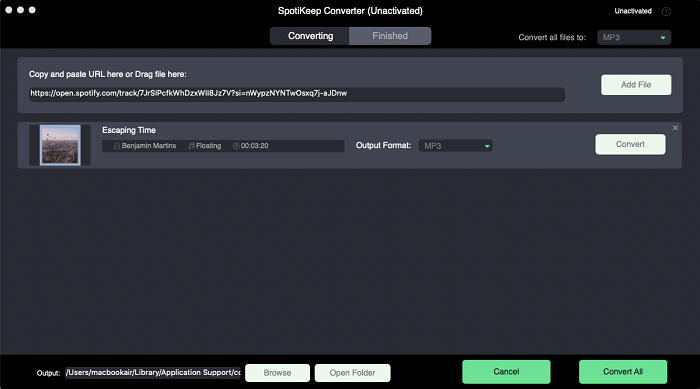 Step 3: Select the song's format on the application's top right. After that, click on Convert, and the download will start immediately.
Part 2. Relaxing Piano Music
Calm Piano Music with ocean waves is the rue master blend of the dark deep ocean and light air elements. The spring awakening peaceful piano music takes away the stress and replaces it with a nurturing vibe that flows in your body. Another playlist worth mentioning is Relaxing Piano Music. The playlist holds 17 beautiful songs that are gentle on your body and soul. I played them before writing all of this for you and felt lost in the tunes.
We will give a treat over those excellent tracks that you can listen to online. What better than offline music that you can share or stream from anywhere. You can download any soundtrack from Apple music directly into your device in just a few clicks with the help of Spotikeep Apple Music Converter. The process I very simple and easy.
Step 1: Download and install the Spotikeep Apple Music converter.
Step 2: Run Apple Music Converter on your computer, and the converter will automatically sync with your iTunes.
Step 3: Adjust the format you would like to convert on the "Output Settings" section and press Convert.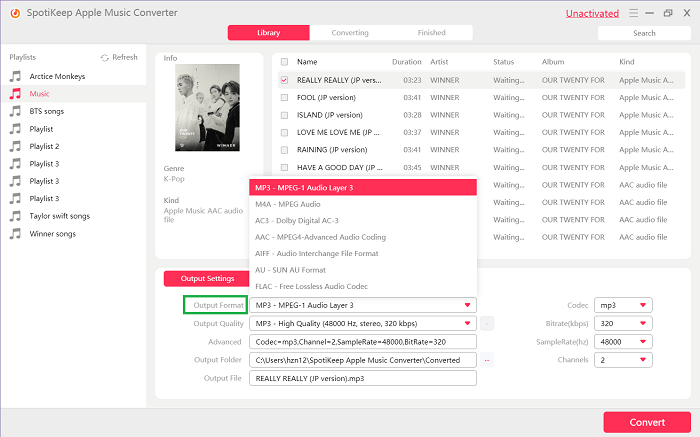 Step 4: The download should start immediately, and your song will save to your desired location in seconds.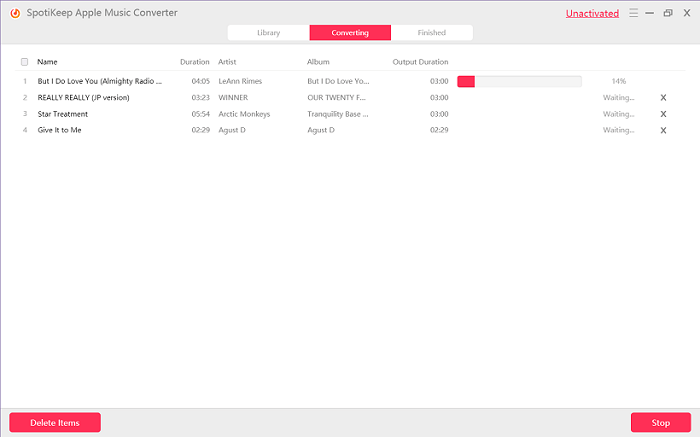 NOTE: To get more detailed instruction, please visit this tutorial: How to Convert Apple Music to MP3.
Part 3. Relaxing Music for Kids
Like adults, kids also reflect the enormous amount of energy they expose. Relaxing music for kids is one of the best parts of calming down their nerves and getting things right. The mental or physical issues are not unusual with the kids, and they all get frustrated to the point that they need some relaxing music. The good thing is music is forever, and the same is the case with relaxing music. There are genres to explore for relaxing music for babies and kids.
The playlist "Relaxation songs for kids" is one of the better playlists out there for children. A 1hr and 17min long playlist with 22 songs is sure enough to save your day. Meanwhile, the playlist "Relaxing music for children" on amazon music holds its place with all of the natural sounds and deep sleep songs. But you have to pay for each piece separately to buy the playlist.
Part 4. YouTube Relaxing Music
YouTube is full of therapy songs and healing playlists. But what I found "the honest guys relaxing music with water sounds meditation" quite an appealing track. It's 12 hours of relaxing music coupled with water noises that are just as real as you are. This track is best for nap sessions or meditation. When we talk specifically about instrumental YouTube relaxation music, the one name that comes on the top is none other than "peder b helland relaxing harp music." Classical instruments are tuned down to deliver the perfect beat to lift your soul.
Part 5. Relaxing Classical Music
If you value the classical and feel it hits differently, you are in a league and won your musical flavor. Relaxing classical music hold up great against the stress and anxiety issues you have been facing lately. Here are some of the most relaxing classical music you can listen to on some of the most accessible platforms. Adagios is a two-hour-long playlist with every classical vibe you will ever need, from Bach's Air on a G string to some of Mozart's incredible showcases. Relaxing Classical on Spotify is the aggregate of the world's most renowned composers' work. It's best for your study sessions or sleep. It's so universal.
Part 6. Relaxing Study Music
If you are into long study sessions, you surely need something to stay focused and dedicated. A piece of excellent background music will let your distractions fade out and subconsciously bring in more to you. The latent abilities of relaxing sounds help the mind focus better, making the whole process very productive.
Choosing the right relaxing music for the study is essential. Studying music is a ten-song playlist that lasts for almost 47 min. Sure this is not enough for quality study time, but you can play it on repeat. Apple Music also offers great playlists when it comes to studying music. Study music holds exceptionally brain-boosting music that lasts you an entire weekend study session.
Part 7. Relaxing Music for Dogs
Various researches have confirmed that dogs also suffer from anxiety issues. And much like humans, they also need therapy to counter it. Relaxing music for dogs works the same way as it does for us humans. In this regard, several collaborative playlists are on the internet for dogs. Our best pick is Relaxing Pet Music. It's an 8-hour long playlist that helps a lot calm down your dog. Several playlists have also been on Spotify lately. Relax my Dog is one of the best playlists for your dog. Not only for the dog, but it will also work for you the same way.
Part 8. Relaxing Music for Cats
If you notice your cat's abnormal behavior, or it isn't responding well. Maybe it's time for therapy. Relaxing music for cats is a nice one to try. Calming music for cats comes on the top on YouTube for a reason. It's a 15-hour long playlist to not only relieve form anxiety but also promote the natural healing abilities of your cat. Calming music for anxious cats is another name worth mentioning on Apple Music.
Part 9. Cafe Music BGM Channel Relax Café Music
Enjoying your Latte in a mild-lit café hits differently with refreshing music. Coffee Jazz Music is a four-hour-long playlist that is enough to make your evenings sparkle without getting too much flare. Jazz and slight hip-hop touch will make your coffee taste even better. Making memories is easy when you have the right place with the right people. And music makes half of the business better. The playlist holds cafe music bgm channel relaxing jazz piano music for classical lovers. Cafe music bgm channel relaxing bossa nova will also meet you around the corner among relaxing jazz music.
Part 10. Relaxing SPA Music
SPA reminds us of the peaceful and relaxing experiences. But SPA coupled with relaxing music makes the whole theme very soothing. Relaxing SPA Music is a set of 10 songs on Spotify, enough to last your SPA session. You're going to be so relaxed in just a couple of minutes. The playlist has 446,877 average monthly listeners. A similar set of songs with slight variations are on Apple Music too. Best Relaxing SPA music has got an immense library with immersive experiences. The library offers almost every sort of relaxing music as far as SPA's concern.
Part 11. Relaxing Guitar Music
The guitar stays as one of the most influential instrumentals of all time. And with little customization, it turns out to be an excellent instrument for relaxing instrumental music. The relaxing acoustic guitar music will force you to lay down and hum along with the vibes deep inside you. Relaxing guitar music is an accurate picture of that. The playlist will make your emotions settle down. You can count on the strings of the guitar and ties of your hearts to unwind side by side. The ultimate relaxing guitar music collection on Amazon is a steal if you can get hold of it. You can get the musical library on either Mp3 or a CD.
Part 12. Christian Relaxing Music
Spiritual sessions require an extra bit of effort in the music to uplift your soul. The Christian relaxing music holds the instrumentals, hymns, and deep music to intervene with your heart and soul. Relaxing Christian music on YouTube will make you feel spiritual for hours without getting tired of it. The enchant of feeling the acoustics right into your veins is beautiful. Music is not a source of spirituality, but it only promotes what is already present in you. The same is the case here. Claiming Christian on Spotify retains the softer side of classical, instrumental, and holy enchants. Spiritual verses coupled with the soothing tunes deliver divine.
Part 13. Relaxing Christmas Music
No home should be without soft relaxing music on Christmas. Relaxing Christmas music near your fireplace alongside the Christmas tree, it's a vibe that only reflects once a year. So why not live it to its fullest. Listen to 3 hours of relaxing Christmas fireplace Christmas songs and relax on your couch. The melodies will make your body jingle without feeling quirky.
Final words
Hectic routines and low quality of life make us depressed, sad, and stressed about life. With the help of the relaxing music mentioned above, you can make a change. Do your therapy and dive deep into the melodies of instrumental, classical, jazz, and natural sounds.
What's your favorite relaxing music? Would you like to share with us? Please keep us updated with any new track of your relaxing music playlist.