Apple Music doesn't offer a free version like Spotify. Apple Music charges a $10 minimum membership for its services. Not all of us want to pay that, and it's okay. So you might look around for cheap alternatives that may get your device infected. Wait! Let me show you a somewhat more reliable, safe, and secure way. Here are the best three Apple Music Downloaders.
CONTENT Part 1. SpotiKeep: Best Apple Music Downloader for PCPart 2. Free Apple Music Downloader on GitHubPart 3. Apple Music Downloader Shortcut for iOSFinal Verdict
Part 1. SpotiKeep: Best Apple Music Downloader for PC
Paying Apple Music isn't the only reason people look for Apple Music downloaders. It's the sense that it's not value for money which is the prime reason. Despite being a paid application, it won't let users do anything other than stream online. Users cannot share Apple Music songs with friends who are not Apple Music users, and offline downloads are only limited to the application. And not to mention the often happening glitches and bugs like Apple Music not working.
First on the list is SpotiKeep Apple Music Converter. If you want premium software to replace Apple Music, the one that's ad-free, safe, and secure, then this is your way to go. It's not random software; it's specifically developed to convert Apple Music to MP3.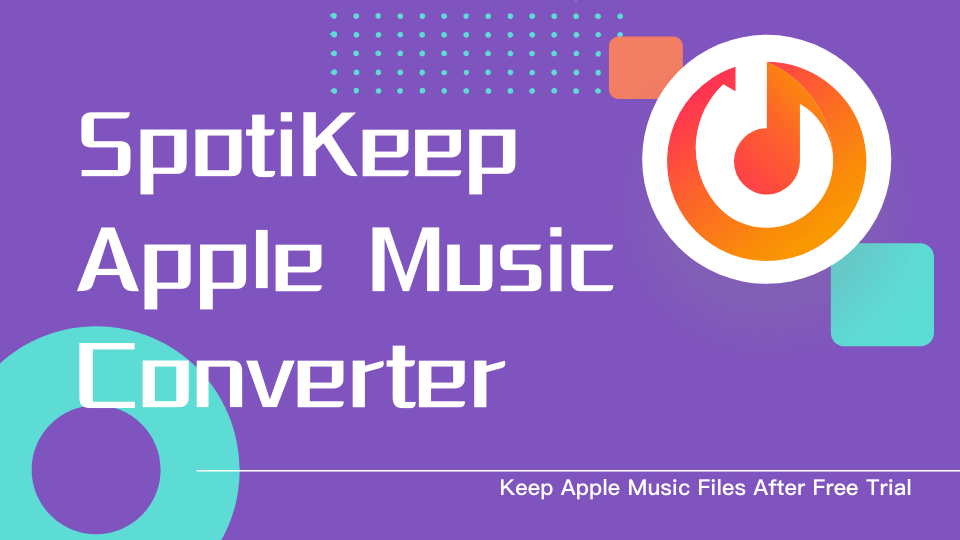 SpotiKeep Apple Music Converter also ranks top with the additional features like:
A collection of output formats to use like MP3, M4A, MP4, FLAC, WAV, and more
Remove DRM protection so you can use songs anywhere
Keeps Original metadata information
Downloads high-quality audio up to 320kbps
Instant downloads due to high conversion rates
The best feature of SpotiKeep is that it auto-connects with your Apple Music library. So you can download your whole iTunes library in just a few clicks. Please download SpotiKeep Apple Music Converter from below.
Let's get practical and convert Apple Music to MP3 using four simple steps below:
Step 1: Open iTunes first. Then launch SpotiKeep Apple Music Converter. Upon launch, SpotiKeep will auto-sync with your iTunes library. In no time, you will have your whole Apple Music library in the SpotiKeep.
Step 2: Choose any track you want to download from the music library. Thanks to the batch download feature, you can choose multiple songs at once. Tick marks the square next to each piece that you want to download.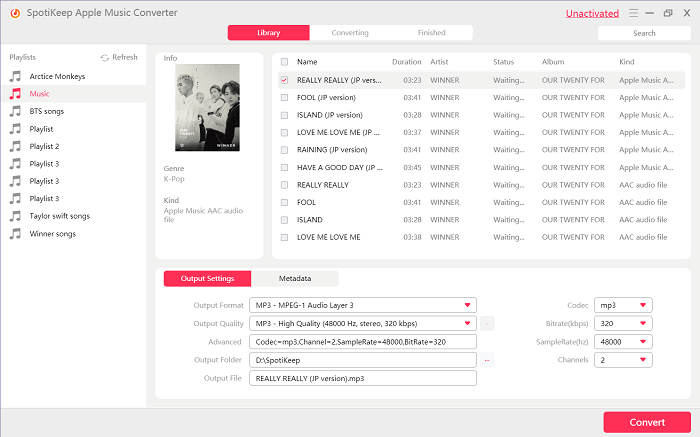 Step 3: SpotiKeep offers complete customization of your song, including music formats, bitrates, download location, and metadata information. You can play around with download preferences from the bottom of your screen.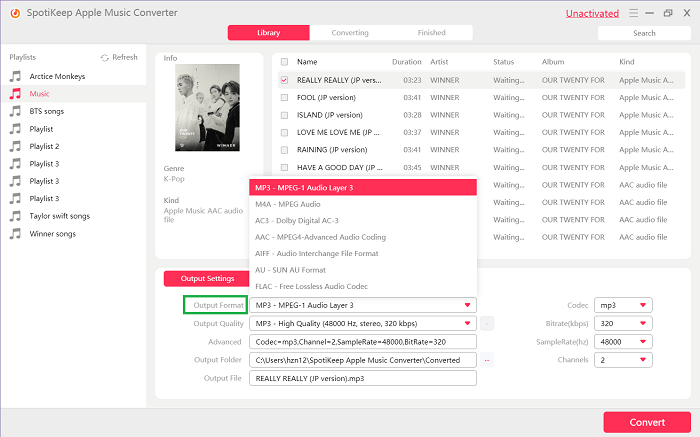 Step 4: Now click on Convert. This works as much as it sounds. You can see downloads happening right in front of you. Once a download completes its ETA, you can skip to the download location. You can play, share, edit or use it anywhere you want without having to worry about device or copyright restrictions.
Let's summarize our first Apple Music downloader into Pros and Cons to evaluate better.
Pros of SpotiKeep Apple Music Downloader:
Easy and friendly interface
No copyright issues
No distortion in music quality or playback
Loads of customizability
Free to download
Cons of SpotiKeep Apple Music Downloader:
SpotiKeep comes with a 30-day free trial. And after that, users have to pay. The subscription charges are very nominal and come in at a discounted yearly and lifetime package.
Part 2. Free Apple Music Downloader on GitHub
GitHub is an excellent addition to the free Apple Music Downloader list. If you use GitHub for Apple Music downloads, make sure you have basic knowledge about JavaScript because you will need to enter some commands to make it work. Here is how to download Apple Music on GitHub.

Step 1: Open CMD or Command. Clone the repository by git clone [email protected]:Shubhamrawat5/apple-playlist-downloader.git
Step 2: Go to directory cd apple-playlist-downloader. Install all dependencies from npm install.
Step 3: Edit and change the already present playlist URL link in apple_playlist.js [line 8] with the one you want to download.
Step 4: Run the command node app.js. Your Apple music playlist will download in a songs folder along with metadata information.
Here are some pros and Cons of GitHub Apple Music Downloader.
Pros of GitHub Apple Music Downloader:
Users can easily backup Apple Music playlists through simple commands.
It keeps original information of songs, artists, albums, and playlists
Cons of GitHub Apple Music Downloader:
Lack of customization
It's hard for non-developers to run the commands
Part 3. Apple Music Downloader Shortcut for iOS
Apple introduced a shortcut feature when it rolled out iOS 12. If you are using an Apple device with iOS 12 or above, you can download Apple Music in a shortcut way. It's a bonus that it's already DRM-free if you download music from the shortcut app. Now let's skip to how to download Apple Music from the Apple Music shortcut app. Click on the link for Apple Music Shortcut downloader.
Step 1: Open the song you want to download. And click on share - select shortcuts in the share window.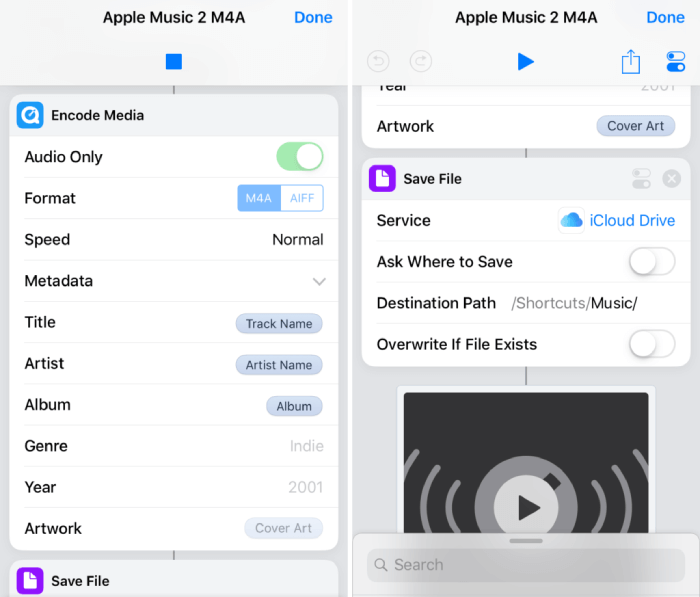 Step 2: run the shortcut you have recently downloaded.
Easy to download, right? Let's make it clearer to you by evaluating its pros and cons.
Pros of Apple Music Downloader Shortcut:
Shortcut saves Apple Music in M4A, which keeps it away from DRM
It replicates songs' original information to appear the same as on Apple Music.
Users can play the song on any media player.
Cons of Apple Music Downloader Shortcut:
Limited to iOS users.
Users can only download in M4A or AIFF format.
Final Verdict
There is more than one way to download Apple Music for free. But most of them only attract malware or junk files to your devices. So here we filter the best Apple Music downloader you can get for free.
If you want an easy-to-use and reliable tool as your default Apple Music downloader, then SpotiKeep is your partner. If you are a developer, you might fancy GitHub Apple Music downloader. If you have an iPhone, you don't need to download any other software. Shortcut app is the best and genuine way to store your Apple Music.
You can further evaluate what suits you best by looking at the pros and cons of each Apple music downloader. That's it for today's topic. Let us know your queries in the comment section, which can be our next topic.
Apple Music Converter
Convert and Save your favorite songs from Apple Music Permanently for Free.
Don't miss a moment of the Music you love.
Spotify Music Converter
Download Spotify songs, albums and playlist Permanently for Free.
Don't miss a moment of the Music you love.