iTunes is a must-have application for Apple users to manage files and media, including music. For a music lover, how to import and transfer iTunes playlist to Spotify is the most concerned topic when they're Swifthing to Spotify. You probably will not know the complex features and terminologies of Apple music. So here we simply it for you in simple steps. Let's explore.
CONTENT Part 1. iTunes vs. Spotify, What's the Difference?Part 2. Import iTunes Playlist to Spotify on Windows & MacPart 3. Transfer iTunes Playlist to Spotify on Android DevicesPart 4. How to Add iTunes Songs to Spotify on iPhoneFAQs (Frequently Asked Questions)Final Verdict
Also Read:
Part 1. iTunes vs. Spotify, What's the Difference?
iTunes is the music managing partner for Apple Music. Not only that, but it handles the whole media for the iOS platform. Anything that comes in Apple devices related to media comes through iTunes. There is no other way to transfer the media to an iOS device. iTunes is available across every platform, and it's free. Though there is some paid content, unpaid versions are more than enough to fulfill your basic needs. iTunes syncs with the Apple iCloud library to make the whole media experience cohesive.
On the other hand, Spotify is the mainstream music giant of today. It holds over 70 Million tracks in the finest quality and with the most delicate features. It comes in two packages, a paid one and a free one. The only difference remains with the user experience. Spotify notoriously takes back all premium and some fundamental features from free users, making it hard to use without paying. An excellent market tactic. Spotify is the only music streaming application, while iTunes is both, in a nutshell, a music streaming and managing application.
Part 2. Import iTunes Playlist to Spotify on Windows & Mac
Solution 1. Import iTunes Playlist to Spotify with SpotiKeep
1. Download Spotify Music to Your Computer
Converting songs from iTunes into Spotify is a two-step process. Since both of these don't seem to connect directly. We have to download tracks from Apple music and upload them to Spotify. The Apple music converter can decently make use of it.
SpotiKeep Apple Music to MP3 Converter is an offline music downloader for your Apple music. It stands out to serve you in two of the significant areas of your concern. The first one being the DRM (Digital Right Management), and the second is hard to sell the output format of the Apple Music converter. Well, that's just the beginning of the Apple Music to MP3 Converter. Let's dig deep into its features:
DRM removal makes Copyright infringements go away
Customizable output formats including MP3, M4A, FLAC, WAV, and AAC.
Batch downloads along with the Lossless quality downloads
High conversion rates for top-notch download speeds. It offers up to 5x for Mac users and 10x for Windows users.
Retains the original ID3 tags of songs, artists, and albums.
Now let's get to the step-by-step guide on how you can download your Apple music into your local device.
Step 1: Install and download the SpotiKeep Apple Music to MP3 Converter. Follow it up by launching the application.
Step 2: SpotiKeep will automatically open your iTunes and syncs with your iTunes library. You can see the fetched data in your SpotiKeep Apple Music to MP3 Converter under the library section.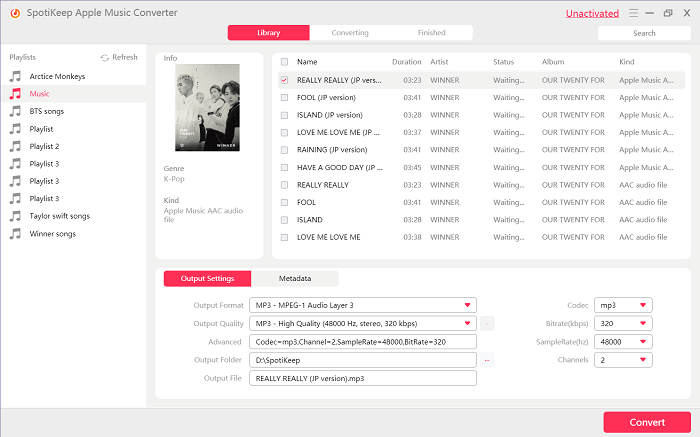 Step 3: Click the checkboxes to select your tracks from the iTunes library in the converter. SpotiKeep offers a batch download that allows you to download multiple songs all at once. This makes the process effortless.
Step 4: Select the preferences below on the converter. Customize the output formats and the ID3 tags of the music, artist, or albums.
Step 5: Click on the Convert button in the lower right corner. And you can see your download starting immediately. You can see the high conversion rates kick in, and your songs will be there in seconds. Apple Music is n more with its branding and your local music saved in your local device. You can have it across the board or any other platform, as discussed below.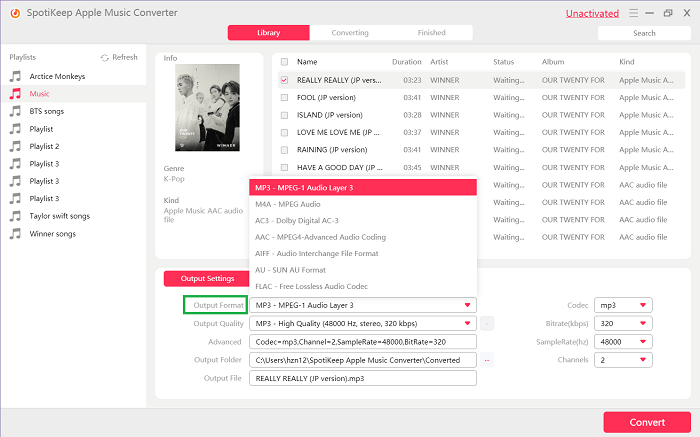 2. Add the Downloaded Music to Spotify
Now let's move on to the next part: to transfer this freshly downloaded music into your Spotify. The process is pretty simple with a similar step-by-step guide. Let's start with Windows and then Mac.
Add Local Songs to Spotify on Windows
Step 1: Launch the Spotify application, and click on the toggle next to your account on the top right, to open the drop-down menu.
Step 2: Open the Setting menu, scroll down and press on the toggle. Show local files.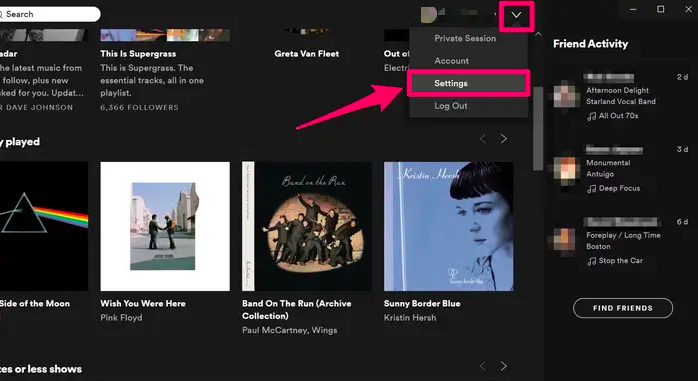 Step 3: Right next to the toggle, you can see Add a source file. By clicking on it, a browser tab will show up. Browse your local music and select the music you want on Spotify. Spotify will automatically add those songs to your library under local files.
Step 4: On the bottom left of your screen, you can see the option to make a New playlist. Click on it and edit your playlist's name, description, and image. Head back to the local music folder, create a right-click on the song you want to shift to the new playlist. Please select the playlist's name under the playlist section, and that's it. Your music will shift from local music into your curated playlist.
Add Songs to Spotify on Mac
Step 1: Launch the Spotify application. You can see the Spotify option on the left on the top shelf. Make a right-click on it and select Preferences.

Step 2: A new page will show up. Search for the Add source file by scrolling down the page. Click on it and Add a source option.
Step 3: Search for the songs you want to upload from the new pop-up browser window. Select and save the music. Spotify will automatically upload the music into your local music library Spotify.
Step 4: Go to the Spotify Converter homepage. Click on the new playlist option on the bottom left. Add a name, pic, and description to your playlist. Go back to the local music files, make a right-click and press on Add to playlist. Under the playlist, choose the one you have just created. Your songs will shift from the local music folder to the playlist.
NOTE: Check this tutorial on how to upload music to Spotify or Spotify Artists.
Solution 2. Import iTunes Library to Spotify with MusConv
MusConv is an intelligent tool to transfer your songs from iTunes library to Spotify. And it does all of this in just a few clicks. It's as simple as following a three-step guide below. No complications, no technical stuff, and permissions. Just a few clean and straightforward taps on your screen. Here is how,
Step 1: Launch iTunes on your Desktop. Make sure you keep logged into Apple Music actively all the time during this process
Step 2: On the top shelf of iTunes, press on File. Then click on library and choose the option Export Library. Save the music into XML files.
Step 3: Launch the MusConv. Choose the playlist you want to transfer under XML files in iTunes. Choose iTunes as the source file in the MusConv and then choose Spotify as the destination in the MusConv Application. After you finish selecting the playlist, click to transfer, and your files will begin to transfer from iTunes into Spotify.
Part 3. Transfer iTunes Playlist to Spotify on Android
Transferring iTunes playlist to Spotify on Android devices is relatively simple. Even more than any iOS device. Use a trusted music transfer tool to transfer media files from iTunes to Spotify. Soundiiz is a great music transfer tool that makes your playlists transfer from one platform to another. And it's as easy as pasting the URL of the song you want to download. We are concerned about moving the iTunes playlist to Spotify on Android devices this time around. Let's look at the simplest way to transfer files from iTunes to Spotify.
Step 1: Launch iTunes. Go to the playlist and copy the link of the song you want to transfer.
Step 2: Run the Soundiiz app and select iTunes in various source options. Now paste the link of the playlist and confirm the link.
Step 3: Soundiiz will provide prompt instructions and guidelines in the application. Make sure to follow these to complete the download process.
The free version of Soundiiz lets you download your songs one by one. At the same time, you can download playlists with the paid versions.
Part 4. How to Add iTunes Songs to Spotify on iPhone
Apple prioritizes its ecosystem and security over anything else, leading several productive applications to not run-on iOS devices. Unfortunately, no application is installed on the iPhone to add iTunes songs to Spotify. But we are here to crack the solution for you. Tune My Music is an online platform to transfer your iTunes songs to Spotify. You can transfer individual songs or whole playlists right from a single online platform. Unlink of other web platforms. It's more cohesive and in line with no hiccups and stutters.
Step 1: Launch the Tune My Music application. Choose iTunes as your source destination from the platform list. Login to your credentials to connect iTunes as a source file.
Step 2: Select the songs/playlist you want to transfer from iTunes to Spotify. Now select the destination; choose Spotify in this case.
Step 3: Log into your Spotify account to access the Tune My Music, click on Start Moving My Music. Upon completion, you can use your iTunes playlist on Spotify.
FAQs (Frequently Asked Questions)
What is an iTunes XML file? Where to find it?
An iTunes XML file is an information library about the iTunes tracks, stored in a readable format in iTunes. XML file is easy to import/export the files and overall management of the iTunes library.
XML files for iTunes are in the File on the top shelf. Click on File, go to the library, and find the XML iTunes library files under the import library.
Can I delete iTunes music library.xml?
No, the XML files cannot delete from your iTunes. But the only way is to delete your preferences and start over again from the discovery process to delete the XML files. XML files are responsible for other applications to collaborate with it, and if the XML files are gone, so are the iTunes entries.
Final Verdict
It's hard to live without our beloved songs, and we value them. The only constant changes, and when shifting from one platform to another, it's crucial to get your belongings with you. So here we mention how to import iTunes playlist to Spotify on every viable platform. Follow a simple and straightforward guide and make your way for yourself.