Transferring music to computers, vehicles, and laptops with external devices such as USB flash drives, SD cards, and CDs is simple. Most users prefer a USB flash drive due to its small size. Streaming services like Spotify, Apple Music, and Amazon Music are prevalent nowadays. Would it be possible to download Spotify on a USB drive and play it offline on different devices or in various locations?
Especially with Spotify, it is not as simple as it seems. Spotify consumers can't shake the over 60 million songs it offers because the service knows how to hook them. Consequently, many Spotify users want to store their tracks on USBs for sharing and use in other locations, such as cars. This post shows you how to download Spotify songs for free to a USB drive. Let's get started.
CONTENT Part 1. Is It Possible to Download Spotify Songs to a USB Drive?Part 2. Download Spotify to USB on Windows/MacPart 3. Download Spotify Music to USB with Google ExtensionPart 4. Download Spotify to USB Free OnlineThe Takeaway
Part 1. Is It Possible to Download Spotify Songs to a USB Drive?
On the other hand, Spotify has four tiers that let customers listen to music on their phones, TVs, and other devices. You can choose Spotify Premium for Individuals, Spotify Duo, Spotify Premium for Family, and Spotify for Students.
You must subscribe to a monthly premium service to listen to music and playlists. Because of this, Spotify provides the option of downloading tracks for offline listening. However, is it possible to download Spotify tracks on a USB drive? Users are prohibited from sharing Spotify tracks because Spotify adds protection to all tracks. Spotify also encodes its songs in the OGG Vorbis format, which is incompatible with USB devices. As you know, Spotify playlists can't be copied onto a USB flash drive.
Due to the excellent quality of Spotify music, many users are curious about how to download Spotify music without launching the Spotify app. The most likely solution is to remove DRM protection with a third-party solution and listen to your music offline on another device.
Part 2. Download Spotify to USB on Windows/Mac
One of the most popular and reliable services for downloading Spotify audio to USB on Windows or Mac is SpotiKeep Converter. It has all of the qualities needed for a dedicated platform. Removing the DRM from Spotify music prevents copyright allegations. In addition to decrypting Spotify's Ogg Vorbis encryption, it converts it to various formats, including MP3, which is ubiquitous and versatile. The following steps will show you how to download Spotify to USB on your PC.
Step 1: As your first step, you must download SpotiKeep Converter as your professional tool to download Spotify songs. Open the application once it has been installed.
Step 2: Select "Open the Spotify Web player." From there, log in to your Spotify account, regardless of whether you have a Premium subscription or not.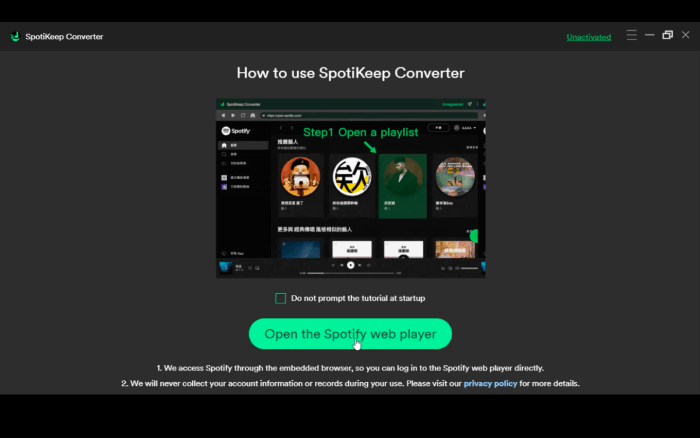 Step 3: Locate your preferred album or playlist, or generate a new one and add all the desired songs to it. Afterward, select the green button encircled by a red border as shown in the image.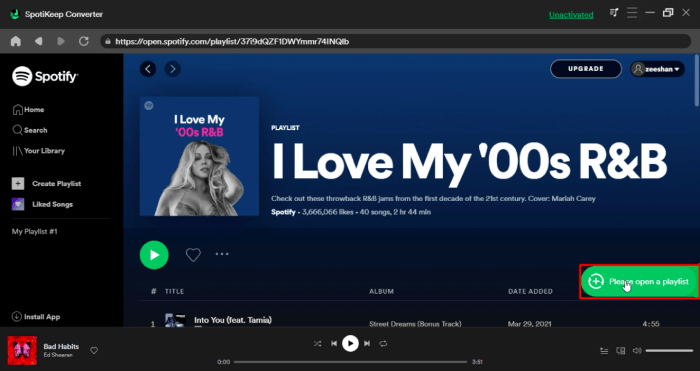 Step 4: The subsequent pop-up window will present you with comprehensive download settings. Here, you can alter the download destination of your files. SpotiKeep Converter also provides multiple output formats such as MP3, FLAC, M4A, and WAV. With the necessary settings in place, you may now begin the process of downloading music from Spotify to MP3.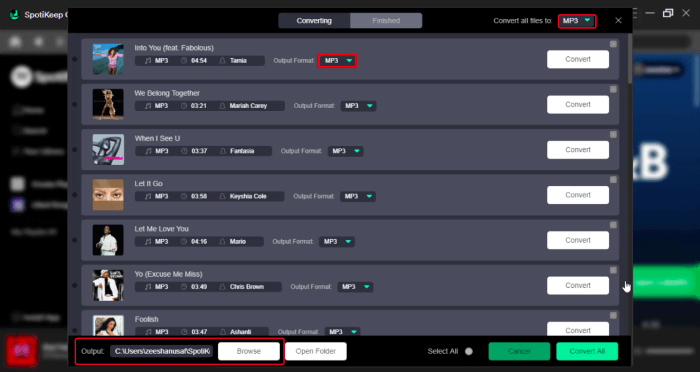 Step 5: In addition, you have the option to download individual tracks by selecting the green button located on the right-hand side of each song. Alternatively, you can download all tracks at once by choosing the green Convert button on each song. Once the download process concludes, locate your files in the designated folder.
Step 6: Connect your USB flash drive to the USB port on your computer. Transfer one song or the entire music folder to your USB drive by copying and pasting them.
With your USB drive, you can listen to Spotify music offline. Moreover, you can also use it in your car or on any device with a USB port.
Part 3. Download Spotify Music to USB with Google Extension
DZR Music Downloader is an online tool that lets you download Spotify music without premium for offline listening. This extension converts Spotify tracks to your device and saves them to your hard drive. It's free, and it allows you to convert Spotify tracks quickly.
There is no need to download or install anything else. Adding the Chrome extension will allow you to save Spotify songs to your local drive to listen to them offline on your device. The process is as follows:
Step 1: Search for DZR Music Downloader in Google Chrome's search bar. Add the Google Chrome extension DZR Music Downloader - Saver for Spotify.
Step2: The Chrome extension menu will provide you with the Spotify web player when you click on DZR Music Downloader;
Step3: Whenever you browse any song, playlist, or album on Spotify, you'll see a green "Download" button;
Step 4: Tap "Download" to download Spotify music to local files.
Step 5: Now, you only need to connect the USB device to your computer and transfer the Spotify tracks to it.
Part 4. Download Spotify to USB Free Online
All you need to download Spotify music for offline use is a Spotify URI to MP3 converter online for free. You can easily convert Spotify tracks to MP3s online using a web-based downloader. Musicland is an online MP3 converter you can use.
This impressive online converter is likely to provide lossless conversion. As well as converting, you can download the files to your device's local storage. Musicland also offers a variety of export formats, including MP3 HQ and FLAC. Besides Spotify tracks, it now accepts albums as well. This great online tool lets you easily download your favorite albums and tracks as MP3 files to a USB drive.
Interested in learning how Musicland allows you to transfer Spotify URI to a USB for free? The process is a simple two-step one.
Step 1: Get the Spotify link first
Click right-click on the track or album you want to listen to. You can then copy the song URL by selecting the share option.
Step 2: Find and Download
Simply paste the Spotify URI into the search field and press the search button. After you've found a Spotify track or album in the search results, click the convert button. You just need to connect a USB to your device and transfer the Spotify music.
The Takeaway
If everyone could listen to Spotify anywhere, it would be a dream come true. However, it may not be straightforward due to Spotify's DRM protection. A portable device such as a USB drive, an SD card, or a similar device would be ideal, but DRM-protected content may make this method ineffective. This article shows you how to fast copy Spotify music onto a USB using simple steps.
Apple Music Converter
Convert and Save your favorite songs from Apple Music Permanently for Free.
Don't miss a moment of the Music you love.
Spotify Music Converter
Download Spotify songs, albums and playlist Permanently for Free.
Don't miss a moment of the Music you love.