For Spotify Free users, the constantly disturbing of ads is probably is their biggest headache. How can Spotify free users block Spotify ads? What's the best Spotify ad blocker?
Today we're going to introduce seven different ways to block ads on Spotify on the web browser, computer, and mobile. We also collect the top 8 Spotify adblockers for you. No more Spotify ads for your free membership.
CONTENT Part 1. Block Spotify Ads by Upgrading to Spotify PremiumPart 2. How to Block Spotify Ads on PC with SpotiKeepPart 3. Block Spotify Ads from Hosts FilePart 4. Top 5 Spotify Adblocker on PCPart 5. Spotify Web Player AdBlock SolutionsPart 6. Block Spotify Ads on AndroidPart 7. Best Spotify Ads Remover on iPhoneFinal Verdict
Also Read:
Part 1. Block Spotify Ads by Upgrading to Spotify Premium
The free version of Spotify is unreliable and full of ads. And it's a lose-lose for music lovers. One of the cleanest and easiest methods to block ads on Spotify is to upgrade to premium. Spotify premium subscription $9.99 per month, but it's worth it because ad-free isn't the only fantastic feature of Spotify Premium.
Spotify Premium allows you to gain an advanced user experience. Ad-free listening, unlimited shuffles and skips, up to 320kbps audio quality, unlimited downloads, and much more. There is no doubt in the fact why Spotify has 155 million paid subscribers around the globe. And that's by the end of the final quarter of 2020. It has been grossing ever since.
How to get Spotify Premium?
Spotify offers a three-month free premium subscription to its new users. Make sure to avail yourself of the opportunity to block Spotify ads. Nobody wants to miss free deals. Here's how you get the premium version of Spotify.
Step 1: Log into your Spotify account on spotify.com.
Step 2: Click on the premium on the top shelf of the webpage. Click on Get Started.
Step 3: Choose your premium plan and proceed to checkout. That's it! Enjoy your premium music.
Part 2. How to Block Spotify Ads on PC with SpotiKeep
Before we introduce the Spotify ad blockers, there's a fact you need to know first. Spotify starts banning ad blockers in February 2019. This policy is stated clearly in Spotify's Terms of Service policy. Therefore, using a Spotify adblocker may cause your account banned. In this case, we think we should recommend a safer way to get rid of Spotify ads at first.
Offline songs are always better because you don't need an active internet connection and everything that comes with it, including the ads. So, a Spotify music converter is your reliable solution to block Spotify ads.
SpotiKeep Converter is an offline music downloader that rips tracks from Spotify in MP3 format. The music feels good to the ears, just like the Spotify application. SpotiKeep uses accessible output formats like MP3 to make it easy to share across your devices. And who needs an ad-blocker when you don't need a Spotify application. Yes, you got me. SpotiKeep converter doesn't need any premium subscription or even the application itself.
On top of that, it provides you with the following great features.
Customizable output formats including MP3, M4A, WAV, AAC, and FLAC, among others
Lossless audio quality and batch downloads
DRM (Digital Right Management) removal to protect against Copyright infringements
Retains the original ID3 tags of songs, artists, and playlist
High conversion rates for Mac and windows, up to 5x and 10x, respectively
Now let's move on to our next part - how to download music from Spotify to MP3 with SpotiKeep Converter. Follow the step-by-step guide as mentioned below.
Step 1: Download and install the SpotiKeep Converter. Then launch the application.
Step 2: Copy the URL of the song you want to download. It can be from a web browser. As mentioned earlier, you don't require an actual application for this. Once you have copied the song, paste it into the empty bar in the SpotiKeep application. Now click on Add file. The music will add up in your queue. If you want to prefer batch downloads to save you time and effort, head back to the webpage or application and copy-paste again. Make sure you press Add File to keep the song in the queue.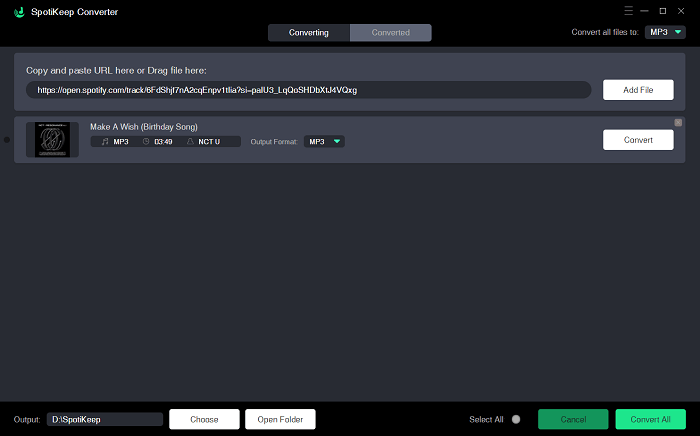 Step 3: Customize the output formats of the song by clicking on the toggle on the top right corner. By default, the output format is MP3, but you can play around with many other formats, including M4A, FLAC, WAV, and AAC. You can also change the download locations by clicking on the Browse option in the lower right.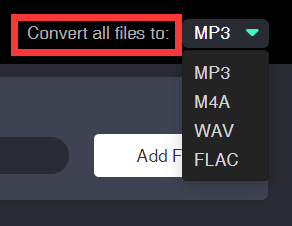 Step 4: When you finish with the pre-requisites, click on the Convert button on the bottom right of your SpotiKeep converter. The songs will add up in your local files folder. A high conversion rate will make sure you get your songs downloaded in just a few seconds.
Part 3. Block Spotify Ads from Hosts File
If you have been looking for an answer to block Spotify ads using a host file, here is your answer. But before we dive into the main course, here is some information you need to know for starters. The hosts file is for you if you have basic knowledge of how pathways and source files work. Even if you do, you need to change the Hosts File every weak because the adverts by Spotify updates weekly, and so should your code according to the advert.
Despite the facts mentioned earlier, this method is still prevalent amongst nerds and ordinary people having basic knowledge of this stuff. Now let's see how to block Spotify ads using a host file.
Block Spotify Ads Hosts File on Windows
Step 1: Follow the pathway and find the host file under C:\Windows\System32\drivers\etc\hosts.
Step 2: Under the hosts file, drop the hosts addresses you want to add. Then save and close the file. Once you have edited the hosts file, refresh the DNS cache with "ipconfig/flushdns" under Administrator privileges.
Step 3: Launch the Spotify application and enjoy an ad-free experience.
Block Spotify Ads Hosts File on Mac
Step 1: Mac OS has its way of getting things done. To find hosts files, go to the Finder menu in the Finder. Under the Finder menu bar, select Go > go to the folder. And follow the path "/private/etc/hosts".
Step 2: Add the hosts addresses in the hosts file at the bottom. Save and close. This file can also be edited using the command "sudo vim /etc/hosts" or "sudo nano /etc/hosts."
Step 3: Make a right-click on Spotify. Click on Open package content, and click on Contents/Resources/Apps. Delete "ad.spa"
Part 4. Top 5 Spotify Adblocker on PC
1. EZBlocker – Spotify Ad Blocker (Windows)
EZBlocker keeps things simple and gets the job done. This ad blocker is all about blocking excessive ads by muting them. Once in a while, when we are playing music in the background, an ad suddenly shows up. And Spotify starts to play the ad instead of music. It hurts. So, the Blocker mutes the advertisement so that the music keeps playing, and the ad eventually passes on when it's finished.
2. SpotifyAdBlock (Linux, Mac & Windows)
SpotifyAdBlock works by overriding the DNS for the Spotify Ad server. It does so by altering the hosts file, so the servers call for ads, but the modified files won't accept the ad calls. This is a simple and easy method to block ads on Spotify.
3. Spotify Desktop Adblocker (Windows & Mac)
Spotify Desktop Adblocker uses a proxy network to bypass the ad servers of Spotify. It's basically a proxy setup, and once installed, it activates in the Spotify settings, so your Spotify account connects to the proxy servers. This means that the data transfer gets filtered, and ads are the residue.
4. BlockTheSpot (Windows)
BlockTheSpot is a multi-purpose adblocker. It helps you block ads for Spotify and bypass the limited skips on the accessible version of the Spotify application. It creates a mod application with some unlocked features of a premium account.
5. SpotifyNoAds (Windows)
SpotifyNoAds alter the hosts file to block ads on your local machine. It produces a fake IP address on top of a changed hosts file to keep you away from the ad network on Spotify. However, this software works best with the old Spotify versions. The newer versions have active protection against SpotifyNoAds and similar software,
Part 5. Spotify Web Player AdBlock Solutions
1. Spotify Ads Remover
Spotify Ads Remover is a Google Chrome extension that stops Spotify ads from playing. Spotify Ads Remover prohibits the audio apps from playing and which means you can now listen to your music interrupted for as long as you want. It does so by altering the Spotify state machine. The ad notes exchange with the modified state, which skips whenever Spotify requests an ad.
2. uBlock Origin
uBlock Origin is more of a universal content blocker rather than a mere adblocker. The prime feature of this software is to remove unwanted bloatware in Google chrome and Firefox. Use it as an extension, and unlike others, it's very efficient and easy on RAM and memory.
Part 6. Block Spotify Ads on Android
Tool: SpotMute
SpotMute is an open-source ad-blocker that permits block ads to broadcast. SpotMute mutes the music volume whenever an ad starts to play on your Android phone in Spotify. And then automatically increases it back to normal once it's post-ad. SpotMute requires no sensitive permission to work, making it one of the easiest and safest methods of ad-block.
You might have to disable power-saving features for the application to work correctly.
Part 7. Best Spotify Ads Remover on iPhone
iOS devices are often more complicated than their Android competitors. But here is your solution anyways. Use a reliable VPN that will also act as an ad-blocker for Spotify. Luna VPN isn't an actual VPN since it doesn't mask your location. But it will remove any ad on your Spotify music. The services are not only confined to Spotify. But it also offers its expertise on any ad running at the time this app is operating.
First, download the Luna VPN and then follow the instructions to install their ad-block extension. Activate it, and you are good to go.
Final Verdict
Ads while listening to music can destroy the whole mood and joy. But this can easily be avoided by following the best ways to block ads on Spotify. If you have been wondering how to block ads on Spotify, here is your guide.
We have mentioned the 12 best ways to remove ads from Spotify. Stick to the solution that works best for you. Please feel free to let us know if this guide helps you in the comment section. We are open to suggestions.
Apple Music Converter
Convert and Save your favorite songs from Apple Music Permanently for Free.
Don't miss a moment of the Music you love.
Spotify Music Converter
Download Spotify songs, albums and playlist Permanently for Free.
Don't miss a moment of the Music you love.