Are you bored of waking up with a regular alarm clock provided by your phone? It can not be denied that splendid music can help you fall asleep fluently, but also certainly strengthen the motivation when you wake up early. Therefore, instead of systematic sounds, playing your favorite Spotify song as an alarm is a better choice to get a good start to the day. In addition to setting a Spotify timer, you can also play Spotify as your alarm. Today, two simple methods would be recommended to help you do it with ease.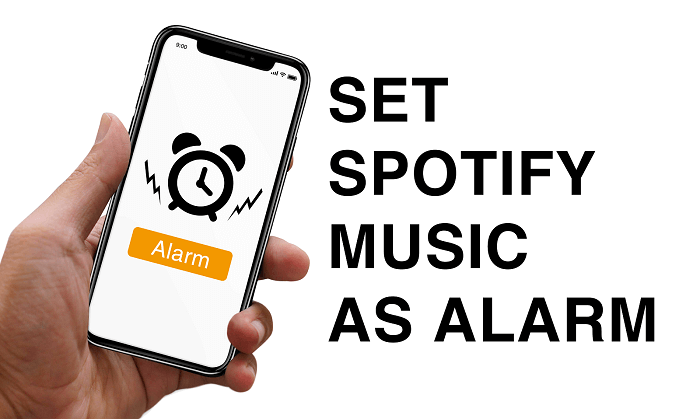 CONTENT Method 1. Set Spotify Songs as iPhone/Android Alarm with SpotiKeep Method 2. Set Spotify Song as Android Alarm with Google Clock
Method 1. Set Spotify Songs as iPhone/Android Alarm with SpotiKeep
As we all know, Spotify music is protected by the DRM to prevent users to download them for playing on unauthorized media players or other use. To unlock this restriction and set the Spotify music as an alarm, you need to look for the help of a third-party Spotify music downloader. SpotiKeep Converter, a professional Spotify music downloader which has the ability to remove DRM and convert Spotify songs, album, and playlist to popular audio formats like MP3, M4A, MAV, and FLAC, would be your helpful assistant to set an alarm with downloaded Spotify music.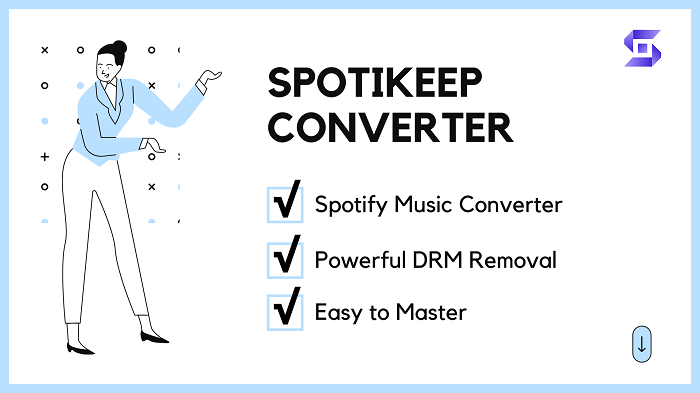 Thanks to the extremely intuitive design, you can operate SpotiKeep Converter easily without any skill requirement. The following tutorial will guide you through each step of how to download Spotify music with SpotiKeep Converter and set Spotify as the alarm without the need to go online.
Step 1. Select the Spotify Song
Once you launch the SpotiKepp Converter, Spotify will be run automatically. Navigate to the song you want to set as an alarm in Spotify and select "Copy Song Link" in the Share option which is set in the three-dot icon.
Step 2. Parse the Link of Spotify Music
Return to the interface of SpotiKepp Converter and paste the selected link into the frame bar. Click the "Add File" button on the right side to convert the link. The song information will be displayed immediately after the analysis.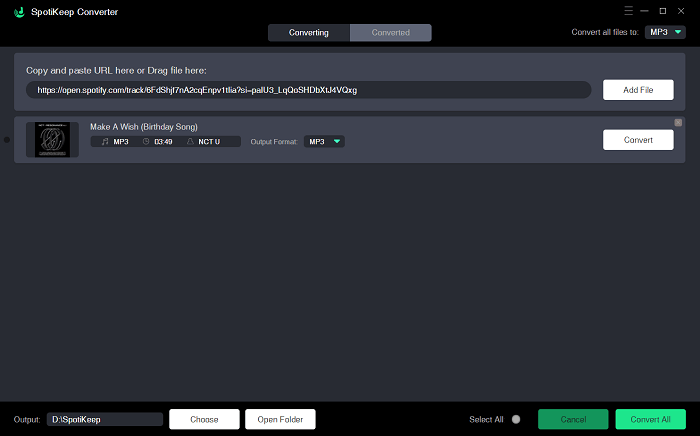 Step 3. Select Output Format of Spotify Music
Click the inverted triangle icon of output format option, four plain audio formats will be presented for you to choose. Make your choice and simply tap on the "Convert" button to remove DRM from Spotify music and convert it to the audio format you have selected.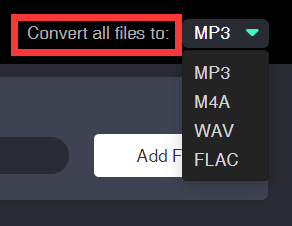 Step 4. Set the Downloaded Spotify Music as Alarm
After downloading completed, you can directly access the offline Spotify tracks by clicking "View Output File" under the "Finished" section. Then you can sync the Spotify songs to your iPhone via iTunes or transfer them from the computer to Android device with the USB cable and freely setting Spotify music as an alarm.
Method 2. Set Spotify Song as Android Alarm with Google Clock
Google Clock is probably the most stable of the clock apps which can do all the basic works you'd expect out of a clock app which includes a stopwatch, timer, clock, and alarm. Fortunately, Google has released an update to the Google Clock app adding Spotify integration to allow you to connect Spotify account with Google clock and set a Spotify song, album, or playlist as alarm directly.
Notes:
- It's a pity that iPhone users are unable to set Spotify as an alarm with Gooogle Clock.
- Many Android smartphone manufacturers opt to use Google Clock by default. Otherwise, you should download the Google Clock app in the latest version from the Google Play Store if you are a Samsung or Huawei user that has been provided a specific clock app from the manufacturers.
- To set Spotify songs as an alarm, you don't need to pay for the premium subscription of Spotify, but you may hear occasional ads if you set the alarm with the free version of Spotify.
The rest of this article will show you how to set Spotify as an alarm with Google Clock.
Step 1. Create a New Alarm in Google Clock
Before setting Spotify songs as your alarm, please confirm that you've installed the latest versions of the Google Clock as well as the Spotify app on your Android device, then operate to create a new alarm by clicking the plus icon.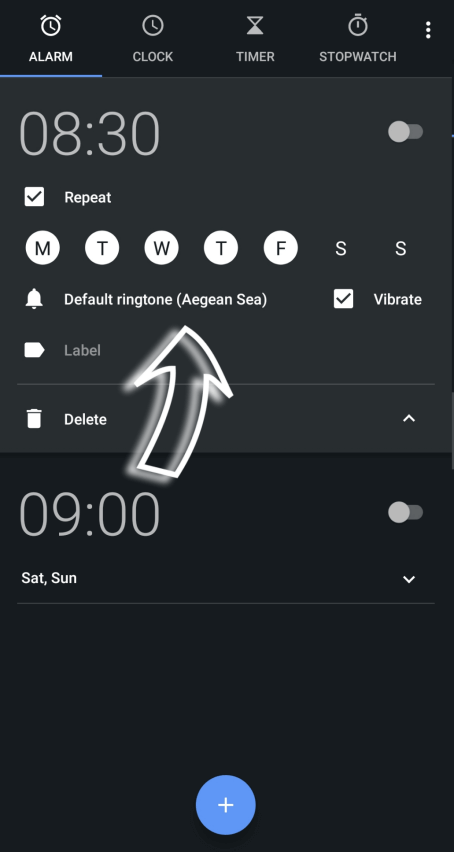 Step 2. Connect Spotify Account
Follow the on-screen prompts to connect the Spotify account with Google Clock. Once it has been done, a new "Spotify" tab will appear under alarm sounds.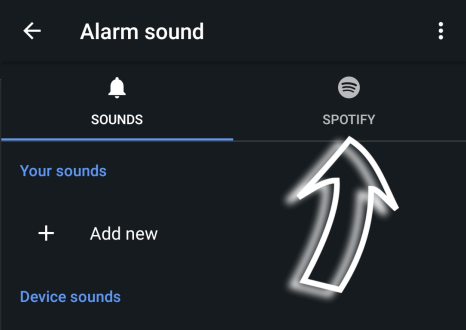 Step 3. Set Spotify Songs as Alarm
Select the desired Spotify music from the most recently played songs. Scroll down a bit further and you'll see Spotify's collection of carefully curated playlists. In the bottom right-hand corner, there is a search button provided to search for a specific song, album, artist, or playlist as you like.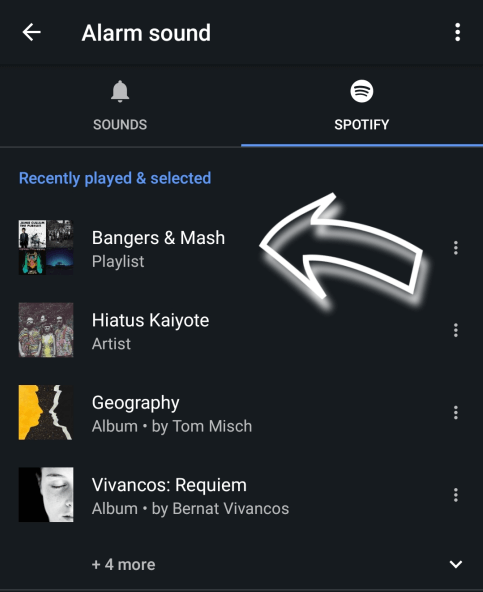 With the two simple methods mentions above, now you can easily set Spotify songs as an alarm to be a wonderful morning call. Don't miss the first kindly recommendation no matter you are using iPhone or Android. Hope you can have a stress-free day by waking up with your favorite music. Also, you can make Spotify songs as a ringtone if you like.
Apple Music Converter
Convert and Save your favorite songs from Apple Music Permanently for Free.
Don't miss a moment of the Music you love.
Spotify Music Converter
Download Spotify songs, albums and playlist Permanently for Free.
Don't miss a moment of the Music you love.