We all need some motivation while exercising. Well, what's better than workout music? Having the best workout songs can cover up the adrenaline to motivate your spirit. In this post, we've collected the top 13 music for your workout.
CONTENT Part 1. Workout Motivation MusicPart 2. How to Rip Workout Music from SpotifyPart 3. How to Rip Workout Songs from Apple MusicFinal Verdict
Part 1. Workout Motivation Music
The truth about motivational music is everyone shares a unique taste of lyrics and music genre. Some people prefer electronic and metallic push with solid vocals, while others enjoy classic 80s a little more. Here we will list some of the best thirteen workout songs and classify them categorically. Let's begin with our first category.
Cardio Workout Music
Intense heartbeats coupled with extreme workout music provide an insane synchronization of music and body language. You might have felt this yourself; when a particular song plays, your body adapts the rhythm of that song. "Lose Yourself" by Eminem has vocals strong enough to keep you coming at yourself. When Eminem raps, "He won't give up that easily!" That's when you push your limits and test your body.
Aerobic exercises are you fighting against yourself for not giving up. When the heartbeat shoots, you need some piece of music to retract from slowing down. Here comes another by Eminem, "Till I Collapse." Striking vocals and a combination of D12 and Eminem are mind-blowing.
"Believer" by Imagine Dragons is a bit unconventional for motivational music. But it deserves its place since it boosts enough ego and passion for rocking your workout.
Rock Workout Music
"Centuries" by Fall Out Boy is the perfect music for intense workouts. It has fine rock music with drums, guitars, heavy metals, and instrumentals for a piece of rock music. The bold vocals are the ones responsible for all the adrenaline it's gushing into your veins.
The AC/DC bank is everyone's favorite for high energy and rock music. "Rock N Roll Train" by AC/DC will be boosting your stamina and make you do those last steps you have been giving up lately.
Rock Workout- Gym Music is genuinely curated to crush you with the ultimate spike in beast mode. It will make you press hard on those muscles by a hundred and four songs it's holding. It lasts longer than your regular hour session at your workout space.
Youtube Workout Music
Youtube is the hub of digital media these days. And any music you will ever find on Spotify or Apple Music is already there. Besides, it's in video format; if you are okay with it, we might have something that interests you.
Workout Music Source is a collection of top 35 workouts, including all genres related to workout music. Play the music and let the sweat session begin. The music here is from top-tier artists like Cardi B, DJ Khaled, Selena Gomez, Camila Cabello, etc. It's over 2 hours of straight intense music, so this might work for you if you are into longer sessions.
If you are into something more intense, a remix version might work for you. Here are your Top 40 Workout hits remixed for 60 minutes of pure adrenaline session. Music like "Finesse," "Anywhere," and Say "Something" are going to keep you well motivated and engaged. It has over 3.9M views on YouTube since 2018, and it's been grossing ever since.
80s Workout Music
80s music holds a beautiful sweet spot between dance and pop music. It's simple. Aesthetic, clean, and ergonomic music boosts mental and physical energy and motivation levels. We look no other than Spotify for its 80s Workout Playlist. The playlist has 80 songs from famous 80s artists, and it's 5hr and 43min long. Play it on shuffle, and you will surely enjoy it.
Micheal Jackson is a legacy, and his songs are a pure translation of his energies. "Smooth Criminal" by Micheal Jackson deserves its place when it comes to 80s Workout Music. It's sharing dance and pop genres, but it also works surprisingly well with workouts.
"Livin' On A Prayer" by Bon Jovi is unforgiving for demanding the last burst of energy in your little finger. This song nailed the top charts back then for the second time. It's from Slippery when wet Album. The use of heavy metal with enchanting vocals is all music to ears.
Christian Workout Music
Christian Workout Music is the perfect way of praying while working out at the same time. Jesus lifts your soul, and upbeat music lifts your energy. If you value the Christina Workout Music, here are the top picks for you.
"Rise (Deluxe Edition)" is a high-note music album while enchanting about rising because Jesus is with us. There no more to say for this song. It has such deep vocals and fine-tunes.
For Gen Z, "Eye On It" by TobyMac is a feast. It's a feat. Britt Nicole is stunning, having all heavy metal sounds, deep vocals, and tuned instruments. Toby often collaborates with non-traditional artists to land up a unique piece of music in its territory.
Part 2. How to Rip Workout Music from Spotify
We have thoroughly addressed songs from Spotify above in the five categories. But isn't it the bitter truth that it's hard to carry stuff to the gym? A water bottle alone is a headache for most people to move around the gym. And if you have to manage the music from some streaming application while having your earphone on. It's a total mess.
You can only carry your pair of headphones and a water bottle with you, which will be all you will need for the rest of your life. Download the Spotify workout playlists and transfer them to a Bluetooth device via an SD card. Problem solved.
SpotiKeep Converter is a music converter that can help you to downloads tracks directly from Spotify. It extracts music files from Spotify to simple MP3 formats and saves them in your local files. SpotiKeep removes the active DRM (Digital Right Management) protection for your music while retaining the high-quality music that we love.
SpotiKeep is more than an offline downloader. It's a solution to your premium subscriptions for Spotify and your music issues during a workout. You don't even need to have Spotify; all you need is a link to the song you want to download, which one can easily copy from the webpage.
Let's have a look at the features of SpotiKeep Converter.
Plenty of Customizable output formats, including MP3, M4A, WAV, AAC, and FLAC
DRM removal to protect against copyright infringements
Lossless audio quality and batch downloads
Retains the original ID3 tags of songs, artists, and playlist
Here's your step-by-step guide on how to download music from Spotify to MP3 with SpotiKeep Converter.
Step 1: Download SpotiKeep Converter by clicking on the download icons below. And install the setup package on your desktop.
Step 2: Copy the Spotify URL of the song you want to download. You can copy the link from the webpage, so there is no need to have Spotify. Then Paste it on the empty bar in the SpotiKeep Converter. Now click on Add File. Clicking Add File will save your song in the queue. Repeat the process to add more pieces in the row. Just make sure to click on Add File after every successful Copy-paste.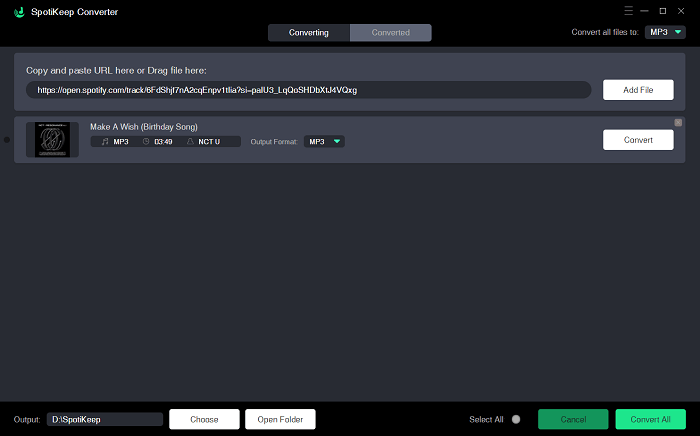 Step 3: Customize the output formats on the top right corner of your screen. By default, it's set to MP3, but you can change it to M4A, AAC, WAV, and FLAC. You can also change the storage file of your songs by clicking on the Browse option.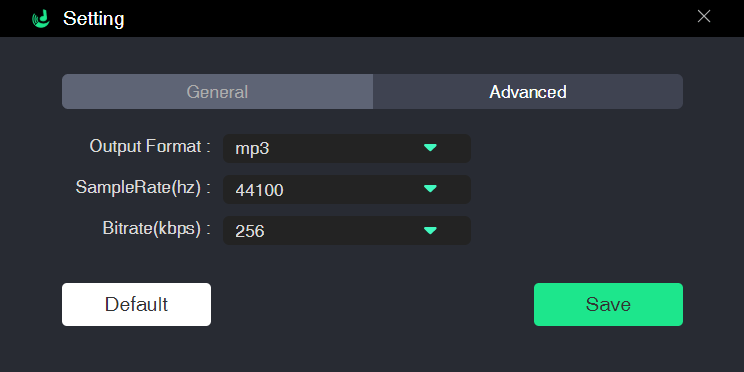 Step 4: After completing all of the above steps, it's time to download your songs from Spotify. Click on Convert at the bottom right of your screen. It will initiate the downloading, and it won't take much time to complete the downloads. High conversion rates will convert Spotify to MP3 while all of the above features happen to be in the background.
Part 3. How to Rip Workout Songs from Apple Music
You might find the need to carry offline music in the gym sessions, but your playlist is all in the cloud. And you need an electronic device to manage to play those songs. Not any more.
You can download Apple Music workout playlists into your device while decoding them from AAC to MP3. The downloaded files are transferable across any device, including an SD card or inbuilt memory of your headphone. Carry it around just the way you want and enjoy your intense workout sessions. So what's the tool?
SpotiKeep Apple Music Converter is an offline music downloader for Apple Music. It lets you enjoy a similar quality of music while making you free of having an active internet connection or bothering about the application itself.
SpotiKeep also removes the DRM (Digital Right Management) to have full authority over what you listen to. You can download your workout music in MP3 format, which means it's now easier to share or transfer your songs across other devices.
Following are some of the exclusive features of SpotiKeep Apple Music Converter.
DRM removal keeps Copyright infringements at arm's length
Customizable output formats including MP3, M4A, FLAC, WAV, and AAC.
Batch downloads along with the Lossless quality downloads
SpotiKeep Apple Music Converter offers up to 5x for Mac users and 10x for Windows users.
Retains the original ID3 tags of songs, artists, and albums.
Now let's move on to the essential part - how to convert Apple Music to MP3 with SpotiKeep. Here is your step-by-step guide.
Step 1: Download the SpotiKeep Apple Music Converter and install it on your PC. Click on the threads below for Mac and Windows. Complete the installation process after the download is complete.
Step 2: The Converter will sync with your iTunes and extracts all files from iTunes. The files will showcase in the converter.
Step 3: After the sync is complete, you can select the songs you want to download. Tick the box in front of each piece you want to download. You can choose multiple songs at once because SpotiKeep allows for batch downloads.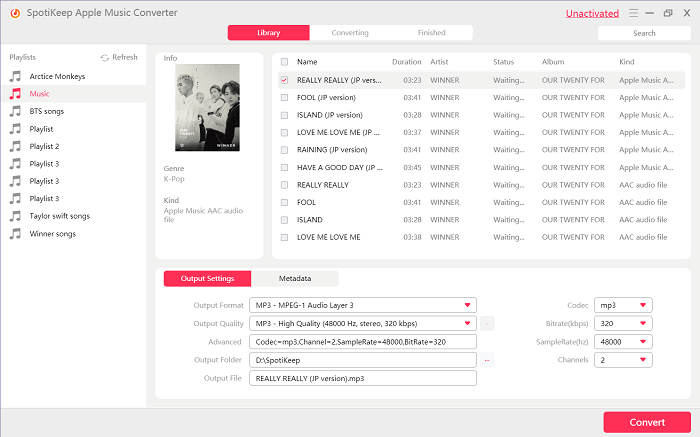 Step 4: After selecting the songs you want to download, it's time to customize the output preferences. You can alter the output format, quality of the audio, storage location, and metadata of the song in the box below.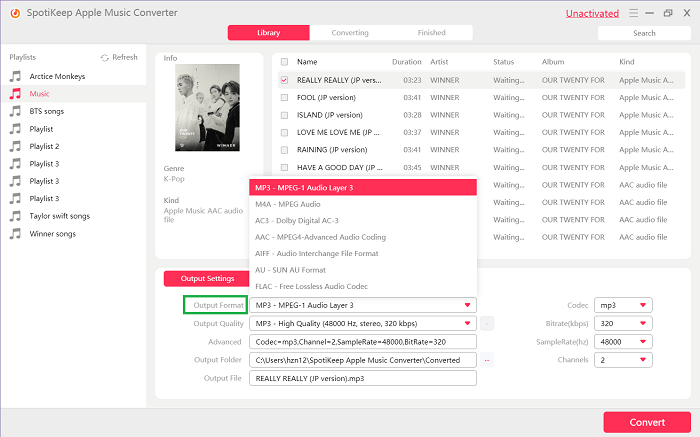 Step 5: Finally, click on Convert on the bottom right. Your download will start immediately in real-time. The downloaded song will save in your local files according to your preferences in a few minutes.
Final Verdict
If quarantine has got you lazy and fat, you are not alone. I have been facing the same while sitting hours to make this piece of writing for you. This might be the right time for us to start gathering broken pieces and tuning our bodies. Motivation and workout songs we have listed above may help you cover the low energies. Check out the top 13 workout motivation music. We have simplified it into five categories, so make sure to use all of that.
Bonus Tip can now even save those files on your devices through Spotify and Appel music Converters listed above. If this guide helped you let us know in the comment section below. Please read about our similar posts in the Other Tips section of the How-to page.