Apple Music is no doubt a far superior music application. But it's not perfect. You may encounter slight hiccups and bugs, and sometimes your hangover with an issue as big as Apple Music Family sharing not working. Today we will be focusing on the latter one. We will discuss everything there is to know about solving the Apple Music Family Plan not working. Let's get started.
CONTENT Part 1: How to Fix the Apple Music Family Plan Not Working Problem?Part 2: Ultimate Solution: Enjoy Offline Apple Music without Family PlanFinal Words
Part 1: How to Fix the Apple Music Family Plan Not Working Problem?
We believe you already know everything there is to know about what is Apple Music Family Plan is. So no need to stress about what this feature is. If you are not a user of Apple Music Family Plan, how come you are having this problem? Right. So let's skip to the central part because we all are here to hear the answers.
Solution 1: Check the Right Apple ID is log in to All Your Devices
To make Apple Music work, you have to log in to the same Apple ID through all your devices. Apple Music features allow up to six accounts. These six accounts need to be under a single Apple Music ID to register the Family Sharing subscription for Apple Music. If you are using an ID that is different from what you used to register for Apple Music Family, sharing it will not work. Here is how to check Apple ID on Ios and Mac:
For iOS Devices:
Step 1: Go to the settings menu of your Ios device.
Step 2: Click on the Apple ID on top of the settings menu. This way, you can check the Apple Music ID you are using.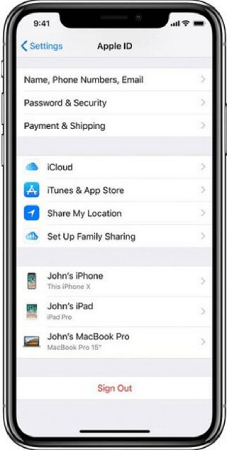 For Mac Devices:
Step 1: Press the Apple logo at the top end corner of your Mac. And then Select System preferences.
Step 2: Click on iCloud, and you can see the iCloud ID you are using on your Mac in the left sidebar of your screen.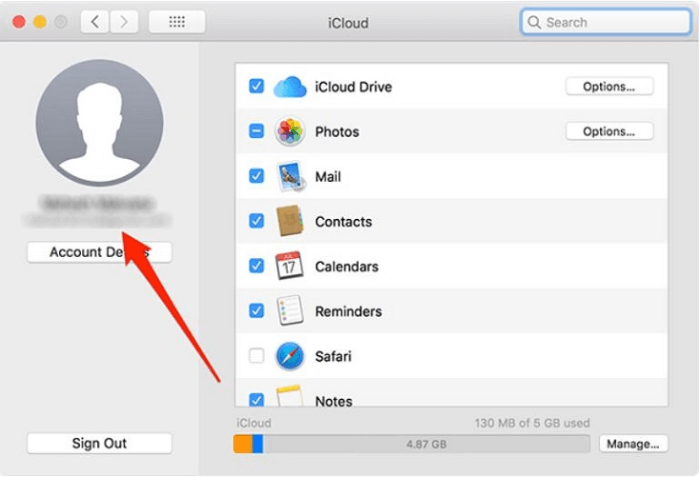 Solution 2: Check if Apple Music is on the Shared Featured List of Family Plan
The family plan of Apple Music doesn't just share Apple Music. Apple Music family plan shares almost all kinds of stuff that is eligible for an individual account. You can share photo Album, App store Purchases, iTunes Music, Apple Books, and more. All of these features happen to be on a list. You have to make sure that these options are allowed to share in an Apple Music Family Sharing Plan. There is an effortless way to do just that. The family organizer has the authority to untick or tick the boxes to lock or unlock these privileges. Now let's get to the steps that can get you to do so.
Step 1: Open the settings menu. Click on Apple ID in front of you at the top.
Step 2: Scroll down and click on Family Sharing. The "Share Features" list allows the Apple Music option to make it a shareable feature across all your devices.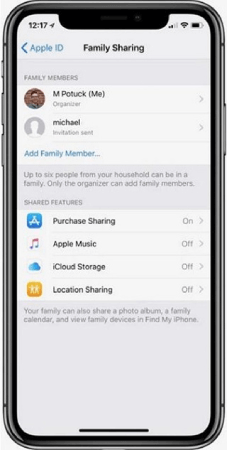 Solution 3: Remove Your Family Members and Add Them Back
If the above authentic solutions don't solve your problem, there is an error or bug. Removing your Family members from the Apple Music Family Sharing plan and adding them back again can help you solve your query. Why is Apple Music Family Sharing Plan not working? Following the below steps can be the answer and solution to the question above.
Step 1: Open Settings and tap on Apple ID at the top. Scroll down and click on Family Sharing.
Step 2: Tap on the Family member you want to remove. Tap on the "Remove" icon.
To re-add the person you have just removed, repeat Step 1 just as it is. And then; tap on "Add Family Member." Next, choose the person you want to add.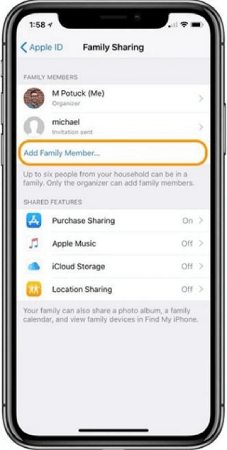 Solution 4: Wait until the Free Trial Period is Over
It's a norm for Apple Music sometimes to stop working for users having a free trial period. So your best shot at solving Apple Music sharing Plan not working is to wait until the problem solves naturally. Or you can pay Apple the regular fee for Apple Music Family Sharing Plan that is $14.99/month.
Solution 5: Contact Apple Music Support
If none of the above steps help your way, then you should contact Apple Music support. They can tell you for sure if the problem is at the back end or front end. Once the problem is diagnosed, you can direct to solving Apple Music Family Plan not working problem.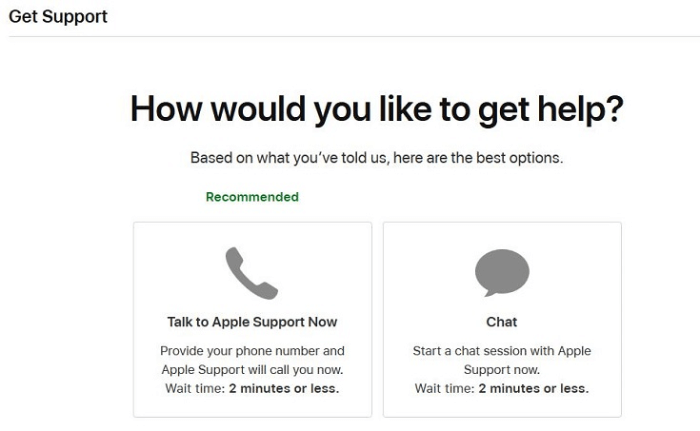 Part 2: Ultimate Solution: Enjoy Offline Apple Music without Family Plan
Apple Music is no doubt an excellent application to enjoy music. But everything good comes with its downside, and there is no such thing as perfect. Apple Music is not a free application. You have to pay $10/month to use a regular Apple Music account, not to mention that Apple Music works in AAC format that can be troublesome in specific scenarios.
And the most important thing is, the music you can download is not truly offline music since the music doesn't store local files that you can share anywhere.
So what's the ultimate solution for your Apple Music family sharing not working? Like we earlier above, no thong is perfect, but we have something close to excellent.
SpotiKeep Apple Music Converter is a professional music downloader for Apple Music. It's an actual offline downloader that means you are getting the same quality as Apple Music. The only difference being the music is now DRM protected, and now you can store, share or manage it just like your traditional local music. The real treat is you don't need an Apple Music subscription or even the application itself to make it work.
Let's get to know some of the prominent features of this application. Then, that can help you solve the Apple Music Family Plan not working problem.
It supports multiple output formats like MP3, M4A, WAV, and FLAC
It keeps the original ID3 tags of songs, artists, and playlist
No need to pay for Apple Music monthly subscription
Lossless audio quality and batch downloads
High conversion rates
SpotiKeep Apple Music Converter is an easy one to handle. Just five simple steps and you have all of your Apple Music saved offline. These five steps are also the cure to your family sharing apple music not working problem. So here is how to convert Apple Music to MP3?
Step 1: Click the following download button to download the SpotiKeep Apple Music Converter on your Mac and Windows computer. Then please install the software and launch it.
Step 2: SpotiKeep Apple Music Converter syncs with your iTunes playlist to display your Apple Music library right in the application. Make sure your iTunes is active all the time during the process. Once the sync completes, you'll see your music collection from Apple Music displaying on the converter.
Step 3: Now, choose any soundtrack you want to download from Apple Music. Tick mark the songs you wish to download in the tiny box on the left of each piece. The batch download feature allows you to download multiple songs at the same time. Make sure to use all of that.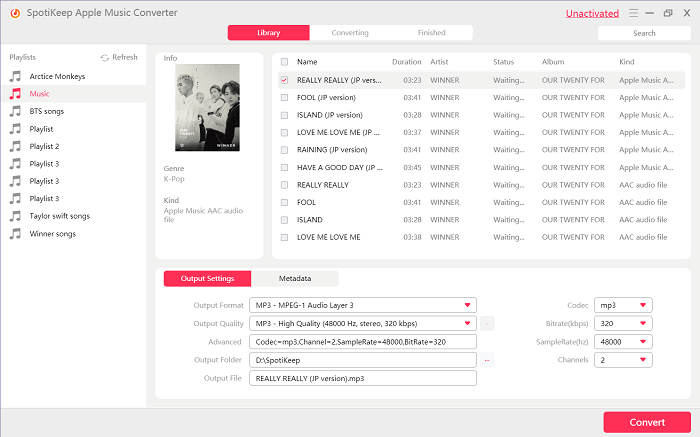 Step 4: Customize your output preferences, including output formats, audio quality, storage locations, and metadata of songs, artists, and playlists from the bottom of the screen.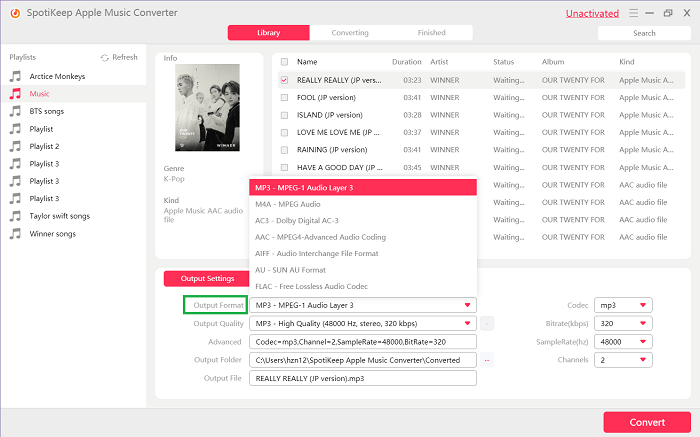 Step 5: Now click on the Convert option on the bottom right corner of your screen. You can see the downloads starting right before you; each song will have its own ETA. Once the download is complete, you can browse and find the music ready to play, share or transfer to any other supported device.
Final Words
Apple Music Family Plan not working can be frustrating precisely when all of your loved ones suffer the problem. We have tried to put reasonable methods to solve your problem. We are not here to tell you that your subscription might have expired or reboot the application because you already know that. We are here to offer you what you don't know, and the best of all, SpotiKeep Apple Music converter to permanently store your Apple Music songs. Share or manage it like any other local file you have on your desktop.
We keep coming with similar helpful topics. So why don't you check out an article about How to Share Apple Music with Family or Others to know the process better. Let us know if there is anything we can do to help you in the comment section below.
Apple Music Converter
Convert and Save your favorite songs from Apple Music Permanently for Free.
Don't miss a moment of the Music you love.
Spotify Music Converter
Download Spotify songs, albums and playlist Permanently for Free.
Don't miss a moment of the Music you love.