Remember those times when you have to pop a CD to enjoy music to get entertainment. But today, music streaming apps with updated features are available. Tidal and Spotify are both the stars in the music streaming business as they focus on the best sound quality with intelligent and appreciable features. So, Tidal vs. Spotify, which is better? Here we'll run a complete comparison and review of the two music apps.
CONTENT Part 1. Overview: Tidal and SpotifyPart 2. Tidal vs. Spotify: What's the difference?Part 3. Tidal vs. Spotify, Which One Wins?
Part 1. Overview: Tidal and Spotify
Tidal and Spotify are two of the most famous music streaming apps, serving their fans with highly enriched, innovative, and unique features. The first music streaming app providing a trusting and upgraded sound quality is Tidal. Two subscriptions and one free trial are available for the users of tidal. A catalog of about 60 million songs is served by tidal, including some exclusives. Spotify is also a digital music podcast that delivers its users to various soundtracks and content from several artists worldwide.
Primary functions are available for free, but the people who crave more enhanced features can upgrade to Spotify Premium. Both Tidal and Spotify have their pros and cons; choosing which one is best may be difficult for someone. Now we discuss their features one by one of Tidal vs. Spotify.
Part 2. Tidal vs. Spotify: What's the difference?
Tidal vs. Spotify: Which Offers the Best User Experience?
Tidal uses a tile-based interface with a dark-colored background, where playlists, recommended albums, and charts are available. 'My Music 'area contains the tracks you saved. Tidal serves with an intelligent feature that is audio search like having Shazam. You need to press the button, listen to the song of your own choice and if you like, then save it in your music library.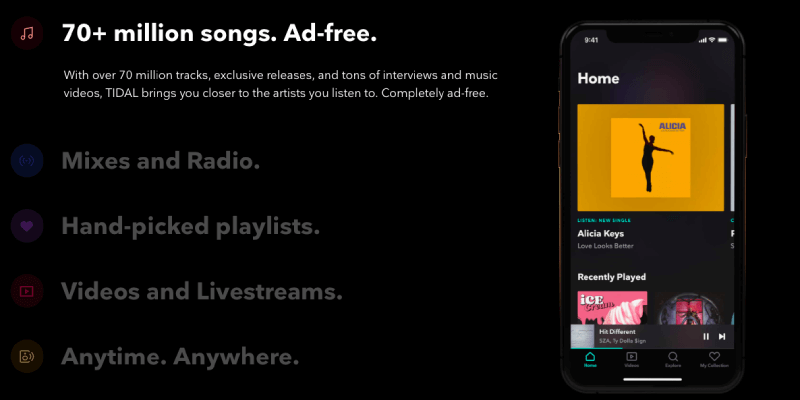 The more the app is easy to use, the more it is liked by people, and this feature will help create significant importance in the market. Spotify is easy to use hence user-friendly. App has a dark background with different categories popped on it in an organized manner, giving it a sophisticated look.
Spotify vs. Tidal: Subscription Options and Pricing
The price of Spotify is much lower as compared to Tidal. It only costs about $9.99 after every month, and the user has the right to cancel the subscription anytime when deemed fit but after considering terms and conditions. It offers a free version having the essential features free. Moreover, Spotify Premium, comprised of rich components, provides a thirty-day free trial to its users.
It is costly but provides excellent sound quality. Two tiers are available for subscription: Tidal Premium and Tidal HiFi.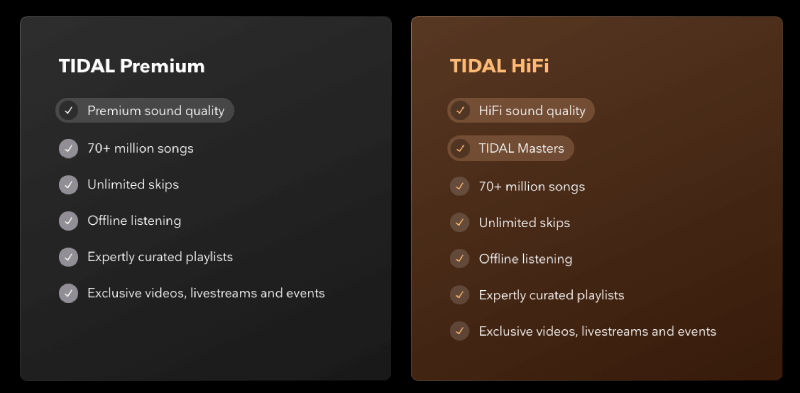 Tidal Premium is cheaper when compared to Tidal HiFi; it provides a 320kbps audio quality via ACC. The monthly subscription of Premium is $9.99 after every month. Using this tier, the user can access exclusive music, videos, events, and editorial playlists. Tidal HiFi is extremely expensive, with a monthly subscription of $19.99 per month serving its users with unique features such as HiFi sound quality, Tidal Masters combining those available in Tidal Premium. A family subscription is also available, supporting up to six accounts. Both tiers deliver offline listening; Tidal Premium and Tidal HiFi. The audio quality provided by HiFi is much updated than a standard MP3 or audio stream.
Tidal vs. Spotify: Music Library Size and Playlists
Tidal has the ability to provide its users with 60 million soundtracks with high-quality audio. One may say that Tidal is artist-owned as artist-owned Tidal pays a high percentage of royalties to songwriters in the market. The artists you lack while using Spotify can be seen in Tidal. Just after few weeks of Tidal use, it serves you with exciting recommendations according to your listening habits. The most popular playlists are present under the ceiling of Tidal. Moreover, Tidal has a section, Tidal Rising Section, which provides a way to support the emerging talent.
Most people thought that Spotify has an enormous music library launched six years before Tidal. Spotify can provide its users with 50 million soundtracks. Spotify has faced a conflict with musicians due to its free tier. Spotify has stated that it does not want to limit non-Spotify users by confining significant artists into exclusive deals. Both Spotify and Tidal offer podcasts, but Spotify is seen a little serious in this regard by spending over $200 million to obtain two podcasts companies.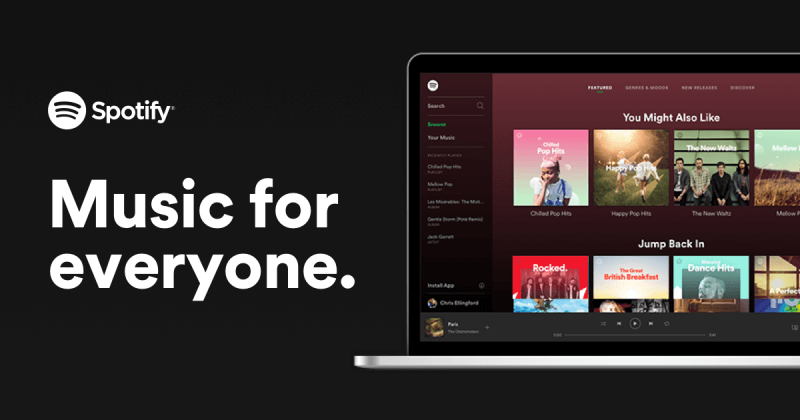 Tidal vs. Spotify: Streaming Sound Quality
Tidal suits you best if you are craved for some extra-ordinary and high-fidelity sound quality. You are just in need of subscribing to Tidal HiFi. It allows you to stream lossless 16-bit FLAC and ALAC audio. Tidal Premium also provides Spotify's highest setting, which has a catalog available to stream in 320kbps.
Tidal does not compromise on the sound's quality. It provides its listeners with high-resolution audio that resembles quality produced in studios when CDs were in everyday use. Relating to this feature, Tidal is better than Spotify.
You can switch to three different quality of sound modes while using Spotify Premium;
* Normal
* High
* Extreme
As mentioned above, each of the modes can play tracks combining various sound qualities. A much popular format Ogg Vorbis is used by Spotify as it is open source and license-free. Standard-setting streams music at 96kbps, which has a significant difference compared to MP3 at 129kbps. High mode of sound quality jumps up to 160 kbps and extreme bumps up to 320kbps, which may seem to be lossless. As Spotify does not offer high-resolution streaming, music cravers may find it a flaw and consider another streaming app. Considering this feature, you can say that Tidal is better than Spotify.
Spotify vs. Tidal: Music Downloads
One of the most well-known app Spotify has 248 million monthly active users worldwide. The app allows its users to search for the music, album, genre, playlist, or record label. Free and Premium tiers are available, but free ones may not provide much entertainment. It comprises limited features such as the free tier would not allow you to save tracks to enjoy offline listening. Downloading Spotify as MP3 can be slightly complicated. SpotiKeep converter will help to convert the Spotify music to MP3 with lossless quality.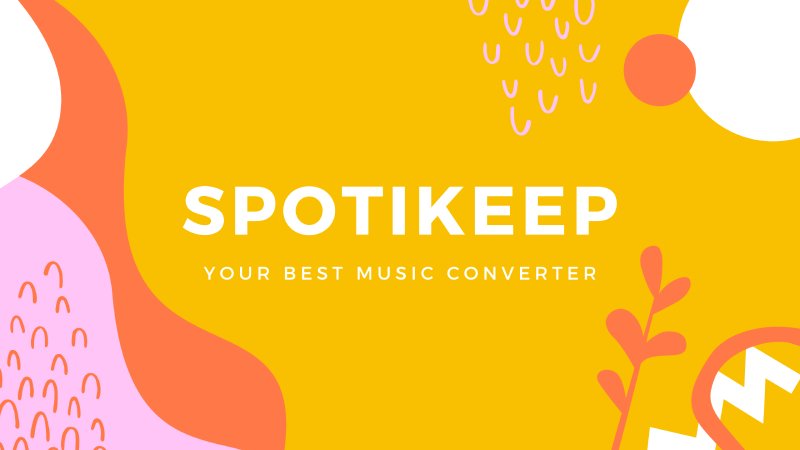 Spotikeep can construct a way to convert M4A, MP3, FLAC audio formats for offline listening. It provides 100% lossless audio quality, user- friendly, possesses 5X faster speed for conversion, and keeps original ID3 tags and metadata info. Links are available; click the download option, and you will get the converter, or you can also download it from the play store and app store. It delivers the users a 30 days free trial in which all the features are available. It requires less than 3 minutes to convert your desired track into MP3.
Following steps should be performed to convert Spotify music to MP3 using Spotikeep converter:
* Add any Spotify music of your choice to the Spotikeep converter
* Select the output quality (e.g., 160 kbps) and output format (e.g., MP3 or M4A) for the converting songs
* Click the Convert option to convert it into
Tidal users have access to about 60 million tracks with high audio-video quality. It puts its users to advantage by providing them with the opportunity of offline listening. Offline listening will help to enjoy tracks when you lack WIFI or your data. It allows its users to download songs and enjoy themselves anytime.
Along with several advantages, the app also possesses some limitations. For example, you can only download songs on your phone, not on PCs. And you can't download a single song either.
Tidal vs. Spotify: Social Interaction
Tidal lacks knowing your friend's taste in music as it lacks the feature of listening to the friend's activity. When it comes to social interaction, the app lets users share music with other social media apps. And this feature is also supported by Spotify.
Spotify helps its users know their friends' tastes by providing the ability to view friends' listening activities or playlists. The Friend Activity section can view the playlists listened to by your friends. The mobile app lacks this section, but it is available on desktop. If you do not want to show your activity to anyone, you can disable this feature anytime you feel necessary. Spotify is linked with Instagram and Tinder, which allows its users to share their taste in music with the mentioned apps' users.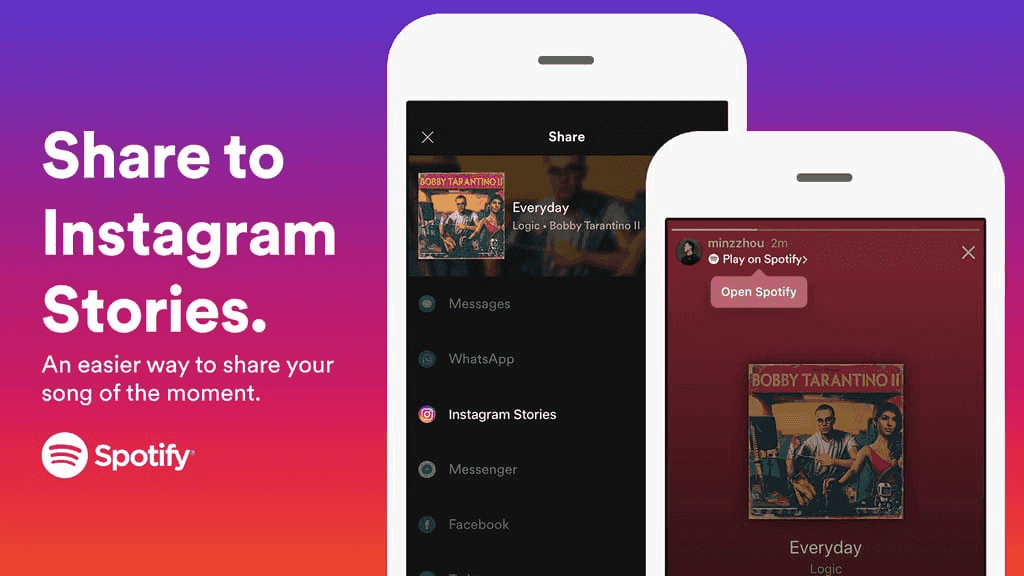 Spotify vs. Tidal: Music Discovery
Spotify possesses features that collect information about your listening habits and then recommend tracks according to your taste. Release Radar is a shop that contains newly released music of the artists followed by you. Daily Mix contains a mash of music you are listening to recently and music similar to your taste.
Tidal tends to create up to eight playlists related to eight different genres related to your taste and those that have been saved to 'My Collection.' The number of playlists depends upon the genre you listen to regularly. For example, if you listen to 4 genres regularly, you have only four playlists. People are confused that whether Tidal or Spotify is best while considering the feature of music discovery. Spotify is much better in this regard.
Part 3. Tidal vs. Spotify, Which One Wins?
Spotify provides collaborative playlists and group sessions, while Tidal has superb audio quality. Spotify offers a free version, and Tidal gives book sports and concert tickets early. Spotify possesses lyrics, but Tidal lacks this feature. Tidal supports high-resolution video quality, but Spotify is much far from Tidal in this regard.
Having both Free and Premium tiers helps to maintain the position of Spotify. Tidal also has significant importance due to high fidelity videos and providing the music lovers with rich and updated features. Both of the apps have their pros and cons and are most popular in the market. One may select any of the two according to his budget, requirements, and passion relating to the music.