There are tons of third-party Spotify downloaders out there. But with flaws like ads, glitches, inferior audio quality, download limits, etc. If you're confusing how to choose one, this article is right for you. Here we'll introduce and analyze the best 3 Spotify downloaders for desktop, online, and Android.
Here we will try to sum up the best online Spotify Playlist downloaders for you. Let's begin.
CONTENT 1. Best Spotify Playlist Downloader for Windows/Mac2. AlltoMP3: Free Spotify Playlist Downloader Online3. SpotiFlyer: Spotify Playlist Downloader APK for Android4. Pros & Cons of Using a Spotify Playlist DownloaderFinal Verdict
1. Best Spotify Playlist Downloader for Windows/Mac
Let's start with the best Spotify playlist downloader for both Windows and Mac. There are a lot of Spotify downloader tools in the market that claims their tool/software to be the best. We all can agree that not everyone is up to the mark or claims to be the best. There are some specific benchmarks to be the best. A package that offers you all features and offers true value.
SpotiKeep Spotify Music Converter is more than a Spotify Playlist Downloader. It offers loads of customization and features that are rare to find. And the fact that users don't need Spotify Premium anymore to download Spotify playlists makes it an excellent tool. Here are some features of the SpotiKeep Converter.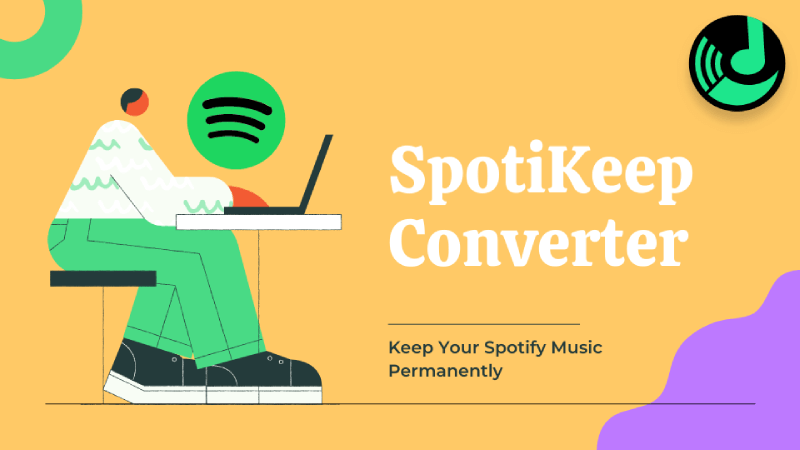 Protection against DRM( Digital Rights Management)
Customizable music output formats and storage locations
High-Quality audio with a similar resolution to Spotify
Original metadata information keeps the artwork, artists, and song information
No need for Spotify Premium Account
Feature quick downloads for instant offline music
Club the above features, and you may have the best Spotify Playlist Downloader. The fact that SpotiKeep offers similar quality on both Mac and Windows makes it more fascinating. Click the download links below to Download SpotiKeep for Mac and Windows.
SpotiKeep offers separate optimized versions for Windows and Mac. We will explain the download process for both platforms below. Now that you have your hands on the Software, let's see how to convert Spotify Playlist to MP3.
Step 1: Go to SpotiKeep Spotify Music Converter. Click on "Open the Spotify Web player "and log into your Spotify account. It doesn't matter if you have a Spotify Premium account or not. Users can use SpotiKeep Spotify Music Converter with the free version of the application.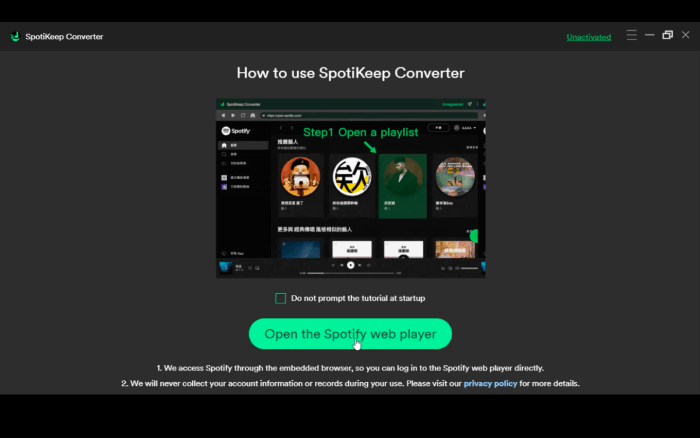 Step 2: Search for any playlist that you want to download. Now open the playlist you want to download. Click on the green toggle with the + sign. Tap on "Please Open a Playlist".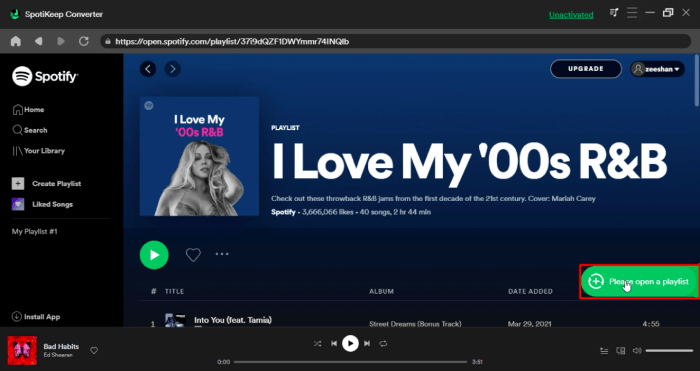 Step 3: Format the output format of your songs by clicking on the MP3 toggle at the top. Users can also change the output formats of each piece through the Output Format option in each slot.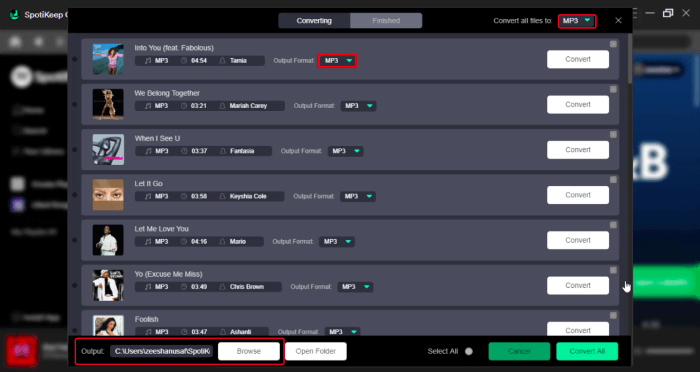 There is also an option to customize the storage location of your songs. Click on the browse at the bottom and save any location you want.
Step 4: Now that you are all done with the pre-settings. It's time to download the Spotify playlist. Click on "Convert All" at the bottom right of your screen. Each piece will have an ETA. Once the ETA is down to zero, you can go to the download location. You can do almost anything with the song. Sharing, editing, and transferring are more than easy now.
2. AlltoMP3: Free Spotify Playlist Downloader Online
AlltoMP3 is a multi-platform downloader for Youtube Music, SoundCloud, Spotify, and Deezer. Users can simply drop down the link to the song that they want to download. And convert it into MP3 local audio files.

This application is available across Windows, Mac, and Linux. Easy to Install, Easy to use, this Spotify Playlist downloader is an online tool that decrypts Spotify music to MP3.
3. SpotiFlyer: Spotify Playlist Downloader APK for Android
SpotiFlyer resonates with similar energy to that of all other Best Spotify playlist downloaders online. This is also a multi-platform downloader, including options for Gaana, Youtube Music, SoundCloud, etc. Search for any song you want, and click on the download icon next to any result that you want to download.
Clean aesthetics and free from any activation, this tool is among the best Online Spotify downloader tools.
4. Pros & Cons of Using a Spotify Playlist Downloader
Every piece of tech is a compromise. The same is true for Spotify Playlist Downloader. Let's evaluate the pros and cons of using Spotify Playlist Downloaders.
Pros:
Easy to navigate and download
Offer multiple output formats
Customizable storage locations
Premium Spotify Playlist Downloaders may offer customizable audio formats
Plenty of practicality and functionality
Users own the music
It's easy to share, edit or use
Cons:
Most Spotify Playlist downloaders are paid tools
Some Spotify Playlists downloaders might feature ads
Final Verdict
Spotify is the leading music streaming application with the most subscribers globally. Such peak figures mean more third-party applications increase Spotify user experience. Today we have concluded the debate on the best Spotify Downloaders. These Spotify playlist downloaders are a well-received addition making the lives of millions of customers more enjoyable. We mentioned a total of three best Spotify downloaders and then evaluated their pros and cons below.
Please let us know in the comment section if you have anything unclear about the topic. Also, do visit our "How-to" section for more topics like this one.
Apple Music Converter
Convert and Save your favorite songs from Apple Music Permanently for Free.
Don't miss a moment of the Music you love.
Spotify Music Converter
Download Spotify songs, albums and playlist Permanently for Free.
Don't miss a moment of the Music you love.