As you know, music energizes you when you got tired. But how do you get the latest music? Spotify Discover Weekly recommends new songs based on your music taste every week. Eventually, you would feel Spotify Discover Weekly as your 'bosom buddy'. Like in childhood, your best friend knows your interests well. In the same way, Spotify Discover Weekly provides you with automated recommendations every week. It is fun to be around.
Part 1. How does Spotify Discover Weekly Work?
When you open the Spotify application, you can get an excess of millions of tracks just in time. People prefer to listen and enjoy small sections of their favorite songs. Spotify discovers a compelling solution for them. This is called "Spotify Discover Weekly."
Spotify Discover Weekly bestows a gift to its 345 million users with a playlist of 30 songs every Monday. Listeners heard these songs a decade ago, or they have never heard. They feel euphoric.
Spotify Discover Weekly History
If you use Spotify for two weeks constantly, a blended new Spotify playlist seems on the screen. It is called Spotify Discover Weekly. Spotify is an application from where you can enjoy a wide variety of music. You already know the gist of it. Artists across the globe do participate in it. But is the Spotify Discover Weekly always a part of it?
Definitely "NO."
Spotify launched this new feature in July 2015, and it was a " Hack Week Project" basically built out of a group. They took a week off from their busy routines and worked hard on it. The workers seem passionate about technology. They noticed the musical culture almost a decade ago. The team found ten years of streaming data and started inventing new things regarding music. The squad brought it in inside of the Android applications and IOS. The objective was to put it in an app.
A question arises here that how Spotify Discover Weekly recommend the songs so reasonably? You can find the answer in its algorithms.
Use of Specific Algorithms
Spotify is a default setting specified for the algorithm for the song, album, or any curated playlist. For the listener approach, these specific algorithms customize the content of each user. It's need-based. A single listener can take his music and get into these algorithms-based features of Spotify. Algorithms work based on specific points mentioned below.
These algorithms make the taste profile of the listener. It depends on how much time the listener enjoys the same track. Which type of music he preferred. Either listener saves the song or not? All these factors create a taste map of the listener in the Spotify algorithms.
Spotify also does content-based filtering. The Descriptions of user profiles are compared.
By considering all of the above, Spotify Discover Weekly draws out the results. The algorithm looks for that these songs are played in other Spotify users' playlists. If the soundtracks are in specific orders, It makes connections between users. Spotify Discover Weekly updates your playlist by sandwiching a song between your favorite ones. This song may be new for you, or you heard it many months ago.
Spotify Discover Weekly Reset
The recommendations of new playlists are not a revolution. Different industries do so. Like when you shop a new book by Amazon, you are recommended by others too. Again, if you watch a series on Netflix, it suggests more. This is the same thing Spotify offers. But the difference is its advanced technology. According to the listening habits of diverse people, Spotify algorithms work. It updates the playlists regarding their music interest.
You can't reset Spotify Discover Weekly. However, you can tag the music on your Spotify Discover Weekly as "Loved" or "Don't like" so that Spotify knows your music tastes better.
Part 2. How to Download Spotify Discover Weekly Playlist
As you already know, Discover Weekly is a personalized playlist of new songs. It is a batch of recommended songs you like, plays, and share the most. You get more new streams. Sometimes this fascinates you. But sometimes you want to listen to the songs of the previous playlist. Do you want an antidote to it?
I'll fix you up!
You can download or save the music you enjoy the most. Some people have an issue with downloading. Here are some simple, quick steps. This would make it understandable for you. If you have a free account of Spotify, take heart. You can't download music from there.
How to Download Spotify Discover Weekly Playlist on Spotify
Step 1. Open the Spotify Application and tap on "Your Library". After this, tap on "Playlists."
Step 2. Scroll down the button to find your Spotify Discover Weekly. Tap to open it.
Step 3. Enable the download button if you want to download the whole Spotify Discover Weekly. The entire playlist takes a specified time to download. Now you can relish the same songs even after the playlist update.
Restrictions While Downloading Spotify Music
Spotify gives you an option to download or save the playlist songs. But it has some limitations.
Spotify users can have access to download the songs on up to five different devices.
Users can download up to 10,000 songs. These songs can excite you even offline.
How to Save Spotify Discover Weekly as New Playlist
Some people have an issue with their phone storage. Spotify Discover Weekly playlists can drain your phone storage. So, there is an option for you to save selected songs. The strategy is described in simple steps below.
Step 1. Go to "playlists" and tap "Following." The whole library can't save. You can add your most favorite songs.
Step 2. Tap on the "three dots" icon on the right side of the song you want to save.
Step 3. If you want to save the song, tap on "Like."
Step 4. If you want to repeat the song in your upcoming playlist, tap on "Add to playlist."
Step 5. In the end, tap "Create Playlist."
Step 6. Enter a new name for the playlist. Put in your favorite songs from the Spotify Discover Weekly playlist.
Download Spotify Discover Weekly Playlist without Spotify Premium
Some people also want to share and cherish their music with beloved ones. SpotiKeep Converter is a powerful music converter. Now you can convert the songs in MP3 format. This action would save the music on your local device. People can share and enjoy the songs at any time by this rotation. The simple phases of its conversion are here.
Step 1. Install the SpotiKeep Converter application to your computer. You can download it on Windows or Mac. Do which is feasible for you.
Step 2. After launching the application, copy the link of the Spotify album, playlist, or a single song.
Step 3. Paste the URL link to SpotiKeep Converter space.
Step 4. Tap on the " Add File" button.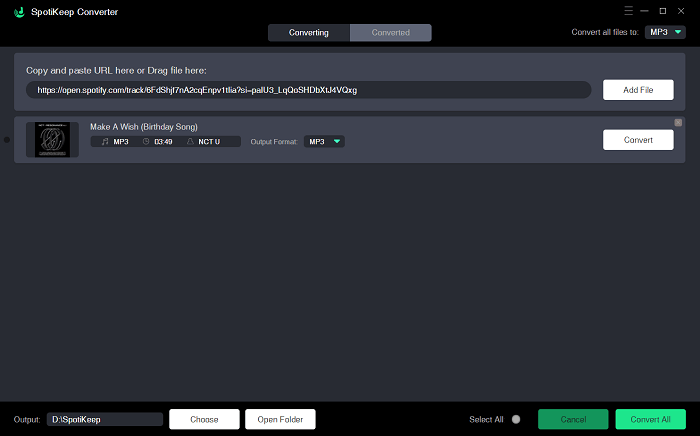 Step 5. Adjusts your relating format like MP3, M4A, etc.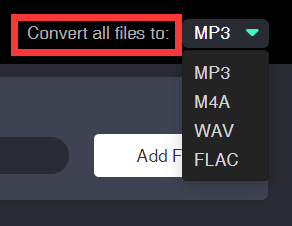 Step 6. Click "Convert." The converting process would take some time. You receive the downloaded songs in your local files soon.
Part 3. How to Find My Spotify Discover Weekly Last Week
Every week Spotify generates two new playlists for you approaching your interest. There is also a Release Radar which releases music of your preferences. It releases a new song every Friday Morning.
But sometimes, you don't get a new update. There can be multiple reasons behind this. Some of them are listed here.
Spotify Discover Weekly Not Updated
If you are not using Spotify Discover Weekly playlists for a couple of days, this could be a problem for you. It results in the cancellation of the new update. Sometimes just one playlist doesn't update. There might be some technological problem.
Not to worry in this case. I have some easy steps for you. These would make a way to keep you in tune.
Step 1. Log in from your computer.
Step 2. Go to Browser and then tap on Discover.
Step 3. Follow the Spotify Discover Weekly. Your Spotify Discover Weekly has been updated now.
Step 4. Log out to get back log in.
Now your playlist has been updated.
Spotify Discover Weekly Gone
If you move towards another country or region, the system will take some time to refresh. Don't make yourself stressed in this case. The system takes time to generate new Spotify Discover Weekly playlists. There is a particular reason behind it. The content varies from region to region. That's why Spotify adjusts your music according to the content availability.
Discover Weekly Archive
You can archive your playlist before a new update. As you already know, new updates come on Monday. On Monday early morning, go to Spotify Discover Weekly playlist and copy all the songs. Then move them to an archive folder. You can place thousands of songs there. Listening to them without internet access is also possible.
But recently, this function doesn't seem working. However, you can find out recently played songs. Anyone can enjoy them again. Here are some simple steps for their approach.
Step 1. Open a playlist that you have created yourself.
Step 2. Tap on " Add songs" on the roof.
Step 3. Move to "Suggested"
Step 4. Swipe left, and you would found the "Recently Played."
Part 4. FAQs of Spotify Discover Weekly
Q1. Why is my Spotify discover weekly gone?
Answer. If the region or country is changed, the Spotify Discover Weekly needs to be updated again. In some cases, it may take some time to recover. The reason is the content difference in various regions.
Q2. What is the reason if Spotify Discover Weekly not updated?
Answer. There may be different reasons. Some people join private sessions. Some don't use the app regularly. In either case, an update is a mandatory process.
Final Thoughts
Spotify Discover Weekly makes it easy to find some fantastic music. The additional aspects make you able to share your music with your buddies. Sometimes the updated playlist flatters you. If you are more into this, you feel more enthusiasm.
By downloading the Spotify Discover Weekly playlist to MP3, you can listen to the newly discovered music to boost your mood. To admire the pieces at any time, anywhere, use the premium version of Spotify. For many people, the primary hindrance is to deal with tiny technology problems.