If you are an audiophile, then you might have come across last.fm at least once in your musical journey. Last.fm pairs with all mainstream digital services to enhance the user experience. This time it's coping with Spotify to give a chance to improve an already excellent musical application. We will try to cover everything there is to know about Scrobble Spotify music with last.fm. Let's get started.
CONTENT Part 1. What's the Scrobble on Last.fm?Part 2. What's the Point of Scrobble Spotify?Part 3. How to Connect Spotify to Last.fm and Scrobble?Part 4. Pros & Cons of Last.fm Spotify ScrobblePart 5. Best Alternative Way to Scrobble SpotifyFAQs of Spotify Scrobble on Last.fmFinal Verdict
Part 1. What's the Scrobble on Last.fm?
Scrobble generally means doing something and then tracking or filtering it. Scrobble on Last.fm means you Scrobble music on Spotify and last.fm will analyze your music. This helps in tracking down your taste in music. Scrobble on Last.fm suggests new music based on your preferences. A lot of us find it hard to try new music or movies. Last.fm makes it easy and indicates only the music that sticks best to our personality.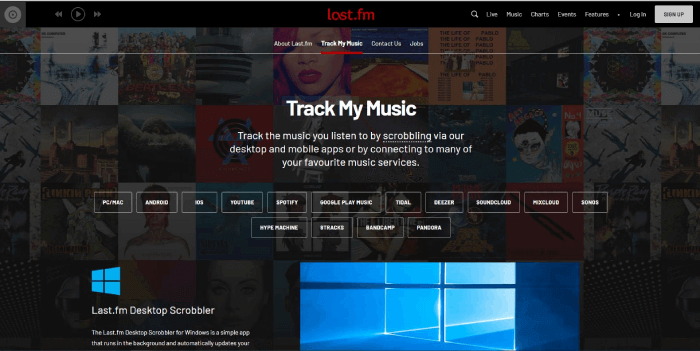 Scrobble on Last.fm connects with Spotify and many other mainstream services. It keeps check and balance of all music sessions and comprehensively analyzes the actual data. It's much similar to what local music players like VLC or Music Bee do with local music.
Part 2. What's the Point of Scrobble Spotify?
Speaking of music, it's highly subjective, and everyone has a particular taste for it. Time is money; not everyone has time to look around for the best music. So there should be software which can ease this task for us. Scrobble Spotify solves this problem for you. It scans your ongoing music and keeps a record of it. Then it analyzes your previous music playbacks and comes up with suggestions. You can always open the recommendations page on last.fm for tips. Users can also view their records to know themselves better.
Part 3. How to Connect Spotify to Last.fm and Scrobble?
Connecting Spotify to Last.fm is simple and easy. Here is how to connect Spotify to Last.fm and Scrobble in 3 steps.
Step 1: Visit Last.fm and sign in.
Step 2: Next up, click on the profile in the top right corner. Then tap on settings. Then choose applications.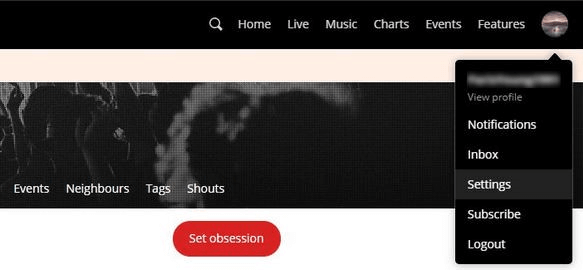 Step 3: Click on connect. Allow permissions for your Spotify account. And then, choose Spotify Scrobbling.
Part 4. Pros & Cons of Last.fm Spotify Scrobble
No software is perfect. And there are always some compromises. So here we will discuss the pros & cons of Last.fm Spotify Scrobble.
Pros:
1. Free offline downloads
Non-premium users of Spotify can store up to 50 songs offline into the last.fm.
2. Private sessions
Suppose you enter into Spotify private sessions, Last.fm Scrobbling will not be applicable after this point. Bear in mind it will terminate your subscription for Last.fm Spotify Scrobble.
3. Time saver
Whenever you feel bored or in the mood to try new music, you will always have it on your sleeves so that you don't have to spend hours finding the music of your taste.
Cons:
1. Privacy concerns
Though Last.fm explicitly says it will not share account details or music history with any third party. There is still concern about Spotify credentials and sensitive user information. If you are one of those users sensitive to privacy, Part 5 may be your best shot.
2. Connection issues
Spotify Scrobble by Last.fm can cause connection issues due to an added software layer. So you may have to reconnect several times in some cases.
Part 5. Best Alternative Way to Scrobble Spotify
Some users may feel it absurd to connect external support to their Spotify. Some may be too conservative for their privacy and taste for music and do not want third-party applications. Those people can enjoy the Scrobbling effect with their local music via inbuilt applications like VLC, Bread Music Player, etc. These players have inbuilt algorithms to analyze your music taste based on your history. So the only door left to open is Spotify offline music. No one can access Spotify music other than Spotify itself.
We have a solution to your problem. SpotiKeep Converter. It's a digital converter tool that converts your Spotify music into local music with just a few clicks. SpotiKeep does not access personal information, and it's just a downloader. Furthermore, you no longer need Spotify to download tracks, saving you 120$ annually.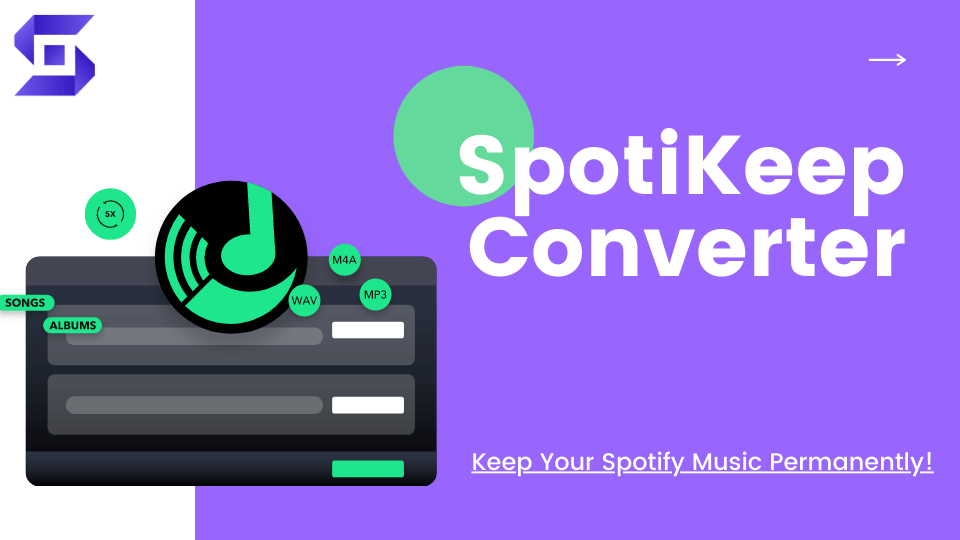 Let's have a look comprehensive list of features of the SpotiKeep Spotify converter.
Protection against DRM (Digital Right Management)
Loads of customization for audio formats, metadata, ID3 tags, and storage location
High-Quality music similar to that of Spotify
Copies metadata information so the tracks look and feel the same
No need for Spotify Premium anymore
No need to connect last.fm to analyze your music
The features mentioned above make SpotiKeep Converter a handsome deal. So if you are wondering how to convert Spotify to MP3, here is how to do so in 3 simple steps. But beforehand, make sure to download SpotiKeep Spotify convert from below.
Step 1: Open SpotiKeep Converter. Log in with your Spotify free or premium version. You can have a whole experience with the accessible version of Spotify, eliminating the need to pay a $9.99 monthly subscription.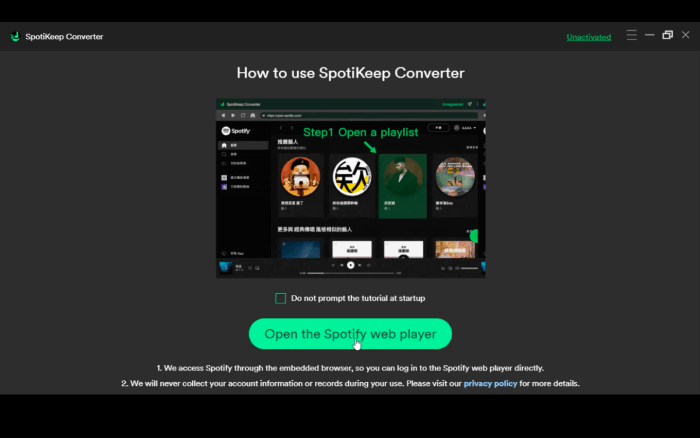 Step 2: Search and Select any song/playlist to download. Then click on the green "Please Open a playlist" toggle towards the right side of your screen.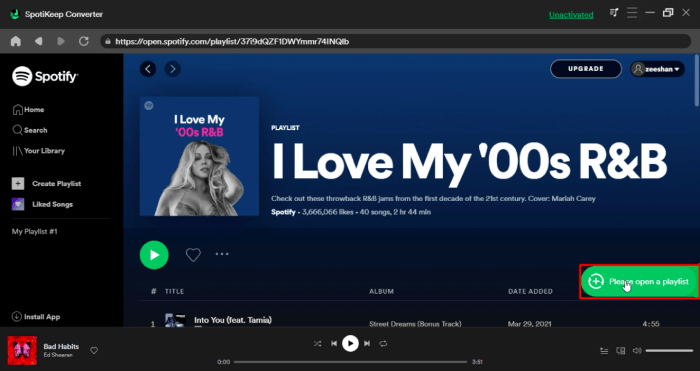 Step 3: Now, it's time to customize your song. By default, it's set to MP3 format, and the default storage location is Disc C on your computer. But you can always customize the output formats from the slide-down menu in the top right corner. You can also alter the storage location of your song from Browse on the bottom left of your screen.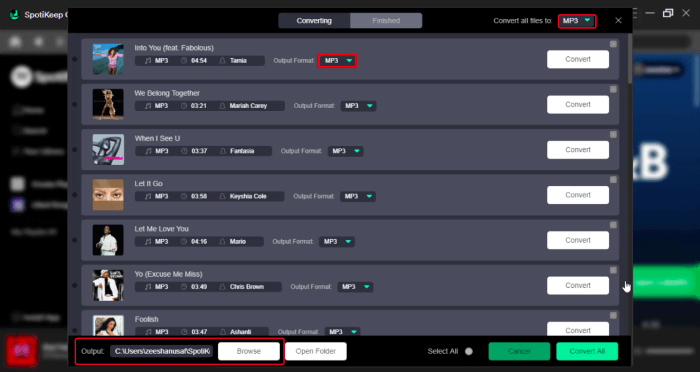 Step 4: Click "Convert All" at the bottom right or press "Convert" next to each song for individual download. You will see all your pieces converting in an instant. You can find those songs in your local storage once it's complete. The downloaded music is now permanent; you can share, edit, or transfer it to any device.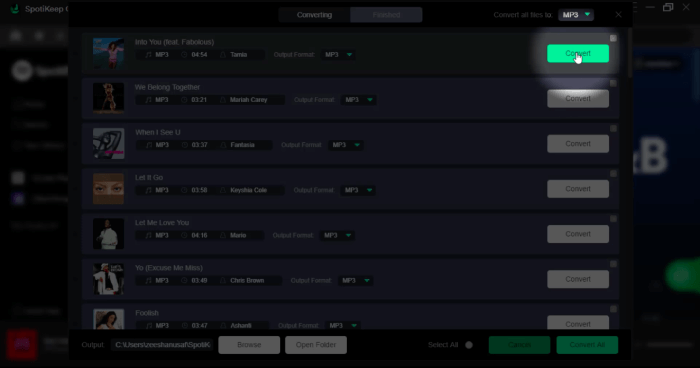 FAQs of Spotify Scrobble on Last.fm
1. Is Last.fm Scrobbling Safe?
A lot of users have privacy concerns using Last.fm Scrobbling. Anyone with last.fm access for your account can see your detailed music habits and analytics, which is a privacy concern. Though Last.fm mentions that it does not share user data with a third party, some users are skeptical about this approach.
2. How do I Get Rid of Scrobbles?
Step 1: Log in to last.fm. Click on the profile at the top right.
Step 2: Click on the library. Click on the three vertical dots next to each song. Click on delete Scrobble.
3. Spotify Scrobbling to Last.fm Not Working?
Last.fm has some bugs and glitches. Though these issues are resolved in a day or two, you can do the following to ensure the error isn't on your end.
Logging in to last.fm
Check its connectivity with Spotify by scrolling down to the bottom, clicking on Track my music, and clicking on
You can also visit the FAQ section form last.fm for support and queries
Final Verdict
Spotify Scrobbling on Last.fm is a significant contribution to knowing your music better. Recommendations on last.fm are much more reliable and relatable, making music listening more enjoyable. Suppose you are planning to Scrobble your Spotify with last. fm. We have mentioned everything there is to know about how to connect Spotify to last.fm. Have any queries? Please let us know in the comment section below.
Apple Music Converter
Convert and Save your favorite songs from Apple Music Permanently for Free.
Don't miss a moment of the Music you love.
Spotify Music Converter
Download Spotify songs, albums and playlist Permanently for Free.
Don't miss a moment of the Music you love.