Tesla has sold 473,136 cars in the first eight months of 2021. And it's still one of the highest-selling stocks in the market. With this many users, it's imperative to know all the features you get along with these expensive electric cars.
Tesla first began to support Spotify in 2019 with its 10.0 version. We have seen Tesla and Spotify explode and attain a massive number of subscribers in the past three years. Collaboration of both means you can now play Spotify in Tesla. Learn how to Play Spotify In Tesla below.
CONTENT Part 1. Does Tesla Premium Connectivity Include Spotify Premium?Part 2. How to Play Spotify in Tesla with Spotify Premium?Part 3. Play Spotify in Tesla without Spotify Premium?FAQs of Spotify in TeslaFinal Verdict
Part 1. Does Tesla Premium Connectivity Include Spotify Premium?
Tesla can access many mainstream digital services since it rolled out its premium connectivity feature. There is a lot more to the connectivity package with Tesla, which includes active navigation, internet browser, video and music streaming, and more. The 10.0 update allowed Tesla users to stream Spotify directly from the central center console.
But the question is, does Tesla Premium Connectivity include the Spotify Premium package in its monthly $9.99 subscription?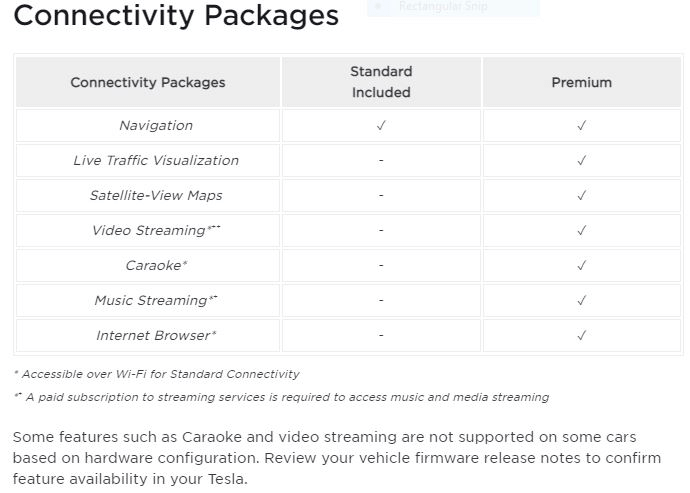 No, it only opens the passage to connect to the service. Premium connectivity is only a connection to access most of the digital services. You have to pay for premium services like Spotify and Netflix to be able to use them.
Part 2. How to Play Spotify in Tesla with Spotify Premium?
In the past few years, Tesla has nailed its connectivity with all of the mainstream digital services. Spotify, Netflix, Amazon, YouTube, and whatnot, Tesla now feature everything with TesPlayer. TesPlayer is like a gateway to access your media. Here is how to play Spotify in Tesla with Spotify Premium. This method works for all Tesla models.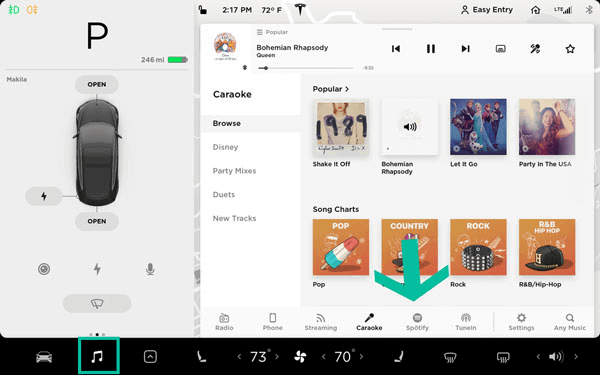 Step 1: Connect your phone with Tesla. Your smartphone should have a Spotify application.
Step 2: Tap on Bluetooth from Tesla main screen. Set your device as the media source.
Step 3: Open the browser on your Tesla, and log in to TesPlayer at the following address https://tesplayer.com/. You can now enjoy Spotify premium on your Tesla.
Part 3. Play Spotify in Tesla without Spotify Premium?
You can use Spotify music and all premium features without having to pay for it. You can quickly transfer all of your Spotify libraries into your local music. And use it on any of your devices with a USB or Micro SD card support. Not only Tesla, but you can also copy that to your PC, smartphone, and other compatible appliance.
SpotiKeep Spotify Music Converter is your all-in-one solution to your music problem. It's a digital converter tool that replicates Spotify music into your local store, And you don't need any internet connection since it's authentic local music. You can customize and make it any format you want with just one tap. At the same time, everything else remains the same, including ID3 tags and music information. Suppose you are a streamer or record videos while driving. In that case, the DRM (Digital Right Management) removal will prevent any copyright claims. . There is no limit to offline downloads like Spotify.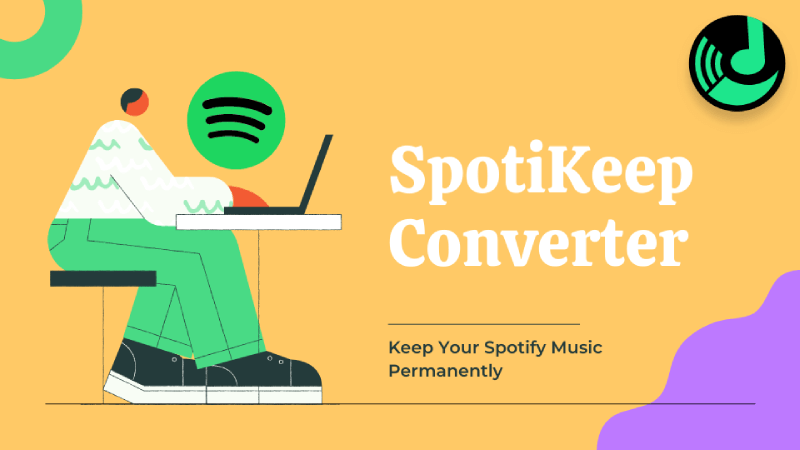 Here below are some features of the SpotiKeep Spotify Music Converter.
No DRM protection
Customizable content, including formats and storage location
No download limit
NO need for a Spotify premium account
High-quality audio same as Spotify premium up to 320 kbps
High download speeds right into your local storage
Download Spotify Music to Your Computer
First of all, please download the software now for Windows and Mac below.
After installing the program, let's go with the step-by-step process of how to convert Spotify Link to MP3.
Step 1: Launch the SpotiKeep Spotify Music Converter and log in with your Spotify account. It doesn't matter if it's a free or premium account. Once you log in, you can see your Spotify interface right within the application. This way, you can save up to $120 annually.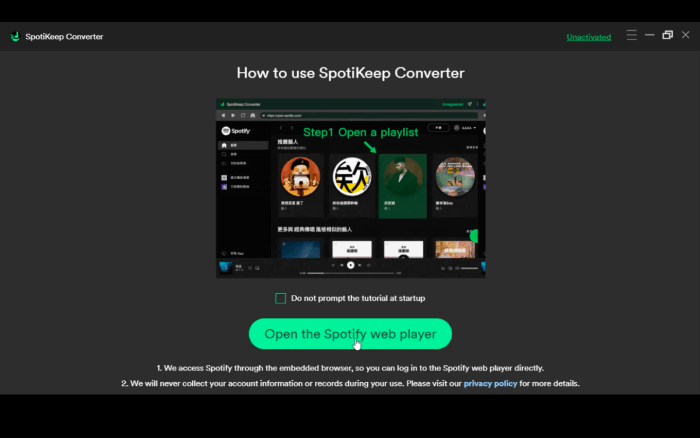 Step 2: Search or Select any song that you want to download. Open that song. You can see the green toggle on the right of your screen. Click on in and then press Please Open a playlist. This will download that particular song or playlist.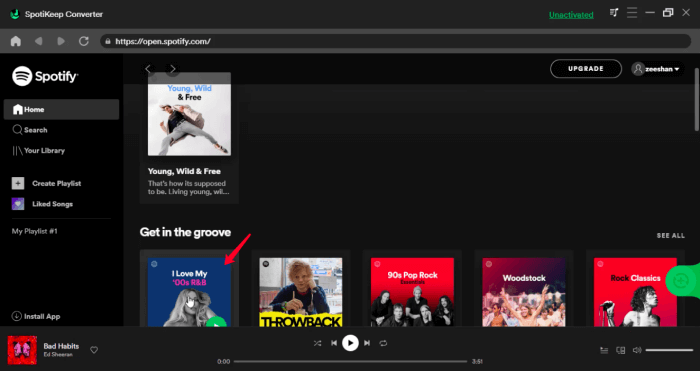 Suppose you are planning to download all your favorite songs. Then go to the playlist you have made for your favorite songs. Or drop all pieces that you want to download in the new playlist. Open it and then tap on Please Open a playlist. You can download all of your Spotify playlists with one click.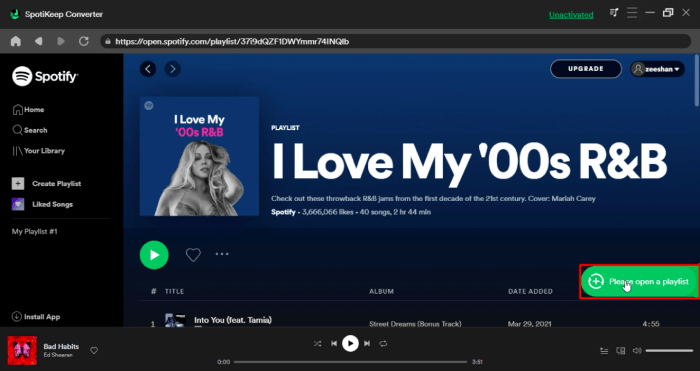 Step 3: Next up, customize the output format of your song. Click on output format next to each piece if you want to segregate songs with different audio formats. But if you're going to keep the same audio format for all of your songs. You can tap on the output format option on the top right of your screen.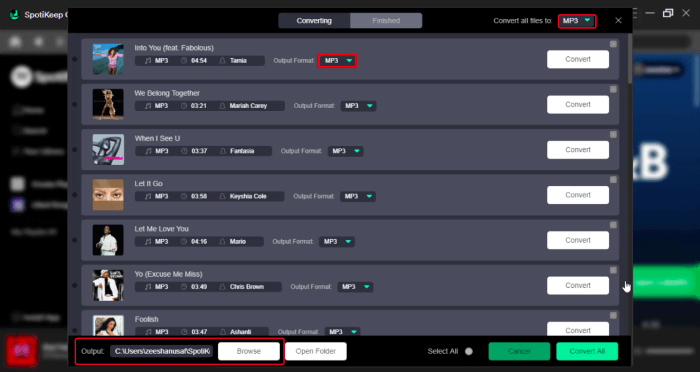 Change your storage location from the browse option at the lower left. Select any location from your PC and click on Save.
Step 4: Make all that magic happen at once by clicking on the Convert or Convert All button. The download will start instantly, and you can find it in your local storage. The download is permanent, and you don't have to renew any subscription to retain the music like Spotify. You can move your music across any device or external storage, as explained in the step below.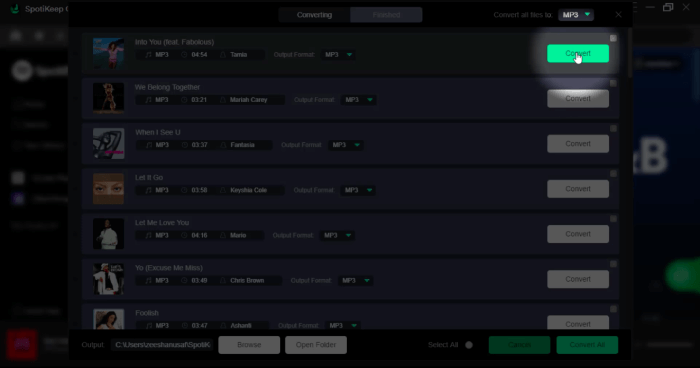 How to Play Spotify Music from USB on Tesla
Now that you have all of your music from Spotify in your local folder. You can copy or move your songs anywhere. To play Spotify music on Tesla, you have to transfer the music files via a USB. Here is how to transfer downloaded music to a USB.
Step 1: Connect USB to your PC. Then Open the music folder, where you have all of your music from Spotify.
Step 2: Right-click on that music folder. Click on Copy. Then go to the USB drive on my computer.
Step 3: Make a right-click in the USB folder and click on Paste. The whole music folder will copy in the USB folder.
Now that you have your music on the USB. The next step is to play music from USB on Tesla.
Step 1: Connect a USB to your Tesla. You can see USB in the side menu. Select USB in the menu item.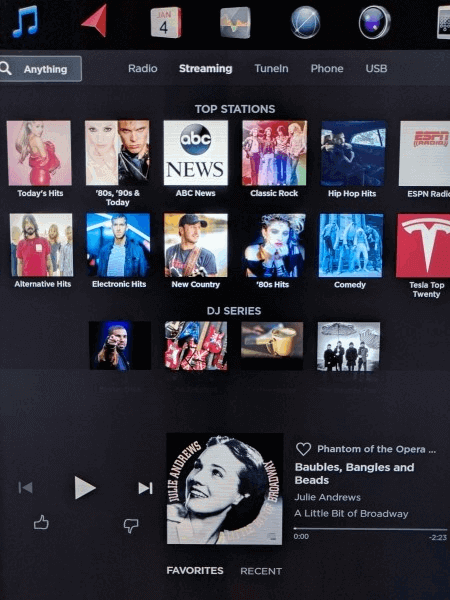 Step 2: You can see the music content in front of you in organized songs, playlists, Genres, folders, and more. Navigate to any song you want to play, and it will begin to play.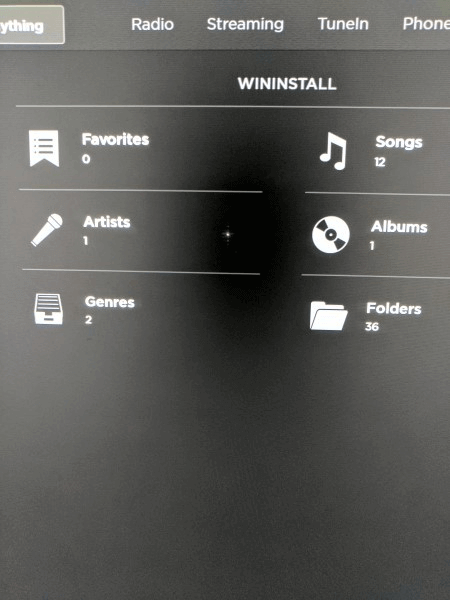 FAQs of Spotify in Tesla
1. Is Tesla streaming music free?
Tesla offers a premium connectivity package that allows users to access all kinds of media from renowned sources. It doesn't come free and has a paid membership of $9.99 per month. Visit Tesla Connectivity for more information.
2. How do I get Spotify in my Tesla Model 3?
You can connect Spotify to tesla Model 3 directly by following steps:
Step 1. Connect your smartphone with the Spotify application to Tesla via Bluetooth.
Step 2. Open Tesla Browser and log in to Enjoy Spotify premium from thereon.
Please visit Part 2 and 3 for the complete procedure to play Spotify on Tesla with and without Spotify premium.
3. How can I play Spotify on my Tesla Model Y?
Tesla has the same method for connecting to Spotify. Hover over the process mentioned above to connect to Spotify on Tesla Model Y.
4. Can you put Amazon Music on Tesla?
Amazon Music doesn't integrate with Tesla on any market. But you can connect it via Bluetooth of any device and stream wirelessly.
Final Verdict
Spotify is a leading music streaming application worldwide. If you have come this long, you already know Spotify can connect and provide excellent music streaming applications if you don't know how to play Spotify in Tesla with or without Spotify premium. We have mentioned both ways above, along with a bit of FAQ section for your insight. Let us find the answer to your queries. We take all of your responses very seriously, so drop them in the comment section below.
Apple Music Converter
Convert and Save your favorite songs from Apple Music Permanently for Free.
Don't miss a moment of the Music you love.
Spotify Music Converter
Download Spotify songs, albums and playlist Permanently for Free.
Don't miss a moment of the Music you love.