Can you download music from Spotify? Yes, you can surely do it. With the app, you can easily find, listen and download your favorite Spotify music. However, the music you download from Spotify is DRM-Protected. Therefore, downloading Spotify music only means you can listen to it offline on the app. You can't share it or copy it to other devices.
You are even required to have your Spotify app connected to the internet once every 30 days. If you don't do so, you might lose your downloads. In a word, you can't own the music you paid for.
So how do you download Music on Spotify and save them as your local files? This article will thoroughly show you other methods on both computer and phone.
CONTENT Part 1. How to Download Music from Spotify to PCPart 2. How to Download Music from Spotify to PhonePart 3. Can You Download Music from Spotify for Free?Final Thoughts
Part 1. How to Download Music from Spotify to PC
Solution 1. Download on the Spotify Desktop App
First of all, open any of your playlists on Spotify. You'll see a Download toggle on the top of the playlist. Tap on the toggle to turn the download mode on, and your playlist will be downloaded immediately.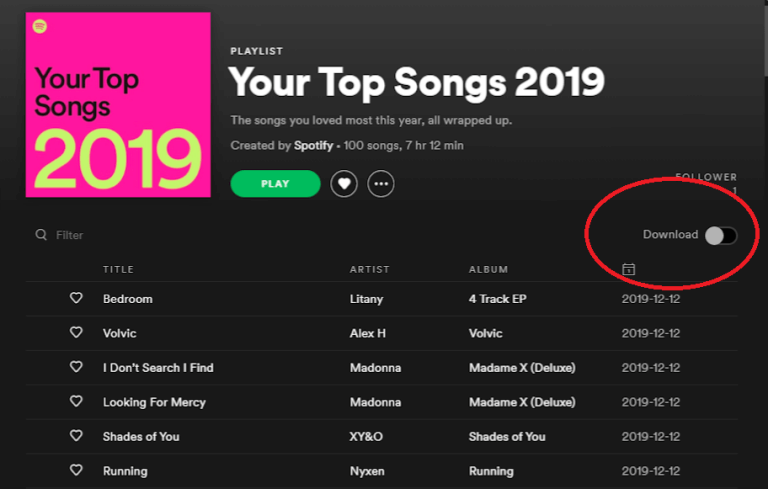 Solution 2. Download Spotify Music with SpotiKeep
If you want to listen to your Spotify music without the Spotify app, you should use a 3-rd party program to save your Spotify music as local MP3 files. SpotiKeep Spotify Music Converter is a software designed to help you convert online music from Spotify into local files without DRM restriction so that you can enjoy them everywhere, whenever you like.
The software is easy to use. You can download lossless Spotify songs, albums, and playlists and convert them into standard file formats which can be viewed by other software and devices. All the information, such as title and artist, will be preserved.
The following is a step-by-step tutorial on using SpotiKeep Spotify Music Converter. Now download and install the converter and start the Spotify music-downloading journey with us!
Step 1. Open the Spotify webpage by SpotiKeep like you are using a regular browser. Log in to your Spotify account within the converter.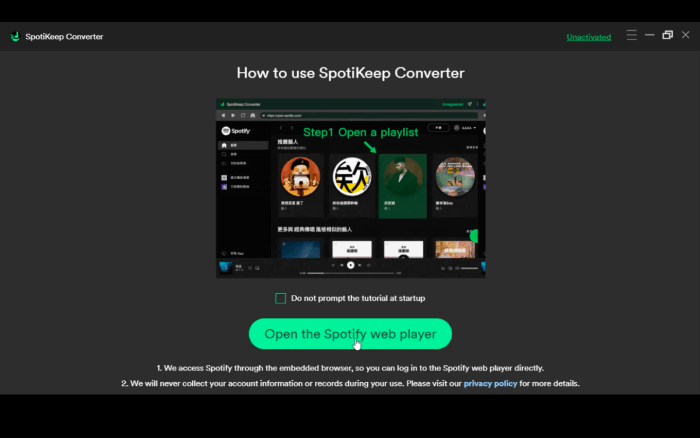 Step 2. Find the album or playlist you like or create a new playlist and move all the songs you want to download into it. Next, click the green button surrounded by a red frame in the picture.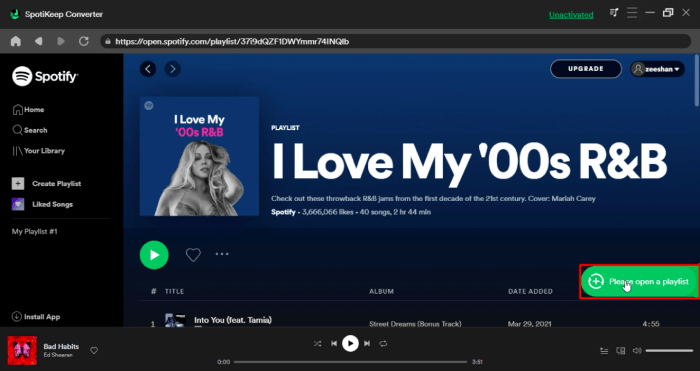 Step 3. This next pop-up window will provide you with detailed settings for the download. You can change the location of your downloaded files. The output formats SpotiKeep provides are MP3, FLAC, M4A, and WAV. Now, let's start converting your Spotify music to MP3.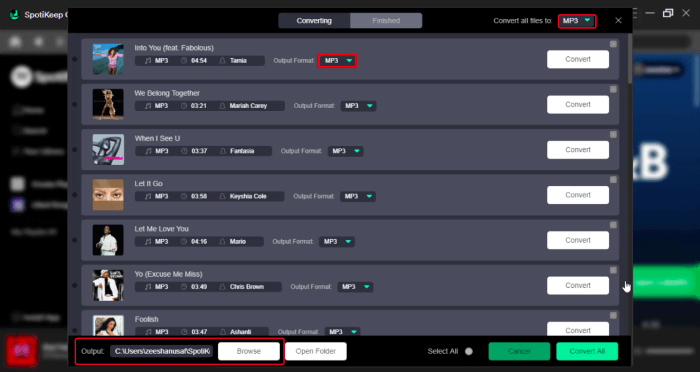 Step 4. You can also download your music piece by piece by clicking the green button on the right side of each song. You can also download all your tracks by clicking the green Convert button on each song. You can find your files in the right location when the download completes.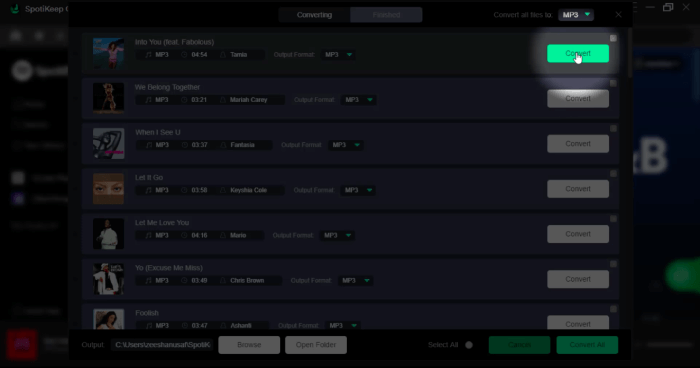 That's it. You've successfully downloaded your beloved Spotify music to your computer. SpotiKeep Spotify Music Converter is free for new users for one month. After that, you can decide whether to join the registered version.
Part 2. How to Download Music from Spotify to Phone
Solution 1. Use the Spotify Mobile App
Here is a tutorial with screenshots on downloading Spotify music to your iPhone and Android phone. The left part of the picture is from an android phone, and the right half is from an iPhone. Their interface is slightly different from each other.
Step 1. On Spotify, you can only download music from albums or playlists. On Android, the toggle for download is right-located at the top of the songs, while on iOS, it is an arrow on the left side.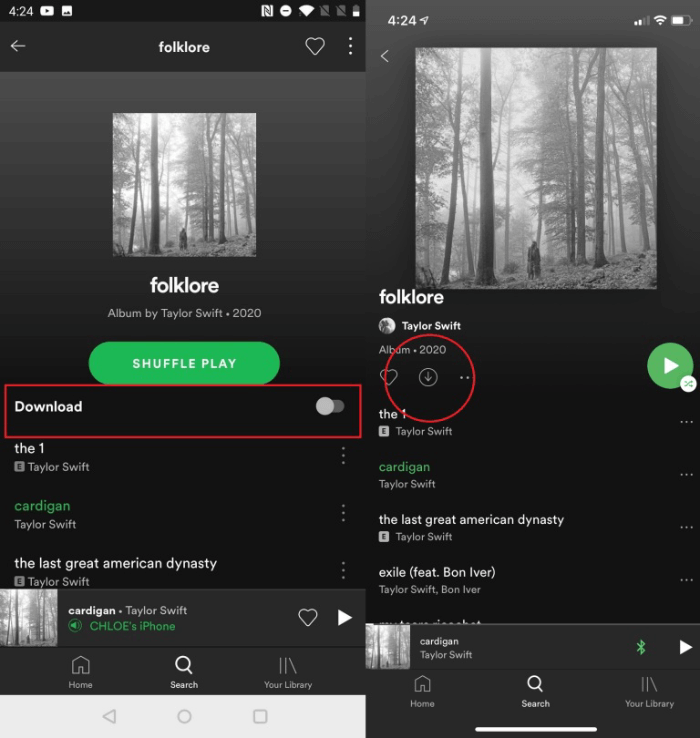 Step 2. Once you start downloading, there will be an arrow under each song in your list to indicate its status. The arrow will turn green after the download is done. When this screen appears, you can wait for the download to complete.
Step 3. Tap Library > Music; you can find all your downloaded music available to listen to offline. The green arrow under each item means you have already downloaded it before. You can play them on Spotify even if you don't have an internet connection.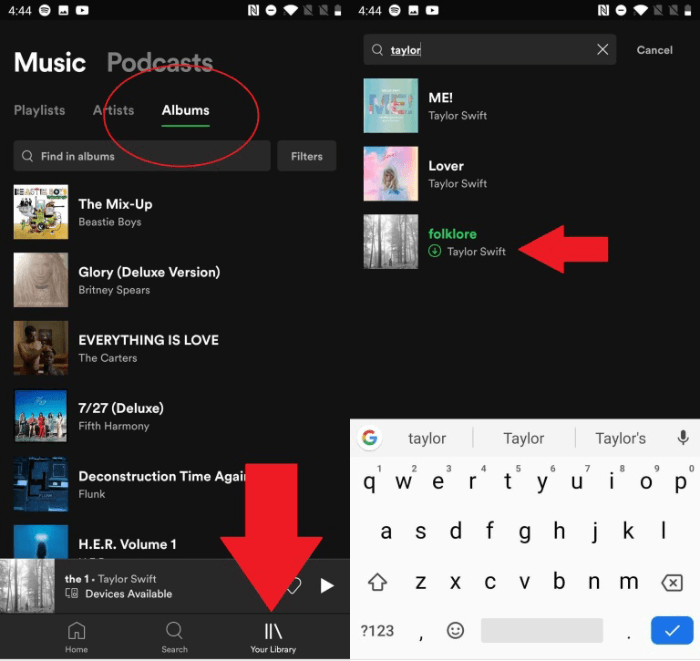 Spotify has an offline mode. In offline mode, you will only see music that has been downloaded and is available for offline listening. This is also a way to find music that has already been downloaded. To achieve this, you must find the offline mode toggle on the settings page and turn it on.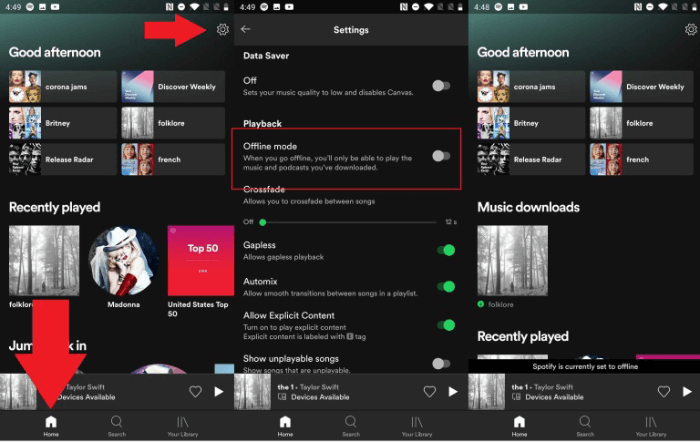 Solution 2. Download Music from Spotify to Phone without Spotify
You need to use a telegram bot called Spotify Music Downloader. The experience of this method is a bit different from the original Spotify platform.
Step 1. Open this bot on your telegram app.
Step 2. Click the bot to send messages to it. Send "/start," and the bot will tell you what to do next.
Step 3. The bot has several different functions. After you send your Spotify link to the bot, you can try them and see what it can do.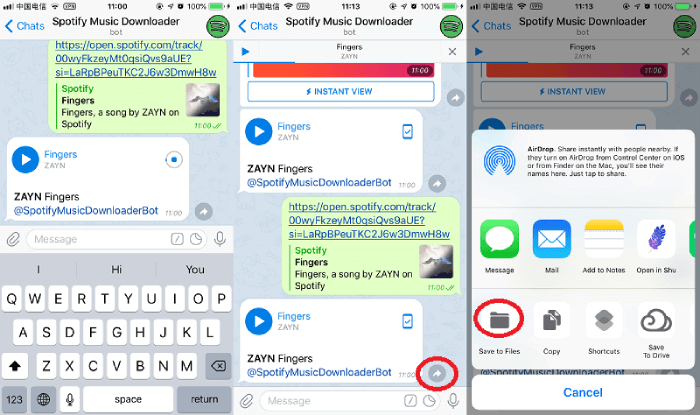 Part 3. Can You Download Music from Spotify for Free?
The answer is no. Music from Spotify cannot be downloaded for free. A Spotify premium user can download all kinds of stuff, including playlists, albums, and podcasts. A free user can only download podcasts.
If you're not a premium user, the only way to download songs from Spotify is to use a third-party Spotify music converter to rip the music. Here are two of them.
Final Thoughts
The only usage of official way of downloading Spotify music is that you can listen to them offline when you can't connect to the internet. But if you wish your downloaded Spotify music can be played elsewhere, SpotiKeep and the telegram bot are your best alternatives.
Although the telegram bot is free, it still lacks some features, such as batch download and supporting multiple formats. This method is for those who want to download one or two files occasionally.
On the other hand, SpotiKeep Spotify Music Converter is a better choice. This software has more comprehensive functions, and you can easily manage your downloads. SpotiKeep is the best option for those who want to download frequently and value usage efficiency.
Apple Music Converter
Convert and Save your favorite songs from Apple Music Permanently for Free.
Don't miss a moment of the Music you love.
Spotify Music Converter
Download Spotify songs, albums and playlist Permanently for Free.
Don't miss a moment of the Music you love.