Do cats like music? A research journal published in the name of Animal Behavioral sciences applies that cats respond to music differently. And it may be species-specific. The art of manipulating and certainly delight our little feline friends is no more a mystery. Researchers and musicians like David Teie found the best combination of music that cats enjoy. In this post, we'll list the five best cat music you're searching for.
Best cat Music
There are loads and loads of music, and some may even contradict cat music. So here is the list of some of the best calming music for cats.
It's a 15-hour long playlist on YouTube that you can play when going outside while your cat can relax and listen to music. That music is the cure to ill, stressed, and anxious cats. It helps them to sleep better and relax in your absence. The playlist is also present on Apple Music. The 30 songs in these albums are enough to pass on one long-lasting session that calms your feline mate down.
Music for cats is one of the most relaxing and influencing pieces for cats. The classical piano and heavy metal sounds drive anxiety out of our little friends and keep them happy. It's a 14hr and 19 min long playlist that lasts enough time to keep things in motion. The playlist holds some tracks of magical frequency specially curated to numb the anxious mind and help them relax by spiritual energies.
A true cat lover understands what David Teie lays upon cats. His work is magical for cats, and so is the best in class. You can find a short-held and hour playlist by David Teie for as low as 17$. Premium music for premium money is a deal, especially when it's as royal as David Teie. Explore David Teie playlists here. Music like Música Para Ojos, For I will consider my cat Jeoffry 1, Opus for Oliver and Fostog's Touch one is there.
Cats are great visualizers, and when this combines with the relaxing music in the background, it sure works. Cat TV on YouTube portrays similar content for cat loves to relax their cats while keeping them visually engaged and focus. This helps them dissolve anxiety and stress more quickly because of the fact that they focus on the video and eventually forget about the stress. It's an 8 hr. and 15 min long video that you can play on your Smart Tv while heading out of the home or even within the home at night when your cat can't sleep.
It's another verified channel on Spotify that provides you with great relaxing music for your cats. A collection of 10 songs that lasts 29 quality minutes. Soft classical and instrumental sounds will make your cat stress go away and make your little friend more engaged.
Rip Cat Music from Spotify
Though Spotify is a great application shortcoming like not being able to share the content with your other devices or having data all the time make things messy, well, the good news is you can rip off your songs or playlists from Spotify. It gets you free from limiting to the Spotify application, and you can carry around your song in most usable formats anytime. SpotiKeep Converter is an offline music ripper that rips your music from Spotify just at a few clicks. You can certainly enjoy the following features with this converter.
Removes the DRM (Digital Right Management) protection of the Spotify music
Retains the original ID3 tags of your songs, albums, or artists
Lossless audio quality with the option for batch download
High conversion rates for Mac and Windows. Up to 5x and 10x times, respectively
Customizable audio formats including MP3, MP4, FLAC, and WAV.
Operating the SpotiKeep Converter is as easy as listening online. Just a few clicks and it gets the job done for you. Let's have a look at the step-by-step guide.
Step 1: Download and install the SpotiKeep application on your computer. Then launch the application.
Step 2: Copy the URL of the song you want to download from Spotify. Paste it in the empty bar in SpotiKeep Converter. Click on Add File. It will hold up your song in the queue. You can repeat the copy-paste and press on Add File to save up more and more songs into the queue for batch downloads.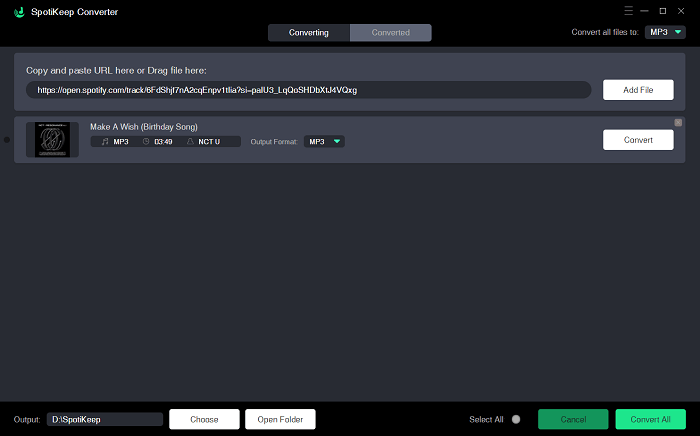 Step 3: You can change the output formats of your music in the top right corner of your SpotiKeep Converter. It is set to Mp3 by default. On the bottom left, click on the Browse option to change the storage locations of your music.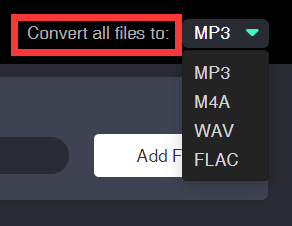 Step 4: Now click on the Convert located in the bottom right corner. You will have your song download in the local storage in just a few seconds.
Download Music for Cats on Apple Music
SpotiKeep converter has done a lot of things suitable for Spotify users. Now is the time to help Apple Music users because they indeed are in dire need to escape from the Apple ecosystem. Basic things like music for cats or even personal music is something one should own literally and not just tied to an application. Allow us to introduce the SpotiKeep Apple Music converter. It's an offline music downloader that downloads audio files from Apple Music directly into your device storage. Let's have a look at what it offers.
It prevents Copyright infringements by removing DRM protection.
Lossless audio quality
Retains the original ID3 tags
Customizable output formats including MP3, M4A, FLAC, AAC, WAV, and more.
High conversion rates to speed up your downloads. Up to 5x for Mac and 10x for windows are available.
Now let's get to the focal point of this writing - how to download music for cats on Apple Music. Here is your step-by-step guide.
Step 1: Download and install the SpotiKeep Apple Music Converter. Launch the application.
Step 2: Keep your iTunes open in the background, and the SpotiKeep converter will automatically sync with your Apple music library.
Step 3: After the sync is complete, you can see your whole iTunes library in the SpotiKeep converter. Click on any song you want to download. You can customize the ID3 tags and output format below.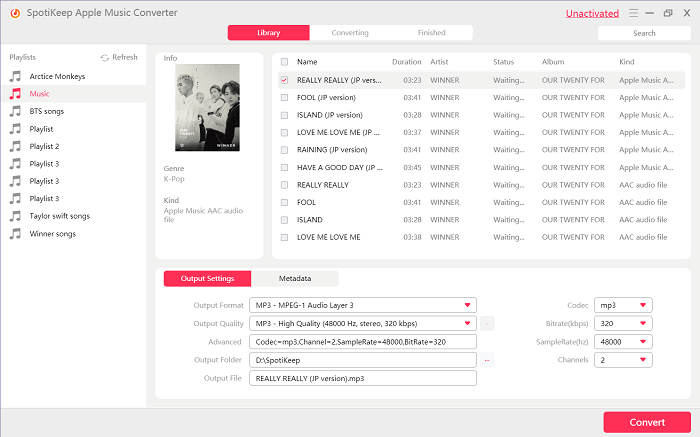 Step 4: After doing all of the prerequisites, press on Convert. Your Cat Music will download in a matter of seconds.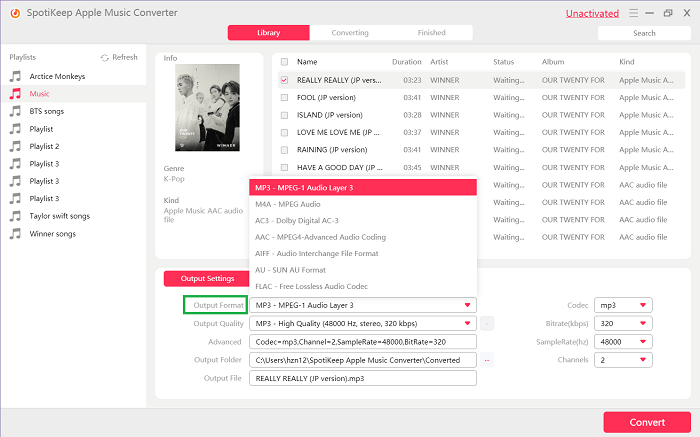 Frequently Asked Questions (FAQs)
What kind of music do cats like to listen to?
All species of cats respond differently to the music, but one particular genre calms out almost every species. Classical music with some light pop along with metallic vibes relaxes the cats. It's an observed fact that when subjected to this music, cats calm down before going to vets. There is also a gentle increase in pupil size, which shows how well they react to the music.
Does Playing music for cats help?
Yes, music for cats helps them relax, especially in situations where they had panicked, like going to the vet or suffering from some disorder. Music for cats helps them relax and soothes. Various researches held for the sake of observation of cats to the cat music backs the fact that cats tend to go calmer with classic, pop, and heavy metal music.
Do cats react to music?
Cats may not respond well to human music just because they don't like it. Researchers have made efforts to develop music with David Teie and other musicians to develop music for cats. And cats do respond well to these. A light flair of classical tunes, some pop music, and heavy metal sounds stimulate cats.
What sounds does a cat find relaxing?
Louisiana State University experimented with cats by playing some particular sorts of music. The results were quite interesting. The group of cats listening to classical music calms them down even in extreme conditions like going to the vet. Pop and heavy metal music tend to have the same results on these cats.
Final Verdict
We are attached to our feline friends, and when it comes to calming them, music seems to be the best solution. Put it out directly from your smartphone or download it via SpotiKeep converter to share it across any platform for a more harmonized experience. We have also laid down one of the best collection forms all over mainstream music applications for you. David Teie music is still the best music for cats, so you might want to get hold of it.
Let us know how well this guide helped you. Allow us to help you similarly by reading similar writings in our How-t0 section. If you have any comments, please leave them in the comment section below. We take your suggestions very seriously.