Classical music can profoundly affect your vibe, concentration level, and mood. Research from academics in the US and France suggests that students listening to classical music while studying get higher grades. Many people use classical music as a relief from stress, tension, and anxiety. A study conducted in England showed that the right music could help you combat stress.
Nothing can dictate our minds better than music; the trick is to choose the right genre and songs. So let's begin with understanding what Classical Music and the best classical music for a specific genre like study, kids, upbeat, calm, etc. are.
CONTENT Part 1. What is Classical Music?Part 2. Best Classical Music for StudyingPart 3. YouTube Classical MusicPart 4. Best Classical Music for KidsPart 5. Classical Music RadioPart 6. Royalty-Free Classical MusicPart 7. Sad Classical MusicPart 8. Dark Classical MusicPart 9. Happy/Upbeat Classical MusicPart 10. Calming Classical MusicPart 11. Disney Classical MusicFinal Verdict
Part 1. What is Classical Music?
Many people take classical music as any piece of music that is not jazz or hip hop, or any traditional piece of music. Such classification is wrong. Let's understand it briefly.
Classical music became well-known in the 19th century. And it resonated with the traditional music of western culture. You may find it familiar with all classical music that blends instrumentals with specific staff notations. Classical music doesn't confine to smooth and calm notes but it's much more than that. In the middle ages, it extended to sacred and secular music. It's nothing wrong in saying that classical music is one of the most sophisticated kinds of music.
Part 2. Best Classical Music for Studying
Music can make or break a revision session. Classical music can help you study as it provides isolation from outside noises. Calm notes of classical music released Dopamine. Dopamine inhibits stress hormones, which clarifies thinking – making tasks like essay writing and studying more enjoyable.
Classical Music for Studying on Spotify
This classical study playlist provides 28 minutes of support for your study sessions. Therapy Chords in this playlist help in keeping your mind focused and relaxed.
Download Classical Music for Studying from Spotify
Listening to music online from any online source can be problematic since it disturbs focus. To avoid procrastination, many students avoid active internet connections or the use of digital applications. What if you can download music from Spotify offline that is transferable and doesn't need Spotify? SpotiKeep Spotify converter offers true offline downloads in the simple steps below. Here is a full guide on how to download Spotify music to MP3.
Step 1. Download the SpotiKeep Spotify Music Converter via the following download buttons. Then install the converter on your computer and launch it.
Step 2. Click "Open the Spotify web player", and log in to your Spotify account within the converter.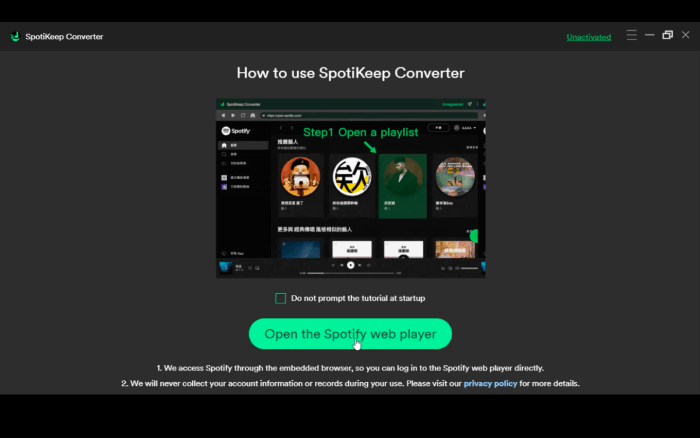 Step 3. Locate the album or playlist you want to download, or create a new playlist and add the desired songs to it. Click the green button to open the song converter.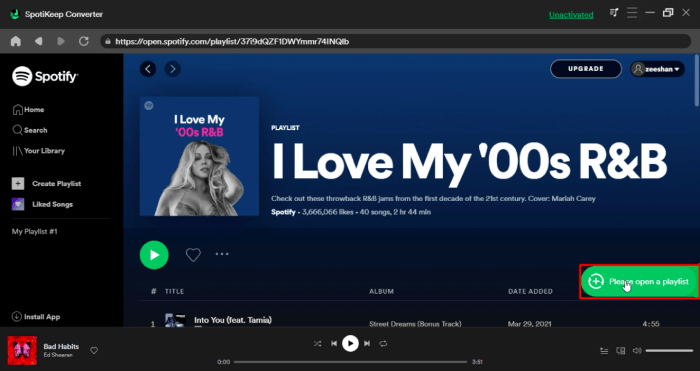 Step 4. In the ensuing pop-up window, you can configure your download options, including the output formats MP3, FLAC, M4A, and WAV. You may also alter the download location. To start downloading your Spotify playlist as MP3, click the "Convert All" button.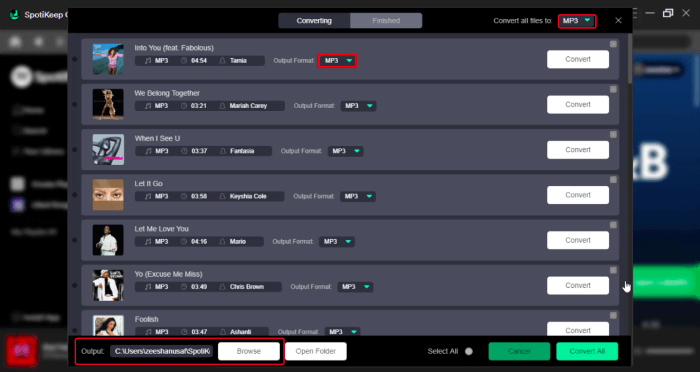 Step 4. You can also download individual songs by clicking the green button to the right of each song. Once the download is complete, you can locate your files in the specified directory.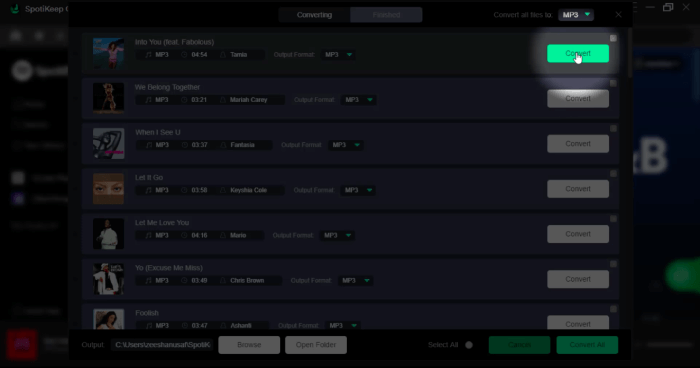 Congratulations, you have successfully downloaded your favorite Spotify music to your computer. New SpotiKeep users can use the Spotify Music Converter for free for one month. After that, you can decide whether to upgrade to the registered version.
Study Music Classical on Apple Music
This playlist is your best companion for long study hours. Explicitly made for students, this playlist is full of calm classical music that helps your study process.
Download Classical Music for Studying from Apple Music
Though Apple Music offers application downloads when studying, it's best to avoid any device with an active connection to social media apps. You can achieve ultimate focus by using offline music through any MP3 player or Bluetooth speaker. Download your Apple Music content to any of your devices in MP3 format. Here is a full guide on how to save music from Apple Music as MP3.
Step 1: Install SpotiKeep Apple Music Converter on your PC. Open iTunes and keep it running in the background.
Step 2: SpotiKeep automatically syncs with your Apple Music library to show your music content upfront. Select the songs you want to download from your iTunes library.
Step 3: select your preferences and click on convert on the bottom panel.
Best Classical Study Music on Amazon Music
Claire de Lune is the third and most famous movement of "Suite bergamasque," composed by a French composer named Claude Debussy. The title of this song means moonlight in French. Many believe Claude to be the first impressionist composer. He began composing this piece around 1890 when he was 28 years old and published it in 1950.
Best Classical Music Playlist for Reading on Pandora
This Personalized study radio by Pandora is a gift for readers and students. Calm your nerves to focus more on the subject by Classical music playlist on Pandora.
Part 3. YouTube Classical Music
YouTube is undoubtedly the world's biggest video and audio streaming service provider. However, there are plenty of classical music playlists, some of the finest classical music playlists on YouTube.
Part 4. Best Classical Music for Kids
Some of the most outstanding classical pieces make perfect music for toddlers. These songs can positively affect the way kids perceive the world around them and help develop their imagination. Following are the top ten Classical music pieces that are best for Children.
1. Saint-Saëns – Carnival of the Animals
Le Carnaval des Animaux is an adventurous musical journey made up of fourteen movements. The track is about 25 minutes long and was released after the death of a famous artist. The track was first published by Camille Saint- Saëns.
2. Tchaikovsky – Swan Lake
Russian composer Pyotr Ilyich Tchaikovsky introduced this ballet in 1875–76. This track didn't perform well when it was first released. But later, it proved to be a major hit worldwide.
3. Prokofiev – Peter and the Wolf
A symphonic fairy tale for children, "Peter and the Wolf," was released in 1936 by Sergei Sergeyevich, regarded as one of his best compositions. This is one of the best combinations of storytelling by instruments.
Part 5. Classical Music Radio
Classical radios are now available on almost every streaming platform, such as Spotify, Amazon Music, and Apple Music. The Classical DJs running these radio stations bring you the best out of the vast classical music libraries. Following are some of the top radio stations around the globe.
WQXR
Classical WETA
WFMT
Classical KUSC
All Classical
Part 6. Royalty-Free Classical Music
We all live in a taxable society where nothing is free. Especially when it comes to royalties and copyright claims, there are laws to protect them from being used anywhere. The same goes for royalty-free classical music. You either have to purchase the license to use it publically, or you can switch to royalty-free classical music, which is often hard to find. Here is some of the best royalty-free classical music.
1.
Ludwig Van Beethoven - Symphony NO 9
Symphony No. 9 was composed between 1822 and 1824. This symphony is a supreme achievement and evolution in the journey of classical music.
2. Mozart - Lacrimosa
This is one of the unfortunate tracks that were left unfinished due to the death of Mozart in late 1971. Probably, this is what flourished this rocking piano track so much authenticity.
3. Antonio Vivaldi – The four seasons
The four seasons were composed around 1718-1720; four vital violin components deliver wholesome vibes of all four seasons.
4. Tchaikovsky – Waltz of flowers
If there were one word that you could use to describe this collection, it would be Delicacy. This ballet was composed in 1892 and remained a classical music hit.
Part 7. Sad Classical Music
Most people tend to music when feeling down. Classical music composers have produced numerous pieces that you can play whenever you are in a melancholy mood. Sad Classical music has been popular among fans since its origin. Following are some of the most heartbreaking pieces of Classical melodies that are guaranteed to make you cry.
1. Miserere Nostri by Tallis
Thomas Tallis was an English Renaissance composer. His composition "Miserere Nostri" is our number one pick for sad classical music compositions. Thomas knew how to use each musical instrument to develop the tunes low enough to make you cry.
2. Sospiri by Elgar
Sospiri was composed by Edward Elgar just before the beginning of World War I. Elgar originally intended it for violin and piano, but while organizing it, he realized that he was writing something more intense and chose an Italian word, "sospiri," meaning "sighs."
3. Adagio for Strings by Barber
Samuel Barber crafted Adagio for Strings in 1936. The combination is so trenching that no eye stays dry.
Part 8. Dark Classical Music
Some classical music artists were more interested in composing dark music. The melodies they produced would somehow frighten their audience with loud noises and creepy sounds. One can feel terrifying stories through dark classical music. These pieces are in many horror movies and shows. Here are some of the best Dark classical music playlists.
1. In The Hall Of The Mountain King
This one was a piece of orchestral music by Edvard Grieg in 1875. In the Hall Of the Mountain King, a club of male and female counterparts is a well-known orchestral piece of art.
2. Camille Saint-Saëns - Danse Macabre
This is the second honorary mention of legendary artist Camille Saint-Saëns. The combination of the xylophone truly shadows the sensation of rattling bones.
3. John Williams – Jaws
Jaws were released on LP by MCA in 1975 and as a CD in 1992. The score was reissued in 2015 through Intrada Records, containing the complete film score.
Part 9. Happy/Upbeat Classical Music
When everything seems grey, go for upbeat classical music. We guarantee you it will banish those blues, and you will find yourself smiling, humming, and skipping a step. We've gathered together some of the happiest music we could see from nearly 300 years of classical music.
1. Handel: Hallelujah (Messiah)
Hallelujah was composed by George Frideric Handel in 1741. Fredric performed the track in Dublin just a year later after it was written. Modest vocals with custom settings for individuals are what this track offers.
2. Mozart: Marriage of Figaro Overture
This track was composed by Mozart in 1786. This one is easily one of the top 50 operas of all time. Four separate acts clubbed into a single setting truly depict the glorious play of art and classical music.
Part 10. Calming Classical Music
If you need help relieving everyday stress, falling asleep, or supporting mental health, classical music is the solution to all your problems. Classical music can significantly affect your day by making it more relaxing. But with so many masterpieces of different classes, it isn't easy to choose the relaxing ones that don't come with loud bangs or highly intense pitches. Here is some calming classical music that you might want to listen to.
1. Anything by Einaudi
This track is composed by an Italian musician and artist. He has written the scores for many films and television productions. Some of his most famous tracks are I Giorni, Night book, and Nuvole Bianche. Einaudi's work ranks number one on our list, as all of his compositions give off a relaxing vibe. His pieces are guaranteed to help you relax after a tiring day at work.
2. Air on a G string by J.S. Bach
One of the finest plays of Clam Classical Music. The whole arrangement plays on the lowest string possible of the violin. The soothing pitches of this classical piece draw peace from both worlds.
Part 11. Disney Classical Music
Disney has always been elite in the animated film industry. Classical music plays an essential role in animated movie scenes as it can bring energy and life to even the plainest scenes.
Disney has produced numerous classic songs over the years. There's Disney classical music for almost every occasion. Some songs inspire instant dance parties, while others help you on stressful days. Some of the best tracks are listed below.
1. "How Far I'll Go" (Moana)
Lin-Manuel Miranda is the writer and producer of the song. The track was featured in 2016 in a Disney Movie known as Moana. The song was nominated for Best Original Song at the 89th Academy Awards and Best Original Song at the 74th Golden Globe Awards.
2. "Beauty and the Beast" (Beauty and the Beast)
Both the movie and the soundtrack were a global success. The music featured as one of the best classical music in many international awards like the Golden Globe Award, Grammy Awards, and more.
The best thing is that users can now download Disney classical music directly from Apple Music and Amazon, respectively. Let's break down how you can download music from Apple Music right within the application.
Final Verdict
Classical music has its depth and separate fan base. People don't know what Classical Music means. How come someone vibe with such dense music if they don't understand it? So here we tried to improve your understanding of the best classical music. There is a flow of the process from classical music to discussing all kinds of Classical music types. And the treat to download your classical music right into your local folder for better usability.
We offer complete solutions to native problems that end-users face. If you liked our effort, make sure to check out our similar guides too in the "How-to" section. Also, let us know any suggestions in the comment section below.
Apple Music Converter
Convert and Save your favorite songs from Apple Music Permanently for Free.
Don't miss a moment of the Music you love.
Spotify Music Converter
Download Spotify songs, albums and playlist Permanently for Free.
Don't miss a moment of the Music you love.