Spotify is most commonly known as a media streaming application. And it's true in the past. But we live in the future, where recent updates now allow you to upload MP3 to Spotify. This way, you can achieve an allrounder application that can play local music and the one you upload.
Do you know how to add MP3 to Spotify? If not, this article is totally about you. Follow our lead to explore.
CONTENT Part 1. How to Add MP3 to Spotify on WindowsPart 2. Upload MP3 to Spotify on MacPart 3. How to Put MP3 on Spotify on AndroidPart 4. How to Import MP3 to Spotify on iOSBonus Tip. How to Export Spotify Music to MP3Final Words
Part 1. How to Add MP3 to Spotify on Windows
Technically, this part should be the first because you cannot add MP3 to Spotify on your smartphone if you haven't done it on a PC. Desktop versions remain on the top to offer master controls of various mainstream applications. It's the trend we have covered so much in the past few years. So now, towards the main topic, How to Add MP3 to Spotify on Windows. Here below are some helpful steps to follow.
Step 1: Open Spotify. From the drop-down menu, open Settings. Click on the User ID toggle on the top.
Step 2: Turn Local files toggle green under settings. And click on Add Source to add any folder with offline music that you want to upload.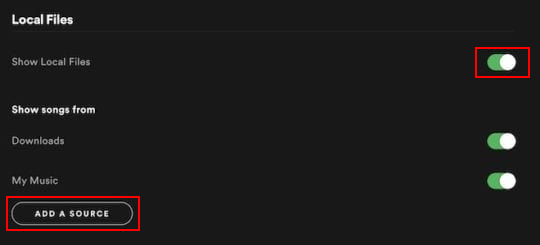 NOTE: You can see downloads and My music toggle below the Local Files toggle. This means that your MP3 in downloads and my music folder are automatically uploaded to the library. And you can add any custom folder consisting of MP3 by clicking on Add Source anytime.
Part 2. Upload MP3 to Spotify on Mac
The beauty of Spotify is that its developers have put some far superior enhancements like a cohesive interface in the past few years. Opening Spotify web, windows, Mac, and smartphones feel essentially the same, which gives a more balanced user experience. If you are wondering how to upload MP3 to Spotify on Mac, here is your take.
Step 1: Open Spotify From the Settings under the left sidebar, click on Edit, and then Preferences.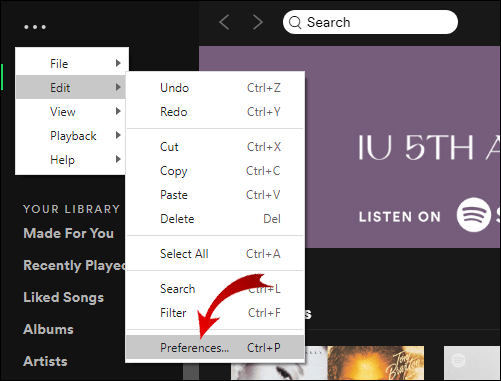 Step 2: Open Local Files and switch on the toggles. My music and downloads folder will add up to your library automatically. But you can add any other MP3 source by tapping on Add Source.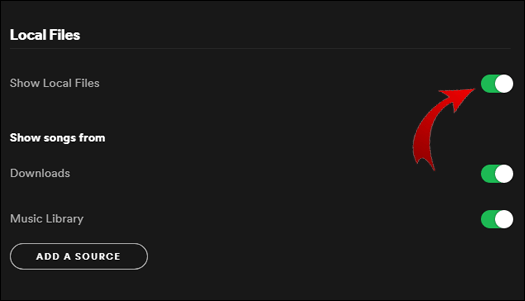 Part 3. How to Put MP3 on Spotify on Android
We carry these powerhouses with us all day. And music is something that should be on it to pass on subways and metros. So if you are wondering how to upload MP3 on Spotify on Android, here are two simple steps to do so once you finish uploading MP3 on Spotify on Desktop.
Step 1: Tap on the library at the bottom. And locate the new album with local files.
Step 2: Hit the Downloading toggle and access all of your local files on Android.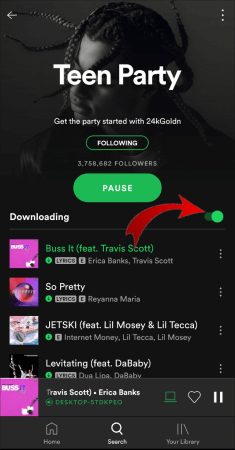 Part 4. How to Import MP3 to Spotify on iOS
Make sure you have already uploaded MP3 on Spotify using PC or Mac. This makes the process much more smooth.
Step 1: Allow Local Audio Files toggle under the settings menu. Search for the new playlist you have created using your desktop.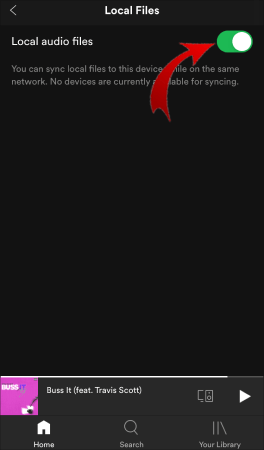 Step 2: Click on the green download icon to import MP3 to Spotify on iPhone.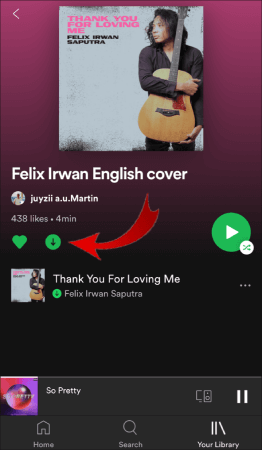 Bonus Tip. How to Export Spotify Music to MP3
Even if you add MP3 to Spotify, there are still plenty of limitations. Like you need to pay Spotify $9.99 for the monthly premium plan. And you always need to open Spotify to play local files that are unable to share with any non-Spotify user. So what's the best way? Rather than uploading MP3 to Spotify, you can Export Spotify MP3. And have your master collection. That you can store, share and enjoy anywhere anytime in a gadget as simple as an MP3 player.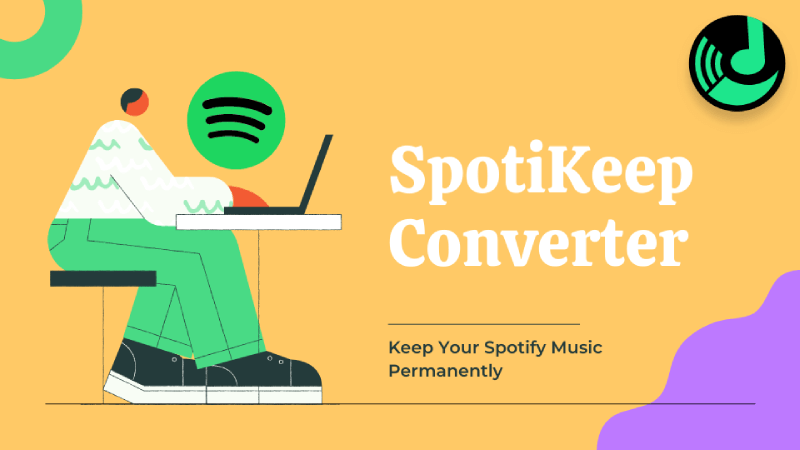 SpotiKepp Converter is an offline music converter for Spotify. It can export Spotify files with great precision and quality in no time. You can certainly enjoy all critical benefits of Spotify, including original metadata information, high-quality music, and music controls. At the same time, SpotiKeep adds more benefits of offline music versatility, like having to share and transfer your music anywhere at any time. No, let's have a look at the key benefits of SpotiKeep Converter.
Bunch of customizable audio formats including MP3, M4A, AAC, FLAC and WAV
DRM removal for prevention against patents and copyrights
Batch downloads featuring customizable download location
Maintains original metadata information
No need to have Spotify for download process-saving up to $120 annually
Lossless audio quality au tp 320 kbps
How to download music from Spotify to MP3? Make sure you have downloaded the SpotiKeep converter before starting the download procedure.
After you installing the SpotiKeep Converter, please follow the 3-step guide to download the Spotify music.
Step 1: Launch SpotiKeep Converter. Copy-Paste the URL of the song you want to download in the empty URL bar. Then click on Add-File to save your file in the queue. Repeat the process for batch downloads.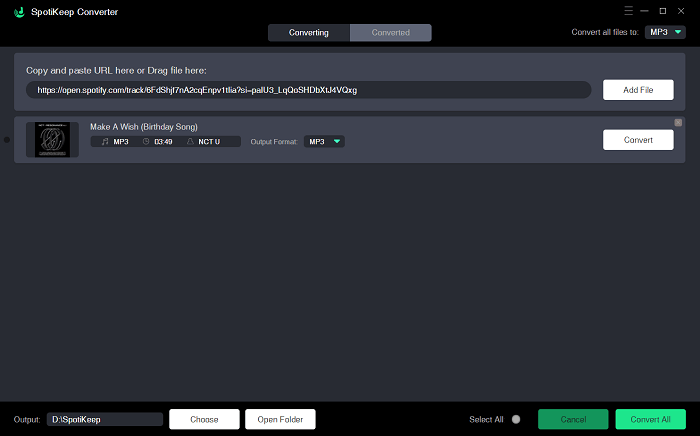 Step 2: Now, you can customize your output format, sample rate, and output bitrate. When you finish setting, please hit the Save button.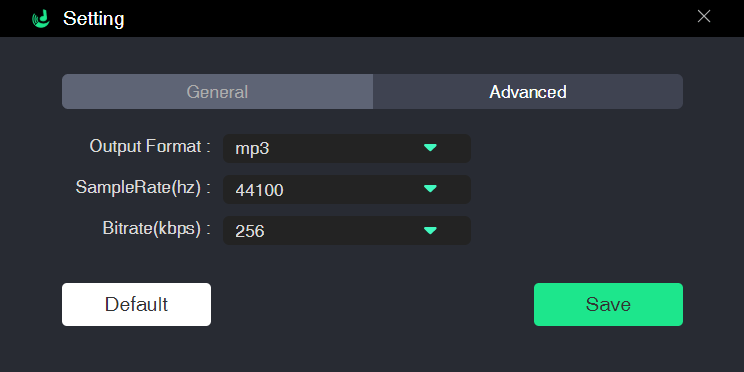 You can also customize the storage locations of your song by tapping on the Browse option at the bottom left of the screen. Then select and save any remote location from your local drive.
Step 3: Click on the Convert option at the bottom of your screen. Your selected tracks will begin to download. You can see the ETA of every individual song you have selected for download. The download will complete soon, and you can find the downloaded music in the local drive's folder.
Final Words
Spotify actually supports adding MP3 to Spotify, and we've listed all methods you can use on Windows, Mac, Android, and iOS devices in this article. You can follow simple steps right away to make the stuff happen. If you want to export Spotify to MP3, you can do that in 3 simple steps with SpotiKepp Converter.
We have tried to put a fair picture of adding MP3 to Spotify. If you have anything left unclear, you can let us know in the comment section below. Plus, please read our How-to section for more detailed-oriented articles like this one.
Apple Music Converter
Convert and Save your favorite songs from Apple Music Permanently for Free.
Don't miss a moment of the Music you love.
Spotify Music Converter
Download Spotify songs, albums and playlist Permanently for Free.
Don't miss a moment of the Music you love.