Many users probably don't know that there's an exclusive plan of Verizon Apple Music.
If you have been a customer of Verizon lately, you might be eligible for using free Apple Music. Many people don't know they can use a service for free just because they don't know the procedure. So here is your detailed guide about Apple Music and Verizon.
CONTENT Part 1. Verizon and Apple Music, What's the Connection?Part 2. Is Apple Music Free with Verizon?Part 3. How do I Use Apple Music on Verizon?Part 4. How to Get Verizon Apple Music Free for 6 MonthPart 5. Keep Apple Music Free Forever without VerizonFinal Words
Part 1. Verizon and Apple Music, What's the Connection?
Verizon holds some of the largest chains in the whole cellular industry. This carrier is well-known for its integration with smartphone manufacturers, data providers, and merchandise. Well, this time, it couples with Apple Music to deliver the best of both. This service was first released on January 17, 2019, offering free Apple Music to purchase unlimited Verizon plans.
Apple Music comes free in some exclusive Verizon unlimited plans. The duration of the free Apple Music can vary according to the method you opted for with Verizon. It can be as long as six months if you are wondering about the maximum.
Below we have mentioned the details and guidelines about how you can avail yourself of Apple Music free with Verizon for a period of up to six months.
Part 2. Is Apple Music Free with Verizon?
The above mentioned is the main question that is popping in several minds. The answer is yes. Verizon has offered a great advantage to its users by including Apple Music in its two unlimited phone plans, including Beyond Unlimited or Above Limited. The addition of Apple Music to Verizon will drive millions to the new streaming platform. A monthly subscription to Apple Music equals $9.99, but the users of Verizon do not need to pay any additional cost to enjoy the Apple Music Verizon.
It is free of cost for the new and existing audience of Verizon, possessing any one of the postpaid plans. Verizon offers six free months of Apple Music to its customers who have currently subscribed to Verizon's plans. Remember that some tax cost is charged to customers enjoying free Apple Music, but it is not much heavier on one's pocket. So, you can say that Apple Music is free with Verizon.
Part 3. How do I Use Apple Music on Verizon?
After you have got the free Apple Music subscription, you should know the ways to use it. Cancel your current Apple Music subscription if you currently have subscribed to the Verizon unlimited plans. To enjoy the Verizon Apple Music, follow these simple steps mentioned below;
Step 1: Inside the web browser, sign in to My Verizon.
Step 2: On reaching the My Verizon, click Account> Add-ons & apps>Add-ons & apps overview
Step 3: Click All Add-ons & apps
Step 4: After performing third step, click the filter by drop-down menu and click Entertainment
Step 5: Scroll down and click Get it now.
Step 6: Select Apple Music or None according to your choice, then click Continue.
Step 7: Agree to the terms and conditions to continue, then click Confirm.
Step 8: If applicable, click Send after selecting the appropriate line(s).
By following these easy steps, you have access to Apple Music on Verizon. As the measures do not have any complex procedure, anyone who wants to entertain himself and consume this rich advantage offered by Verizon can perform these.
Part 4. How to Get Verizon Apple Music Free for 6 Month
Have you heard about the Free 6 months Apple Music by Verizon? Now you can enjoy Apple Music while retaining to a single platform; Verizon free. The users of Verizon who have subscribed to the unlimited plans are eligible to get Verizon Apple Music free for six months. Now one can enjoy the dual benefits while paying for a single app. But there is one important thing one should consider is that if you switch from Verizon unlimited plan to any other plan, you have to subscribe to Apple Music monthly subscription that equals $9.99. Following these easy steps will help you to get Verizon Apple Music free for six months.
Step 1: First of all, cancel the monthly subscription of Apple Music if you have already subscribed to Verizon unlimited plans.
Step 2: Using the website or Verizon's app, go to Account and then reach Add-ons.
Step 3: You will see the Entertainment category after swiping left. It is the place where the Apple Music deal can be found.
Step 4: Select the line with which you want to associate the free trial.
Step 5: After performing the 4th step, you will get a confirmation message relating to the start of the free six months trial.
Step 6: The confirmation message will contain a link that ensures that you have been signed up with the offer of Verizon.
Step 7: Click Continue to enter the iTunes password.
Keep in mind that you have to pay $9.99 monthly for Apple Music after the completion of six months.
Part 5. Keep Apple Music Free Forever without Verizon
Enjoying a premium service like Apple Music for a substantial period is a treat. But the dilemma is it is still a trial period and is going to end someday. So there must be a permanent solution that lets you enjoy the Apple music content for free for a lifetime. This is not a permanent solution, and by the time trial ends, you are already so deep into the ecosystem that you eagerly want it back.
SpotiKeep Apple Music Converter is the ultimate solution for your Apple Music problems. Suppose you are sick of using free trials over and over again with third-party applications like Verizon. SpotiKeep is your way out. It allows you to download Apple Music content into the local disk of your computer. There are tons of features if you dwell in the Knitty-gritty of this professional converter kit. Some of which are mentioned below.
DRM( Digital Right Management) removal to avoid patents and copyrights
Customizable output formats including MP3, M4A, AAC, WAV, and more
No need to pay for the Apple Music subscription anymore
Unlimited access to the Apple Music content
Lossless audio quality with the batch download feature
Saving $9.99 per month while enjoying unlimited Apple Music is a great deal. So why don't we learn how to convert Apple Music to MP3 in three simple steps. First of all, please download SpotiKeep Apple Music Converter and install it on your Windows or Mac computer.
Step 1: Keep iTunes on during the whole process. And make sure it's running in the background during the download process. SpotiKeep Apple Music Converter syncs with Apple Music to show your iTunes collection upfront.
Step 2: Now that you can see your Apple Music library in front of you. You can select all the tracks you want to download from iTunes at once. Click on the tiny box next to each song to choose it in your download list.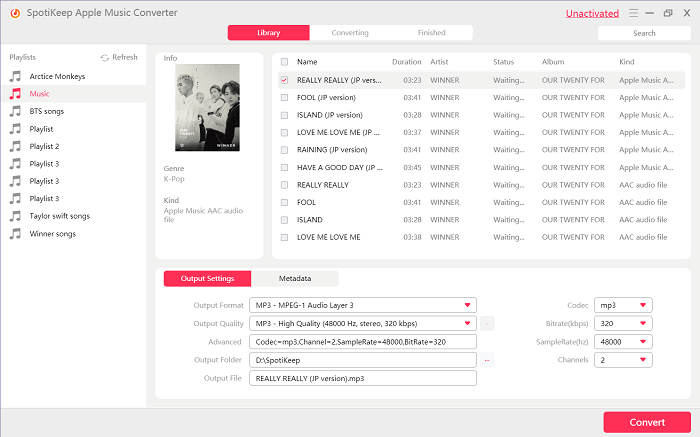 There is a lot you can customize using the SpotiKeep Apple Music converter. Customize your output preferences, including output formats, audio quality, storage locations, and metadata of songs, artists, and playlists from the bottom of the screen.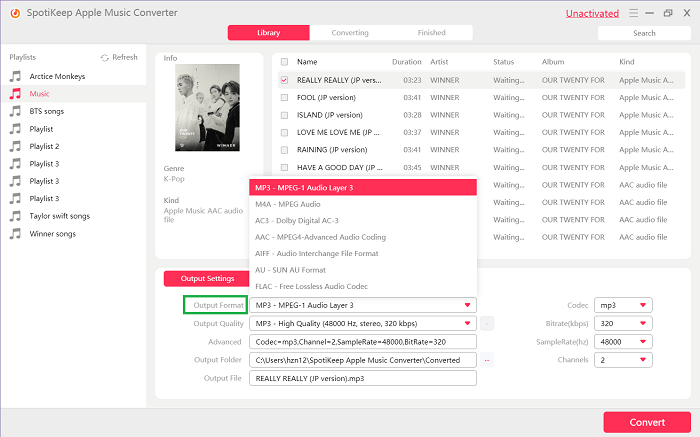 Step 3: Click on the convert at the bottom right corner. You can see the ETA in front of you. Once the song finishes its download, you can find it in your local files.
Final Words
For those of you who are sneaking on some opportunity to save some extra bucks, we have recently covered this topic - how to get free Apple Music. And today, we cover a more detailed version of having Apple Music for free in collaboration with Verizon. Try the best method we have listed above to enjoy free Apple Music through Verizon.
SpotiKeep Converter is an exclusive tip for you to get rid of any free trials and enjoy your Apple Music unlimited. We hope we have covered everything there is to know about Verizon Apple Music. If you want us to help with anything related to the topic, please let us know in the comment section below.
Apple Music Converter
Convert and Save your favorite songs from Apple Music Permanently for Free.
Don't miss a moment of the Music you love.
Spotify Music Converter
Download Spotify songs, albums and playlist Permanently for Free.
Don't miss a moment of the Music you love.