Long gone are days when gaming consoles were solely for gaming. Now gaming consoles are the front-tier multimedia stations. You can stream Spotify music while playing your favorite game. Suppose you have been questioning how to connect Spotify on PS4, unlink Spotify from PS4, and FAQs relating to fundamental issues like Spotify PS4 not working. This writing is for you; let's get started.
How to Connect and Play Spotify on PS4?
PS4 allows an extension to Spotify in the console itself. You can log in to your Spotify account and operate it much like a desktop. Follow the steps below to connect and play the song on PS4 with Spotify.
Step 1: Launch the PS4 and open the Homepage of the PlayStation. Or press the center button of your console. It will open up the Homepage for you.
Step 2: Scroll down the Homepage and tap on PlayStation Music Application. You can create an account thereon if you don't have any, or you can log in to your Spotify account in the window.
Step 3: Log in to your Spotify account will provide you access to your Spotify account. You can play or manage your songs just like any other smart device.
Understanding the controls: It may be tricky to know how to navigate and control the music application using a mere console. Well, it's easy. Remember the instructions below.
1. The first way is a straightforward and reliable method. When playing on your mobile application, you might notice having Spotify open on your desktop. Both of the applications synchronize despite being on different platforms. Making a change in one platform alters another. This remains true for PlayStation. But there is one minor difference. You need to have the Spotify Connect application to master your Spotify music on PlayStation. Download the application into your smartphone and control the music from anywhere.
2. The second method is via the controller. Remember the DualShock 4 controller? Click on the D-pad to control the volume and navigate through the application.
How to Listen to Offline Songs on PS4?
IF you love the good of having offline music, you surely want to top up with that in the PlayStation 4. Playing content on PS4 is just as easy as any other multimedia device. We have laid down the best methods to listen to your songs on PS4 offline.
Step 1: Search for Media player the PlayStation Store. Download the Media player for PlayStation.
Step 2: Open up freshly downloaded Media player. And connect your USB to the Play store. You can join media servers via HDMI cable similarly.
Step 3: in the media servers, click on USB or media server. Whatever you want to connect with.
Step 4: Navigate through your connected sources and select the folder with music in it. If you want to shuffle or play all of the music, click on options by highlight the folder. And click on Play. This will start playing all songs in the folder.
How to Download Offline Songs from Spotify?
SpotiKeep converter is an offline music downloader that lets you have your Spotify music offline. The local music can share across any platform because it stores your device storage and easily readable format. SpotiKeep converter is one solution for all of your music and Spotify-related problems. We have made it easier for you by sharing a step-by-step guide below. But let's first look into why it is essential to get a SpotiKeep converter. Following are a requisite set of features that makes the SpotiKeep converter a complete package.
DRM (Digital Right Management) protection removal to make you free of Copyright infringements.
Batch downloads of your songs
Keeps original ID3 tags and metadata of albums, tracks, and artists.
Higher conversion rates make your downloads quickly. SpotiKeep converter offers up to 10x downloads speed for windows and 5x for Mac.
Adjustable output formats, including MP3, M4A, WAV, AND FLAC, along with customizable download locations.
The features listed above can make someone happy struggling with Spotify account issues. Even premium users cannot download the songs into their device storage or share them across other platforms. And Free users are not even allowed to download offline. Below is the complete guide to downloading the SpotiKeep offline music converter.
Step 1: Download and Install SpotiKeep Converter. Then Launch the SpotiKeep Converter when the installation completes.
Step 2: Copy the URL of the song you want to download and paste it into the empty bar in the SpotiKeep converter. Make sure to press Add File. If you want to download in the batch, you can keep pasting the URLs of your songs and tapping on Add File.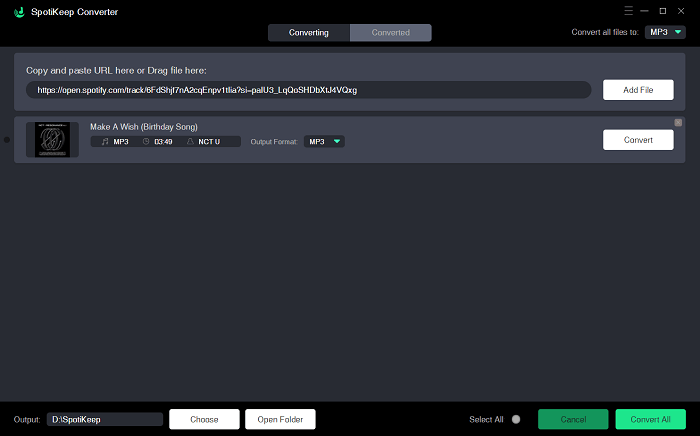 Step 3: Customize the output formats of your music by tapping on the format section on the top right of the SpotiKeep Converter. By default, the output format is set to MP3. But you can always customize it to M4A, WAV, and FLAC. Similarly, you can also change the storage location of your song by tapping on the Browse option on the bottom left.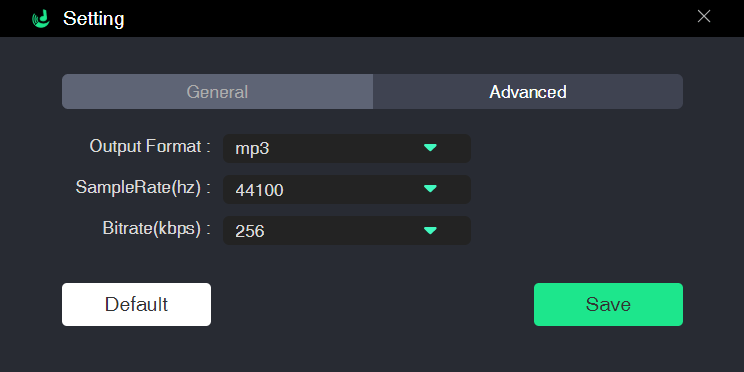 Step 4: Once you finish the pre-requisites, it's time to download the song. On the bottom right, there is an option Convert. Tap on it, and you can already see your songs downloading. High Conversion rates will get your downloads done in just a few seconds. All of the features we mentioned above are waiting for you to press the Convert and SpoitKeep converter to get the job done.
Frequently Asked Question (FAQ)
How to Unlink Spotify from PS4?
Ans: Here is a three-step guide to unlink your Spotify account from PlayStation.
Step 1: Go to the Spotify application on your PlayStation on the Homepage.
Step 2: Tap on the profile picture on the top right corner.
Step 3: Click on log out. Your account is now logged out and unlinked from the PlayStation.
Is Spotify Free on PS4?
Ans: Spotify is entirely accessible on PS4. You don't require a PlayStation Plus subscription or Spotify premium subscription. You can open the application under the Homepage and log in or create your Spotify account on the spot.
How do I Enable HDCP on PS4?
Ans: HDCP or High- Bandwidth Digital Content Protection is a feature that allows PlayStation to gather more internet connections to provide a high-quality, stable connection. This option enables by default. But if you want to turn it on or you want to make sure, follow the steps below:
Step 1: Open settings in your PlayStation.
Step 2: Go to the system menu and check the HDCP box.
How to Uninstall Spotify on PS4?
Ans: Here is how to uninstall Spotify on PS4.
Step 1: Go to the setting menu in your Play store.
Step 2: Scroll down and tap on the Storage. And click on applications.
Step 3: select the Spotify application and delete it by tapping on the delete option.
Final Words
We all deserve a hi-fi audio and gaming experience, and it comes as a complete package on PS4. So, we have packed in all of the queries and guidelines you will ever want in this article. You can follow the simple guides to link your Spotify account or unlink Spotify on PS4. Connecting Spotify on PS4 should be no issue for you now.
Let us know how well this guide serves your question in the comment section below.