The term royalty-free music is often misunderstood and for granted. A lot of misconceptions and false ideas circulate the topic. I discovered many vivid details when researching the subject that I would like to share with you. The more you dig into the details, the more I felt there was a need to explain the whereabouts of royalty-free music.
So let us explore royalty-free music in the parts below in a progressive manner.
CONTENT Part 1. What is Royalty-Free MusicPart 2. Best Royalty-Free Music on SpotifyPart 3. Best Royalty-Free Music on Apple MusicPart 4. YouTube Royalty-Free MusicPart 5. Top 5 Royalty-Free Music SitesFinal Verdict
Part 1. What is Royalty-Free Music
What's royalty-free music? Let's skip the definition and grasp the concept behind Royalty-Free Music. Then the description will feel self-explanatory. Whenever a piece of music releases in the music industry, you have to pay specific fees to enjoy royalty on that piece of audio. This means that you have the license for that piece of music. You own all rights and management of that. Now you understand what it is to have royalty music.
The term royalty-free music is the exact opposite. Royalty-free music means the music on which there is no license or ownership, or management rights. The music is free, and anyone can enjoy it. Royalty-free music is a place of significant concern for audio lovers and mainstream media users. Any part of audio that is not royalty-free isn't applicable for public use. There are regulations and strikes in place to commend the service of royalty music without the consent of the royalty holder.
If you want to enjoy a piece of royalty music, you have to buy the license to use that once the license grants on specific terms and conditions, you will be eligible to use that music. Not everyone has the resources and competency to buy the license to the music. And that is where a lot of people focus on royalty-free Music. Royalty-free music is usable anywhere at any time without having to worry about Copyrights. There are a lot of legit sources to get your royalty-free music.
Let's move on to our next part and find where to get the best royalty-free music.
Part 2. Best Royalty-Free Music on Spotify
Spotify remains top on the music applications leaderboard. And it has plenty of music options and genres to offer, one of which is royalty-free music. There are many options from acoustics, unplugged, beats, and sound effects to choose from. Here below, we have mentioned some of the best royalty-free music.
Managed and owned by Frequency Music, this playlist holds over 98 royalty-free music options. Sound effects and acoustic versions of some of the most popular beats are there, ready to use as your live stream background or similar.
The playlist holds ten original soundtracks that are royalty-free. The playlist authority refers to a verified artist that gives you an additional boost of confidence in the quality of the music.
This playlist offers a total of 10 royalty-free beats. Each of which distinguishes in notes, tunes, and delivery. The whole collection consists of good rhythms that can be well corporated into any video or background music.
What's the best way of saving these tunes permanently into your storage using a professional converter? SpotiKeep Converter is an offline music converter for Spotify. Unlike other gimmicks or tools you may find in the market, it is a Pro-grade tool. A tool of professional capabilities is often complex and something fussy or tough to use. But this converter converts your royalty-free Music into three simple steps.
SpotiKeep Converter eliminates the need to own a Spotify Premium account. It can access Spotify servers and produce the same quality as that of Spotify. Maintaining the audio quality is one thing, but it can offer you add-ons like customizable audio formats, DRM( Digital Rights Management) Removal, original metadata information, and more.
In case you haven't downloaded the SpotiKeep Converter yet, you can click on the following buttons to download the software for both Mac and Windows. SpotiKeep will offer every user a 30-day free trial.
After installing the program, now let's look at how easy it is to download music from Spotify to MP3 with the following three steps using SpotiKeep Converter.
Step 1: Open SpotiKeep Converter and drop the URL of the song you want to download. You can find it from a web browser. Now click on Add-File to save your file in the queue. If you want to download songs in a batch, you can add multiple pieces at once to make it sublime. Make sure to click on Add-File after every Copy-Paste of the URL you make.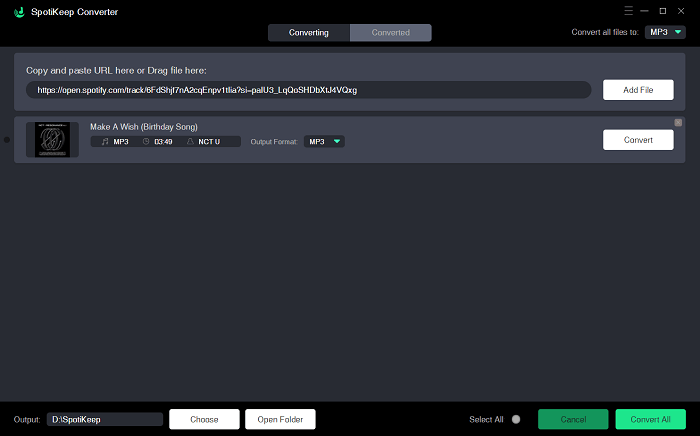 Step 2: The next step is to customize your song. You can alter the output audio format from the toggle at the top right corner. Choose any audio format from MP3, M4A, AAC, FLAC, WAV, and more.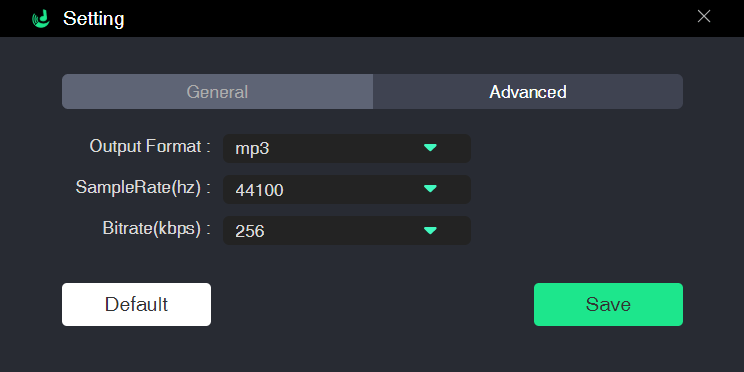 You can change the storage location of your songs just like that. Hit the browse at the bottom left and choose any file to save your songs in the browse window.
Step 3: Now, the final step is to make all the magic happen. Click on Convert located at the bottom right of your screen. You can see the ETA in front of you. Once the song finishes its download, you can find it in your local files.
Part 3. Best Royalty-Free Music on Apple Music
Apple Music holds the world's most extensive music collection. So that means an enormous array of royalty-free music. Well, here below are some better offerings of royalty-free music.
This playlist mainly consists of hip-hop beats as royalty-free music. Beats on this playlist are short, but the cohering nature of hip hop makes them shuffle.
This exclusive Music collection offers a versatile range of royalty-free music. The music here ranges from all sorts of genres, having heavy metal and rock feeling in it. You can find a pretty decent collection of Pop/Rock.
Apple has a way of doing things mysteriously in its path. But that doesn't mean you have to make compromises just like other applications in the Apple ecosystem. For instance, Whatsapp users for iPhone cannot backup or restore their data on an Android device. The good news is you can have a personalized downloader for your Apple Music. This enables you to carry around your music files anywhere.
SpotiKeep Apple Music Converter is a classic solution to save all of your Apple Music files in locally accessible storage. You can download your whole iTunes library of yours as local music. And then, you can transfer it to any supported location like a desktop hard drive or SD card. Furthermore, you get the ability to crank up unlimited music without having to worry about audio quality. SpotiKeep maintains the benchmark for the highest quality available for downloads.
I can stress a lot about the value-added bonuses of what the SpotiKeep Apple Music Converter offers, like DRM removal, customizable audio quality and storage locations, original metadata information. But we have all of this covered in our detailed review of How to convert Apple Music to MP3. Here is what you need to do to get your Apple Music saved into your local device. First of all, you need to download SpotiKeep Apple Music Converter via the following button.
Step 1: Turn iTunes on during the whole process. And make sure it's running in the background during the download process. Based on the fact that SpotiKeep Apple Music Converter syncs with Apple Music to show your iTunes collection upfront.
Step 2: Now that you can see your Apple Music library in front of you. You can select all the tracks you want to download from iTunes at once. Tick mark the tiny boxes next to each song to download it. You can choose more than one song at any time to make the process simple and easy.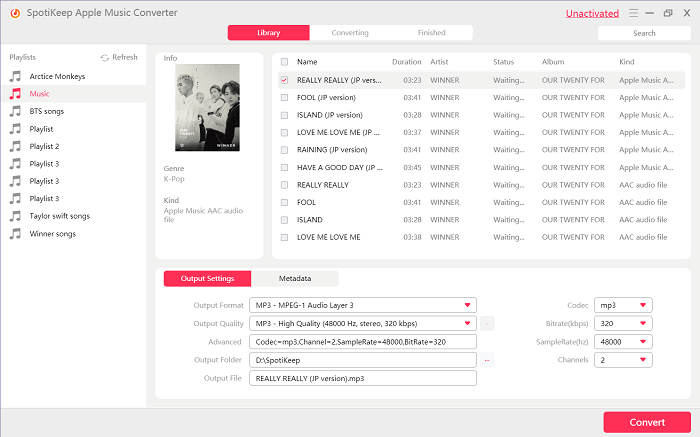 There is a lot more room for customization using the SpotiKeep Apple Music converter. You can Customize your output preferences, including output formats, audio quality, storage locations, and metadata of songs, artists, and playlists from the bottom of the screen.
Step 3: Click on the Convert at the bottom right corner. You can see the ETA in front of you. Once the song finishes its download, you can find it in your local files.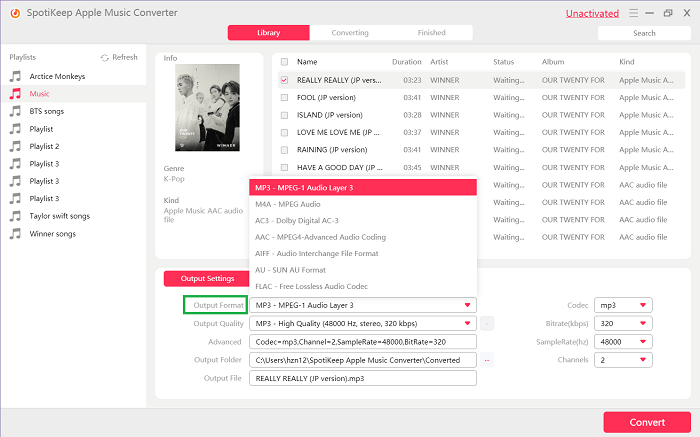 Part 4. YouTube Royalty-Free Music
YouTube remains one of the most resourceful places for inspiration and resources. This remains true for almost all sorts of jobs. You can also find royalty-free Music on YouTube. Below we have mentioned some of the royalty-free music that you can find on YouTube.
1. Audio Library
Audio Library is for content creators, editors, and creative people who want to add versatility without thinking about copyright issues. You can find pretty decent tracks from all sorts of genres here. Audio Library has over 4.07 Million subscribers at the moment, and you can be one to enjoy the benefits too for free.
2. Royalty-Free Music
Another one on the list is Royalty Free - No Copyright Music. Owners of this channel collect no copyright music from different sources and turn it into a decent compilation of royalty-free music. With 103k subscribers, the track is updated with more royalty-free music daily.
Part 5. Top 5 Royalty-Free Music Sites
You can enjoy royalty-free music from any of the established platforms mentioned above. But for a little bit more of a nuance, some websites offer royalty-free music. So let's discover what these websites are offering.
1. PremiumBeat
PremiumBeat is a subsidiary of Shutterstock. And the legacy continues as one of the most refined and premium services. The user interface is pretty simple with a search bar upfront and toggles for Genre, Mood, and Popular right next to it. With the reputation and goodwill of a brand name like Shutterstock, there is very little you can risk at it. So expect everything to be great and in place. PremiumBeat does come at a premium of $49 for a non-commercial web-based license. And for revenue-generating content, it can be as much as $199.
2. Audioblocks
Audioblocks offers access to over 100,00 songs in its exclusive library. There are no download caps which means you can download unlimited songs for commercial and non-commercial use. Interface Is well- customized, but a new user might have to look for it. There are three genres to choose from: Music, Sound effects, and Loops. Music is continuously updated, so this means you can always download fresh tracks without any real effort. Audioblocks come at $79 monthly and $149 yearly subscription. Prices are slightly on the higher side for monthly, but you can save a lot by going for an annual plan.
3. Pond5
With over 500,000 tracks in its library, Pond5 claims to hold "the world's largest collection of royalty-free stock video and creative assets." Finding the songs is easy, thanks to the grouping of the pieces. You can buy royalty-free music for around £16 each. Monthly and yearly plans are also around the shelf for £155 and £775, respectively, making your Royalty-Free music more economical and reliable.
4. ProductionTrax
ProductionTrax is a group of creative people who produce exclusive music, sound effects, stock music, and offer soundtrack tools. Looking around for the song can be pretty troublesome for new users since it doesn't develop dedicated groups or categorization. But if you know what you're looking for, this application can be pretty valuable. Prices vary according to the delivery of the track. Tu can go up from $15 to $60 depending upon the nature and taste of the music.
5. Amazon
Yes, it's Amazon. The top global e-commerce store. The one we often use to buy groceries and stuff for our home. People usually take amazon as a typical grocery and appliance store, but there is more variety than you can imagine. Amazon offers a dedication section called Digital Music. You can similarly buy royalty-free music as buying any groceries. Pricing for a standard song ranges from 79p to 99p.
Final Verdict
Music is everywhere, and from a listening point of view, it's gorgeous. But from the contrary point of view, it's essential to use royalty-free music to avoid unnecessary buzz. So we have made it easy for you by explaining what Royalty-Free Music is. And various places that offer royalty-free music. You can also download the music permanently into your device, which most of you would consider the use of royalty-free music.
Most of the parts discussed above are self-explanatory. So why not use the best available mentioned above. But if you still feel the need to explain it to you, please drop your query in the comment section below. We are very curious to help you out on the issue.
Apple Music Converter
Convert and Save your favorite songs from Apple Music Permanently for Free.
Don't miss a moment of the Music you love.
Spotify Music Converter
Download Spotify songs, albums and playlist Permanently for Free.
Don't miss a moment of the Music you love.