Spotify is one of the most premium music streaming services you can find today. By the end of the fourth quarter of 202, Spotify had 155 Million premium customers. This means 155 Million users can enjoy offline music. But do they know how to listen to Spotify offline? Unfortunately, not all of them know.
So here is your complete and compulsive guide about how to play Spotify music offline.
CONTENT Part 1. What is Spotify Offline Mode? Part 2. How to Listen to Spotify Offline on PCPart 3. How to Play Spotify Offline on MobilePart 4. How to Listen to Spotify Offline for Free Final Words
Part 1. What is Spotify Offline Mode?
Spotify Offline Mode is one of my favorite features of Spotify music. It lets you listen to your Spotify music offline in the application. But, unfortunately, Spotify offline mode is available only for premium subscribers. This means free users cannot enjoy offline music on top of other discrepancies like unlimited shuffles, skips, or playing any song from a playlist. On the other hand, offline mode on Spotify is available across all devices having your Spotify logged in.
Spotify allows up to 50,000 songs in your offline music library as a whole across all your devices. Your offline downloads sync across all devices. This means if you download a song offline on one of your devices, it will sync across all of your devices. Offline music holds the best possible quality of music available at that time, contingent upon your internet connection. It's all music to the ears if you can absorb the limitations of the in-app music.
Also, once you are offline, all of the content that is non-download and radio stations become unavailable. So basically, it acts as a music playback application and not a streaming one at such a point. However, you can access offline mood under the settings menu at any time. If you don't know how to go offline on Spotify, read the detail below for smartphones and PC.
Part 2. How to Listen to Spotify Offline on PC
When you're working on the desktop, playing some awesome music underrates a lot. Some people may ask, "Can I listen to offline music on a desktop"? Yes, you definitely can. I don't remember when I was working on any of your queries, and I didn't have my Spotify music on shuffle.
However, offline mode on Spotify is a no-brainer if you get used to it. And the fun fact is you can adjust all settings from your smartphone, including song shuffle, skip volume, and related adjustments, right from your smartphone. This is because Spotify syncs across all of your devices.
Spotify offline mode for desktop resembles a lot across any other platform. Spotify has worked hard to harmonize its application interface and usage across all platforms, including its web player, which is not an actual application. If you wonder how to use offline mode for Spotify on Desktop, here is how you should do it. Do the following steps to listen to Spotify offline.
How to Listen to Spotify Offline on the Desktop
Step 1: Launch Spotify on your computer and select any playlist you want to download.
Step 2: Click on the three dots right next to the like and play button. Now click on Save to Your Library.
Step 3: Now, you can see the download toggle on the top-right corner of tracks you want to download. Click on ti, and your download will start. Spotify will update the download status to downloading. Once your download is complete, it will update to downloaded.
Step 4: Turn on the "Offline Mode" on Spotify. For Mac users, click on Spotify from the shade at the top and select Offline mode. For windows, click on the three-dot menu at the top left, open File, and click on Offline mode.
Now your Spotify is in an offline mood. Cruise around and play any of your offline tracks.
Part 3. How to Play Spotify Offline on Mobile
Smartphones are the digital media players of today's era. These replace every other media player for most people; in fact, the gigantic size of the media players makes tablets feel ashamed of their existence. As a result, mainstream media services now primarily focus on people using smartphones. Considering this fact, Spotify also provides an option for offline mode on Spotify for Mobile.
Now can you listen to Spotify offline on a mobile device course? Do you already know the answer? Of course, but it doesn't just stop there. There are a hundred and forty-six other things you can do with Spotify using a Mobile device. For example, you can change volume, download offline music, shuffle, skip or adjust song status from the desktop right from the mobile application.
If you wonder how to use Spotify offline on mobile, here is how:
Step 1: Open Spotify. Tap on any song or playlist you want to download.
Step 2: Tap on the download icon to start the download. The icon will turn green once the download is complete.
Part 4. How to Listen to Spotify Offline for Free
Now the real question is can you listen to Spotify offline without paying any extra. The dilemma of Spotify's offline listening is it is only available to premium users of Spotify. And offline music is available only in the Spotify application. You cannot share or transfer music to any other device or MP3 player. If you hit the share button for a playlist or a song, it will only share the link for the song, which slays another story whether your friend or family has Spotify or not.
There is one solution to your question, can you use Spotify music offline. One that lets you download offline music on the device in your local files. You can transfer, share or carry it around on any of your devices. SpotiKeep Converter lets you all of that.
SpotiKeep masks the Ogg Vibs format of Spotify and converts it into a more feasible output format, i.e., MP3. However, the active DRM( Digital Right Management) of Spotify won't let you use the music for public content due to its copyright issues. Well, SpotiKeep also takes care of that.
There is so much more Spotikeep Converter can do; let's have a look.
Plenty of Customizable output formats, including MP3, M4A, WAV, AAC, and FLAC
No need to pay for a premium subscription anymore
DRM removal to protect against copyright claims
Lossless audio quality and batch downloads
Retains the original ID3 tags of songs, artists, and playlist
Already there? How to download music from Spotify to MP3? Below is your step-by-step guide to save your Spotify music locally.
Step 1: Download SpotiKeep Converter using the download options below for Mac and Windows. Complete Installation after the download process completes.
Step 2: Copy the song's link you want to download and paste it into the SpotiKeep Converter's empty bar. You can copy the link from the web browser or any other source, eliminating the need to have a premium subscription.
Are you done with the Copy-Paste? Now click on Add File. This will save your audio in the queue. Repeat the Copy-Paste to add more songs to the line. Just make sure to click Add File after adding more music in the queue.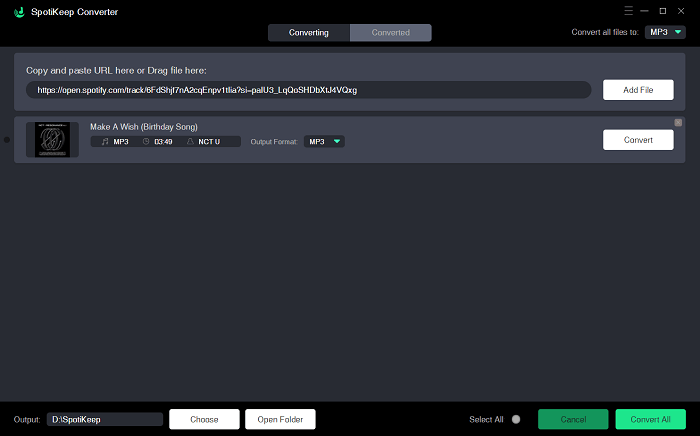 Step 3: Customize the output format of your music by clicking on the format toggle on the top right corner. By default, the output format is MP3. But you can change it to any of the features mentioned above at any time.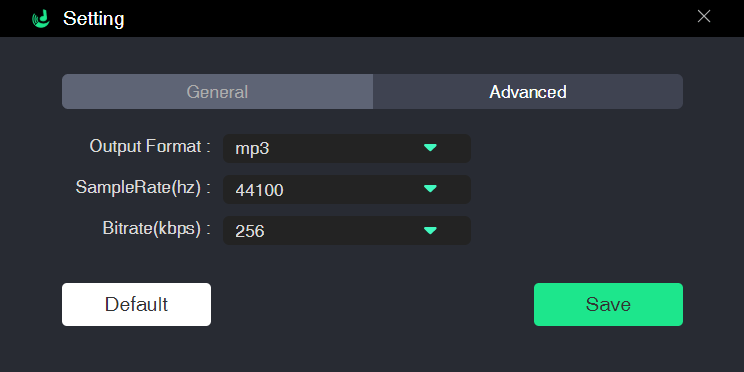 You can also change the storage location of your songs by clicking on the Browse option located in the bottom left corner of your screen. Just select the folder in which you want to save your music. Then click on save.
Step 4: Done with all of the above steps? Now click on Convert at the bottom right corner of your screen. All of the features we mentioned above will happen in the background. And all you can see is downloading songs and their ETA of each downloading music. Your music file will soon save in your local folder, ready to play or transfer.
Final Words
We've talked about so many things on how to play Spotify offline for desktop and mobile. We believe now you can freely listen to your favorite music on Spotify even without an internet connection.
Moreover, there is also a bonus tip for you to save Spotify music permanently as your local music using Spotikeep Converter. If you have any other queries related to Spotify offline mode, let us know in the comment section below. In addition, we cover topics about Spotify and Apple Music daily here in our How-to section.