The music streaming industry has been at its peak for the past few years. We are talking about millions of worldwide users and billions in revenues here. Apple Music, first launched in 2015, still scores the leaderboards for the highest-grossing music application. It is the second most popular music streaming app worldwide and the first in the US. It's estimated to have over 72 Million subscribers by June 2020.
So, how does Apple Music work? Is there any trick for better enjoying Apple Music? Let's find out together.
CONTENT Part 1. What is Apple Music? Part 2. Apple Music: Getting StartedPart 3. How Does Apple Music Work?Part 4. Apple Music PricePart 5. How Many Devices Can Use Apple Music?Part 6. Apple Music SupportPart 7. Apple Music Alternative
Part 1. What is Apple Music?
Apple first launched Apple Music in 2015 in almost 100 countries. The demand and advancements in Apple Music made it obvious to serve in over 160 countries. Apple Music is the only music application inbuilt on iPhone, iPad, Apple Watch, Apple TV, HomePod, CarPlay, Mac, and any other Apple Device. But it's also readily available across non-Apple platforms. If you are wondering about the comparison of Apple Music vs. iTunes, We have a detailed article on that.
Part 2. Apple Music: Getting Started
If you want to experience premium music and all goodness that comes with it, getting started with Apple Music is what you need. So here is your Apple Music layout from signing up to refining the application according to your taste.
How to Sign Up for Apple Music
Step 1: Open Apple Music. Click on Try it Free if you are opening it for the first time. Users who are already using Apple Music can get to the sign-up page by clicking on the Account icon on the top left and then click on Join Apple Music.
Step 2: Choose a membership plan from three options, including an individual plan, Family Plan, and a student plan. That's for $9.99, $14.99 and $4,99 per month. All levels represent some features, as mentioned below.
Step 3: Apple Music offers three months of free Apple Music. Tap on Start Trial. Confirm your Account. Sign in using your previous Apple ID or make a new one.
How to Sign Into Apple Music
For Desktop:
Step 1: Launch Apple Music or iTunes. Click on the menu bar at the top of your screen. And select Account and then Sign in.
Step 2: Sign in with your Apple Music ID. And you will be automatically logged in to Apple Music and iTunes.
For Smartphone:
Step 1: Open Apple Music and click on Listen now.
Step 2: Then click on the Apple ID toggle at the top right corner. Sign in using Apple ID and Password.
Let Apple Music Know Your Music Taste
When you make your Apple Music account, you will be asked for your personal preferences related to music. This helps in providing a better and customized layout for each user. You can select from various genres, including Jazz, Dance, Pop, Chill, EDM, Rock, Lo-fi, and more.
Apple Music is an AI-powered music player that will provide you with a customized playlist. Most often, weekend playlists are based on your likings and track history. In a nutshell, you can customize your Apple Music experience based on the genres you select. Tap the genres you like and double-tap if you love them.
FAQ: The Song Cannot Be Played Because You Are "Not Signed Into Apple Music."
Despite immense popularity and refinements, Apple Music sometimes encounters weird bugs and glitches. A similar one is when you try to play a song from your offline downloads, it says, "Not signed in to Apple Music." Apple has not officially responded to the query yet, but we researched through Apple threads, Reddit solutions, and more. And we found a way that works.
The solution is simple, delete a single random song from downloads. The rest should play smoothly. You can download the deleted one any time in seconds. At the same time, enjoy the rest of your songs without any issue.
Part 3. How Does Apple Music Work?
Play Music
Step 1: Launch Apple Music. Select any track you want to play in front of you Or search in the text bar.
Step 2: Double click or tap on any song to play. Tap the player on the bottom of the screen to control music playback.
Discover New Music
Change or customize your music genre for better search feed and recommendations.
Use shazam to track down a track you like and search it later in Apple Music.
Move around in the Artist playlist
Scroll around in the "New Tab" to look for any good recommendations.
Create Your Music Library
Step 1: Open Apple Music. Tap on the library at the bottom of your screen.
Step 2: Tap on Playlist and then New playlist. Name it.
Step 3: Click on Add Music, and then click on Done after adding New music.
Share Your Favorite Music
Step 1: Open Apple Music. Navigate to your favorite music or playlist to share. Click on the three dots below the playlist title.
Step 2: Click on share to send the URL code across any other social platform.
Part 4. Apple Music Price
Apple Music doesn't offer any free tier for its services. This is Apple we are talking about here, so consider premium services for premium charges. But this time around the corner, Apple Music prices are far more reasonable than other Apple products. The prices go as low as $1.37 in some countries like India. But we will be taking the standard 9.99 Dollar or Euro. Apple Music comes in three different packages. Each one comes with a different set of features at different prices. Let's have a look at each one.
Student Plan: $4.99/month
Students who are enrolled in a degree-awarding college or a university can avail this plan. Apple offers a 50% discount, much like Spotify, for students.
Individual Plan: $9.99/month
As specified by the name, this plan refers to a single individual. And it unlocks all possible features that one can ask for in a music streaming application. From offline download features to 24/7 live radio, it's packed with immense features.
Family Plan: $14.99/Month
The Apple Music Family Plan provides access to Apple Music to 6 family members. All individual family members enjoy similar features as that of the individual plan, and all accounts are controlled by one account.
Part 5. How Many Devices Can Use Apple Music?
Apple Music allows six devices to sign in to the same Apple ID simultaneously. Though some restrictions here include irrespective of 6 accounts having the same Apple ID logged in, music can stream only on one device at a time. This makes permission to use six devices at a time worthless.
This doesn't remain true in a family subscription. Because just like a Netflix top-of-the-line package, Apple Music allows six different interfaces for each user, which act as independent accounts. The fact is also a blessing in disguise because Apple Music syncs across all of your devices to show all your customized playlists and stuff. It's all coherent, so it doesn't matter if you open it on iPhone, iPad, or Mac. It will all look the same and good.
We have seen Spotify doing it the better way, where it also allows playback to one device at a time, but you can control which device to play the audio through Connect feature.
Part 6. Apple Music Support
Apple offers its technical staff at every Apple store. You can walk a few blocks and grab yourself Apple music support. But contacting professional assistance while relaxing on a couch is on a whole other level. Apple divides its services into segments, with each segment taking care of a specific division. The same goes true for Apple Music customer service, where you can speed dial the Apple Music support number, and they will solve your problem for you.
You can visit getsupport.apple.com to email your query to the Apple Music Customer service. Or you can dial 800-692-7753 to contact Apple Music support.
Part 7. Apple Music Alternative
The music streaming industry is flourishing more than ever. One of the prime reasons is the digitalization and advancements in microtechnology. Everyone has smartwatches, smartphones, and speakers, and these work best when thrown off with some extra bass. Here comes the need to have specialized music streaming applications. Most of the premium services are paid and come with their perks. In the end, it's just a matter of personal preferences. So if you are looking for an Apple Music alternative, here are the best ones that compete for head to head with Apple Music- a US tech giant.
Spotify
The first one is Spotify which is the most listened-to music streaming application worldwide. Ti comes with almost similar features as that of Apple Music. It offers offline downloads, premium music, excellent sound quality up to 320kbps, podcasts, AI-curated playlists, and more. Spotify has an edge on sound quality, which is superior to the Apple Music 256 kbps. Spotify's cost offerings are similar to that of Apple Music.
Tidal
If you want the best music output on the planet, Tidal is for you. Tidal is the first global service to provide high fidelity sound and hi-dev video quality. Tidal comes in two packages. A $9.99 for standard 320kbps AAC+ music for its Premium plan. It costs more at $19.99 per month for the higher level, but it offers 1411kbps of FLAC audio. It's uncompressed, a lossy file that will provide a blissful experience to your ears.
SpotiKeep
Apple Music is a fascinating and recommendable application for music lovers. But it certainly does not dissolve thick boundaries of in-app music downloads, tied-up interface, and continuous cash flow to keep enjoying subscriptions. There is a way where you can still enjoy Apple Music without paying out. It's legal and legit. Using a professional converter, you can extract Apple Music and save it up in your local storage with value bonus features that we will discuss shortly.
You won't need to have the Apple Music application or subscription because SpotiKeep Apple Music Converter accesses Apple Music servers using a URL link. So count yourself some fantastic discounts at $9.99 per month on average. Plus freedom of DRM free, MP3, offline music. Here are some features that SpotiKeep offers:
It removes DRM protection of all Apple Music
Customizable output formats including MP3, M4A, WAV, AAC, and FLAC, among others
No need to pay Apple Music Subscription anymore worth $9.99/ month
Retains the original ID3 tags of songs, artists, and playlist
Batch downloads and Lossless audio quality
High conversion rates for Mac and windows, up to 5x and 10x, respectively
Now you know the bargain, so why not move out to the bigger picture. Download the application using the download toggles below for Mac and Windows.
After you install the converter, it's time to learn how to convert Apple Music to MP3 using SpotiKeep Apple Music Converter.
Step 1: Launch SpotiKeep Apple Music Converter and iTunes. iTunes must keep running in the background since SpotiKeep syncs with the iTunes library to display the Apple Music collection upfront in the application. The whole process is automated, so you won't need to perform anything to make it sync.
Step 2: Tick marks each song you want to download through the tiny box at the left of each track. You can select multiple pieces at once, thanks to the batch downloads feature.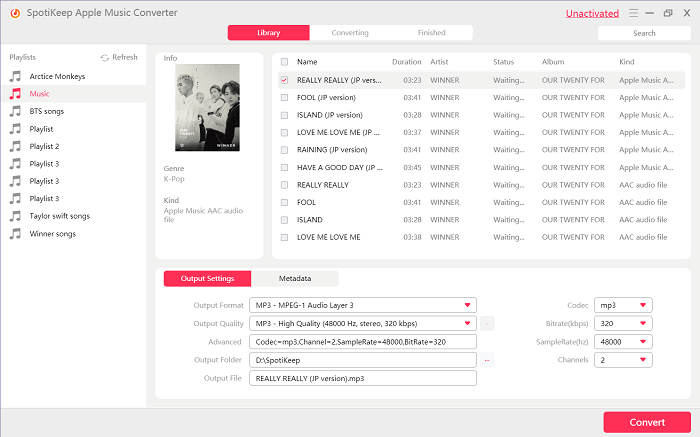 Customize your output preferences quickly using the output settings menu below.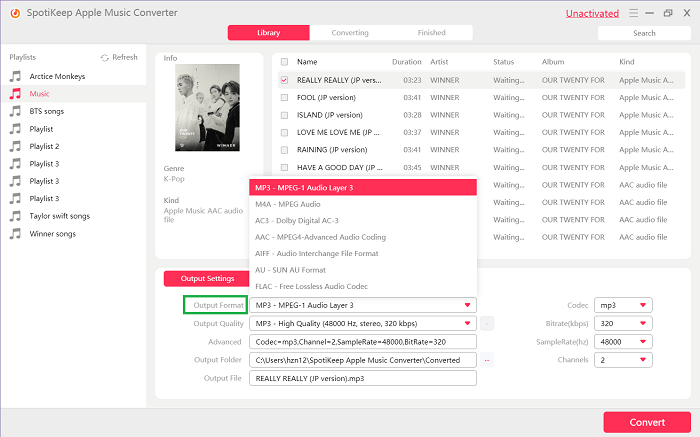 Step 3: Click on Convert to download your Apple Music files to M3 all at once. You can see a different ETA for each song. As soon as the download is complete for each piece, you can find it in your local storage per output preferences.
Final Words
We've covered all you need to do on the topic "how does Apple Music work," including the application and its whereabouts, how it works, pricing, sharing across other platforms, the better alternatives, and so much more. That's what we try to cover today. If you have a hard time deciding, Is Apple music worth it or not? We have an article on the topic, too, so please check it out.
If you have anything left to consider, please let us know in the comment section below. We will try to get back to you as soon as possible.
Apple Music Converter
Convert and Save your favorite songs from Apple Music Permanently for Free.
Don't miss a moment of the Music you love.
Spotify Music Converter
Download Spotify songs, albums and playlist Permanently for Free.
Don't miss a moment of the Music you love.